In 2018, I found photos of the above tanker under construction and
thought that it was not only very sharp, but that the color scheme
was fascinating. I wanted to get a photo of the finished
product, but where in the world was the Lisburn Community Fire
Company. I found it in Cumberland County, Pennsylvania. But,
my interest was truly peaked when I saw some amazing
color schemes throughout PA. All colors, from red to orange to
blue and even purple. Thus the trip was conceived and would be a
mini-summer vacation with my wife.
From June 22 through June 27, 2019, we would visit over 30
different fire companies throughout ten counties in Central
Pennsylvania. Of these, the vast majority were volunteer
houses where firefighters and fire officers came from home to
meet us for photos. The hospitality was nothing
short of incredible. I am truly grateful to all who assisted, and
a very hearty THANK YOU is in order. It was a pleasure to meet each
and every person along the way!
Finally, a thank you too for my Wife Donna who was a great co-pilot
and partner on the trip!
Enjoy the photos below!!

Photos Are Listed In Alphabetical Order By Department
BLAKELY AMBULANCE ASSOCIATION {PECKVILLE} RESCUE 22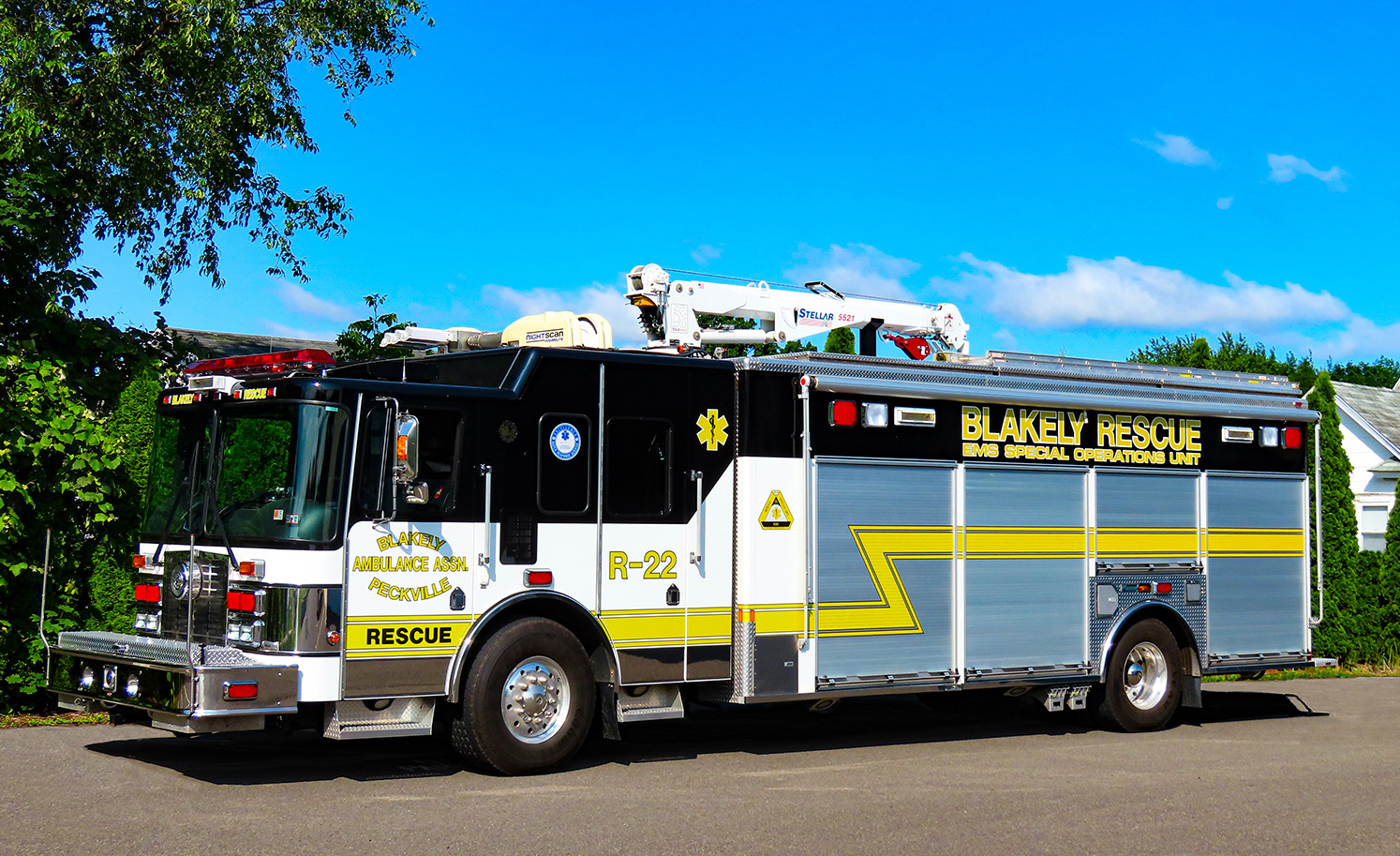 2006 HME/Marion Heavy Rescue With Crane
BLAKELY AMBULANCE ASSOCIATION {PECKVILLE} QUICK RESPONSE VEHICLE (QRV) 22
2018 Ford F-450 Utility 4x4
CHAMBERSBURG ENGINE 1-1
2017 Pierce Enforcer 1500/500
CHAMBERSBURG TOWER 1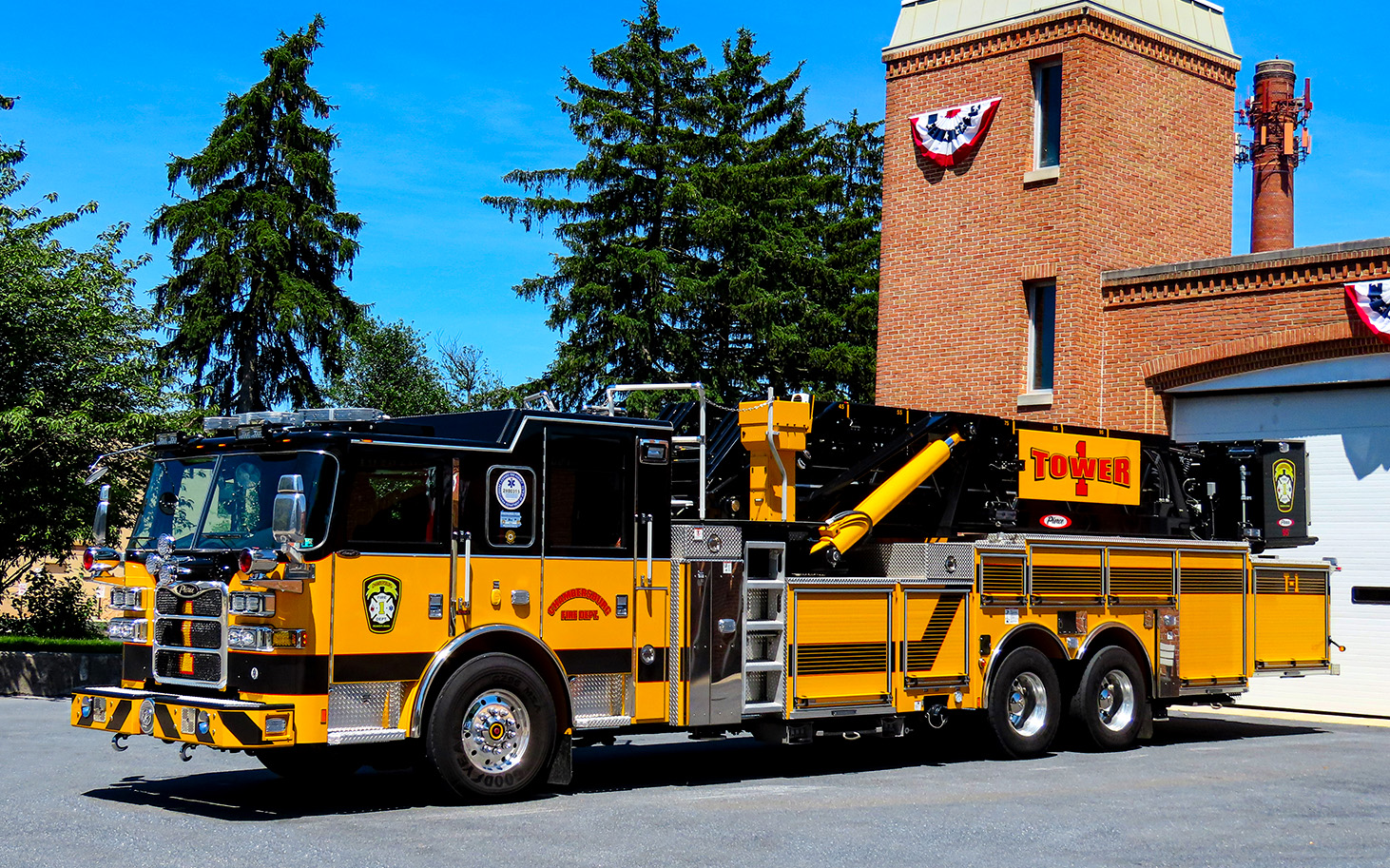 2017 Pierce Arrow XT 95' MMA Tower
CHAMBERSBURG AMBULANCE 1-9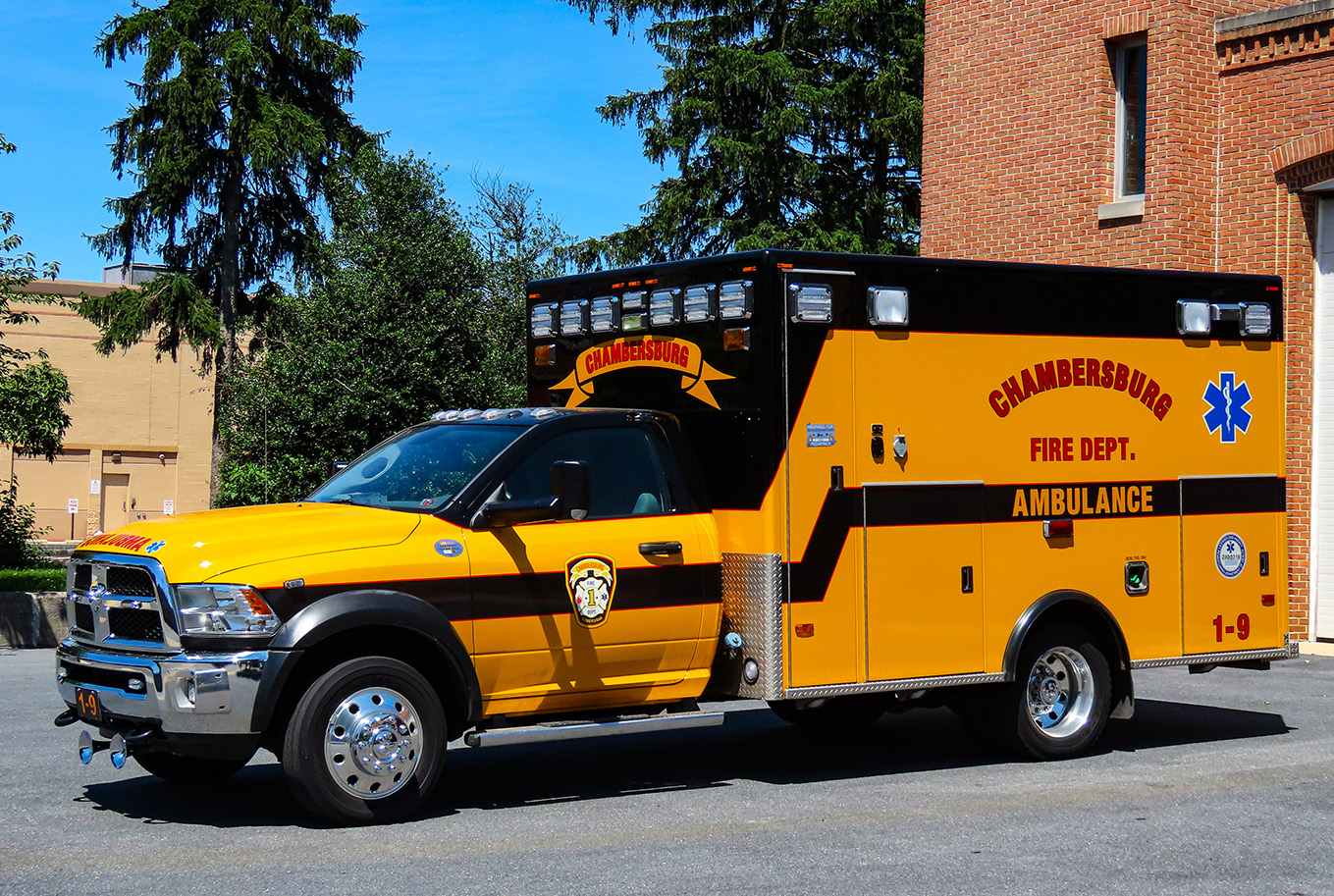 2013 Dodge Ram 4500/PL Custom
COLONIAL PARK FIRE COMPANY {LOWER PAXTON TWP.} ENGINE 33
2008 KME Predator 1500/750/15A/35B
COLONIAL PARK FIRE COMPANY {LOWER PAXTON TWP.} RESCUE 33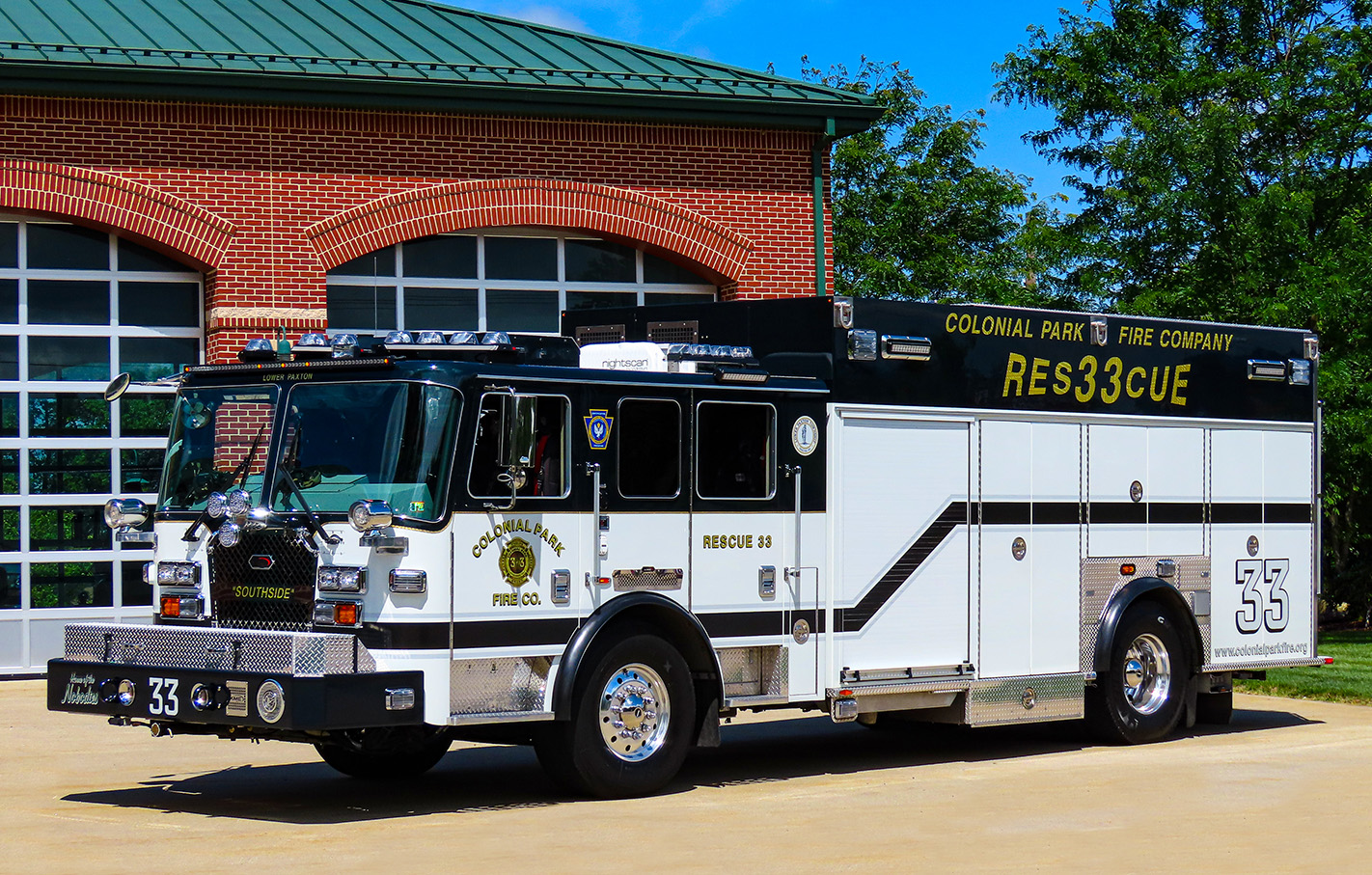 2017 KME Severe Service 1500/400/30B
COLONIAL PARK FIRE COMPANY {LOWER PAXTON TWP.} LADDER 33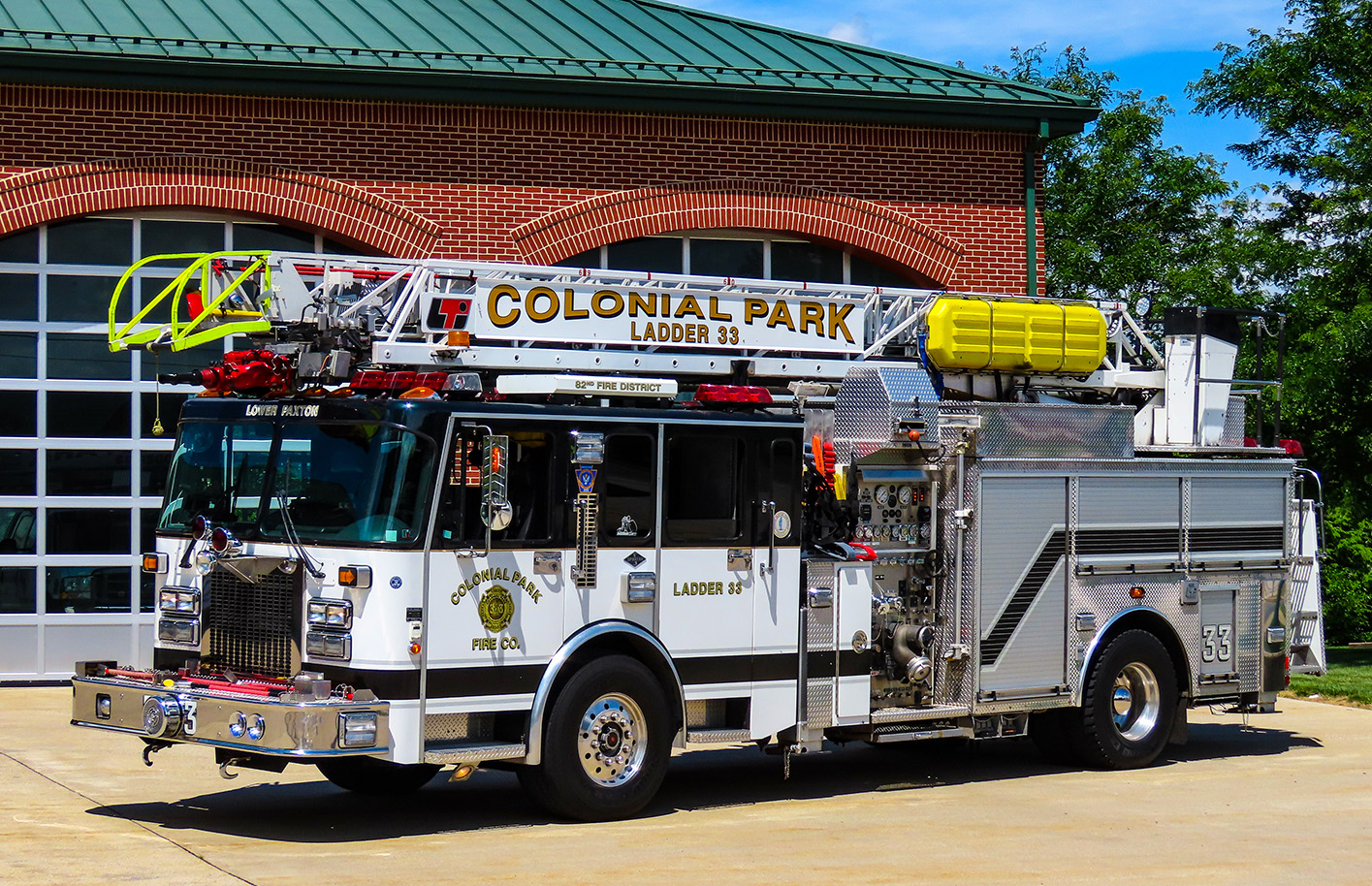 1998 Spartan/Simon-LTI 1750/300/15A
CUMBERLAND VALLEY HOSE COMPANY {SHIPPENSBURG} ENGINE 53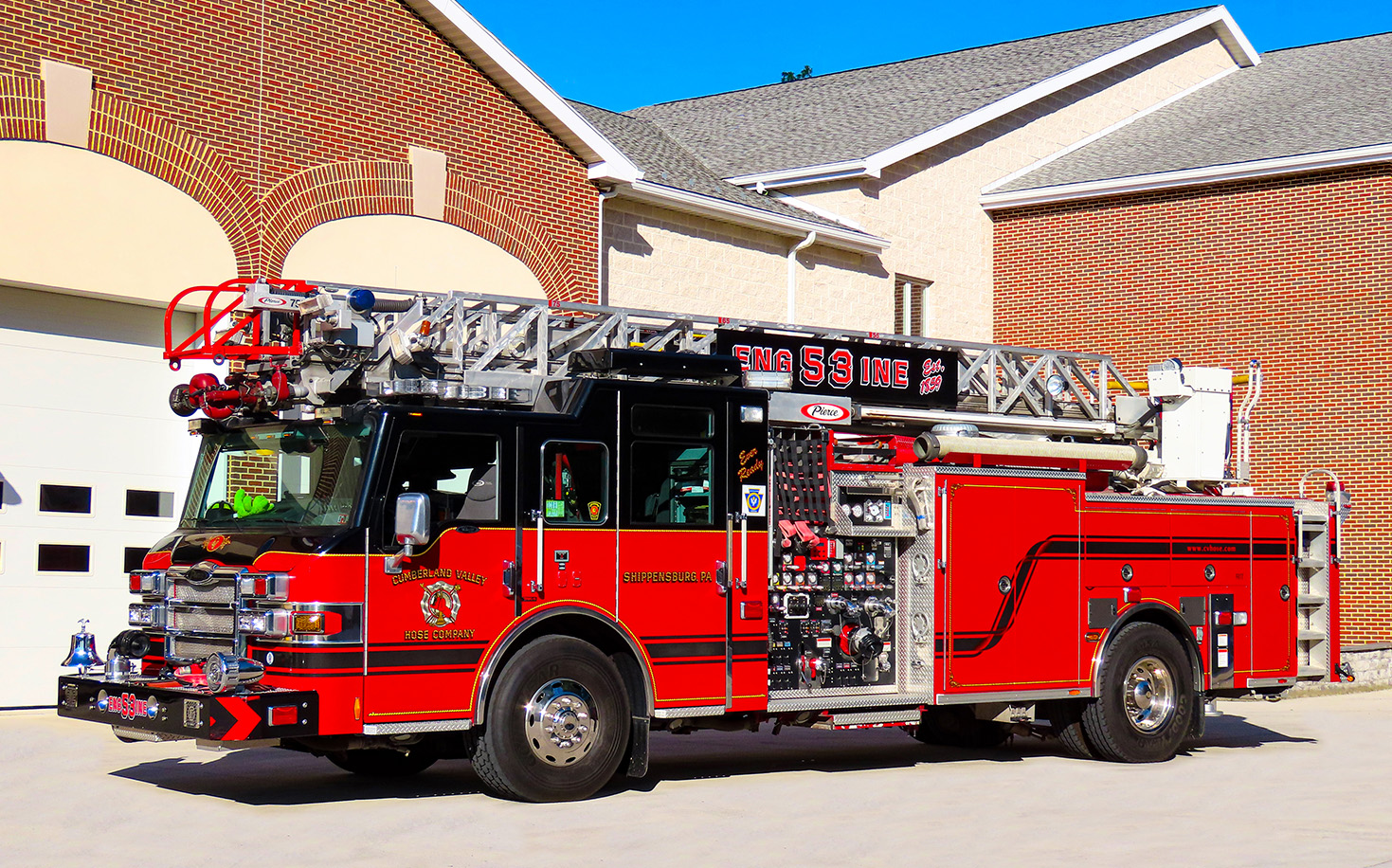 2008 Pierce Velocity 1750/500/30A 75' RMA
CUMBERLAND VALLEY HOSE COMPANY {SHIPPENSBURG} TRUCK 53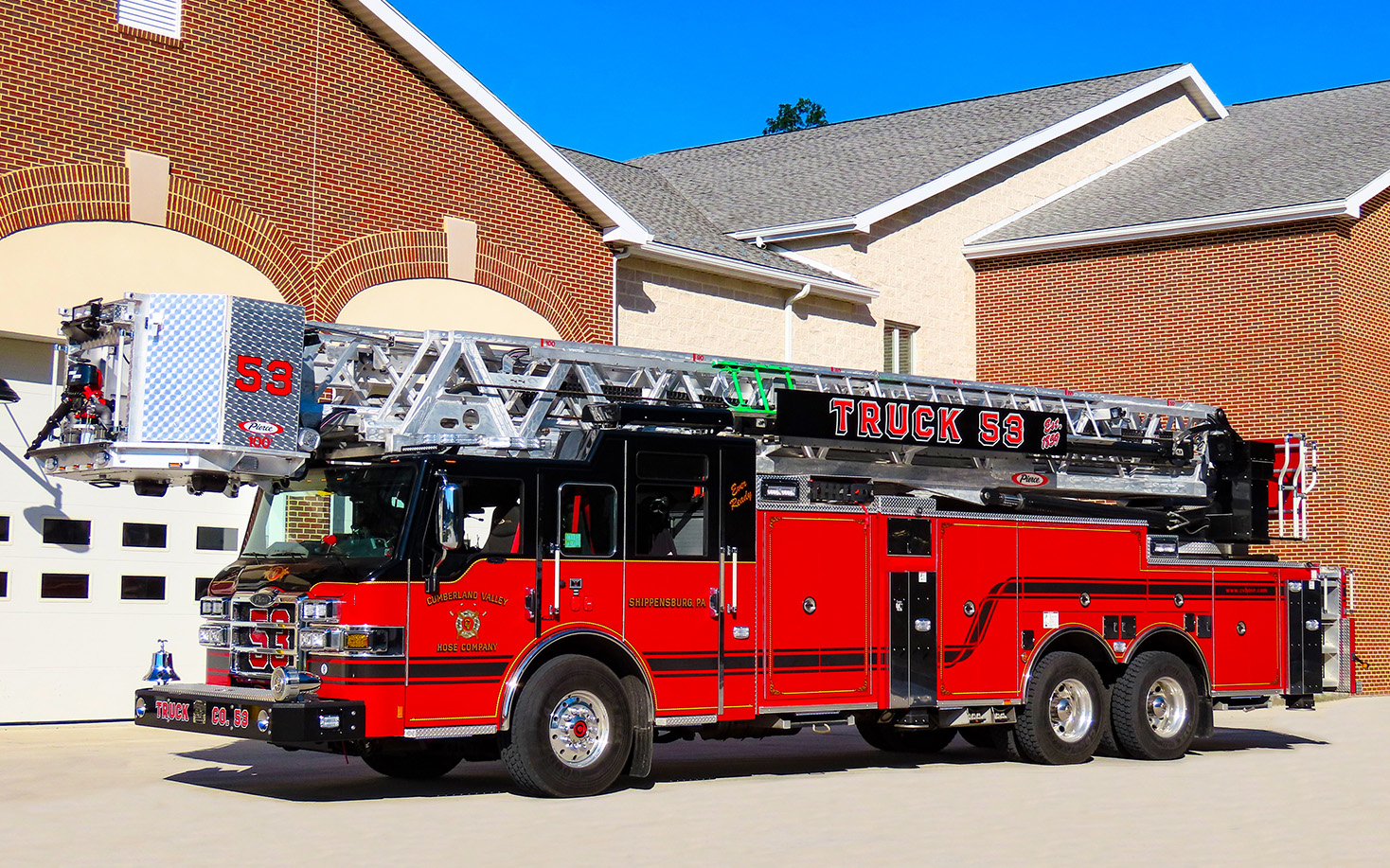 2018 Pierce Velocity 100' RMA Tower
CUMBERLAND VALLEY HOSE COMPANY {SHIPPENSBURG} AIR & LIGHT UNIT 53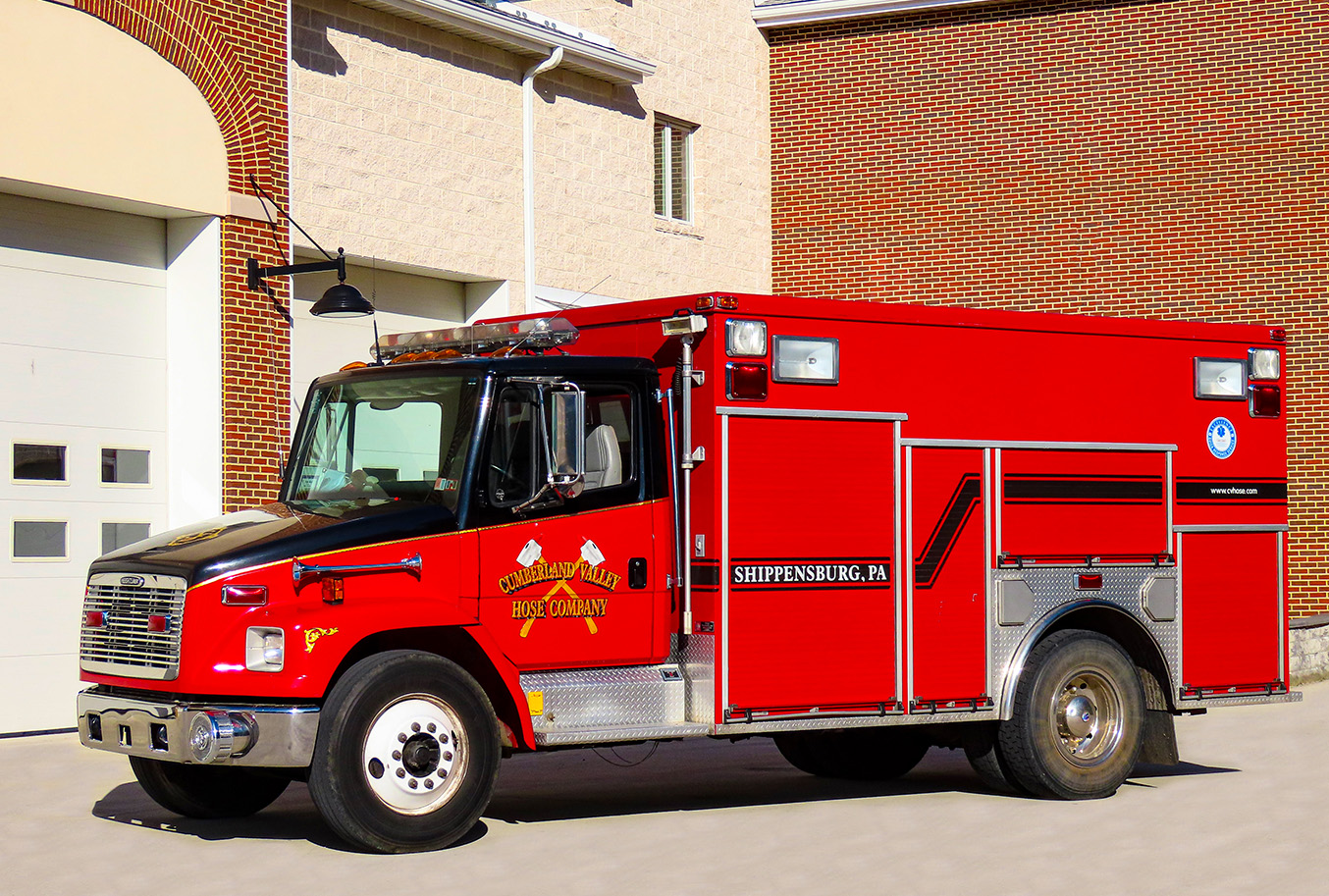 2002 International/Swab Medium Duty
EAGLE HOSE COMPANY {DICKSON CITY} ENGINE 23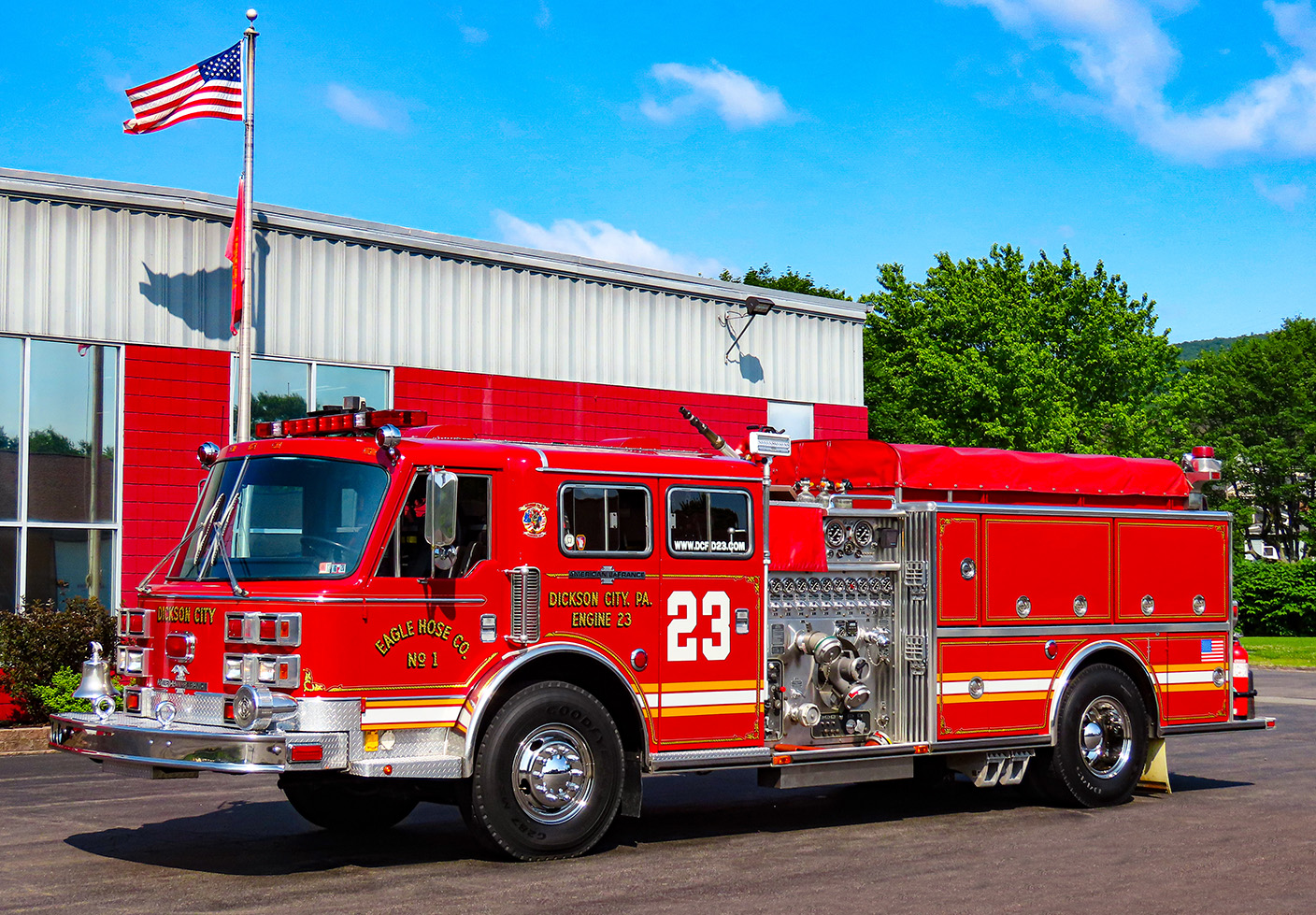 1988 American LaFrance "Century 2000" 2000/500
EAGLE HOSE COMPANY {DICKSON CITY} LADDER 23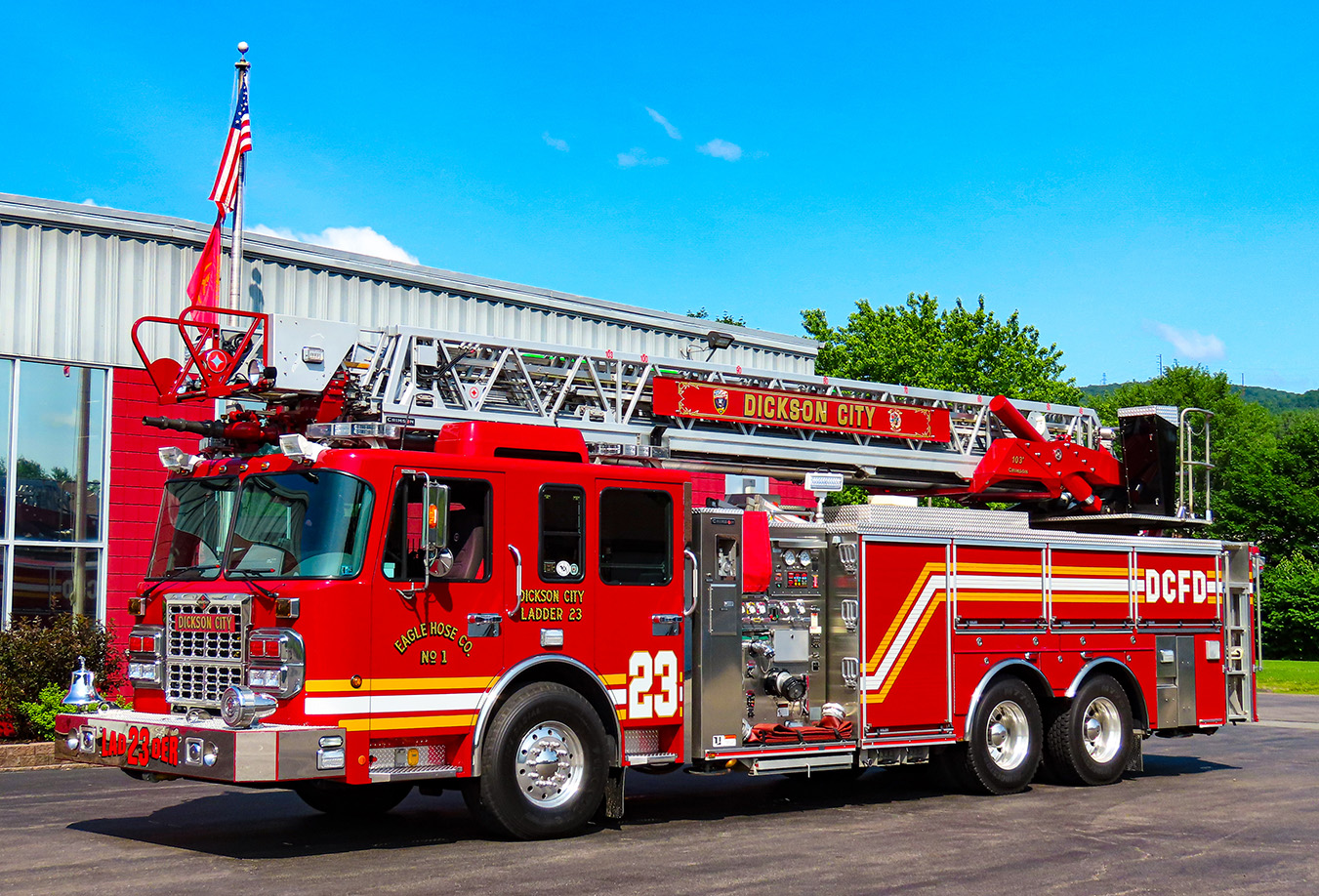 2008 Spartan/Crimson 2000/500 103' RMA
EAGLE HOSE COMPANY {DICKSON CITY} RESCUE 23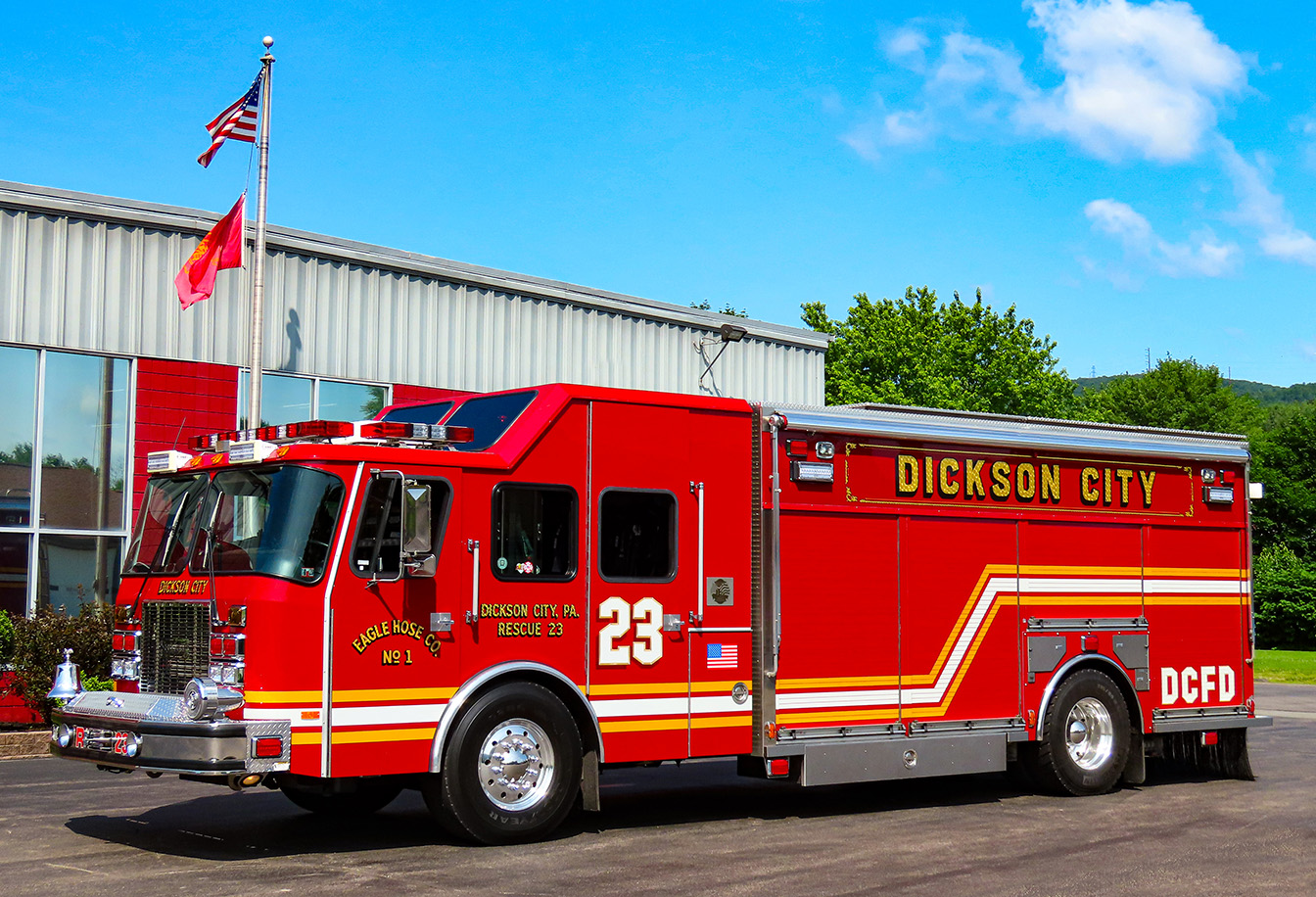 1999 E-One/Saulsbury Walk-Around
EAGLE HOSE COMPANY {DICKSON CITY} ANTIQUE LADDER 23 {PRIVATELY OWNED}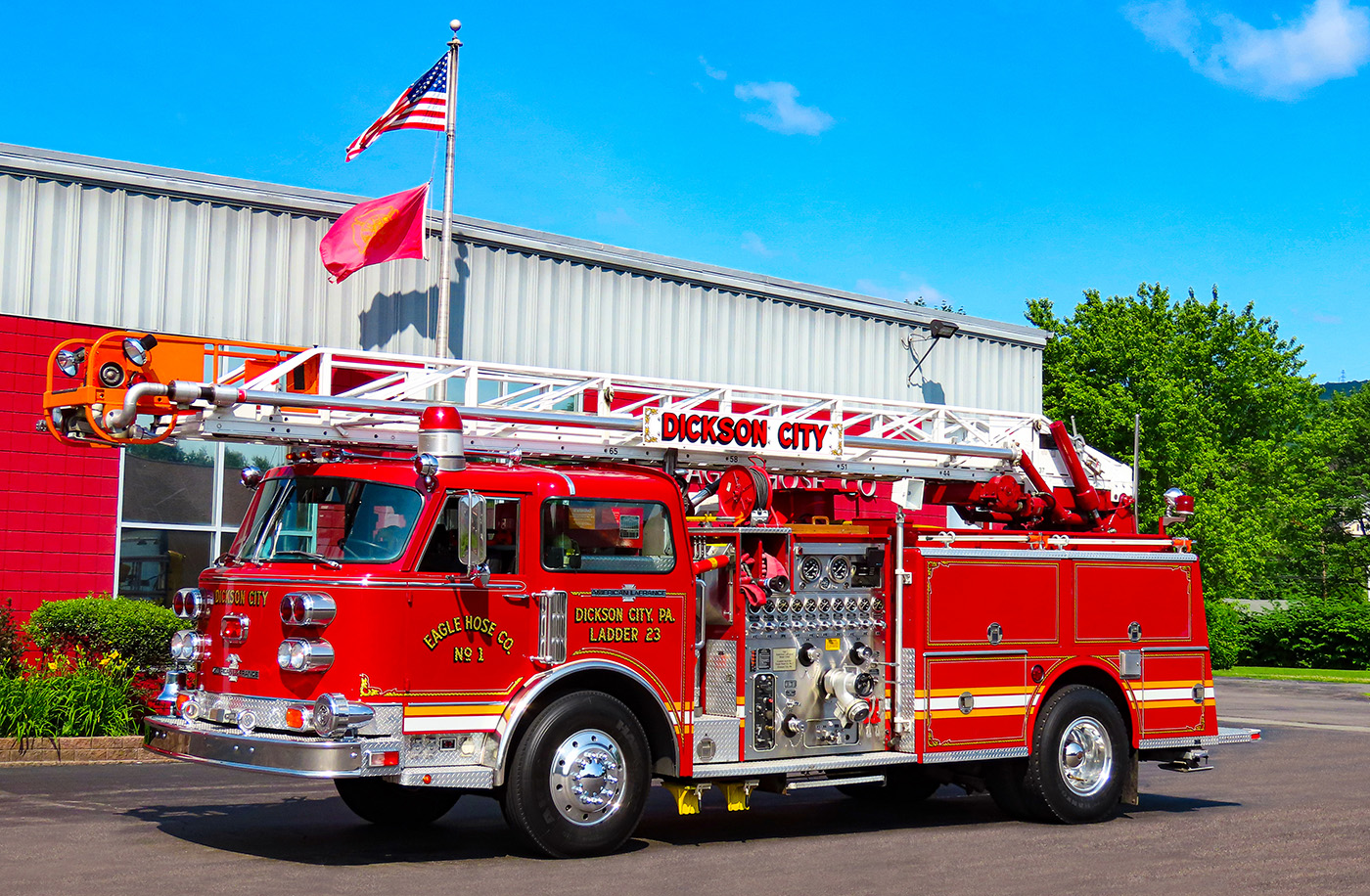 1981 American LaFrance Century 1500/300 75' RMA
EAGLE HOSE COMPANY {DICKSON CITY} ANTIQUE TRUCK 3 {PRIVATELY OWNED}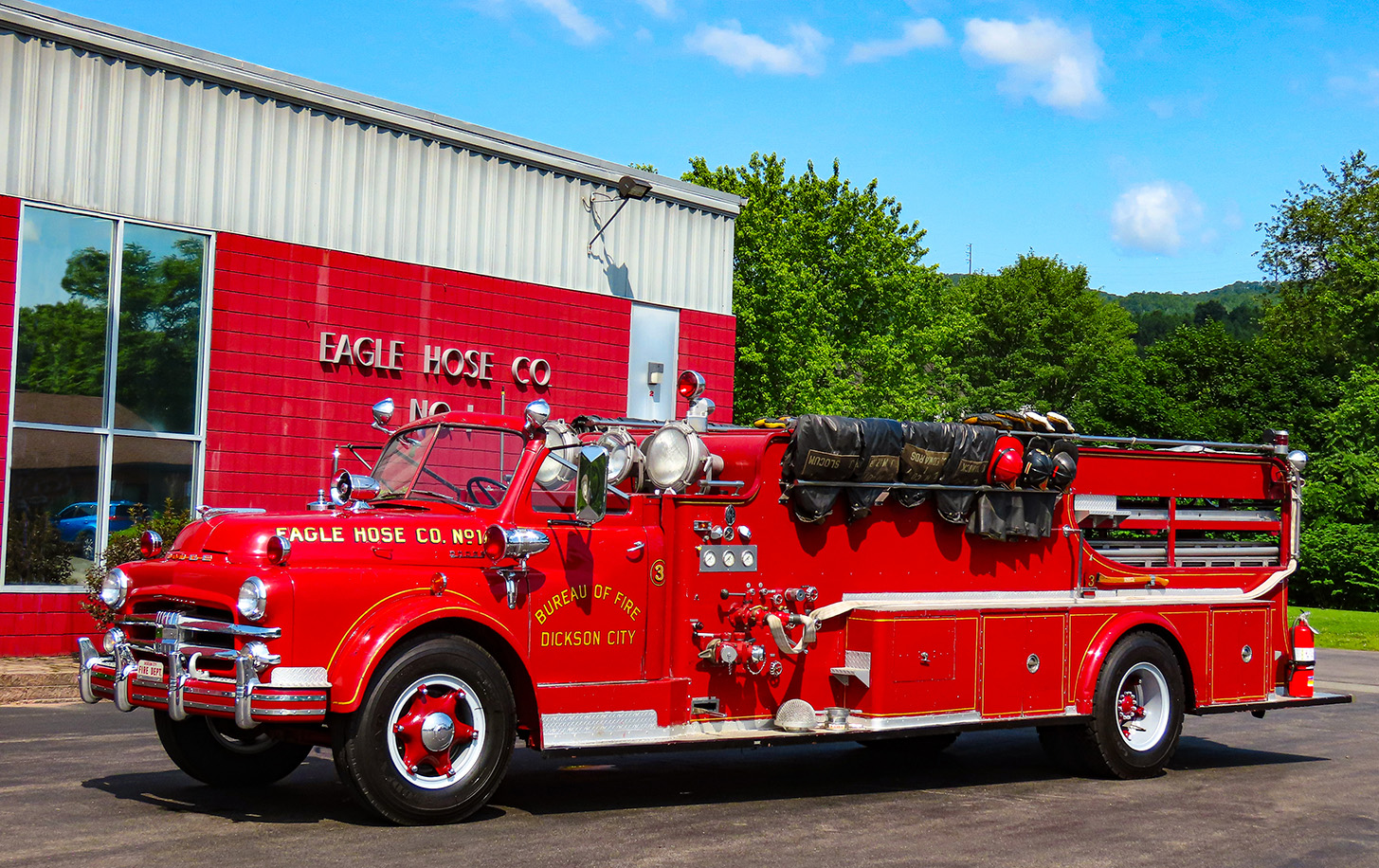 1952 Dodge/Approved Fire Equipment 500/400 Quad
FRANKLIN FIRE COMPANY {CHAMBERSBURG} SQUAD 41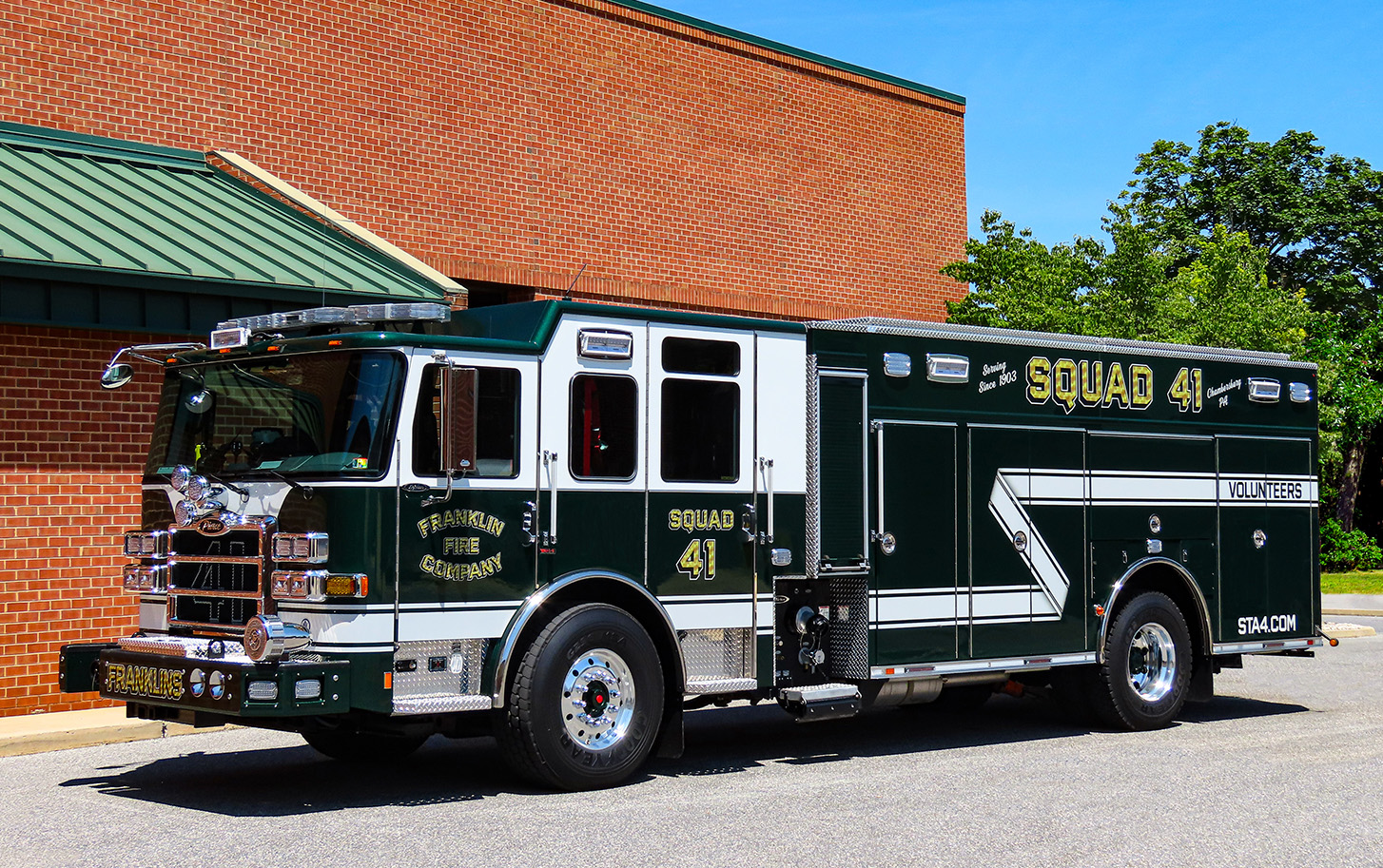 2019 Pierce Enforcer PUC 1500/500
FRANKLIN FIRE COMPANY {CHAMBERSBURG} TRUCK 42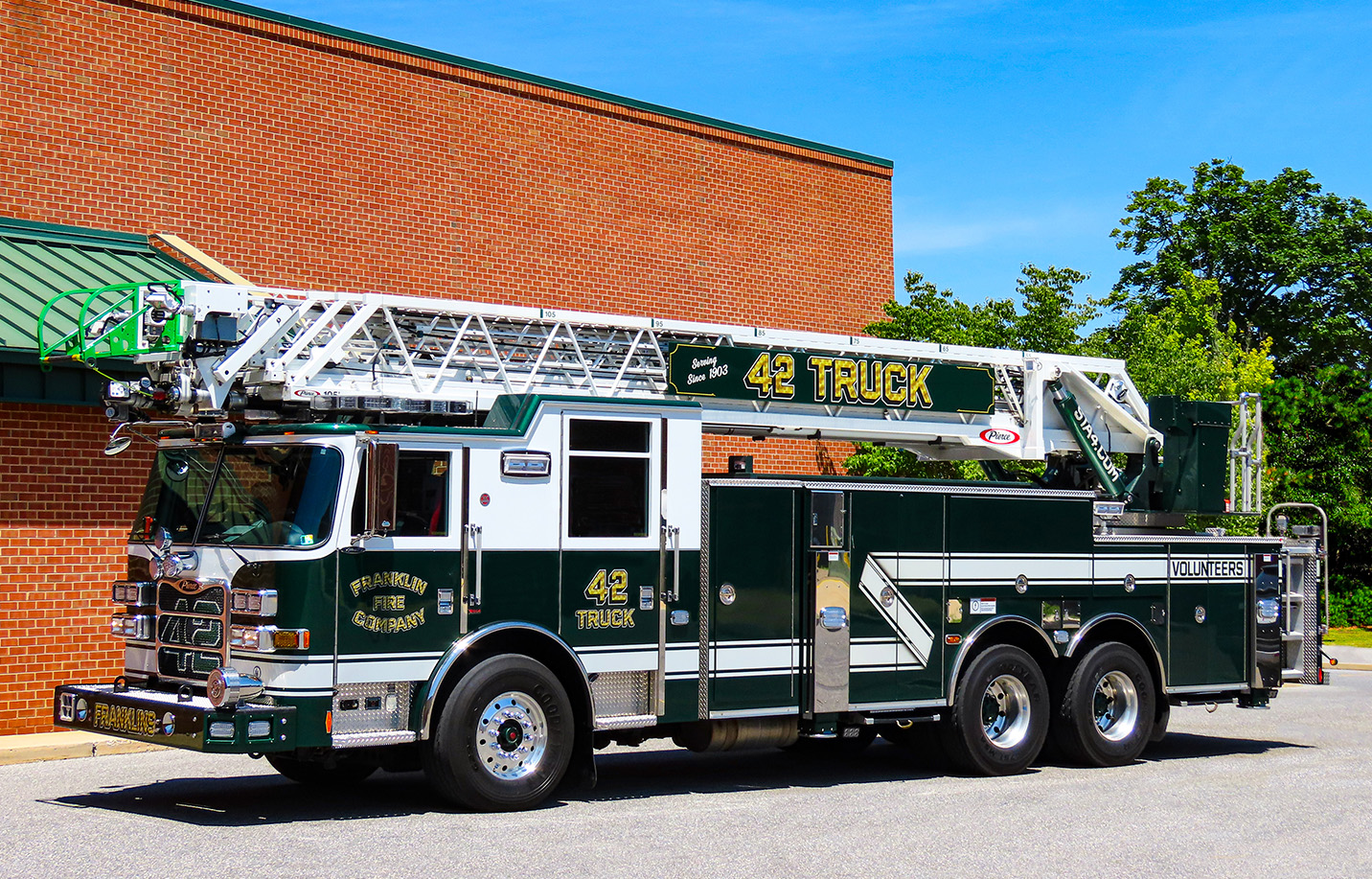 2014 Pierce Arrow XT 105' RMA
FRANKLIN FIRE COMPANY {CHAMBERSBURG} ENGINE 43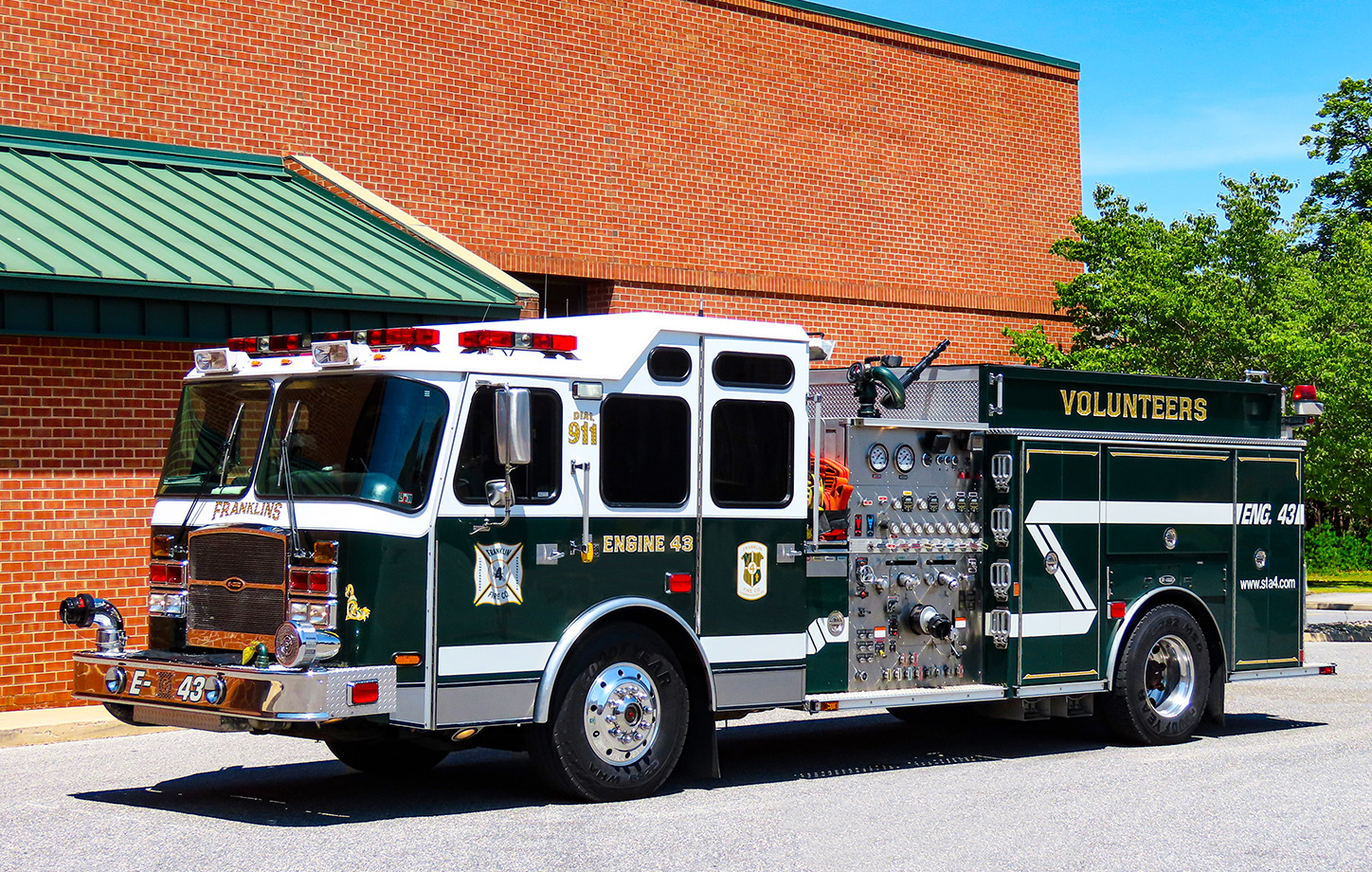 2004 E-One Typhoon 2000/750
GERMANIA HOSE COMPANY 126 {DURYEA} ENGINE 1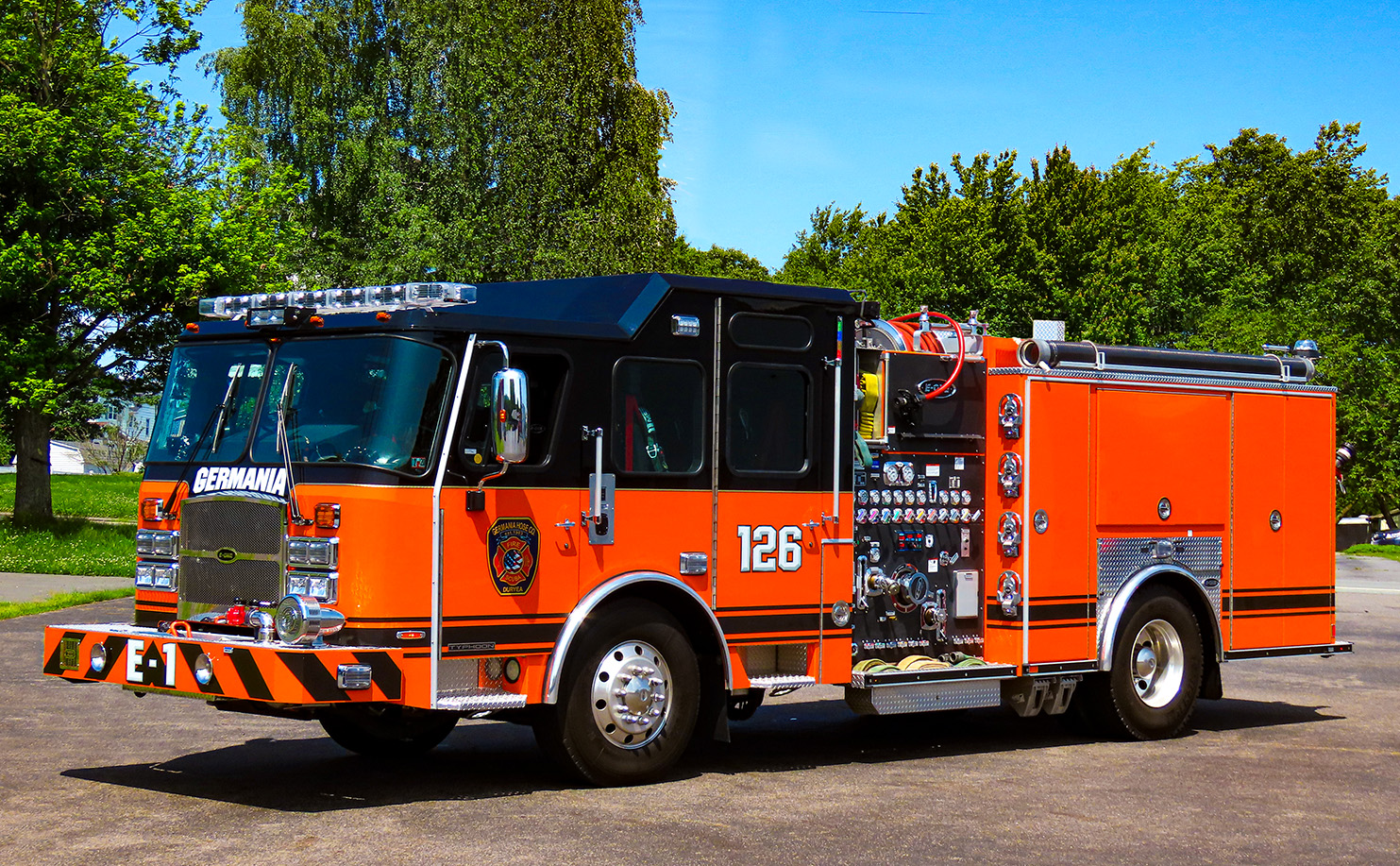 2018 E-One Typhoon 1500/780
GERMANIA HOSE COMPANY 126 {DURYEA} ENGINE 2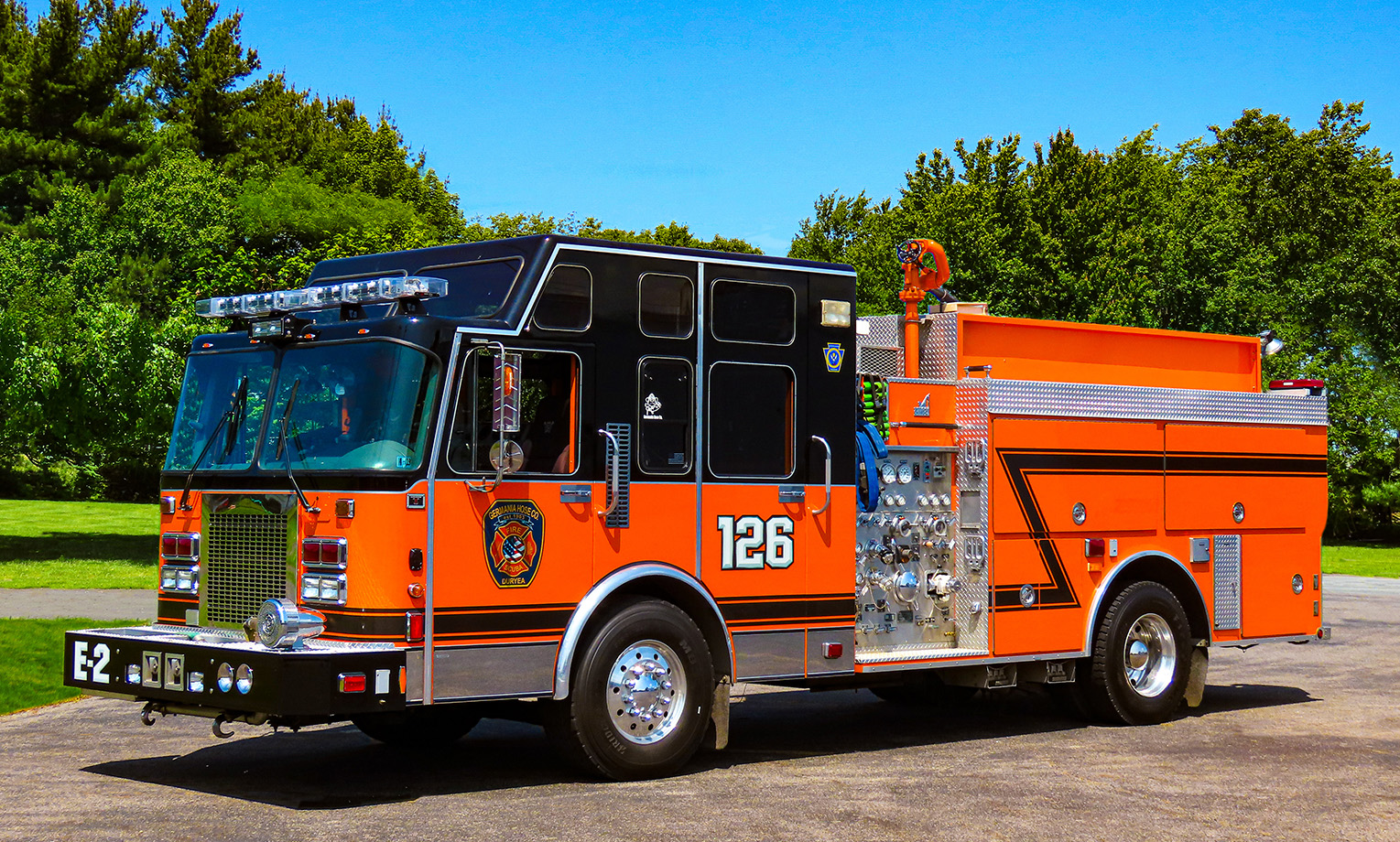 1996 Spartan/Smeal 1500/750
GERMANIA HOSE COMPANY 126 {DURYEA} SCUBA 1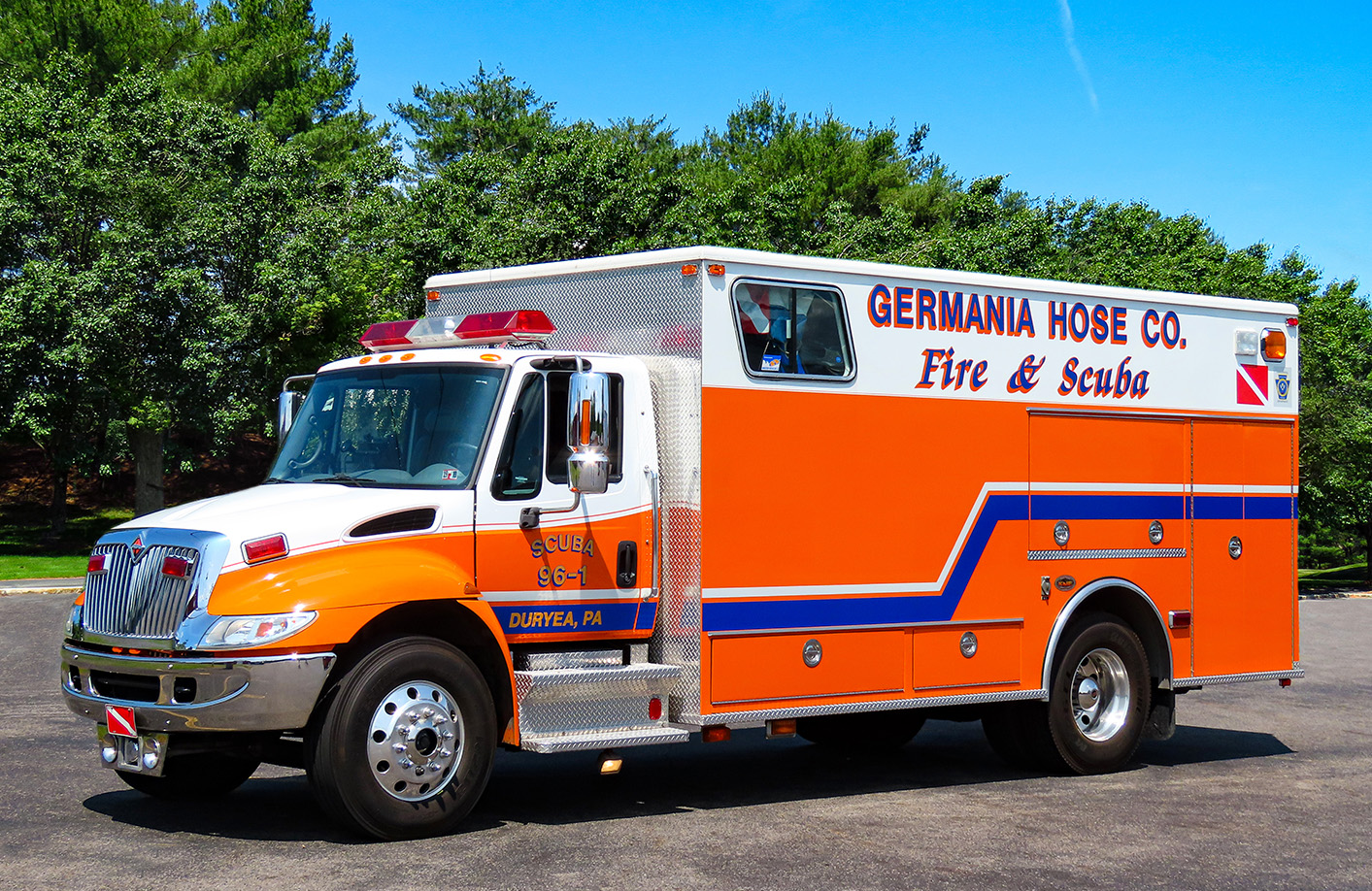 2003 International/KME Walk-In
GRANTVILLE VOLUNTEER FIRE DEPT. {EAST HANOVER TWP.} ENGINE 39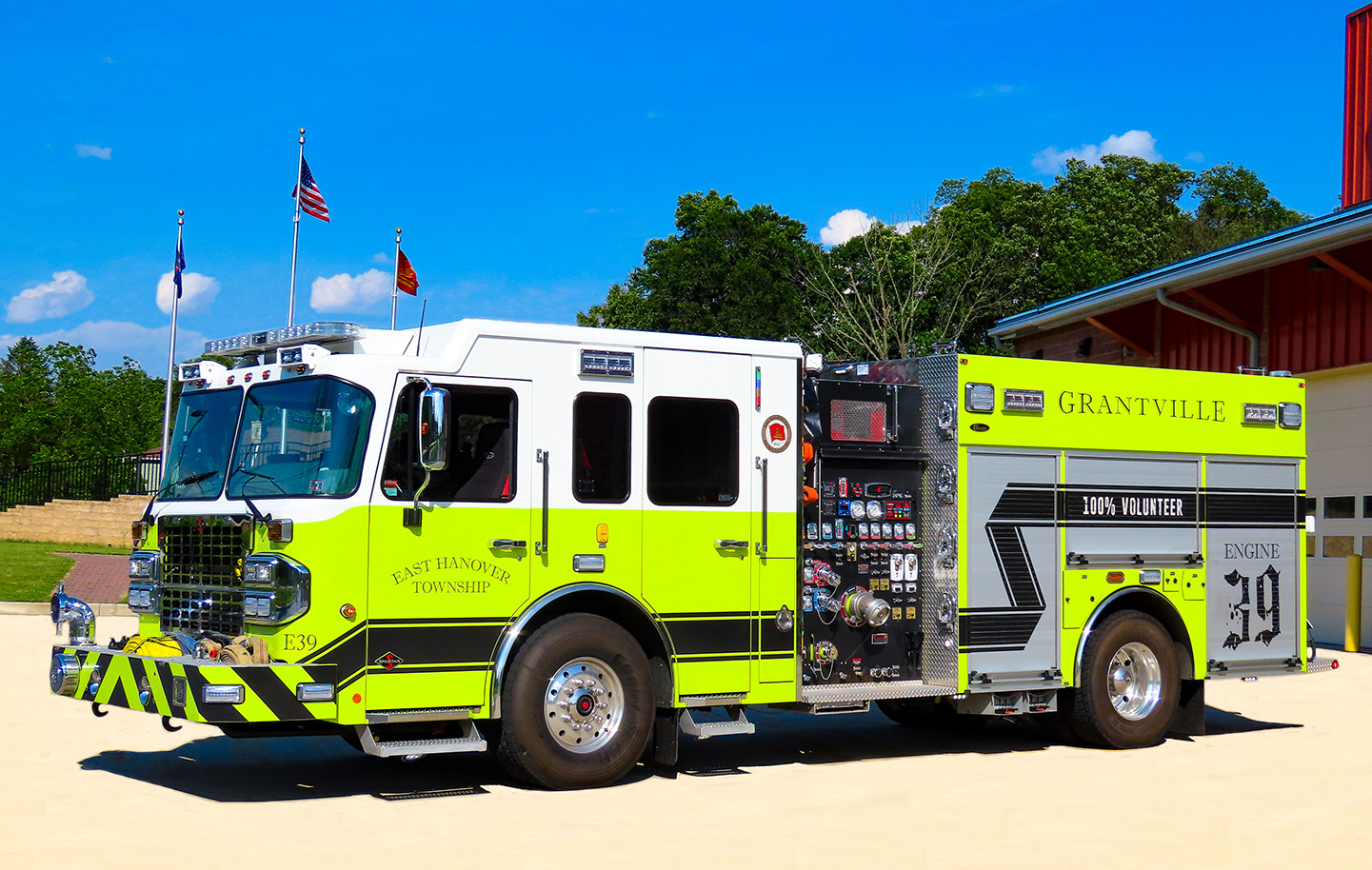 2018 Spartan/4-Guys 2000/1000/40A
GRANTVILLE VOLUNTEER FIRE DEPT. {EAST HANOVER TWP.} ENGINE 39-1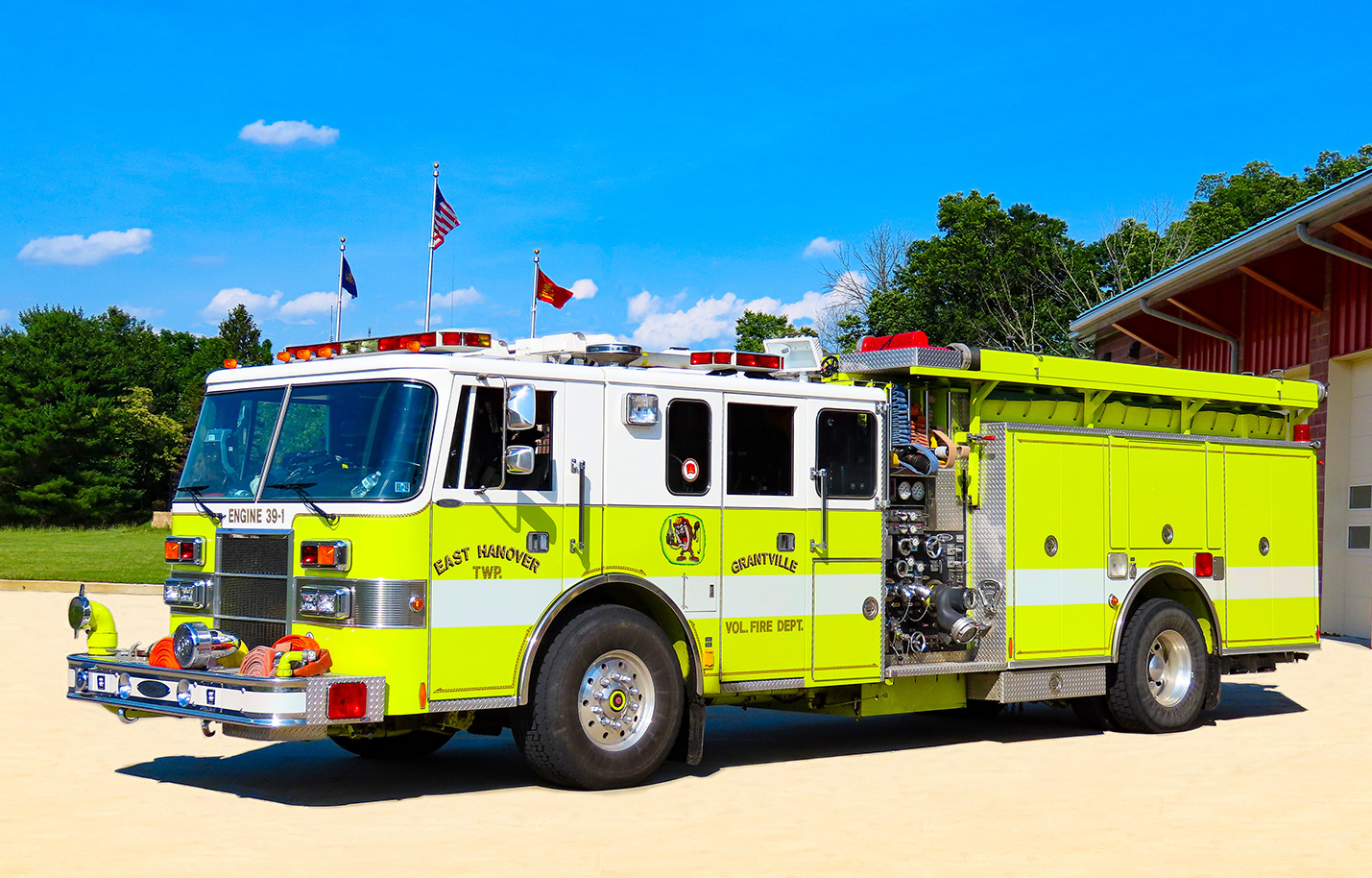 1994 Pierce Lance 2000/750/40A/40B
GRANTVILLE VOLUNTEER FIRE DEPT. {EAST HANOVER TWP.} TANKER 39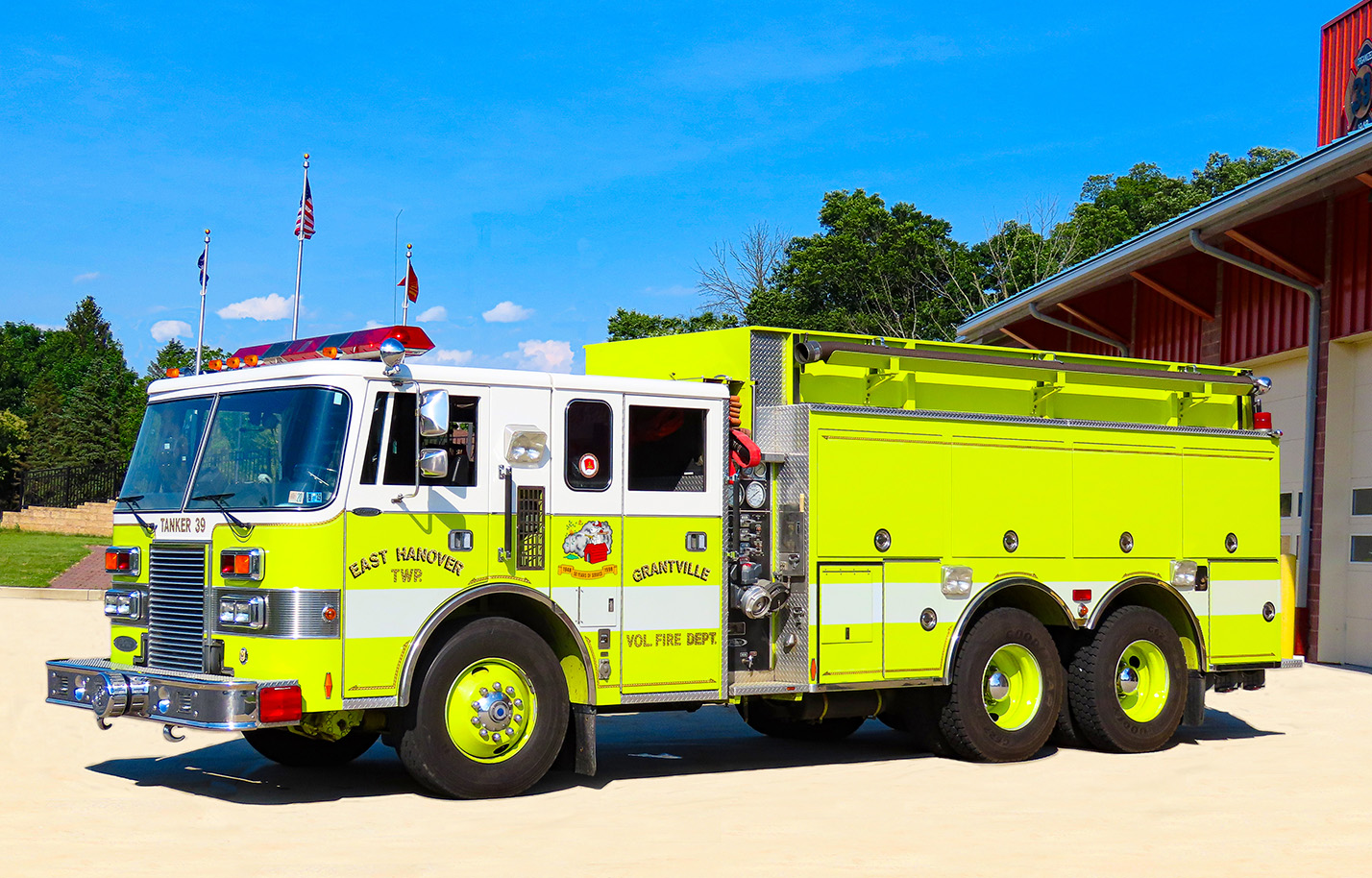 1991 Pierce Lance 475/3000
GRANTVILLE VOLUNTEER FIRE DEPT. {EAST HANOVER TWP.} ATTACK 39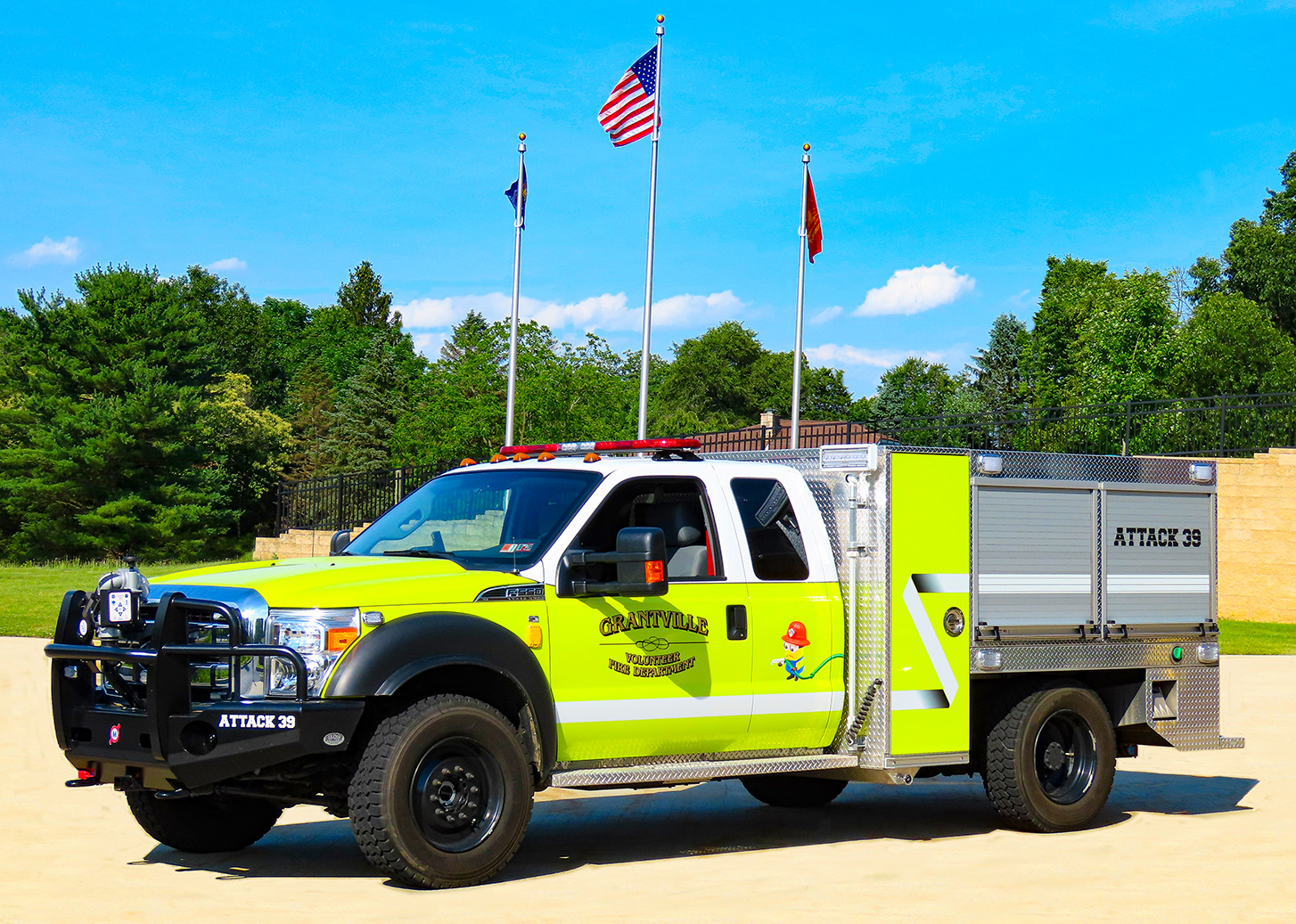 2014 Ford F-550/Marco 4x4 500/290/10F
GRANTVILLE VOLUNTEER FIRE DEPT. {EAST HANOVER TWP.} BRUSH 39-1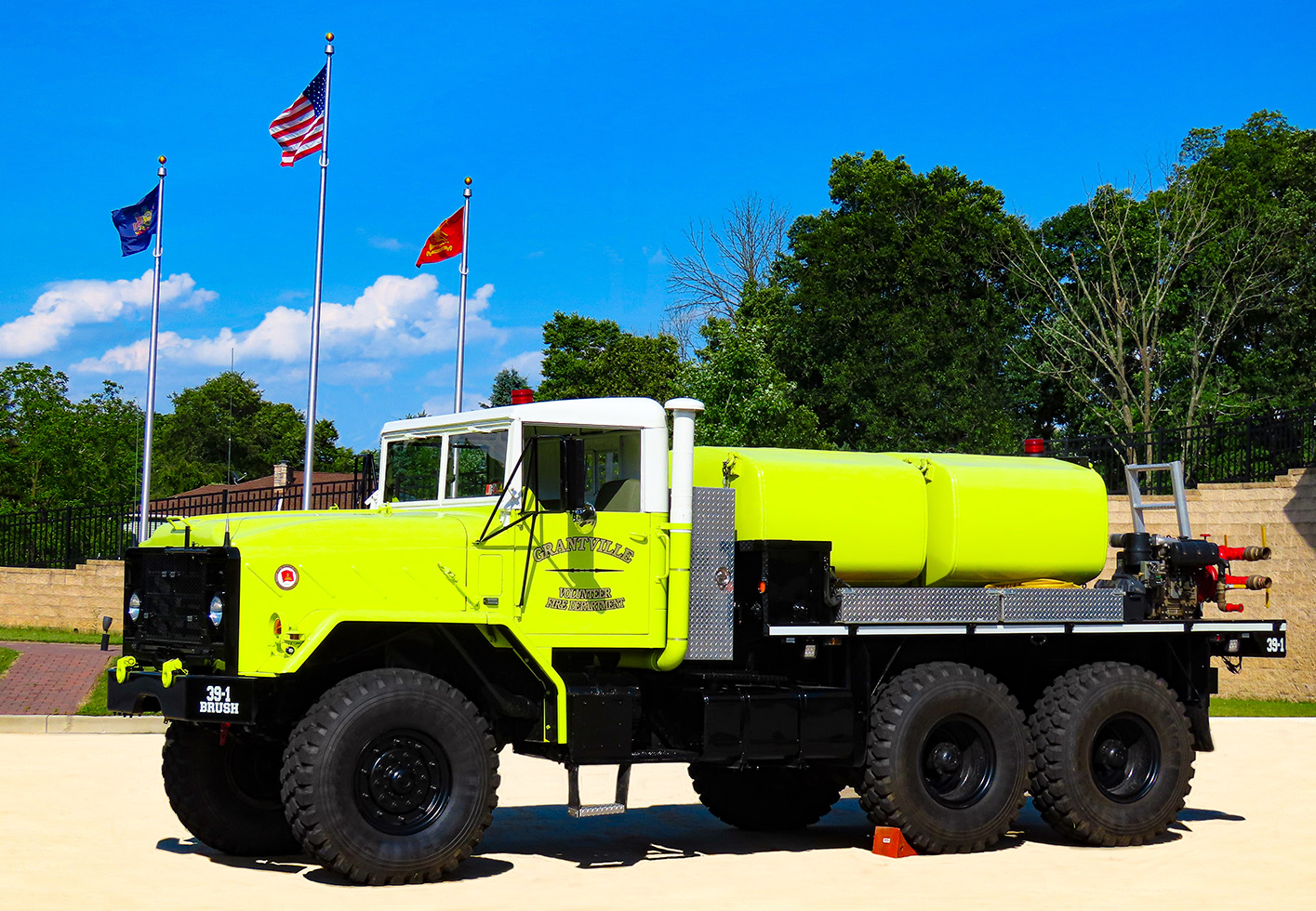 1984 AM General/2009 BMY 6x6 5-Ton 250/1000
HALIFAX ENGINE 29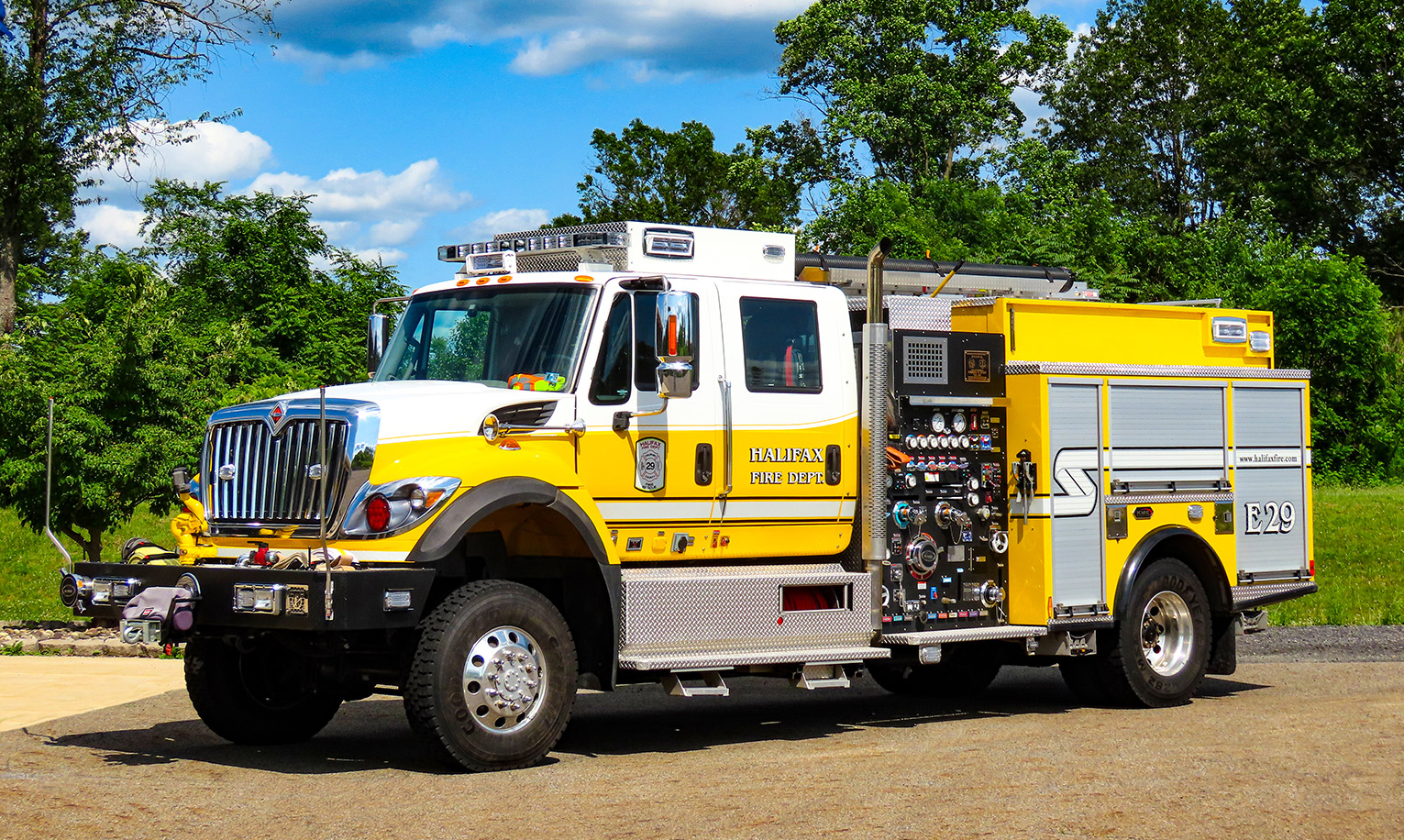 2013 International/KME 4x4 1500/500/30A
HALIFAX ENGINE 29-1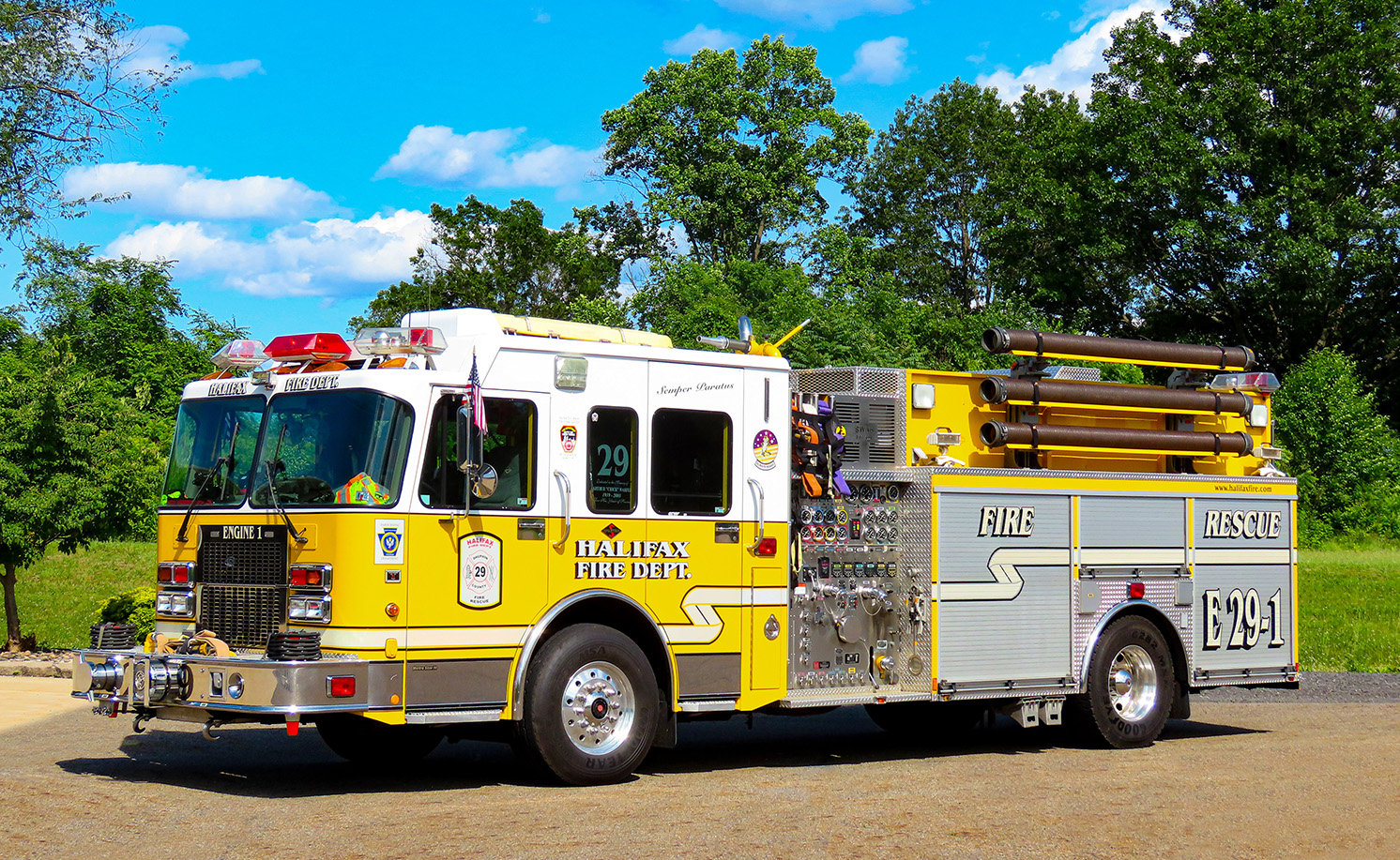 2004 Spartan/Swab 1500/1000/30A/20B
HALIFAX TANKER 29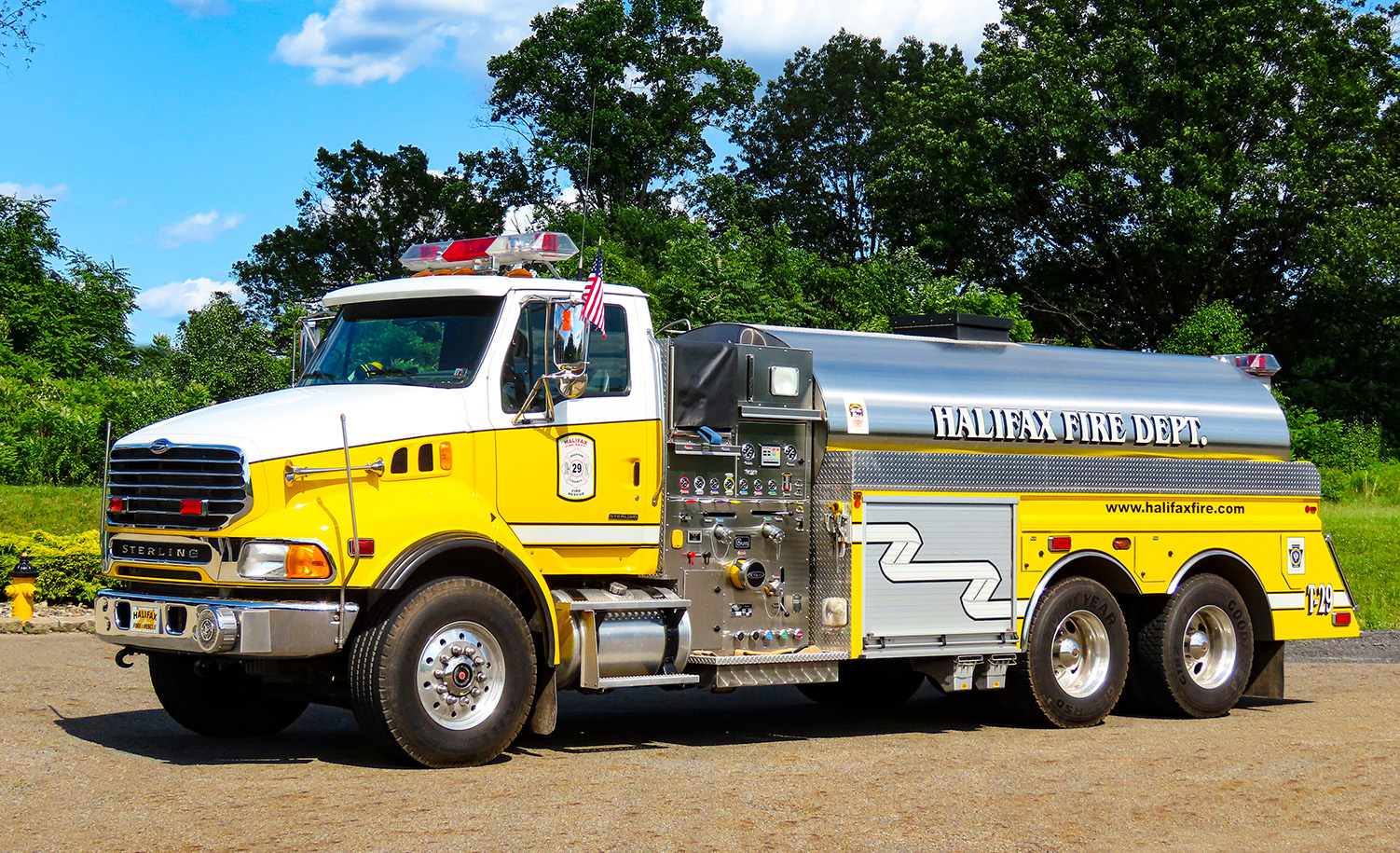 2005 Sterling/4-Guys 1500/2500
HAMPDEN TOWNSHIP ENGINE 230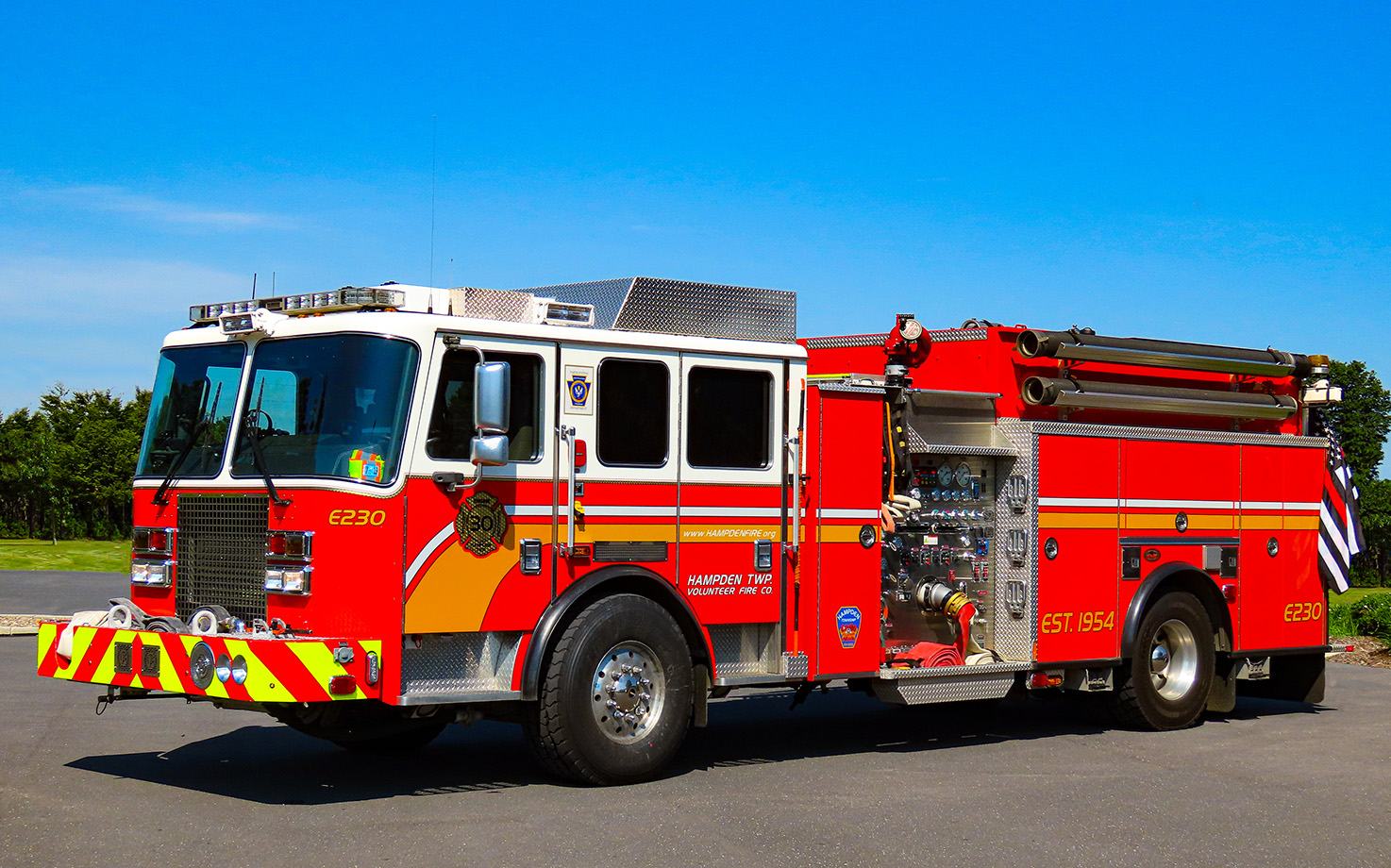 2011 KME Severe Service 1500/750/20A/50B
HAMPDEN TOWNSHIP SQUAD 30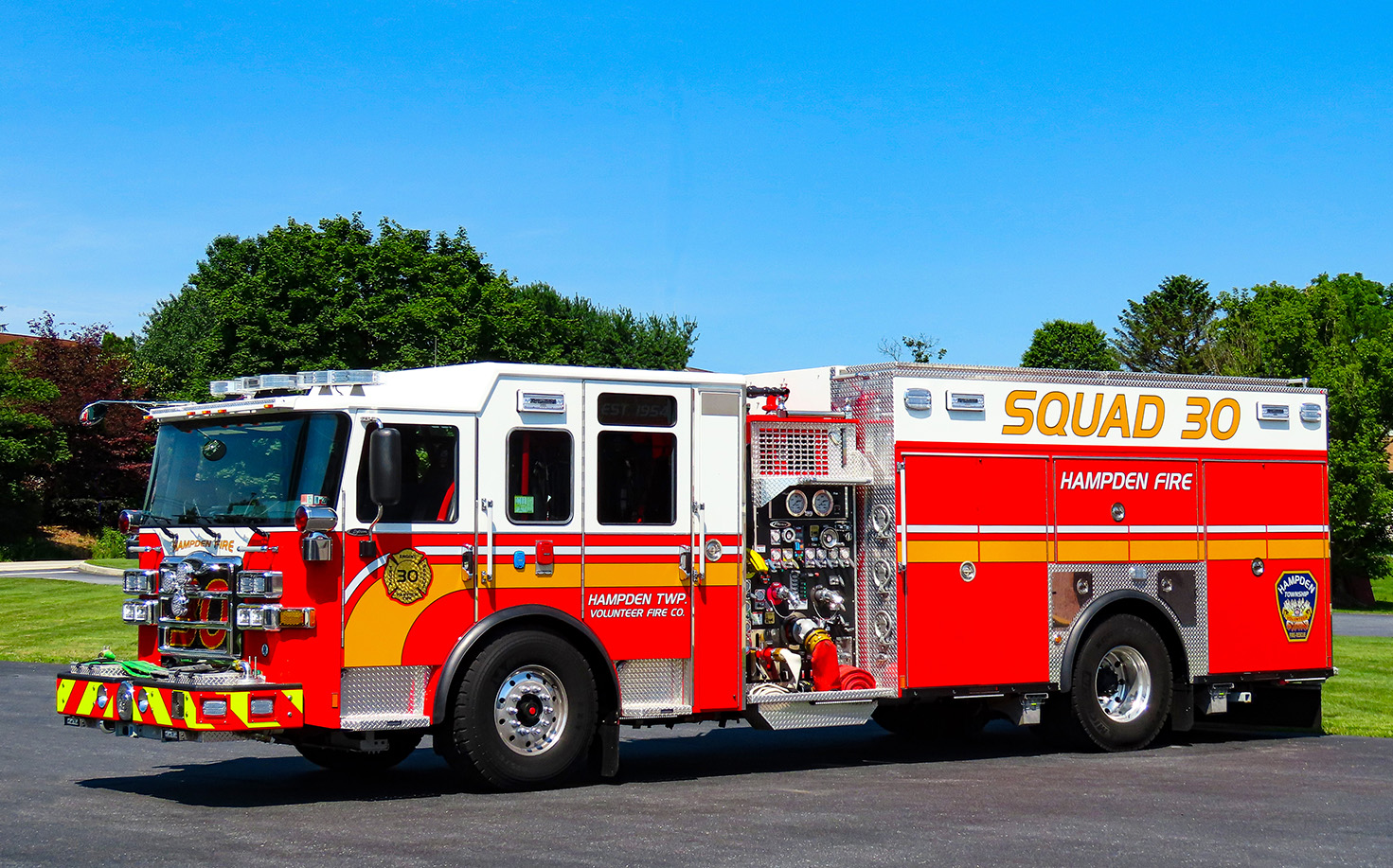 2019 Pierce Enforcer 1500/750
HAMPDEN TOWNSHIP TRUCK 30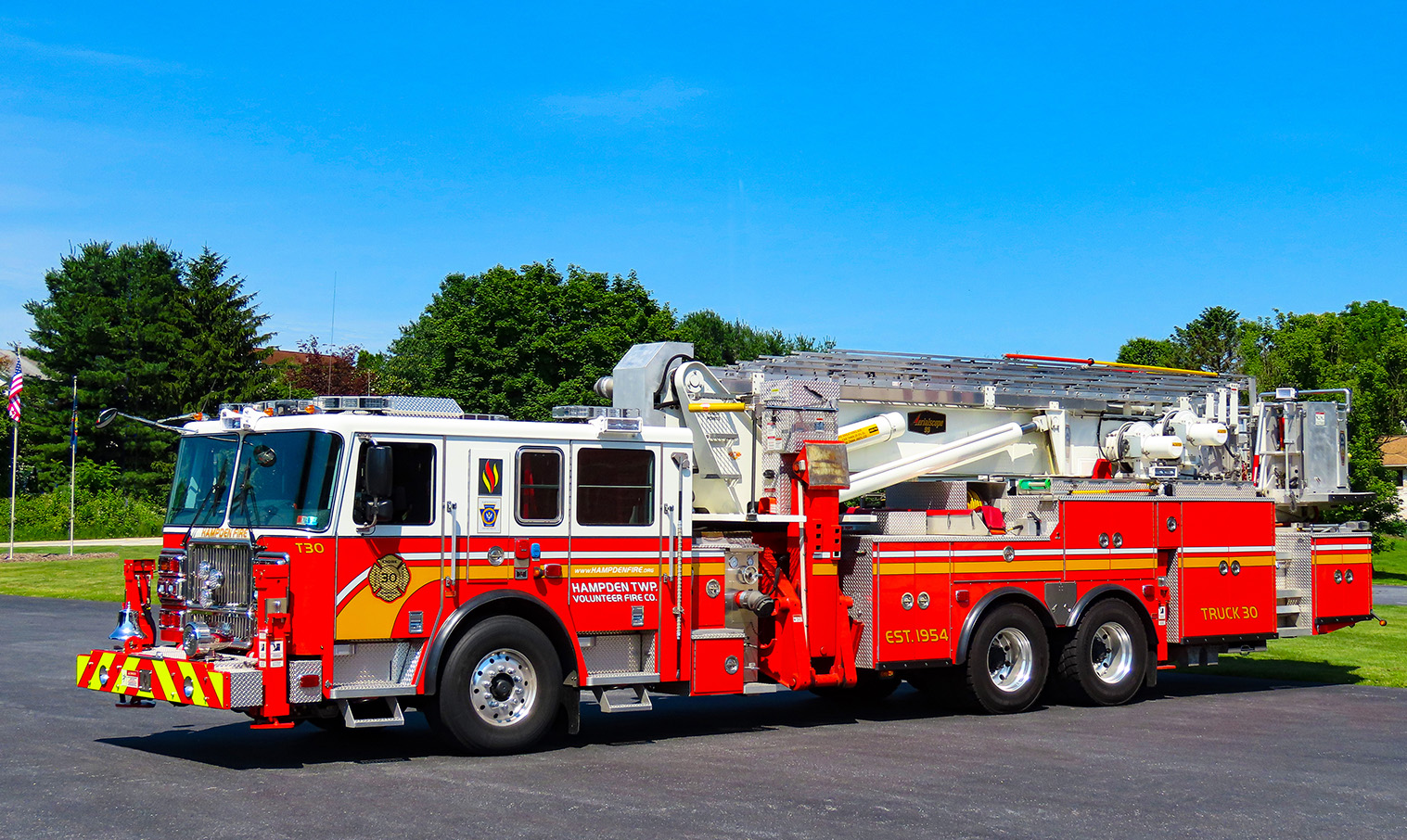 2014 Seagrave/Aerialscope ('96 Boom) 95' MMA Tower
HAMPDEN TOWNSHIP RESCUE 30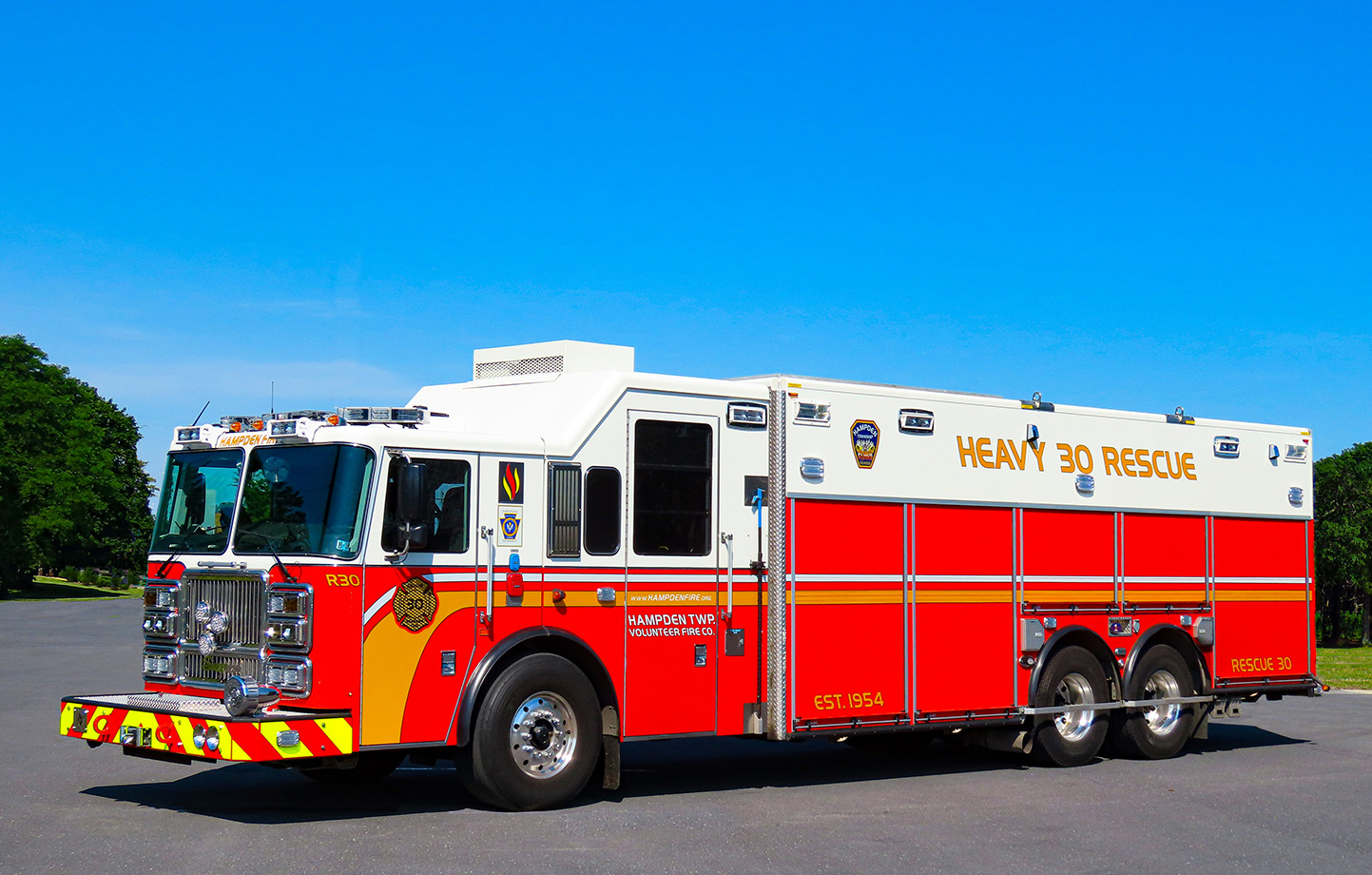 2015 Seagrave/Rescue One Heavy Rescue
HAZLE TOWNSHIP ENGINE 2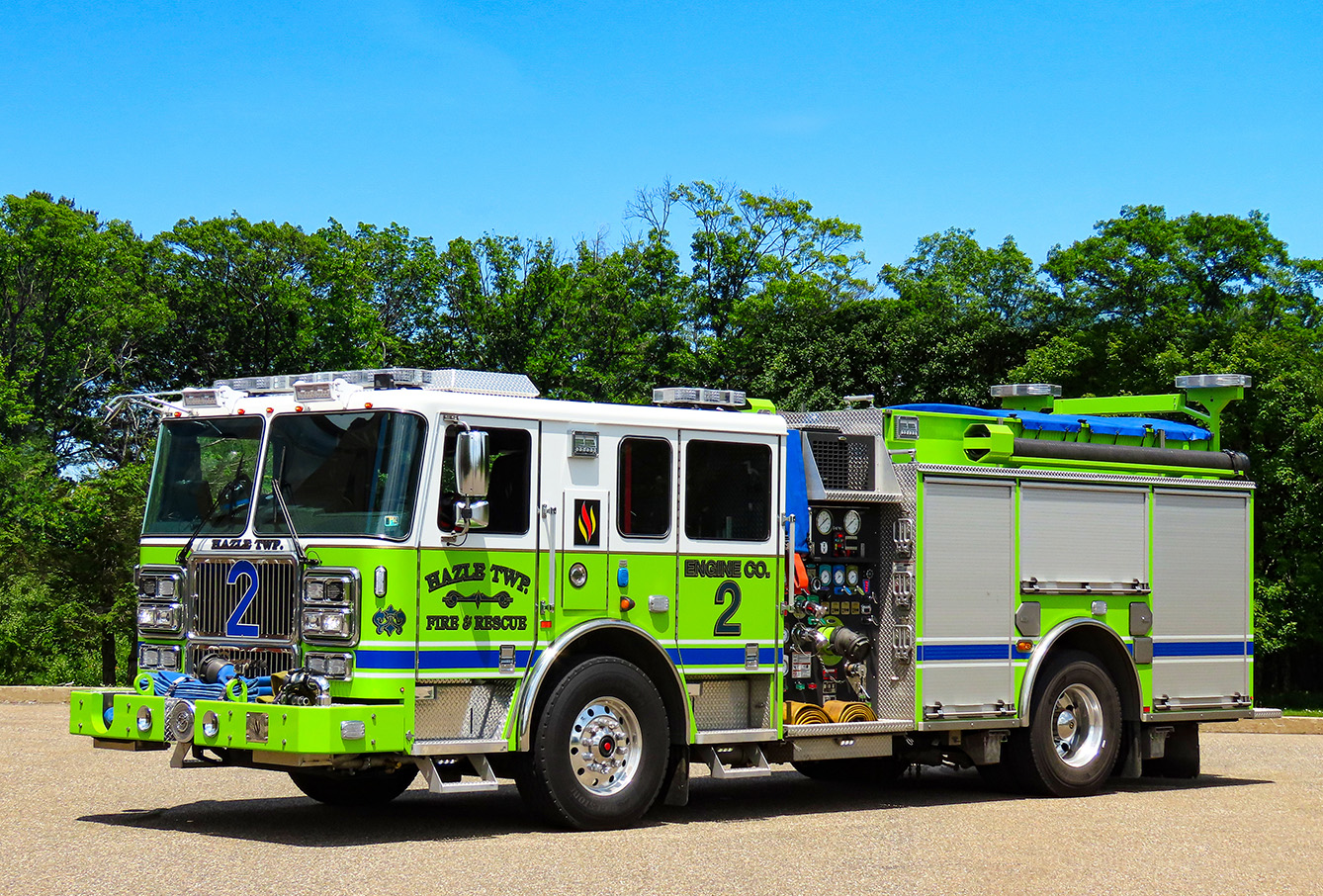 2017 Seagrave Marauder II 2000/750/40A
HAZLE TOWNSHIP TANKER 106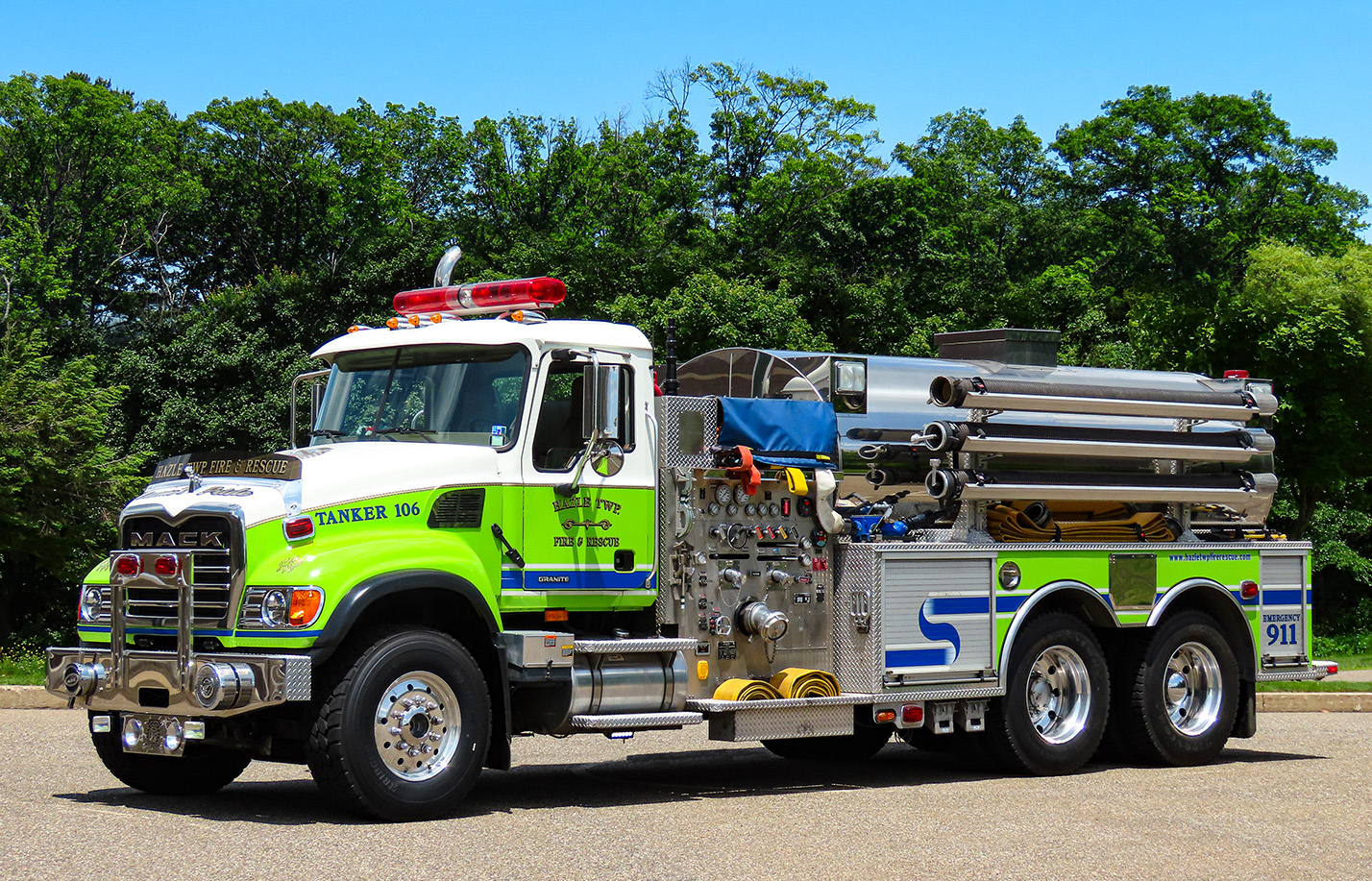 2006 Mack Granite/KME 1500/2500
HEIDLERSBURG FIRE COMPANY {GETTYSBURG} ENGINE 25-1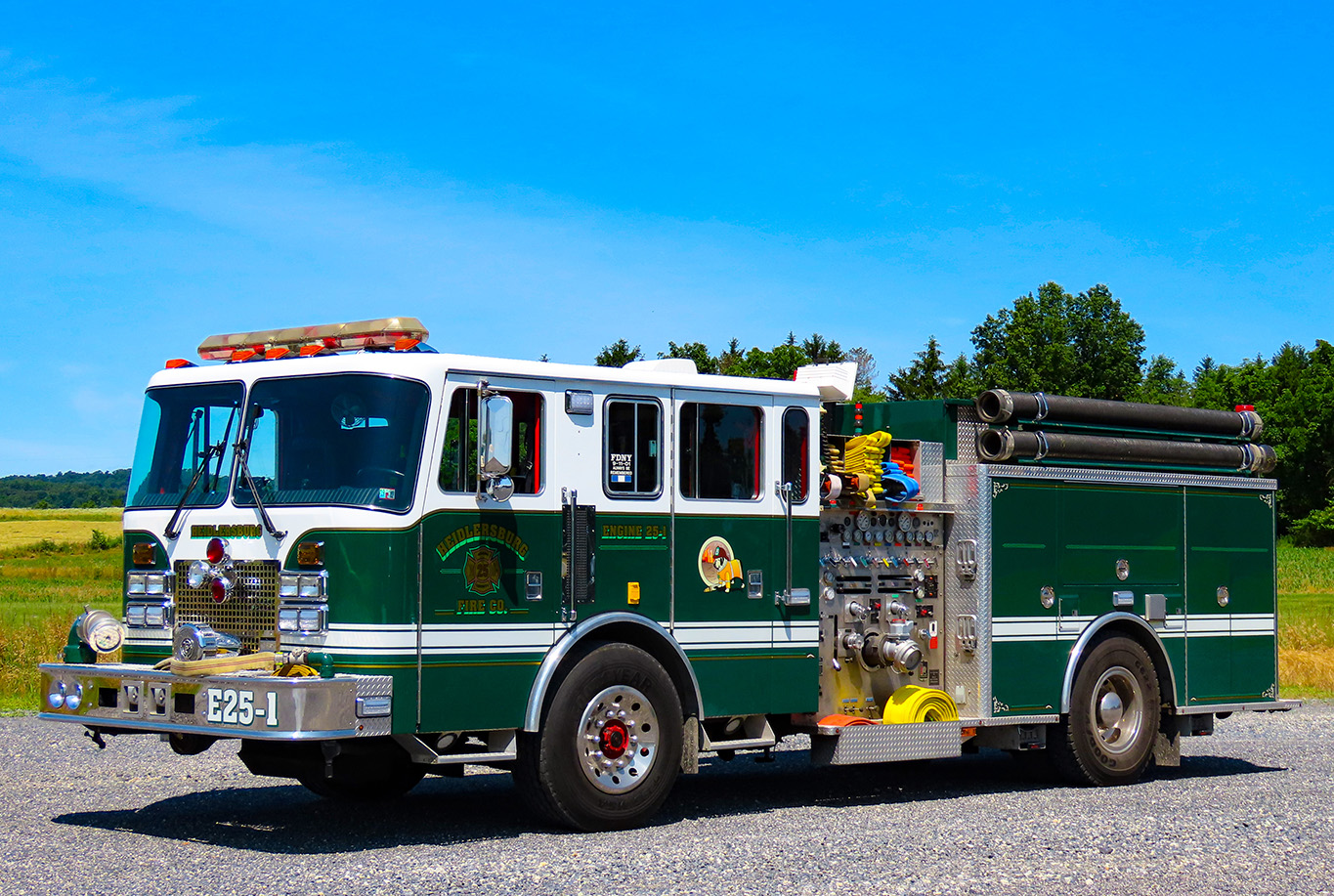 1992 KME 1500/1000/30F
HEIDLERSBURG FIRE COMPANY {GETTYSBURG} ENGINE 25-2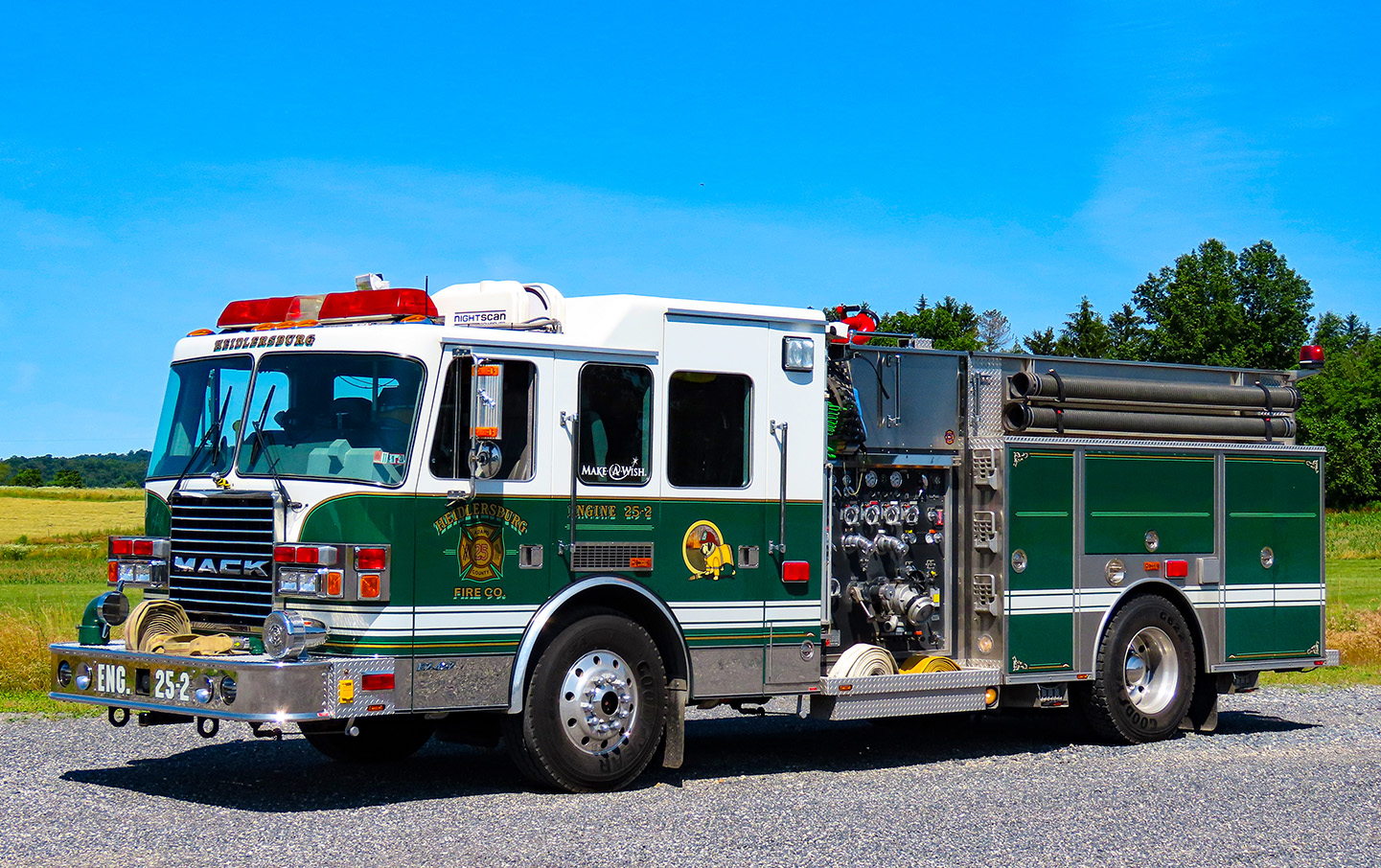 2000 Mack CH/Truck Cab Mfg./Sutphen 1500/800
HEIDLERSBURG FIRE COMPANY {GETTYSBURG} TANKER 25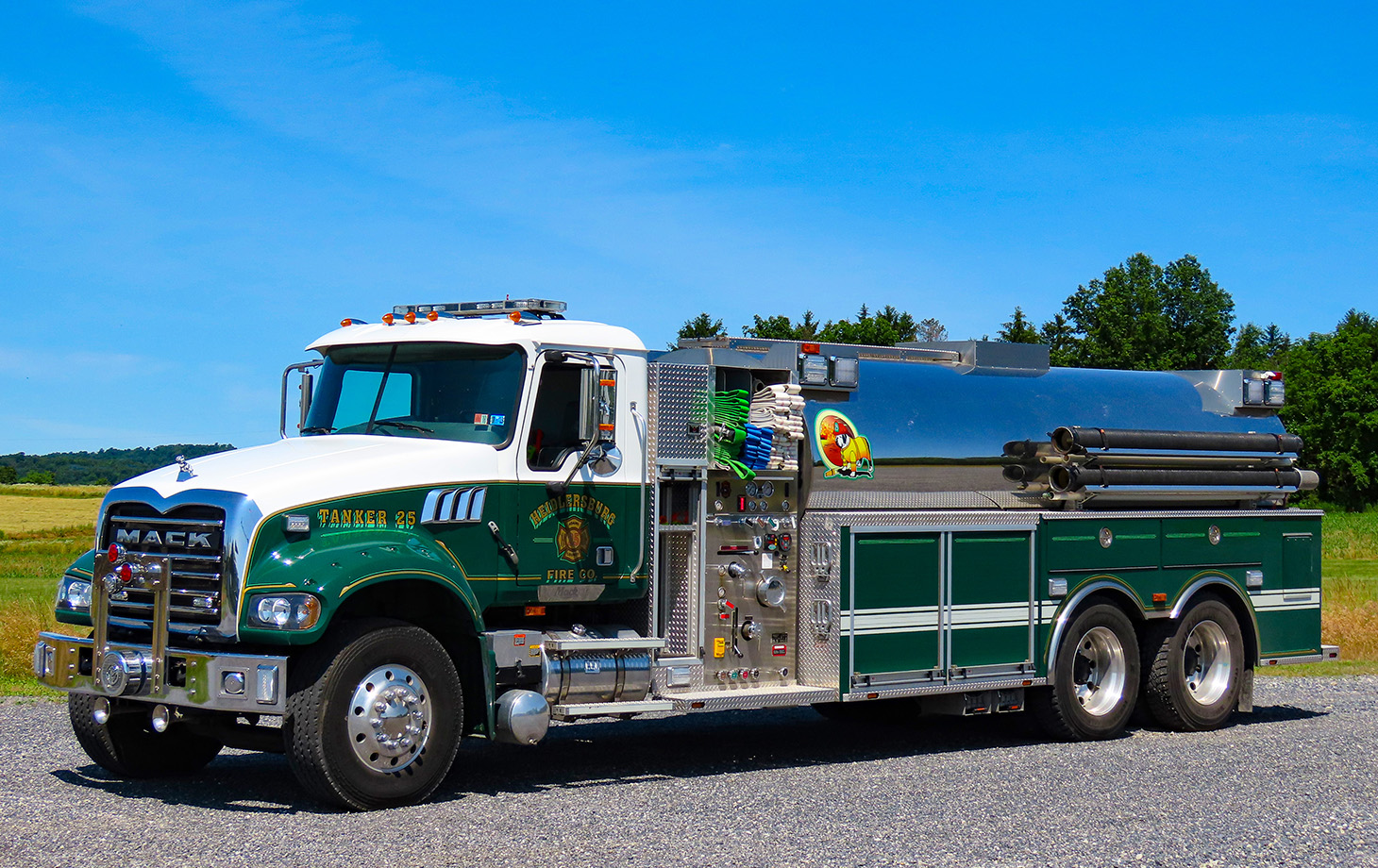 2008 Mack Granite/Pennsylvania Fire Apparatus 750/3600
HEMPFIELD FIRE DEPT. {EAST HEMPFIELD TWP.} ENGINE 69-1
2003 American LaFrance Eagle 1750/750/35A/35B
HEMPFIELD FIRE DEPT. {EAST HEMPFIELD TWP.} TANKER 69
1997 Peterbuilt/S&S 1000/3500
HERSHEY VOLUNTEER FIRE DEPT. ENGINE 48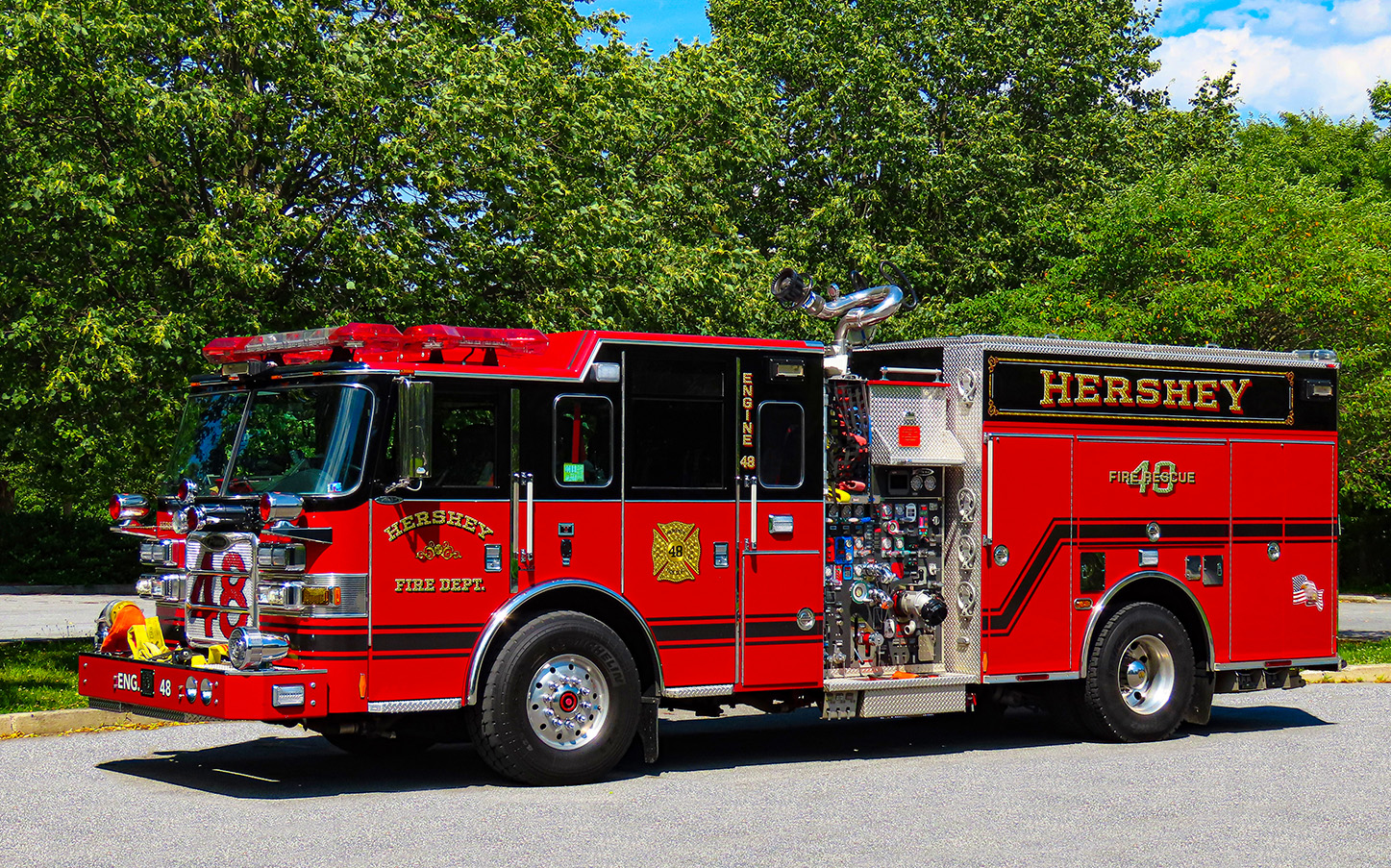 2011 Pierce Arrow XT 2000/750/25A/20B CAFS
HERSHEY VOLUNTEER FIRE DEPT. ENGINE 48-1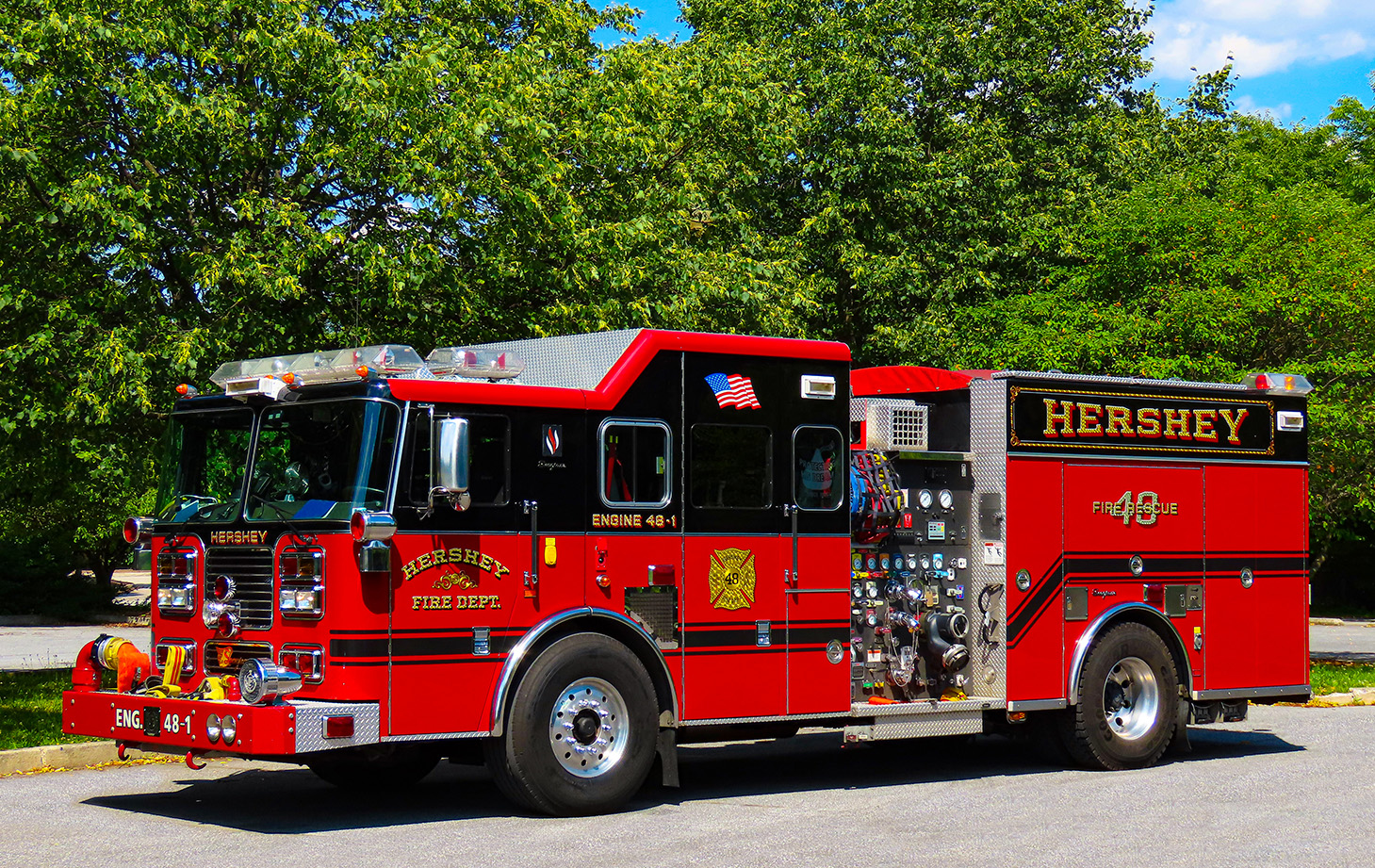 2006 Seagrave 2000/750/30A/30B
HERSHEY VOLUNTEER FIRE DEPT. ATTACK 48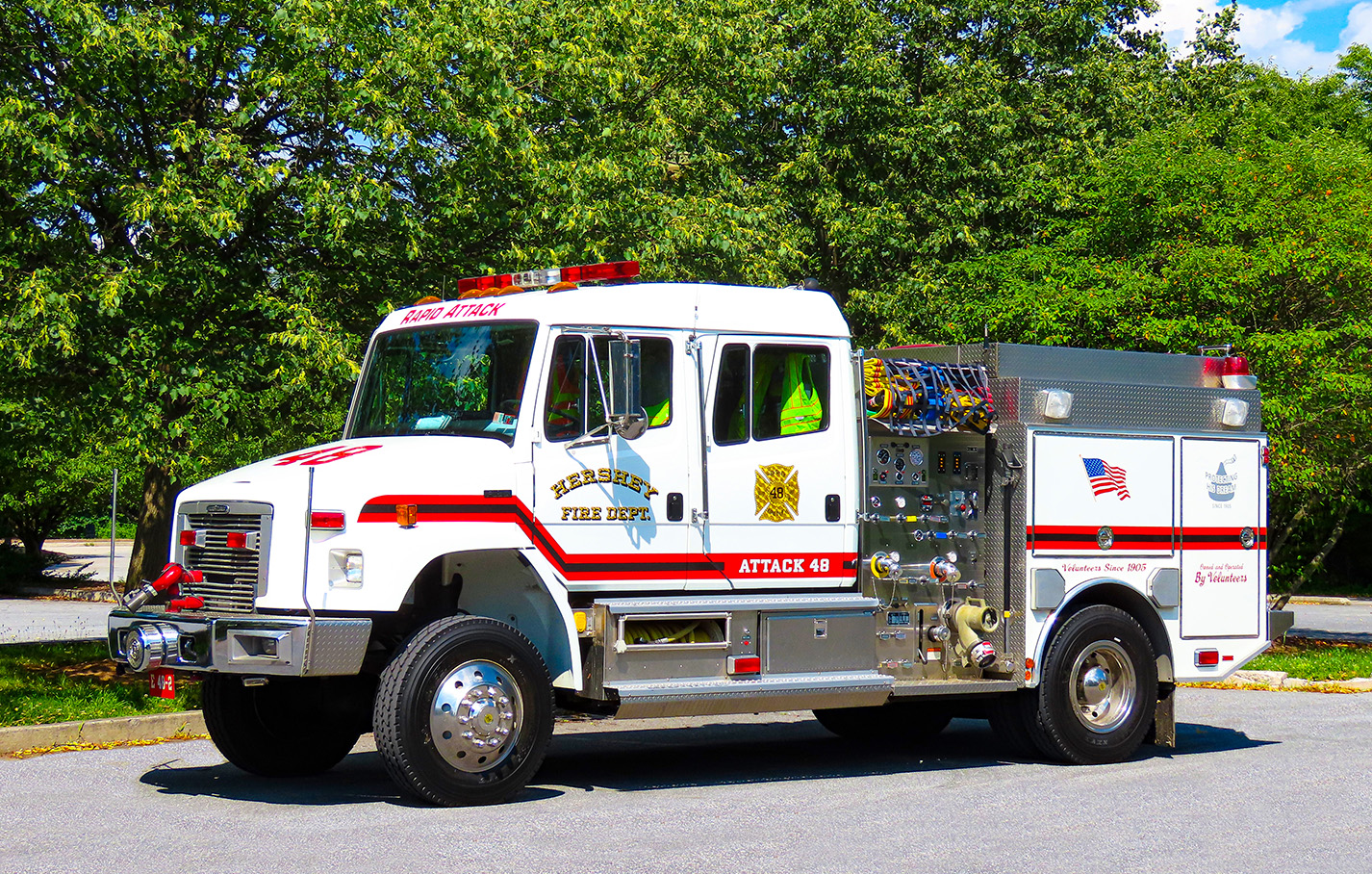 1998 Freightliner/S&S 4x4 750/550/20A
HERSHEY VOLUNTEER FIRE DEPT. TRUCK 48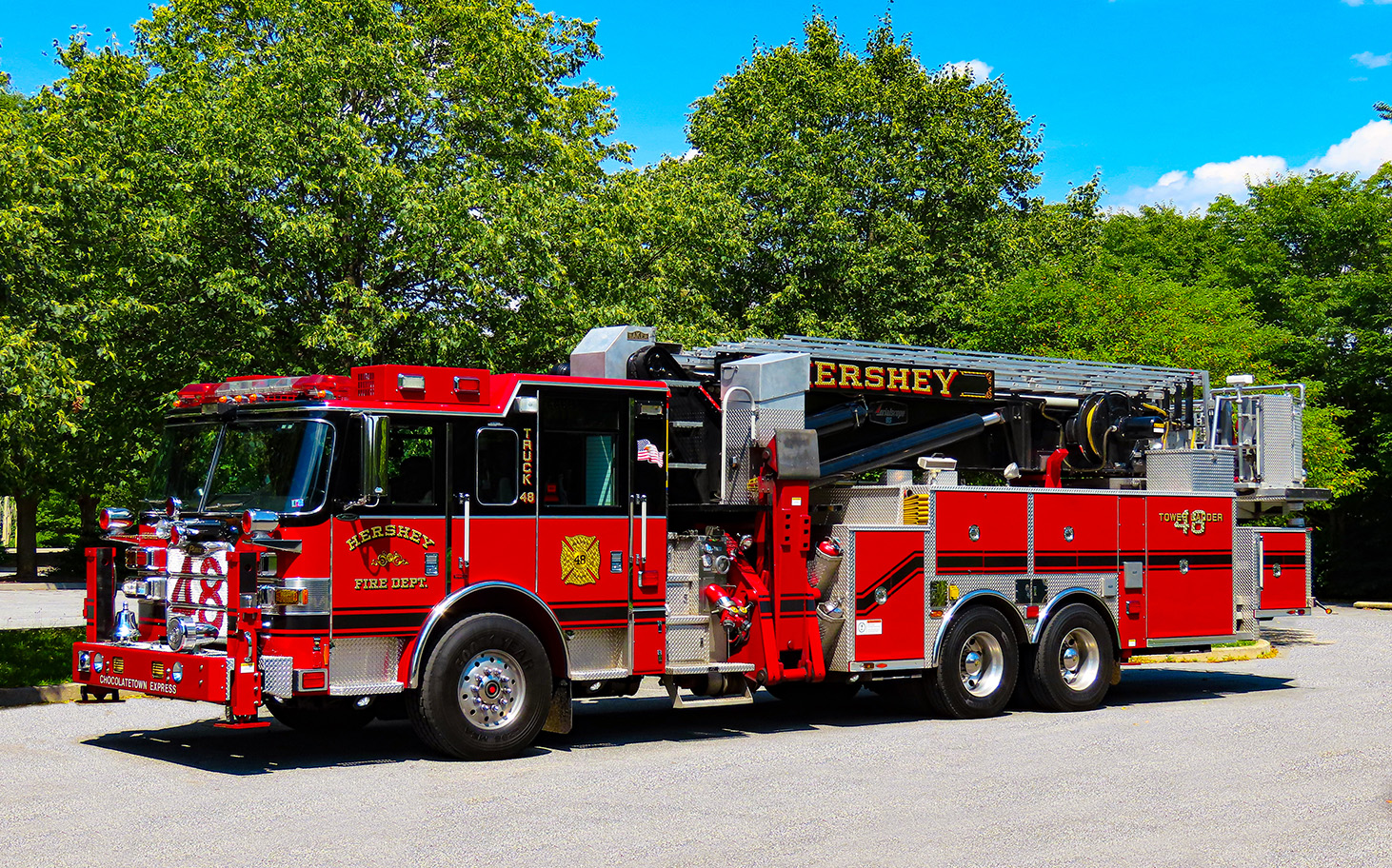 2007 Pierce Arrow XT/1994 Baker Aerialscope 95' MMA Tower
HERSHEY VOLUNTEER FIRE DEPT. RESCUE 48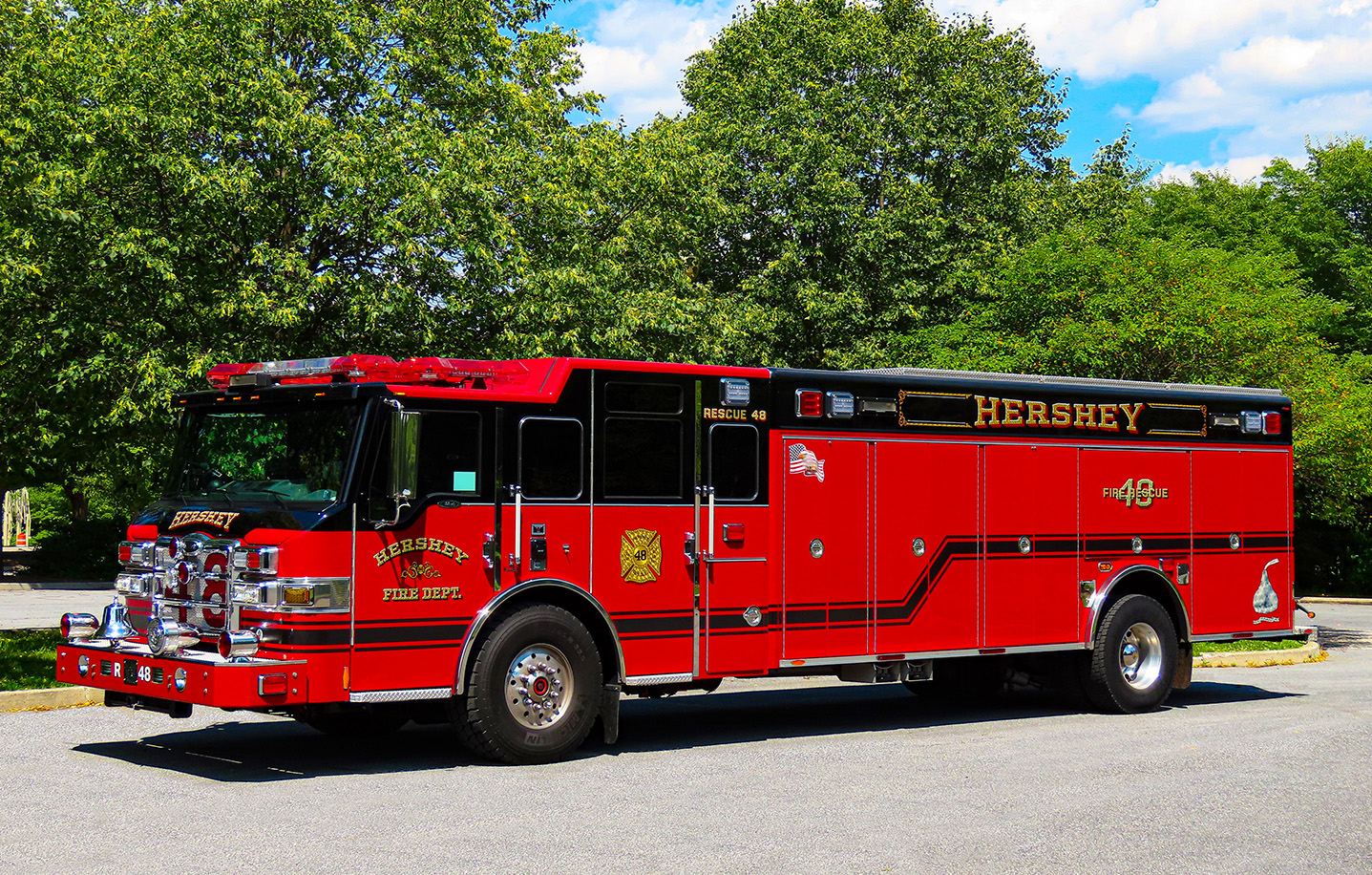 2011 Pierce Velocity Walk-Around Heavy Rescue
IRISHTOWN FIRE COMPANY {OXFORD TWP.} ENGINE 14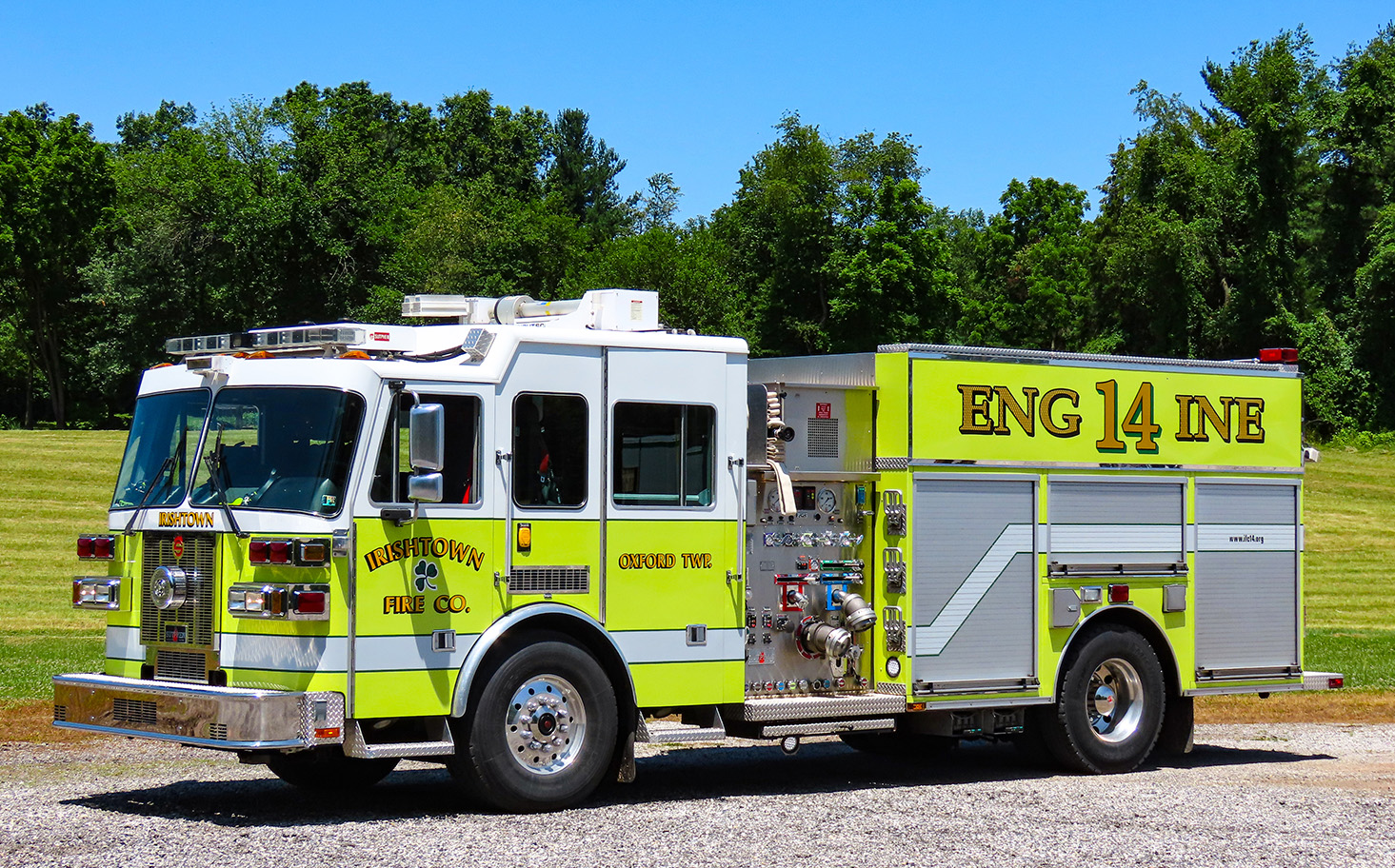 2004 Sutphen Monarch 1500/500 (former Gettysburg Rescue 1)
IRISHTOWN FIRE COMPANY {OXFORD TWP.} ENGINE-TANKER 14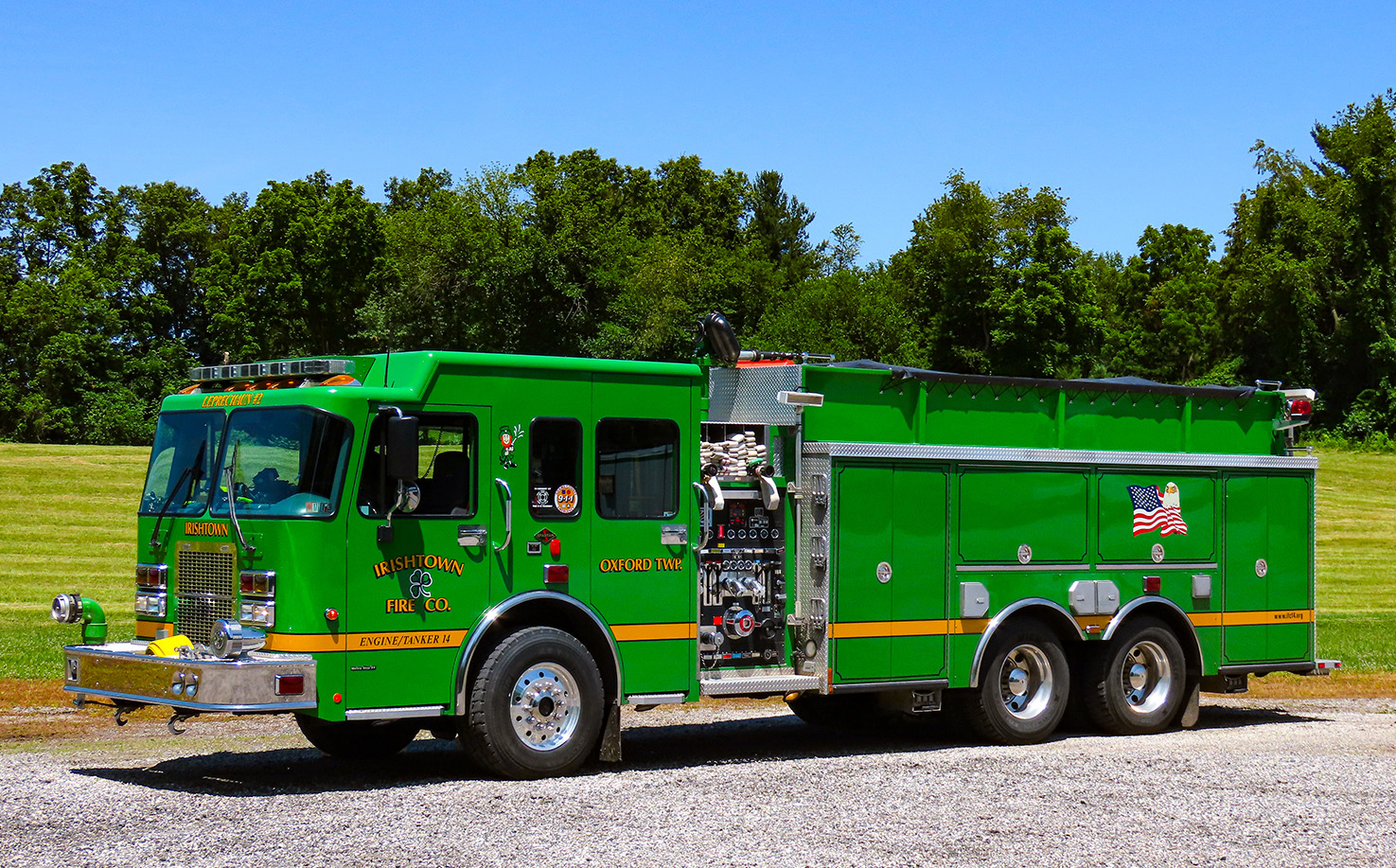 2006 Spartan/Darley 1500/2500
IRISHTOWN FIRE COMPANY {OXFORD TWP.} TRAFFIC 14
2005 Ford F-250/Trafcon Utility 4x4
LAFAYETTE VOLUNTEER FIRE COMPANY {LANCASTER} ENGINE 63-1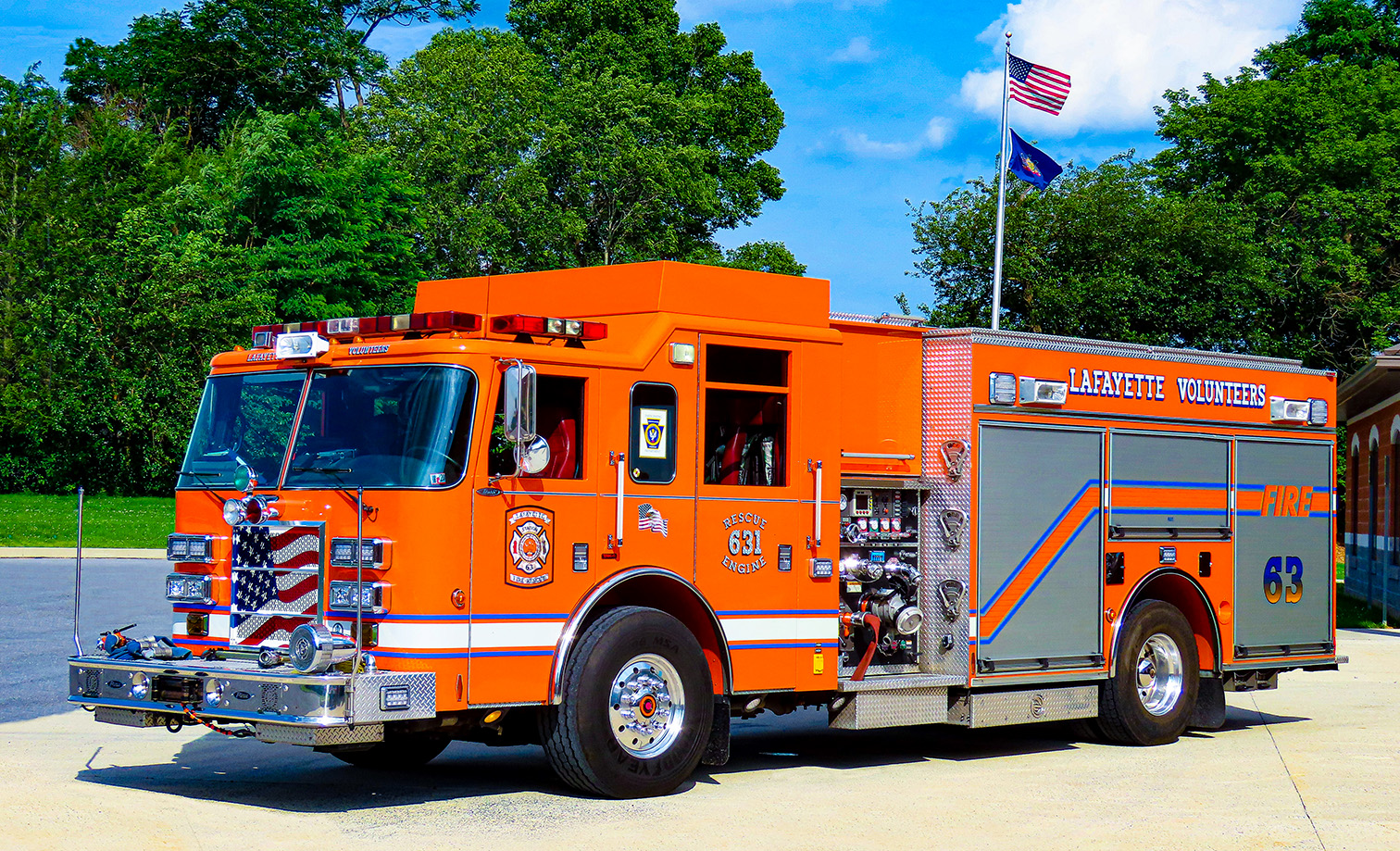 2003 Pierce Dash 1500/500/30AR-AFFF
LAFAYETTE VOLUNTEER FIRE COMPANY {LANCASTER} ENGINE 63-2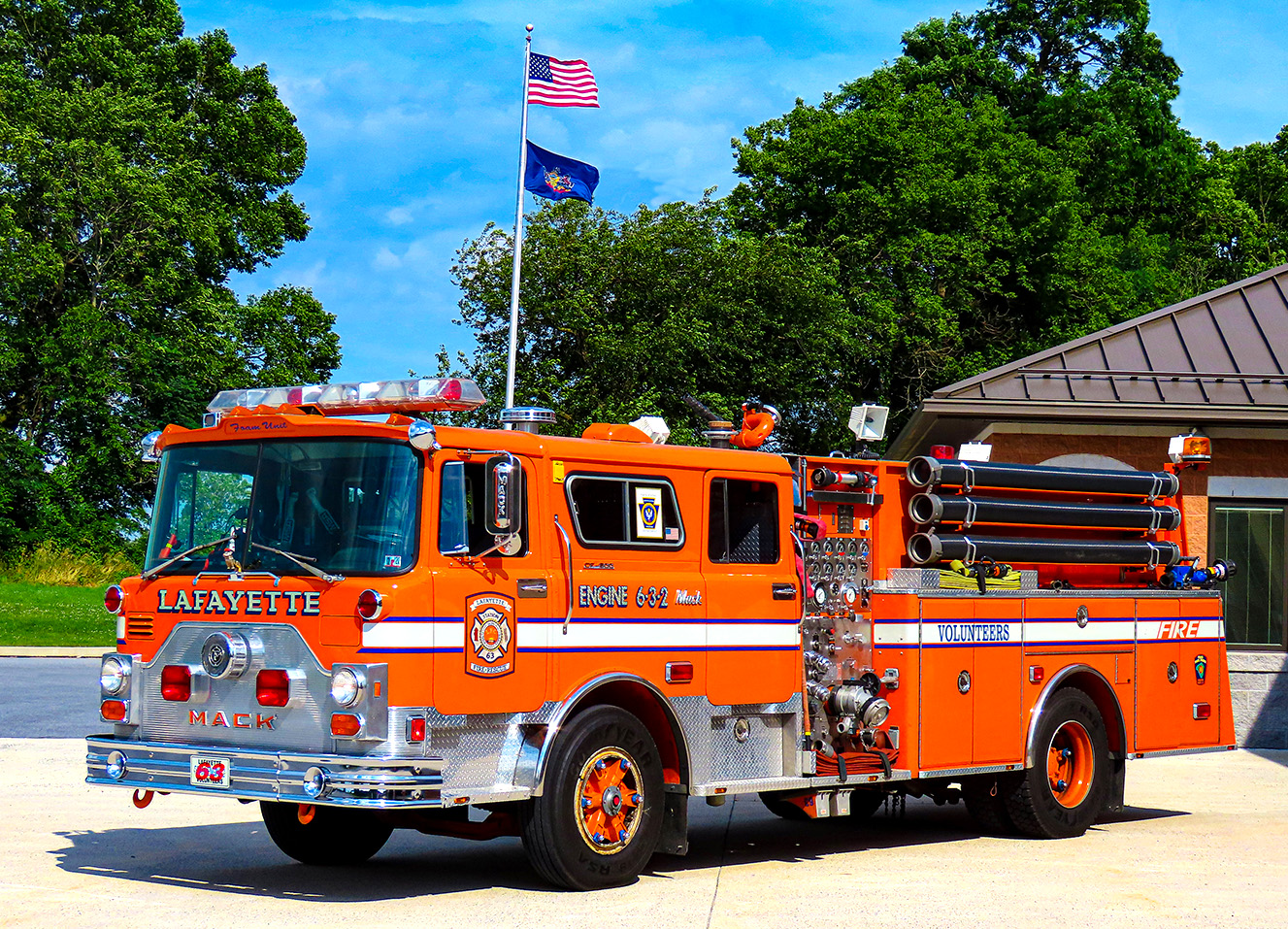 1978 Mack CF 1500/500/200AR-AFFF (1992 Refurb By Pennsylvania Fire Apparatus)
LAFAYETTE VOLUNTEER FIRE COMPANY {LANCASTER} TOWER LADDER 63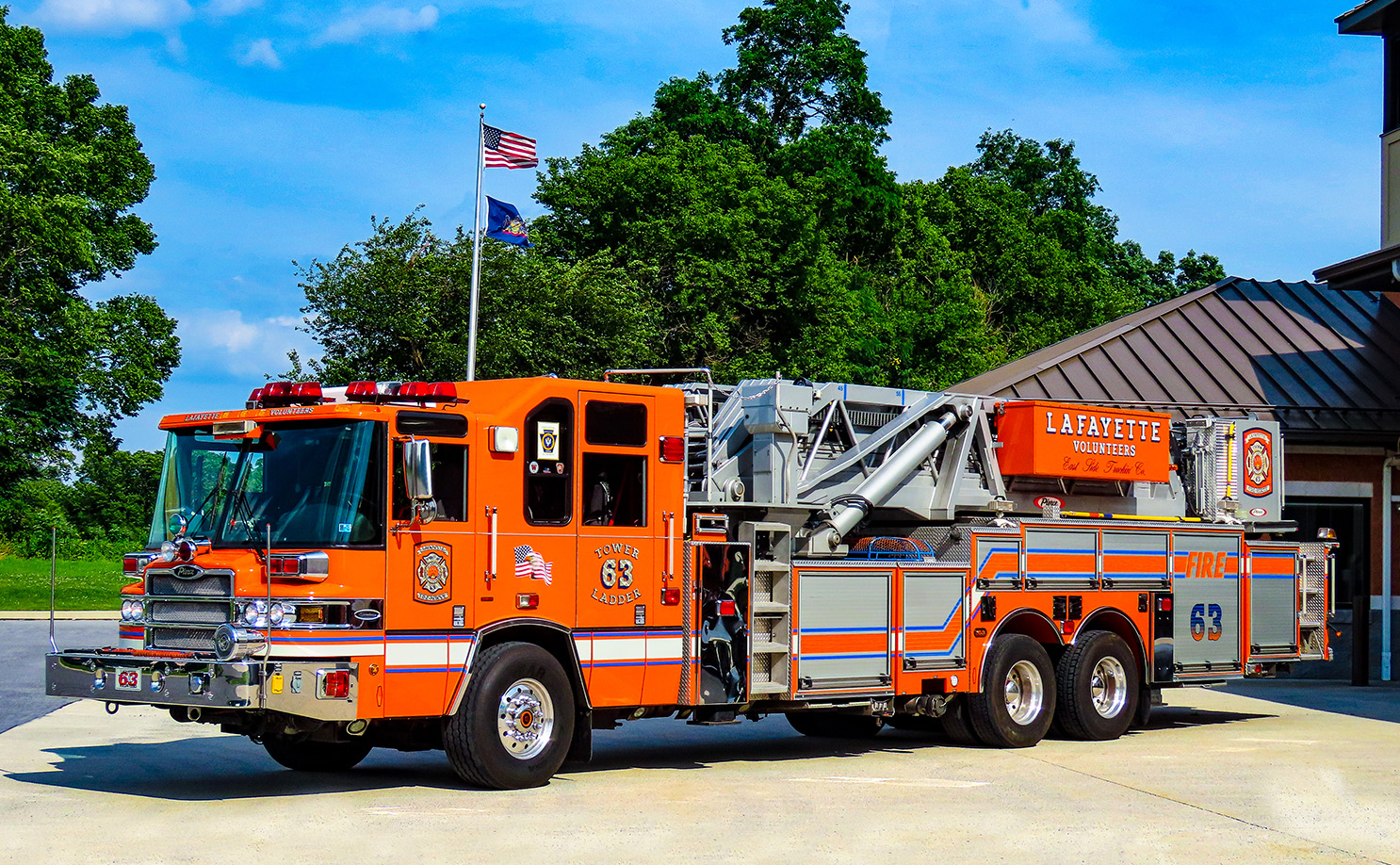 2007 Pierce Quantum 95' MMA Tower
LAFAYETTE VOLUNTEER FIRE COMPANY {LANCASTER} SQUAD 631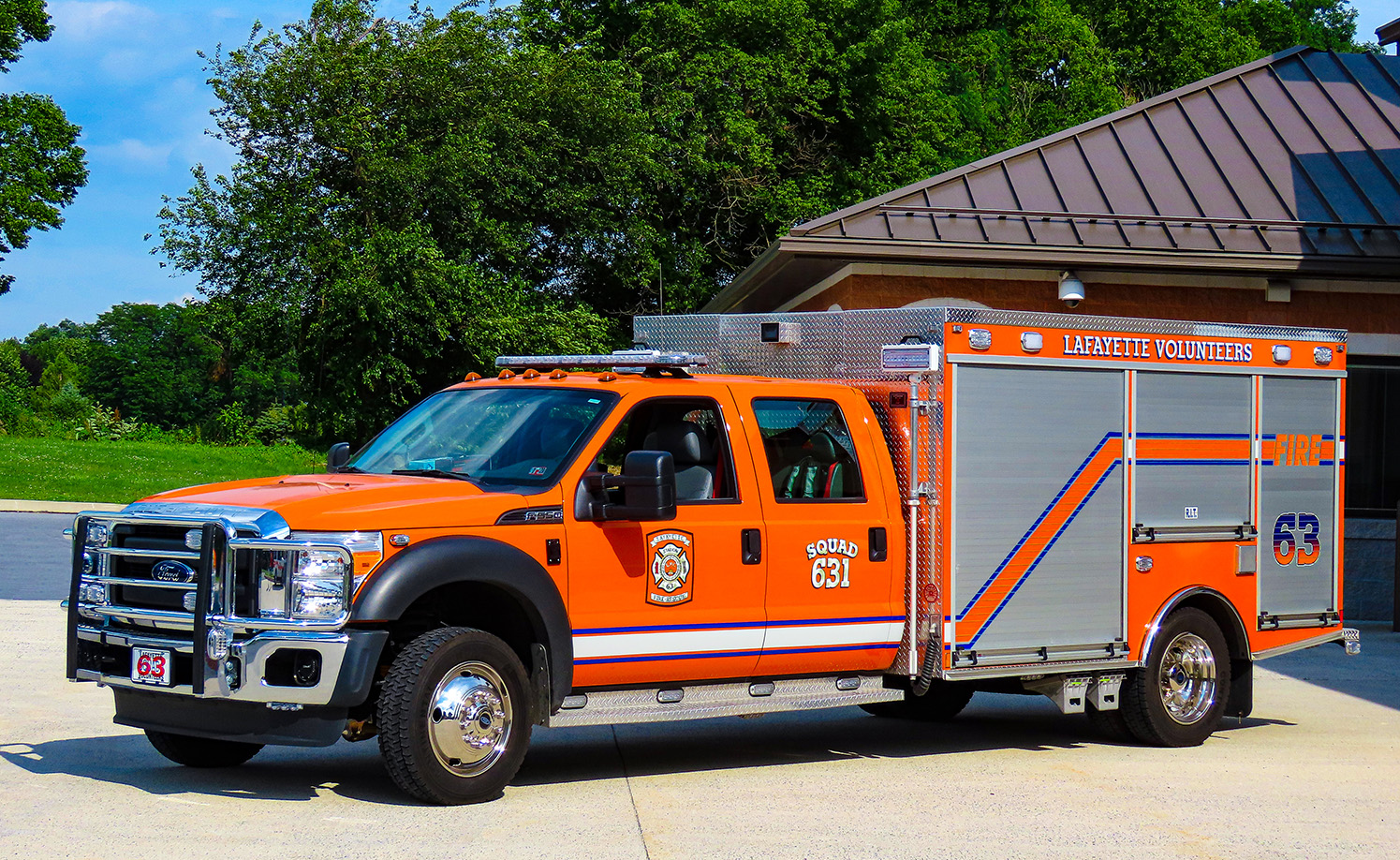 2016 Ford F-550/Swab 4x4 Light Rescue
LAFAYETTE VOLUNTEER FIRE COMPANY {LANCASTER} SQUAD 632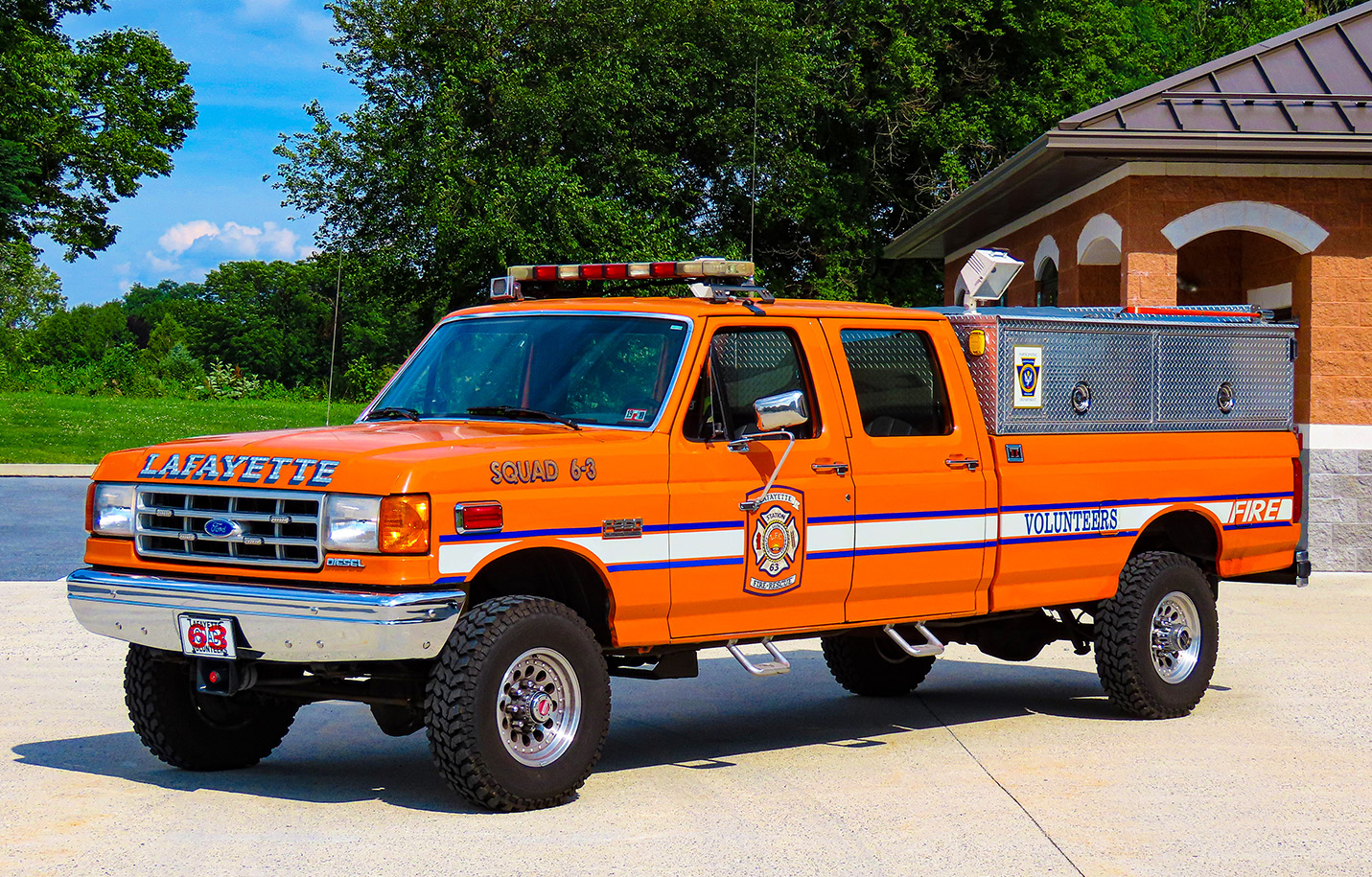 1992 Ford F-250 4x4
LEHIGH TOWNSHIP VOLUNTEER FIRE COMPANY #1 ENGINE 4712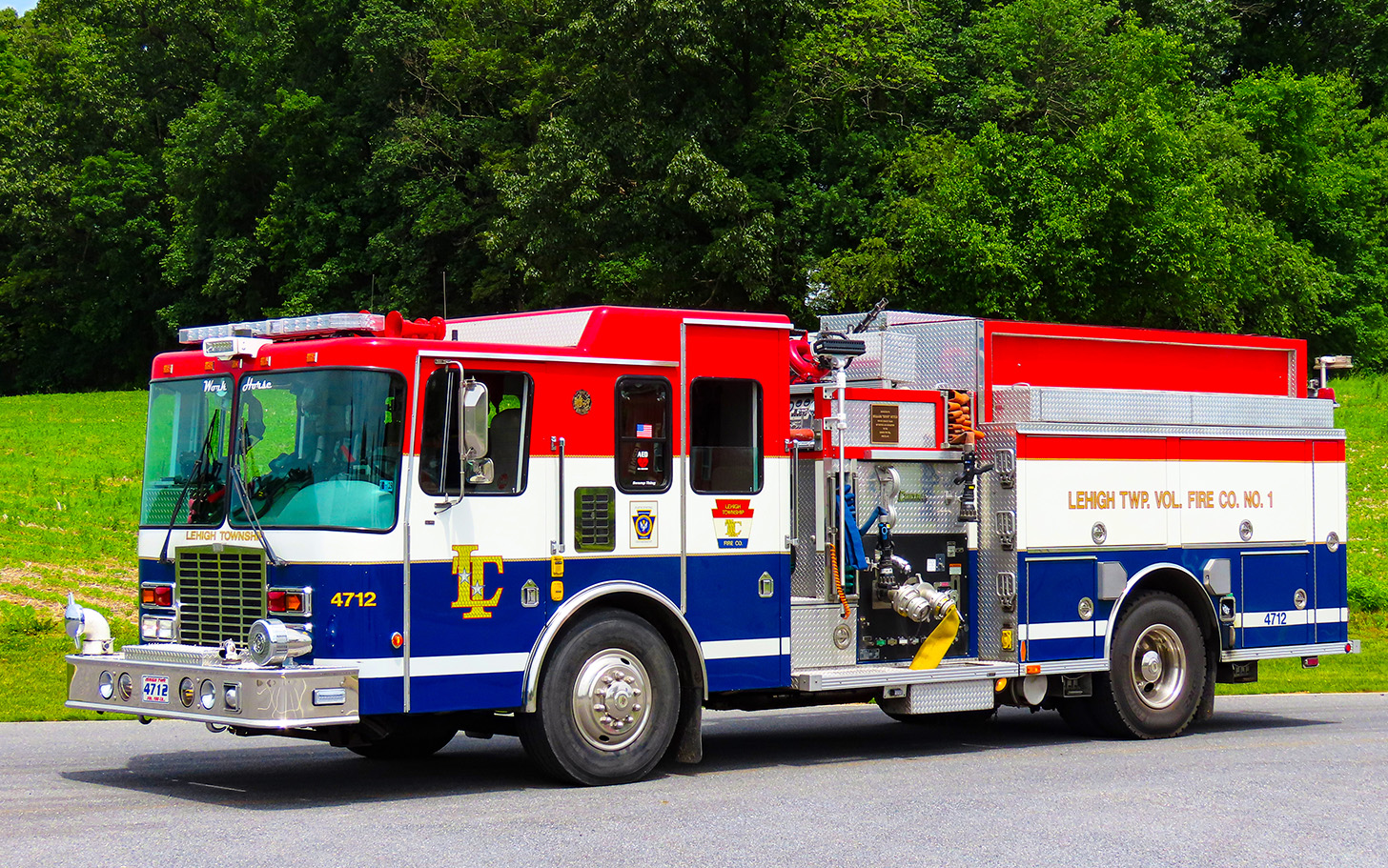 1998 HME/Central States 2000/1000/20F
LEHIGH TOWNSHIP VOLUNTEER FIRE COMPANY #1 LADDER 4721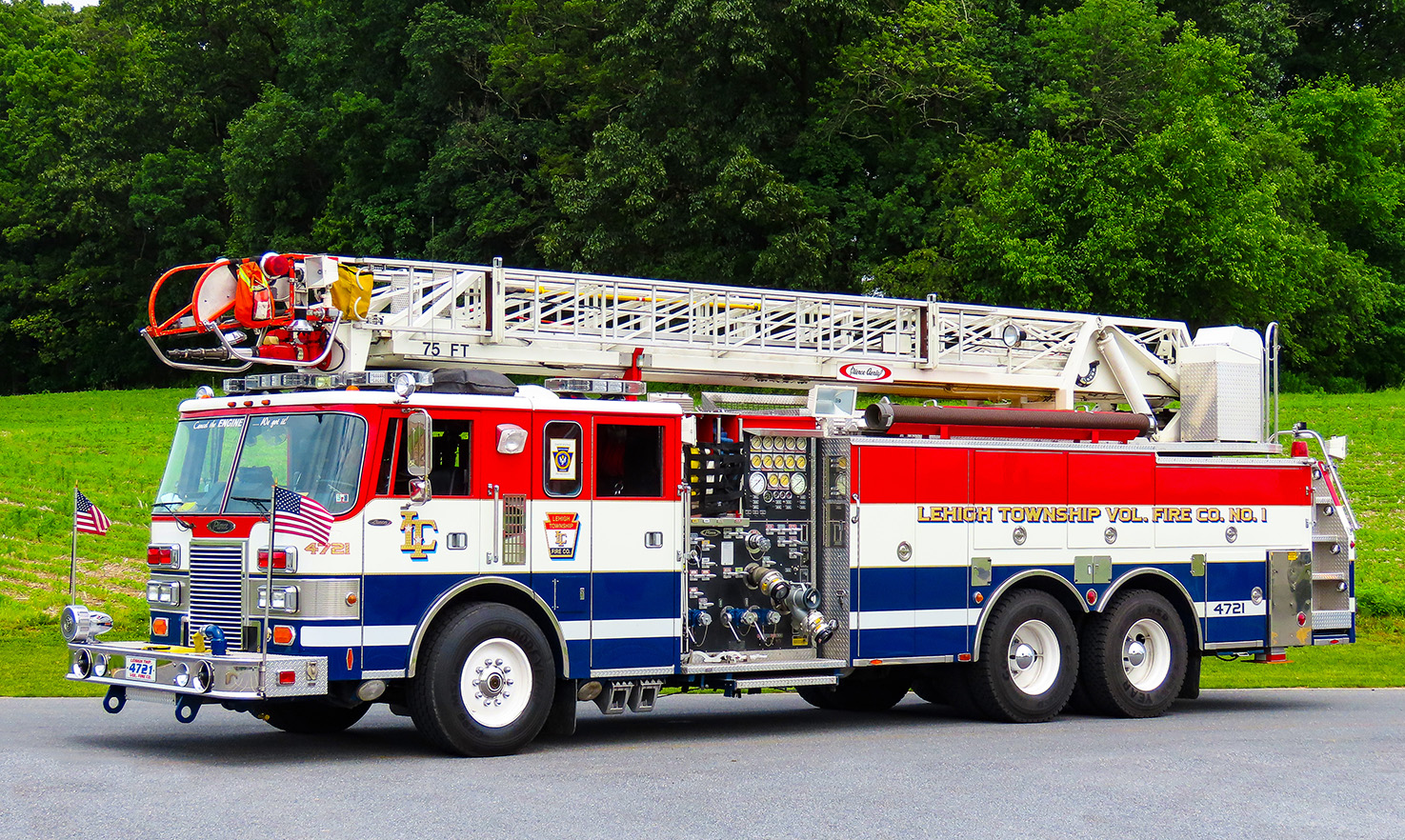 1991 Pierce Lance 2000/600/20F 75F
LEHIGH TOWNSHIP VOLUNTEER FIRE COMPANY #1 TANKER 4731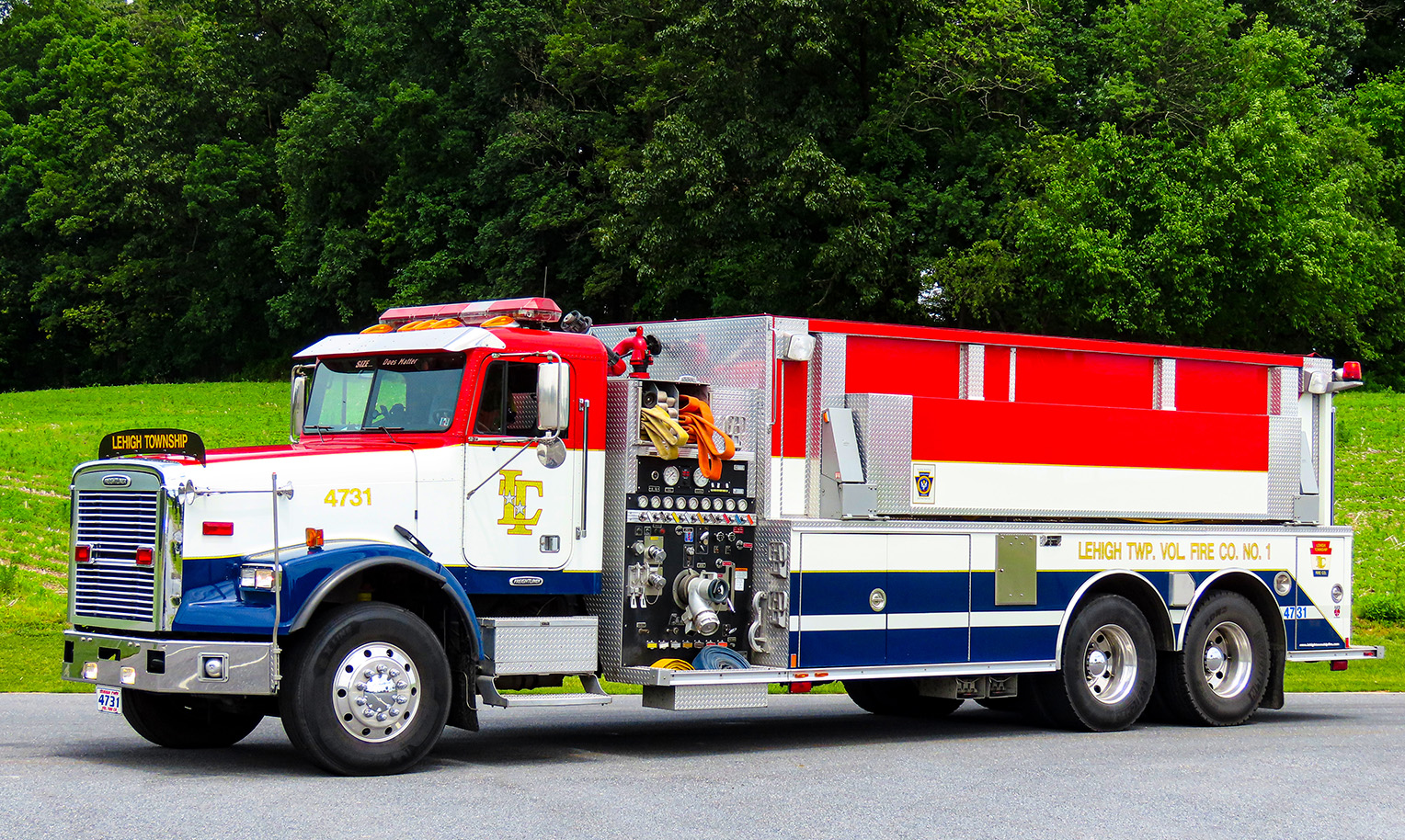 2003 Freightliner/Central States 1500/3500
LEHIGH TOWNSHIP VOLUNTEER FIRE COMPANY #1 RESCUE 4741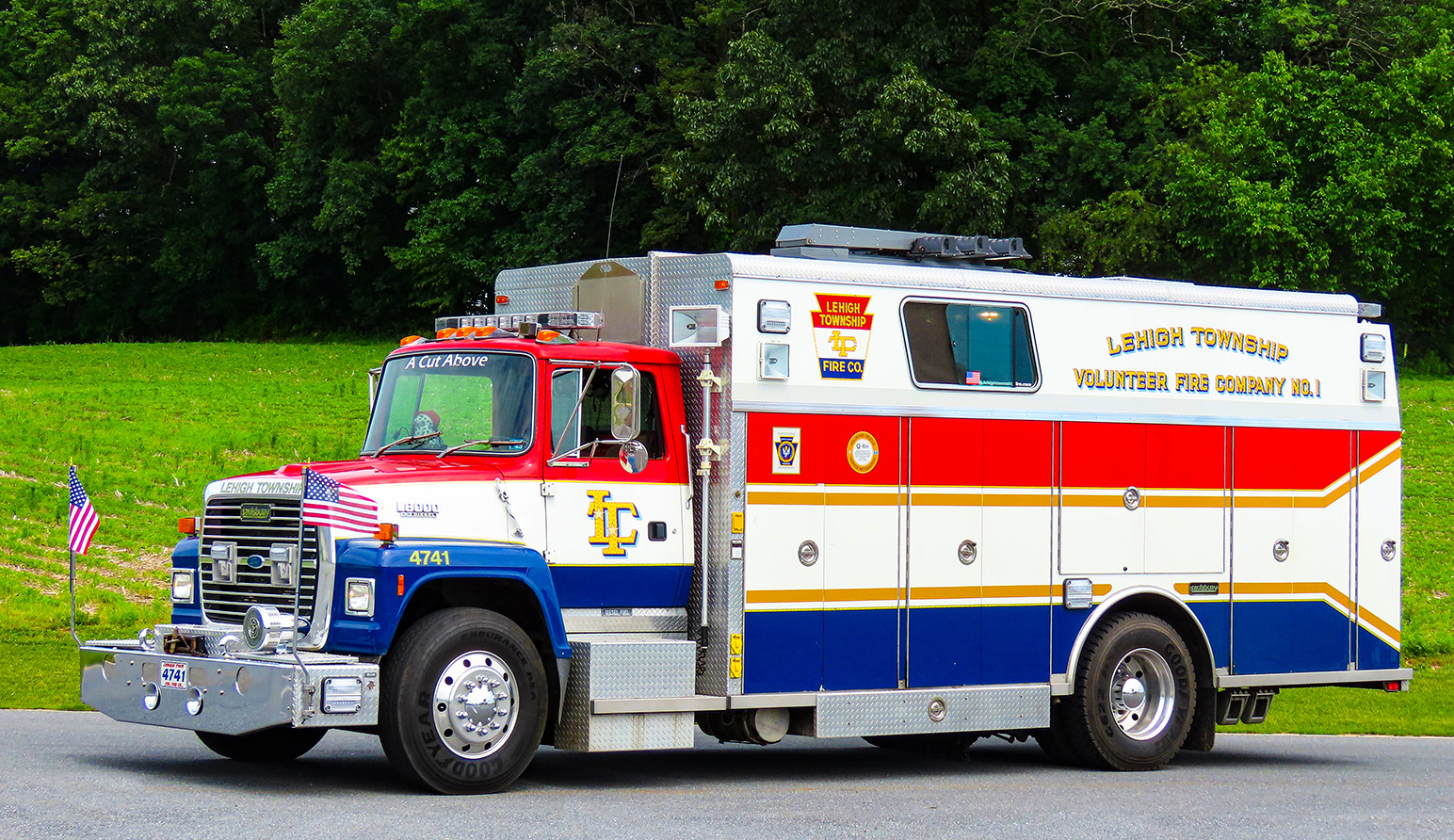 1990 Ford L-8000/Saulsbury Walk-In Heavy Rescue
LINGLESTOWN FIRE COMPANY #1 {LOWER PAXTON TWP.} ENGINE 35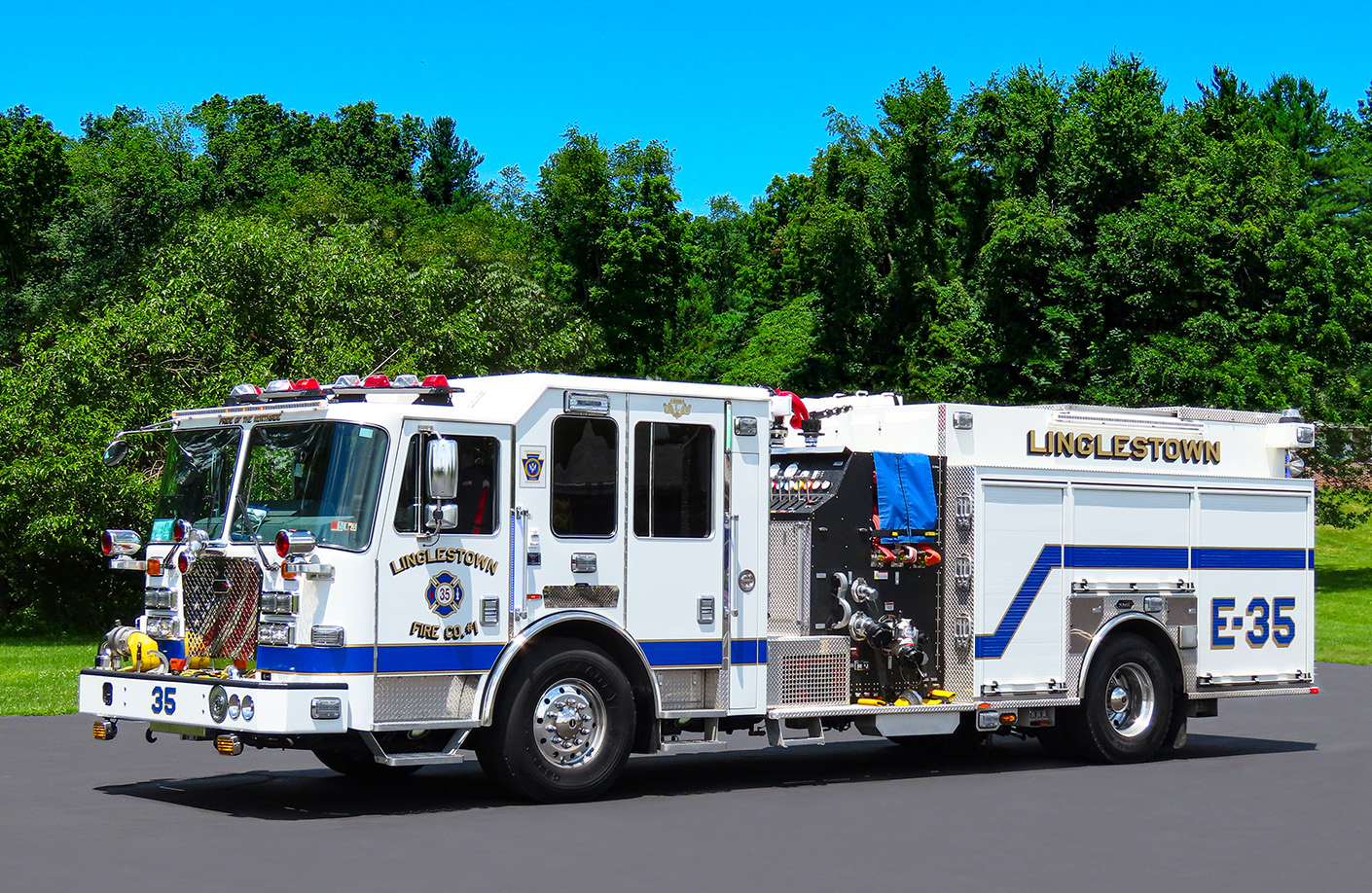 2017 KME Severe Service 1750/850
LINGLESTOWN FIRE COMPANY #1 {LOWER PAXTON TWP.} TANKER 35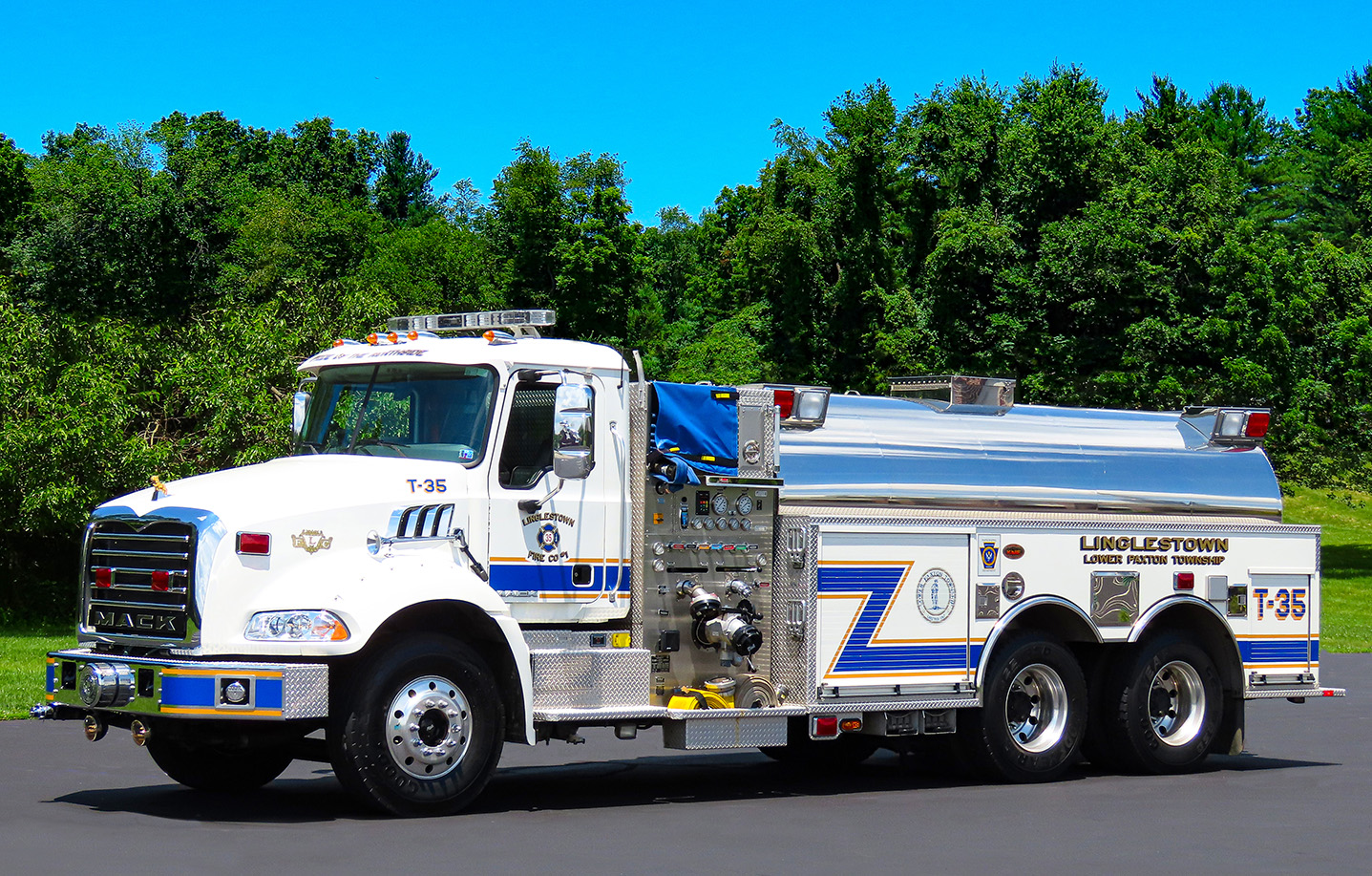 2016 Mack Granite/KME 1250/2500
LINGLESTOWN FIRE COMPANY #1 {LOWER PAXTON TWP.} RESCUE 35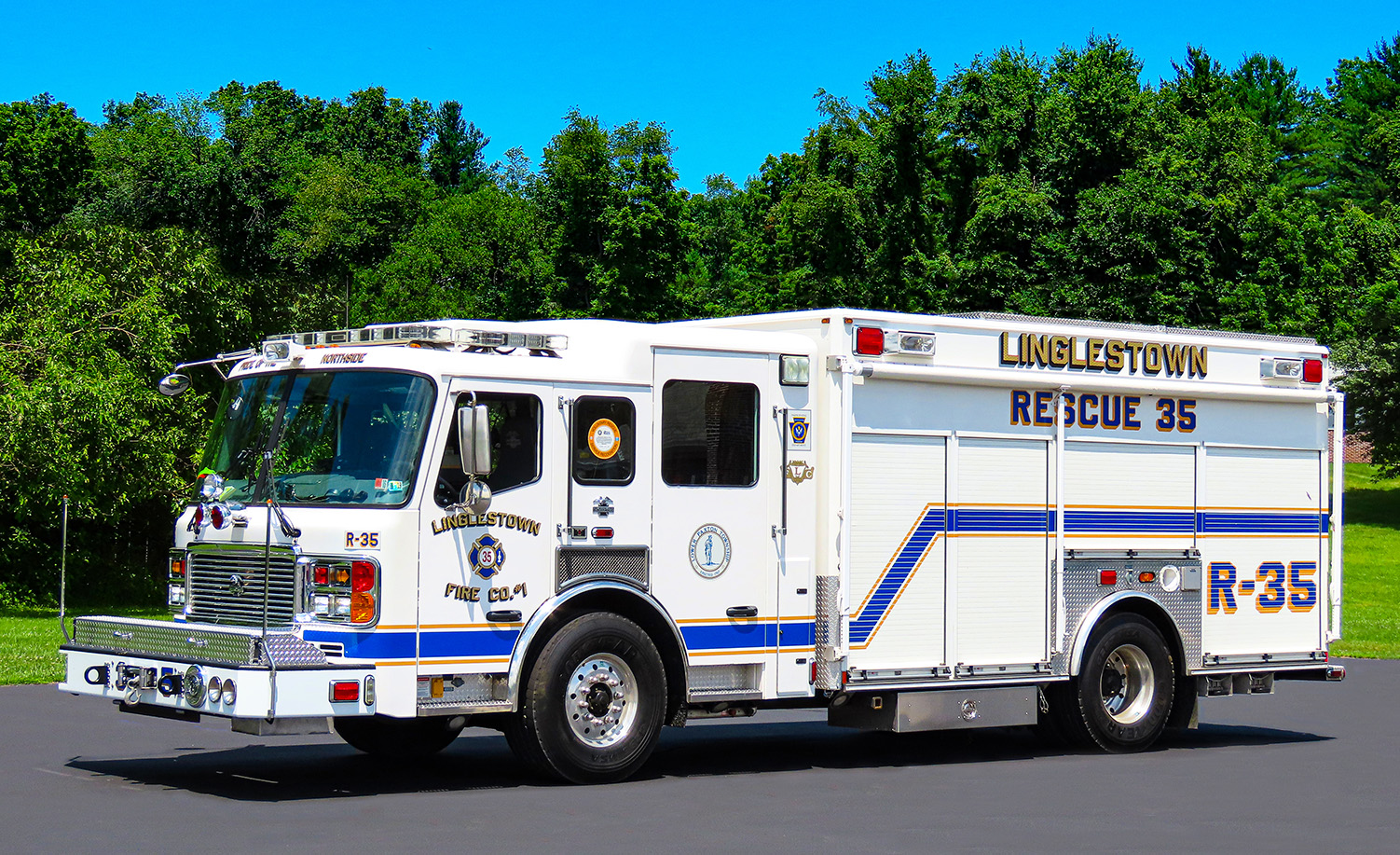 2006 American LaFrance Eagle Walk-Around Heavy Rescue
LISBURN COMMUNITY FIRE COMPANY {LOWER ALLEN TWP.} ENGINE 24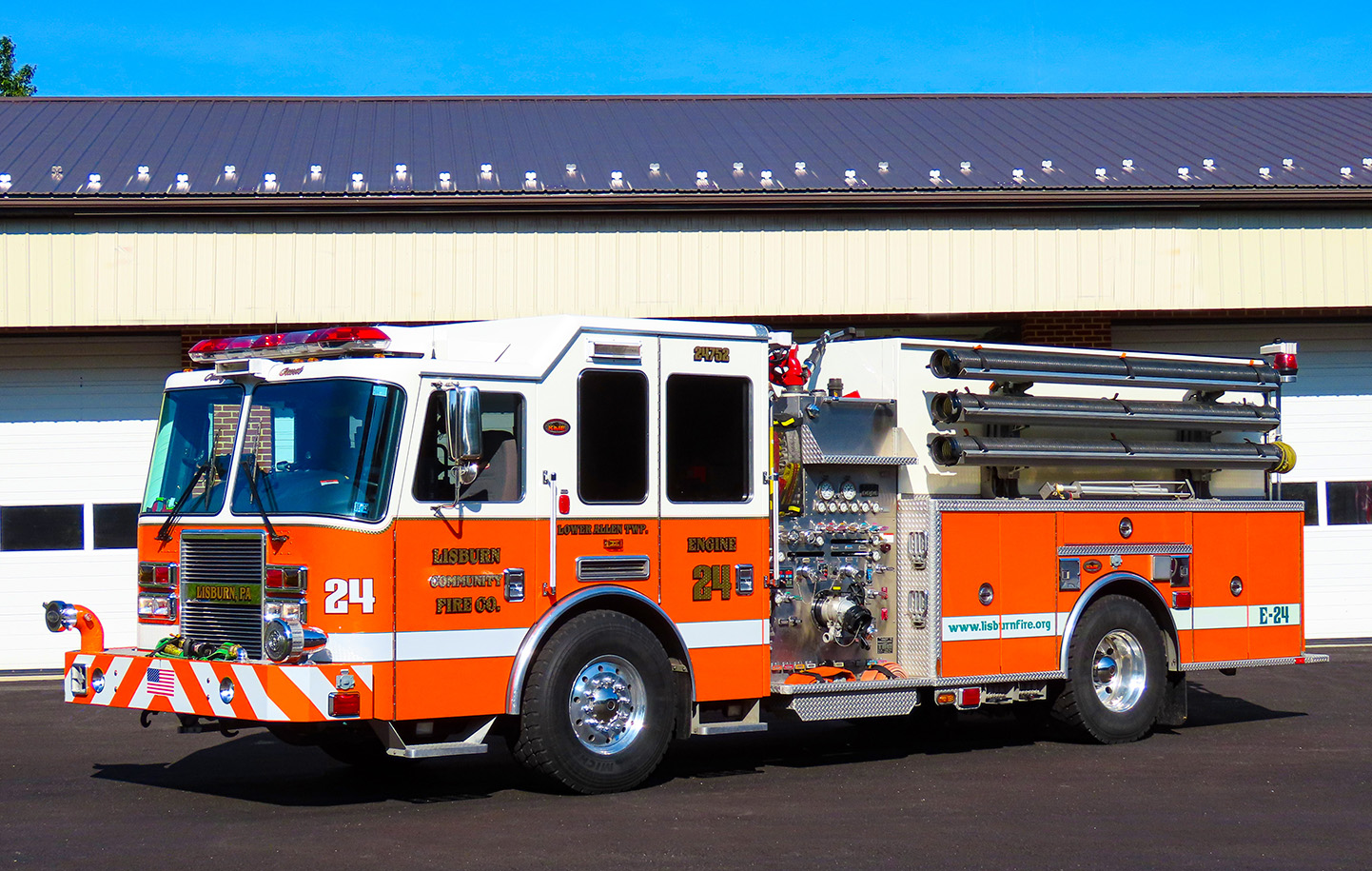 2009 KME Predator 1500/1000
LISBURN COMMUNITY FIRE COMPANY {LOWER ALLEN TWP.} TANKER 24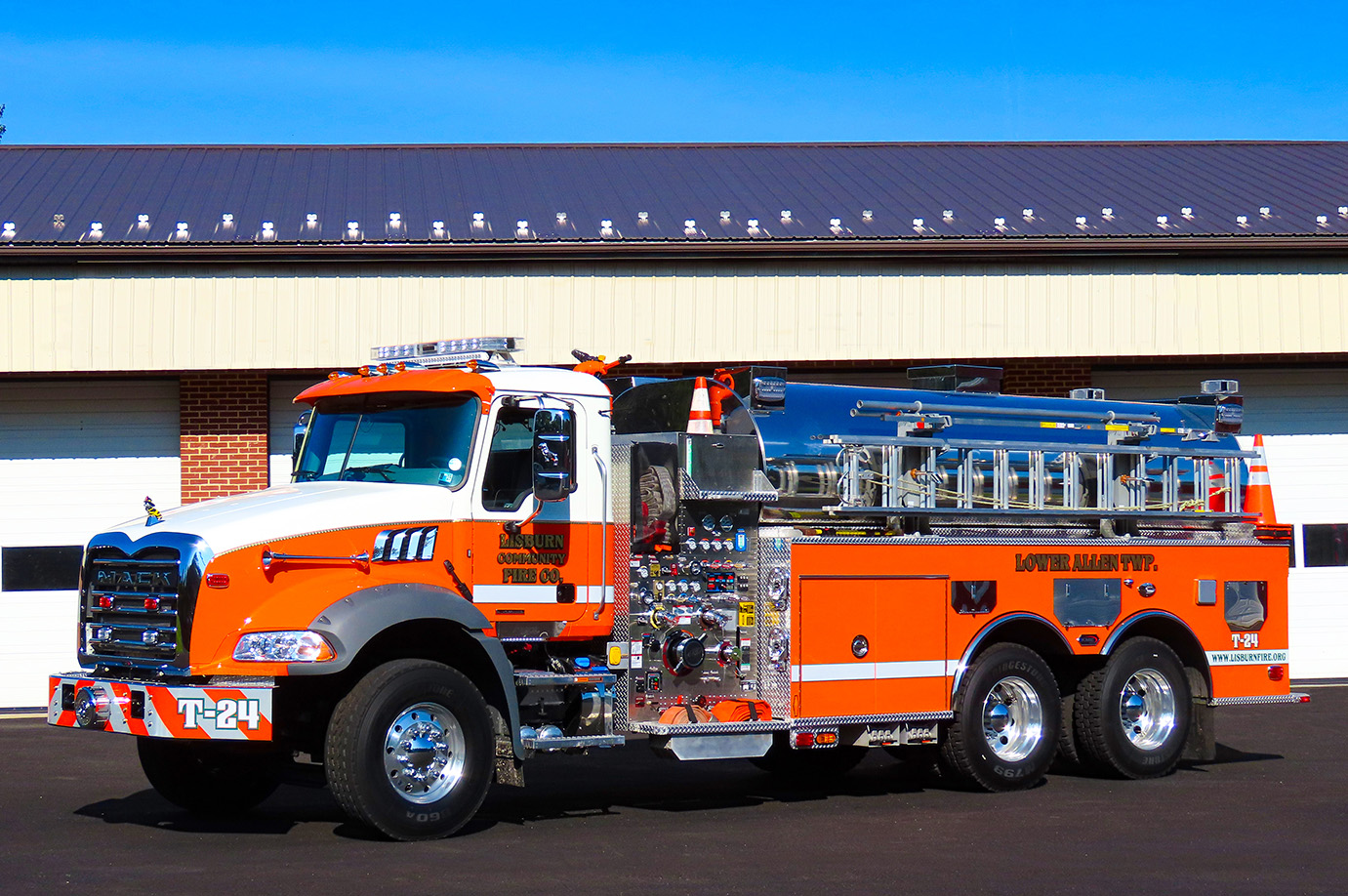 2018 Mack Granite/KME 1500/3000
LISBURN COMMUNITY FIRE COMPANY {LOWER ALLEN TWP.} MINI-PUMPER 24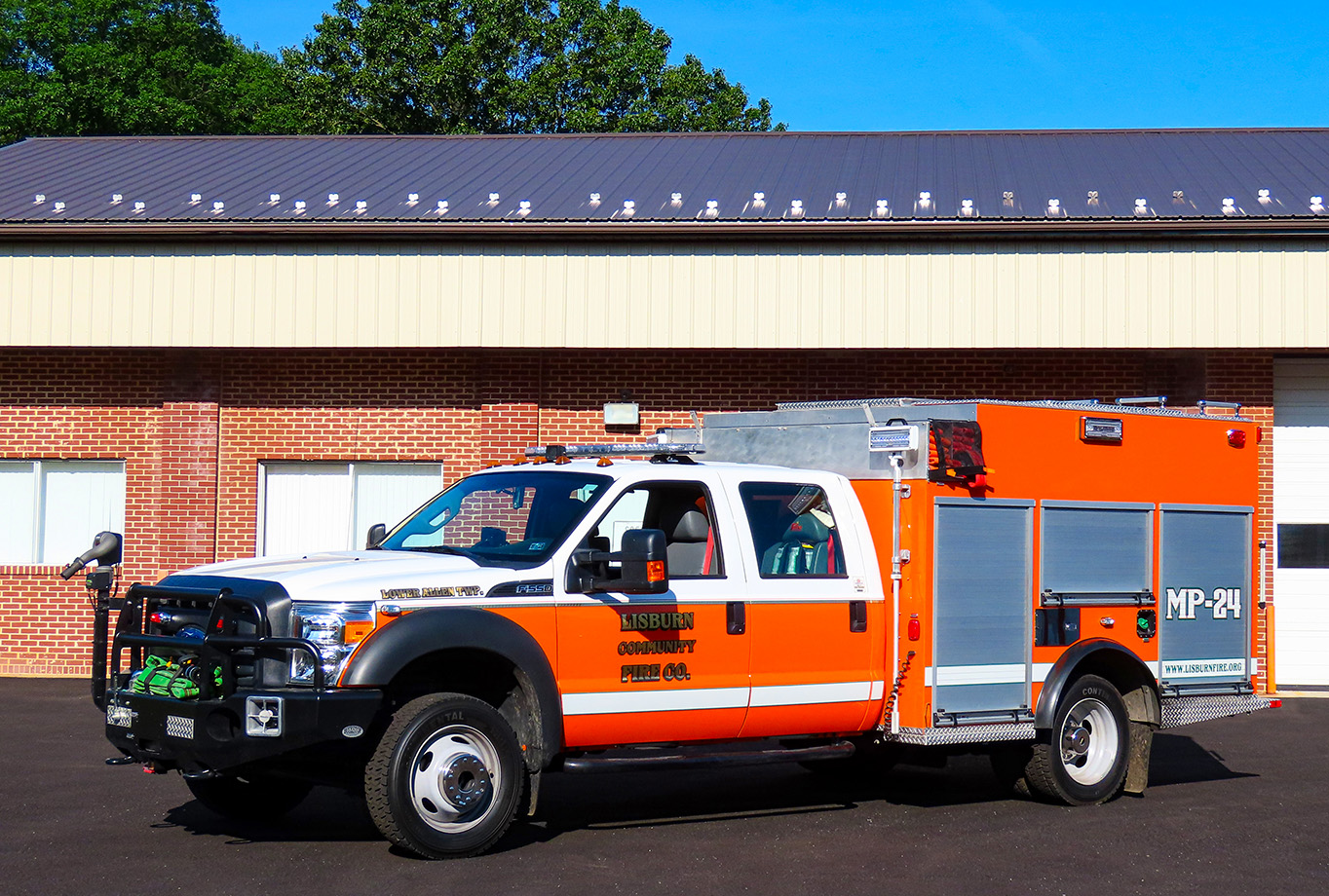 2014 Ford F-550/KME 4x4 500/300
LOWER SWATARA VOLUNTEER FIRE DEPT. ENGINE 59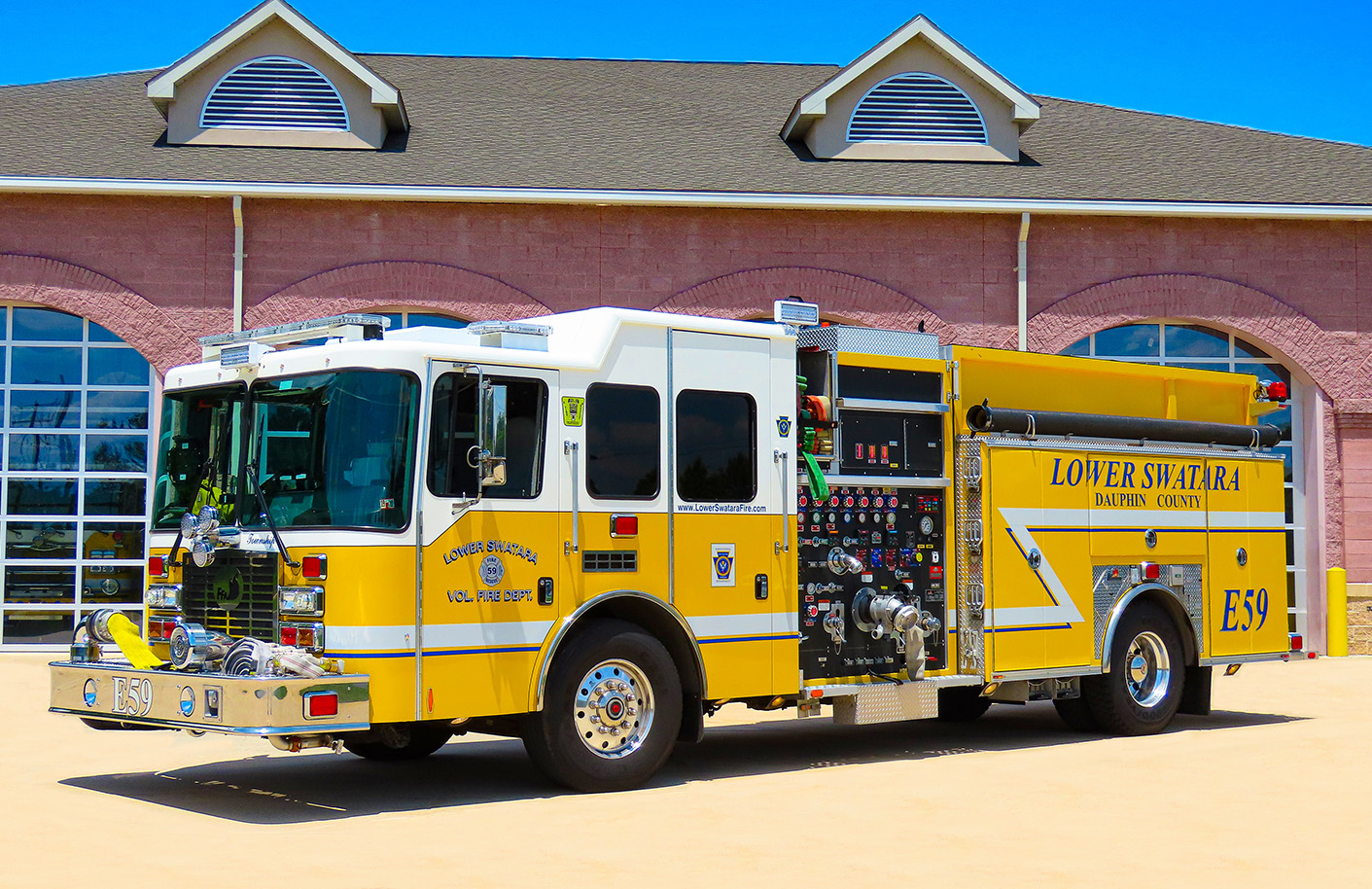 2012 Ferrara Intruder 2 1500/500/20A/30B
LOWER SWATARA VOLUNTEER FIRE DEPT. RESCUE 59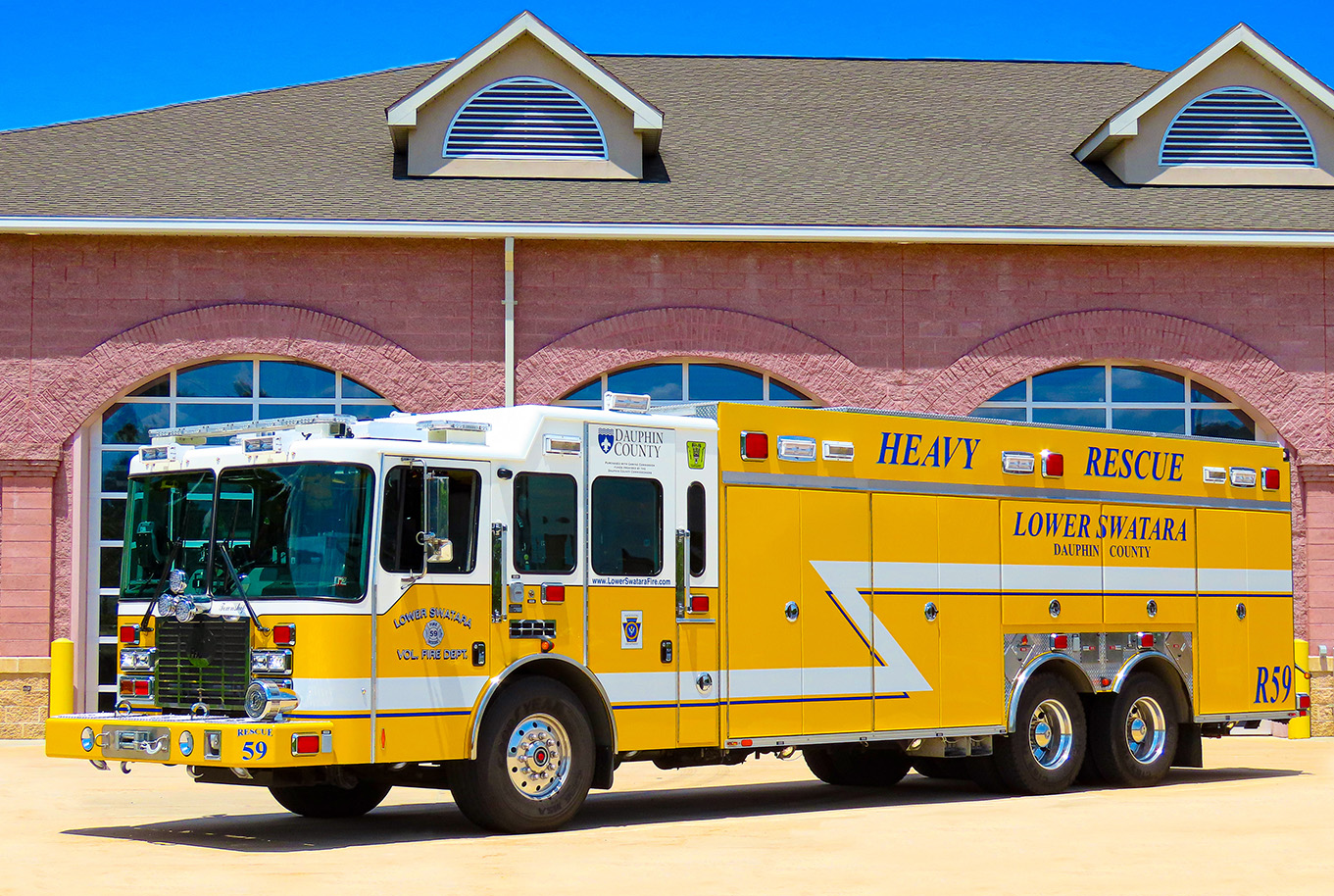 2014 Ferrara Intruder 2 Walk-Around Heavy Rescue
LOWER SWATARA VOLUNTEER FIRE DEPT. TANKER 59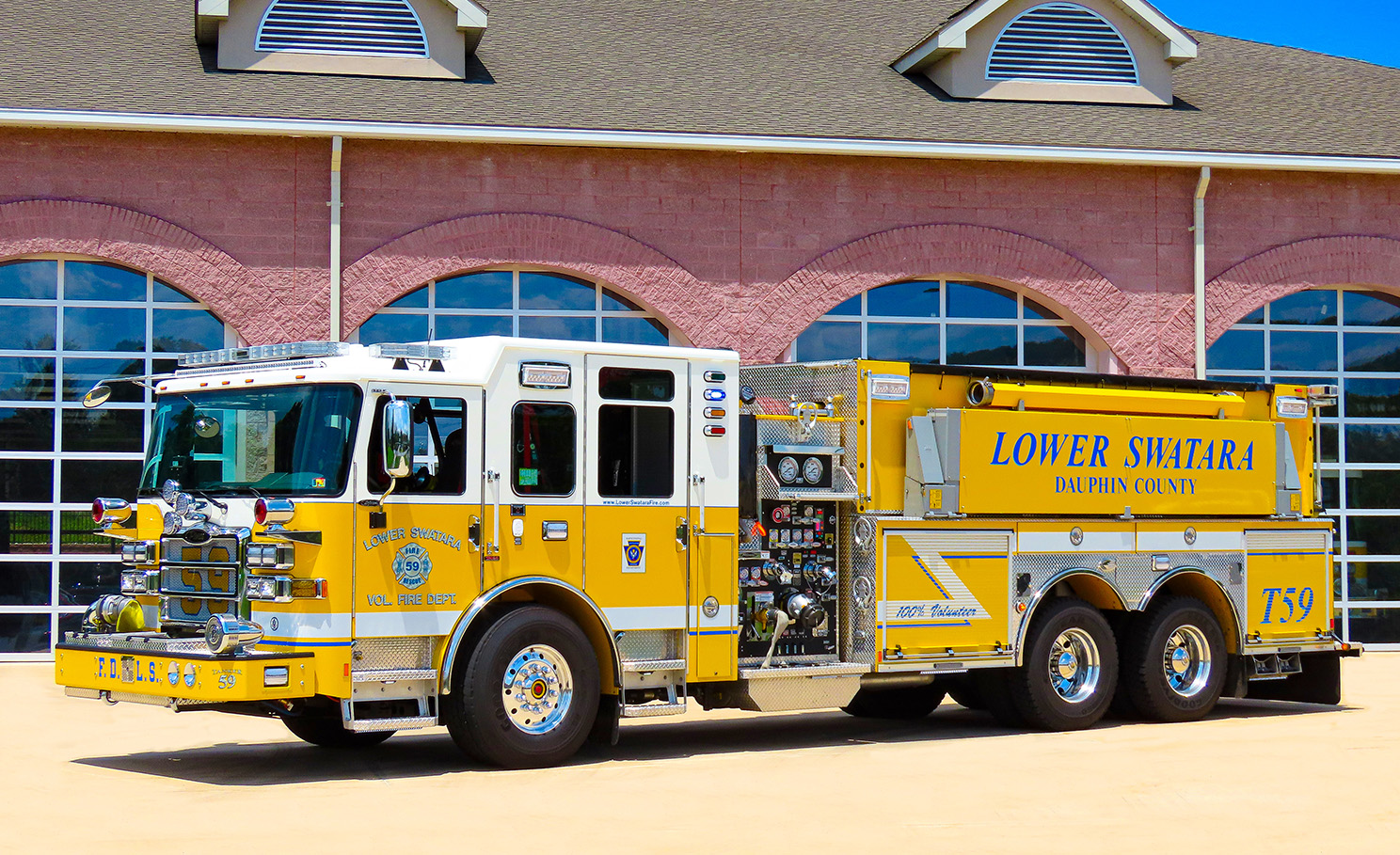 2018 Pierce Enforcer 1500/2500
LOWER SWATARA VOLUNTEER FIRE DEPT. UTILITY 59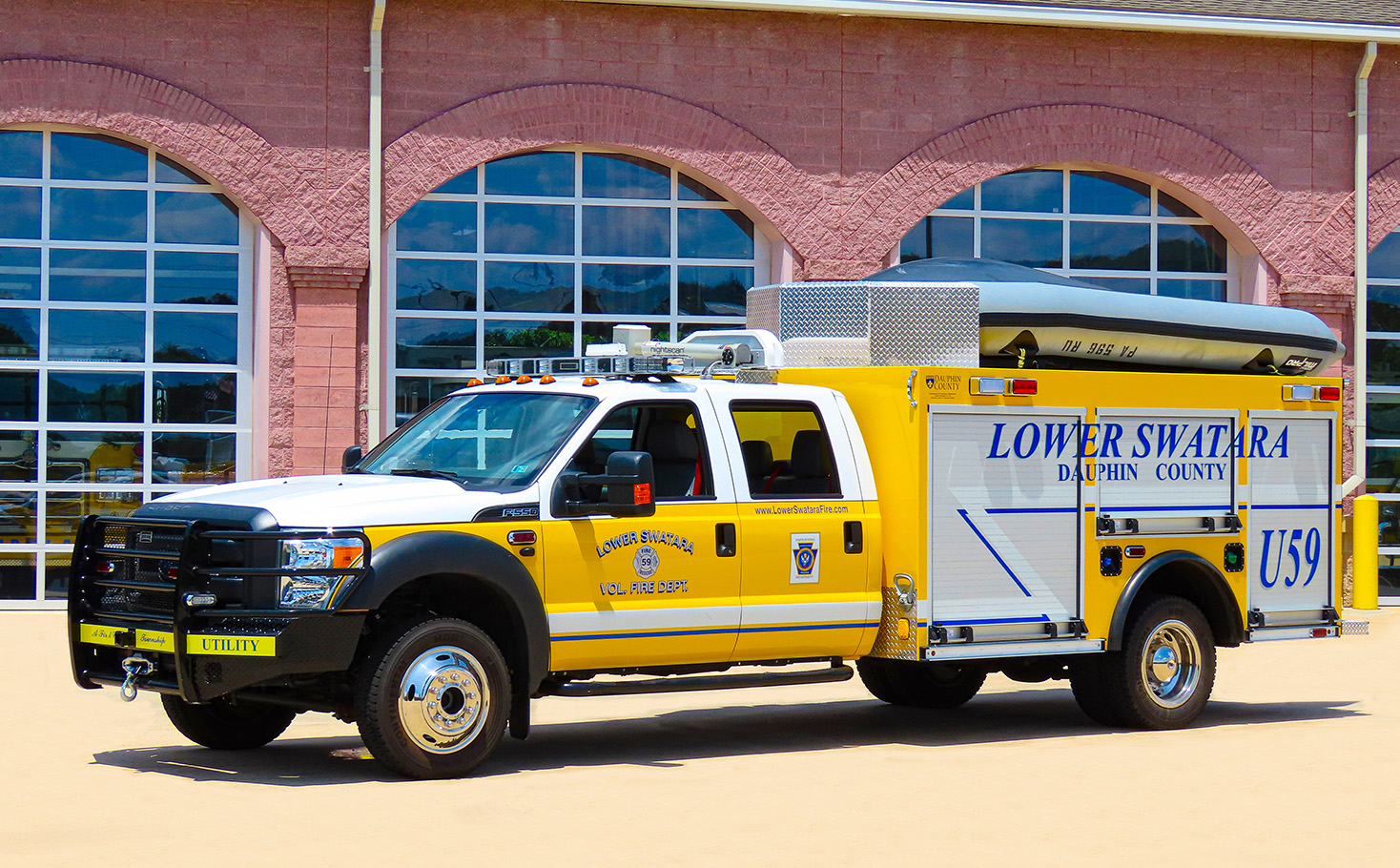 2015 Ford F-550/Custom Polybuilt 4x4 Light Rescue
LOWER SWATARA VOLUNTEER FIRE DEPT. MARINE 591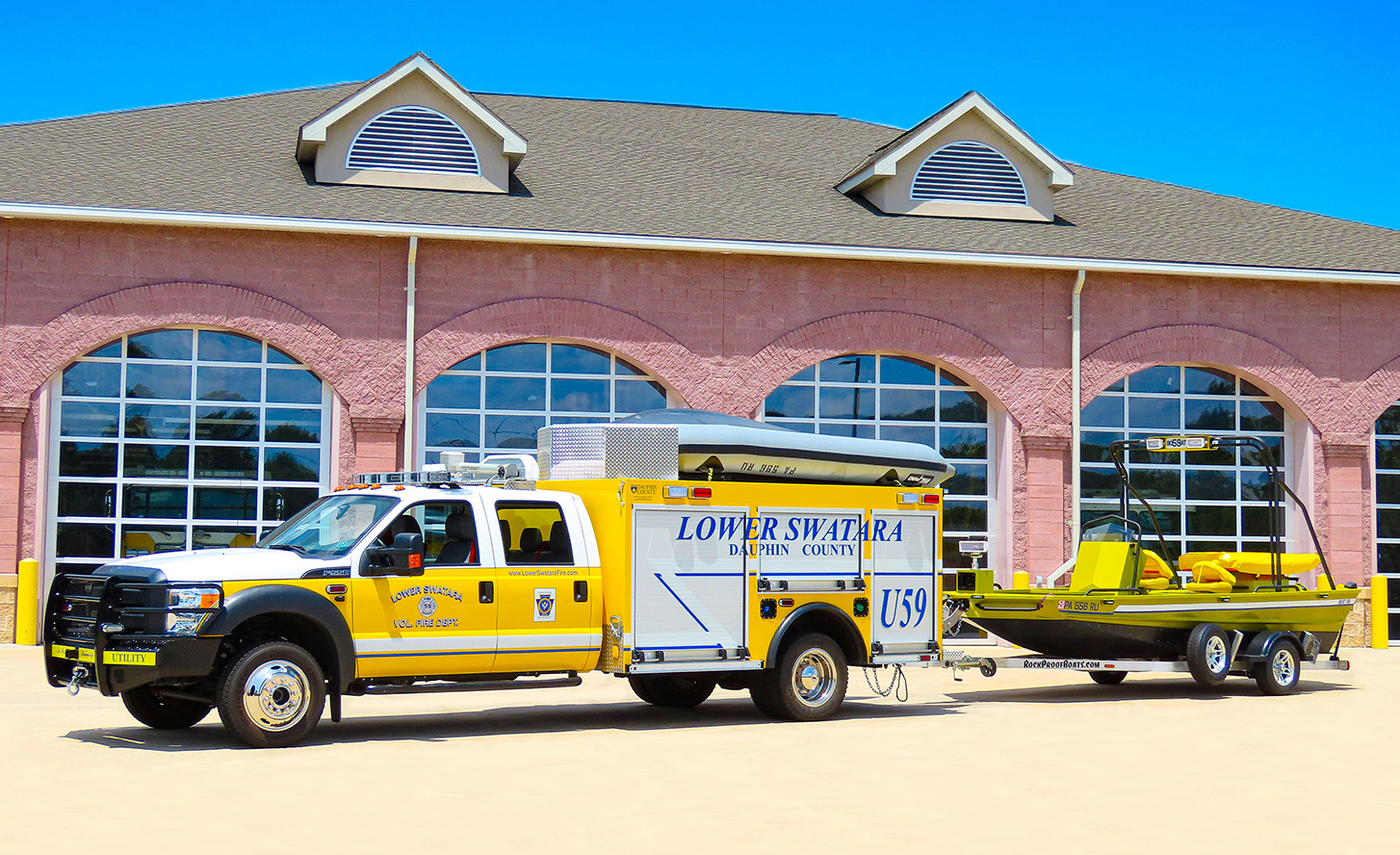 Utility 59 With Boat 591 - 2015 Rockproof 16' Rescue Boat
MANHEIM TOWNSHIP ENGINE 208
2011 Pierce Arrow XT 2000/500
MANHEIM TOWNSHIP TANKER 207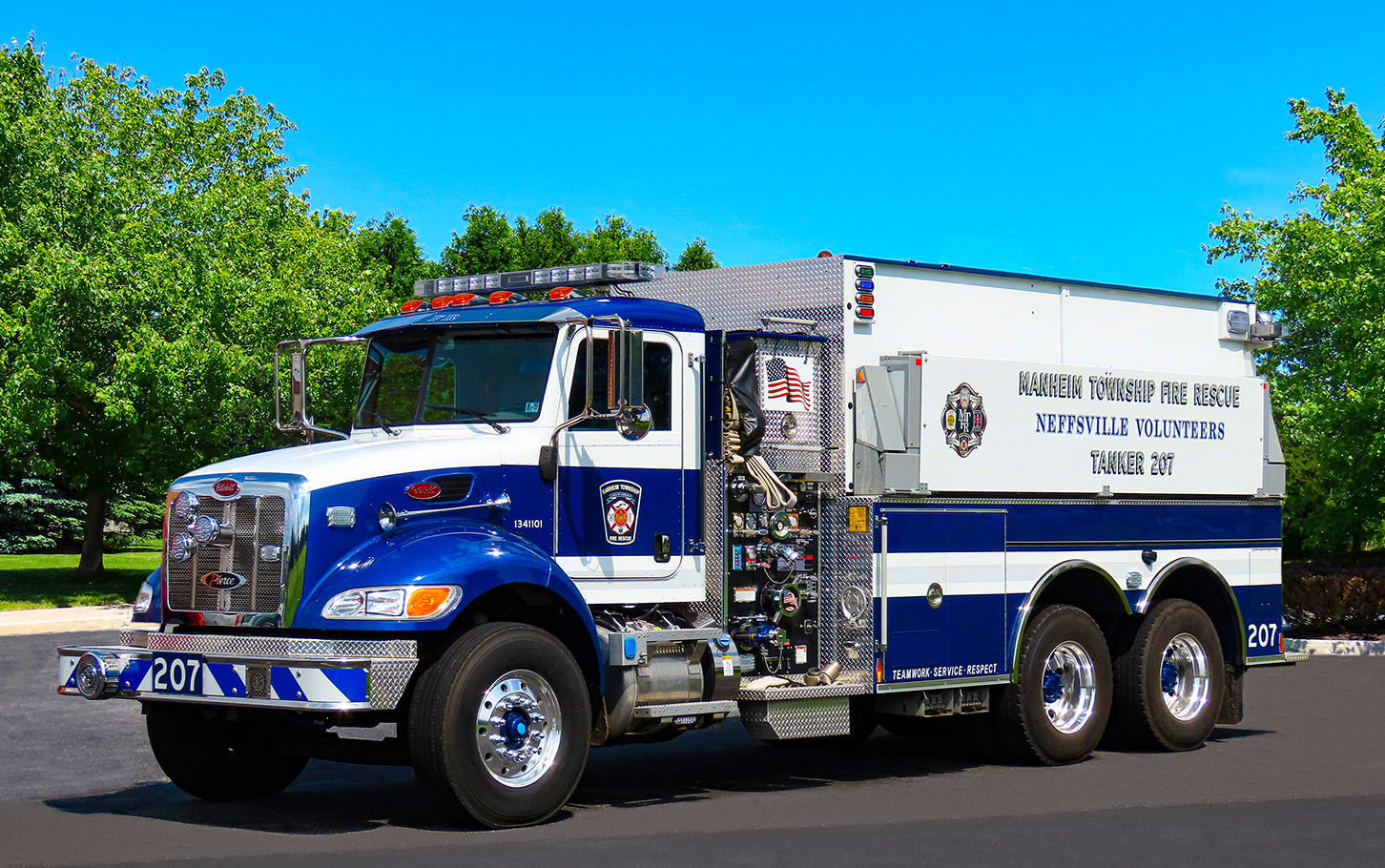 2013 Peterbuilt/Pierce Arrow XT 1000/3000
MOUNT CARBON FIRE COMPANY {NORTH MANHEIM TWP.} TANKER 53-30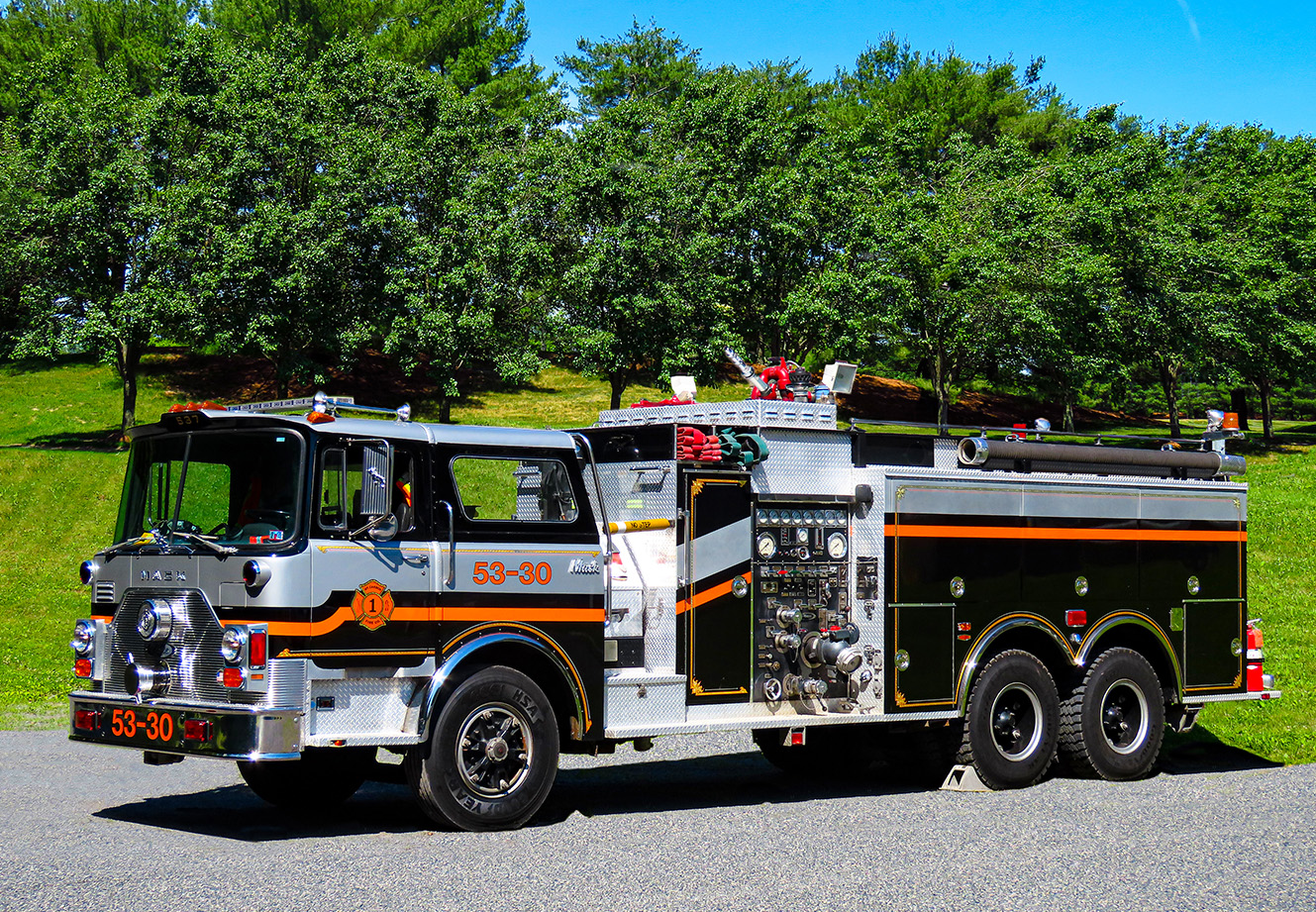 1983 Mack CF/Pierce (2007 Lady & Taylor Refurb) 1500/2000
NEW KINGSTOWN FIRE COMPANY ENGINE 33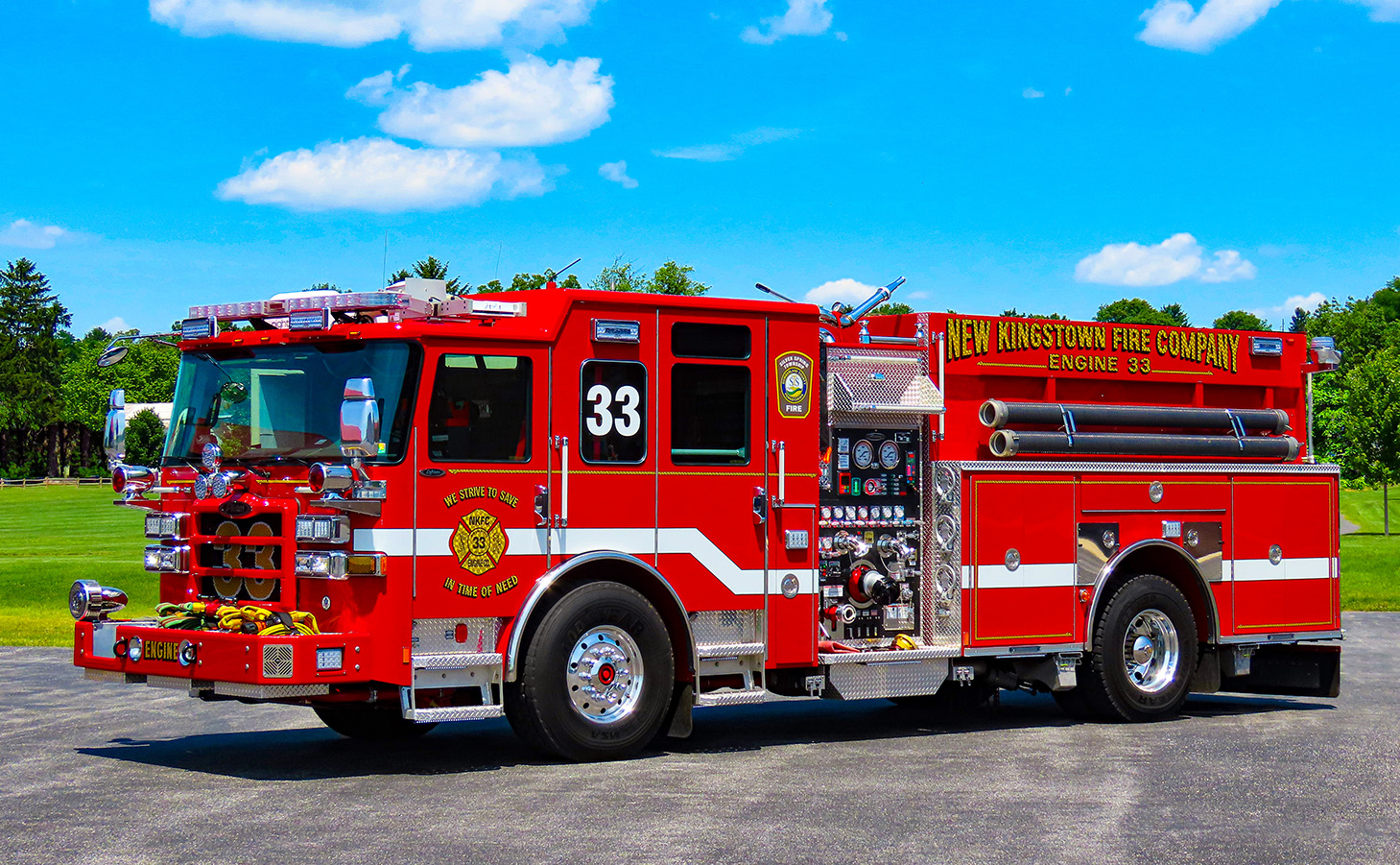 2018 Pierce Enforcer 1500/1000/55A
NEW KINGSTOWN FIRE COMPANY SQUAD 33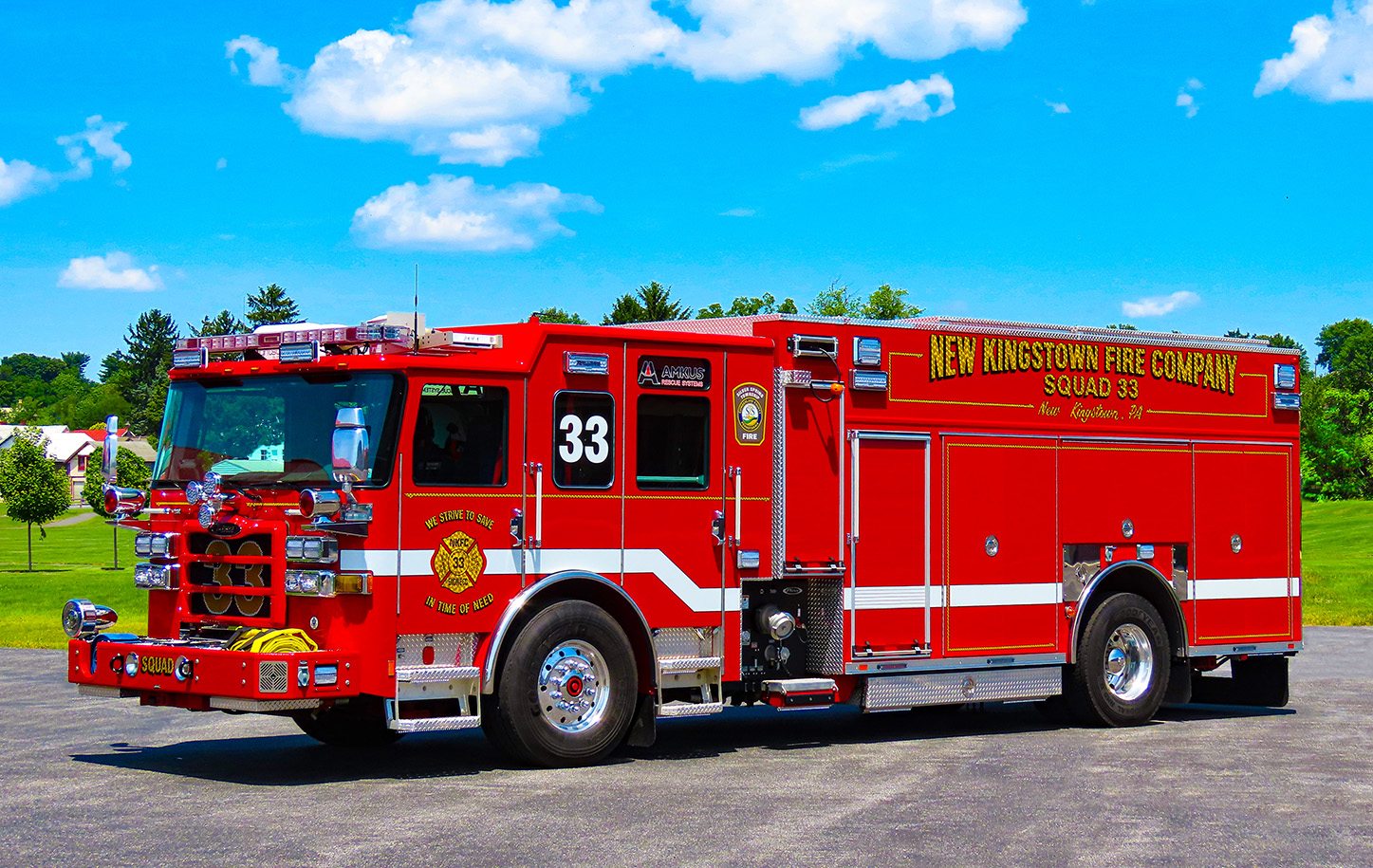 2016 Pierce Enforcer 1500/650/25A
NEW KINGSTOWN FIRE COMPANY MINI-PUMPER 33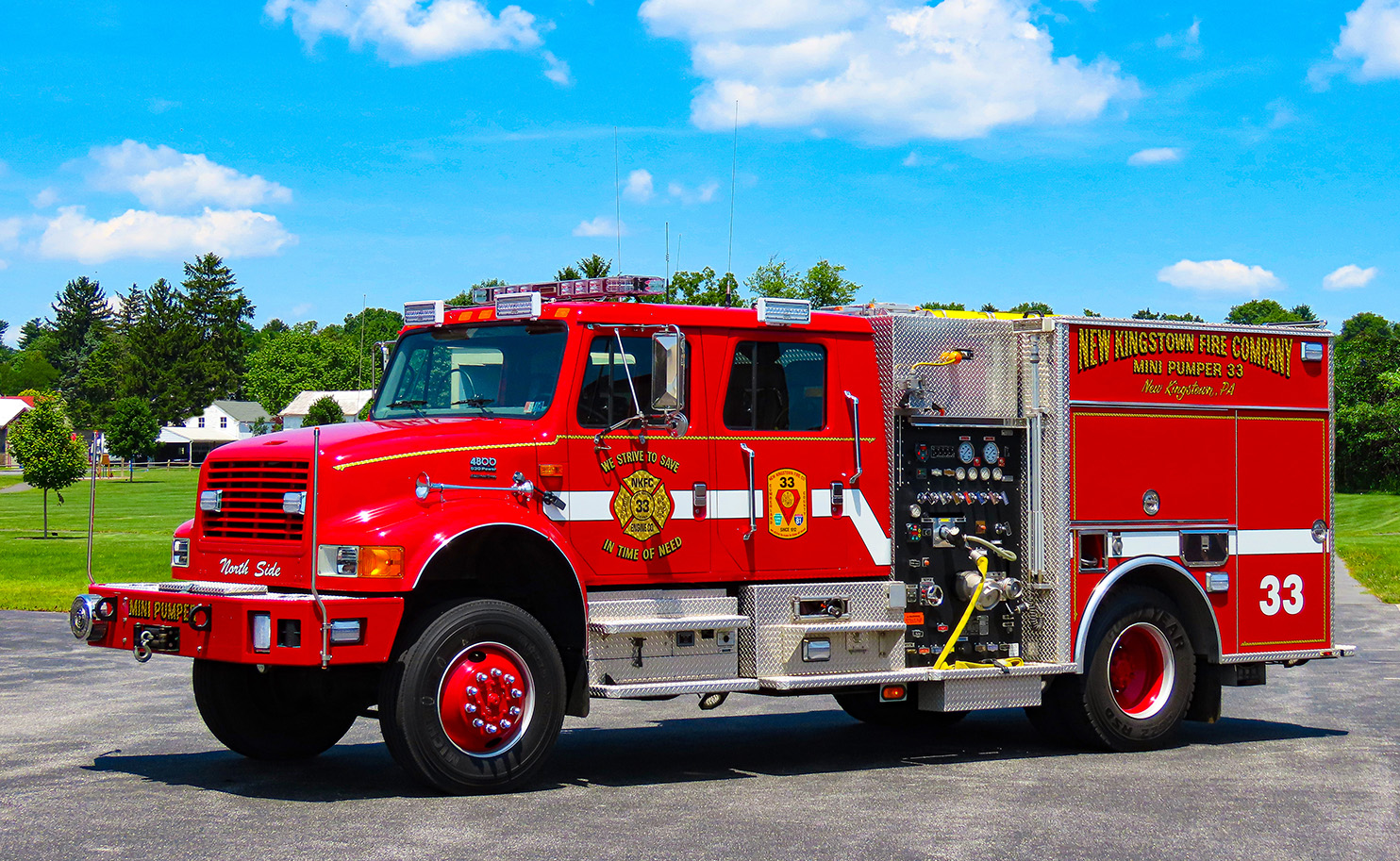 2002 International/KME 750/300/15F
NEW KINGSTOWN FIRE COMPANY TANKER 33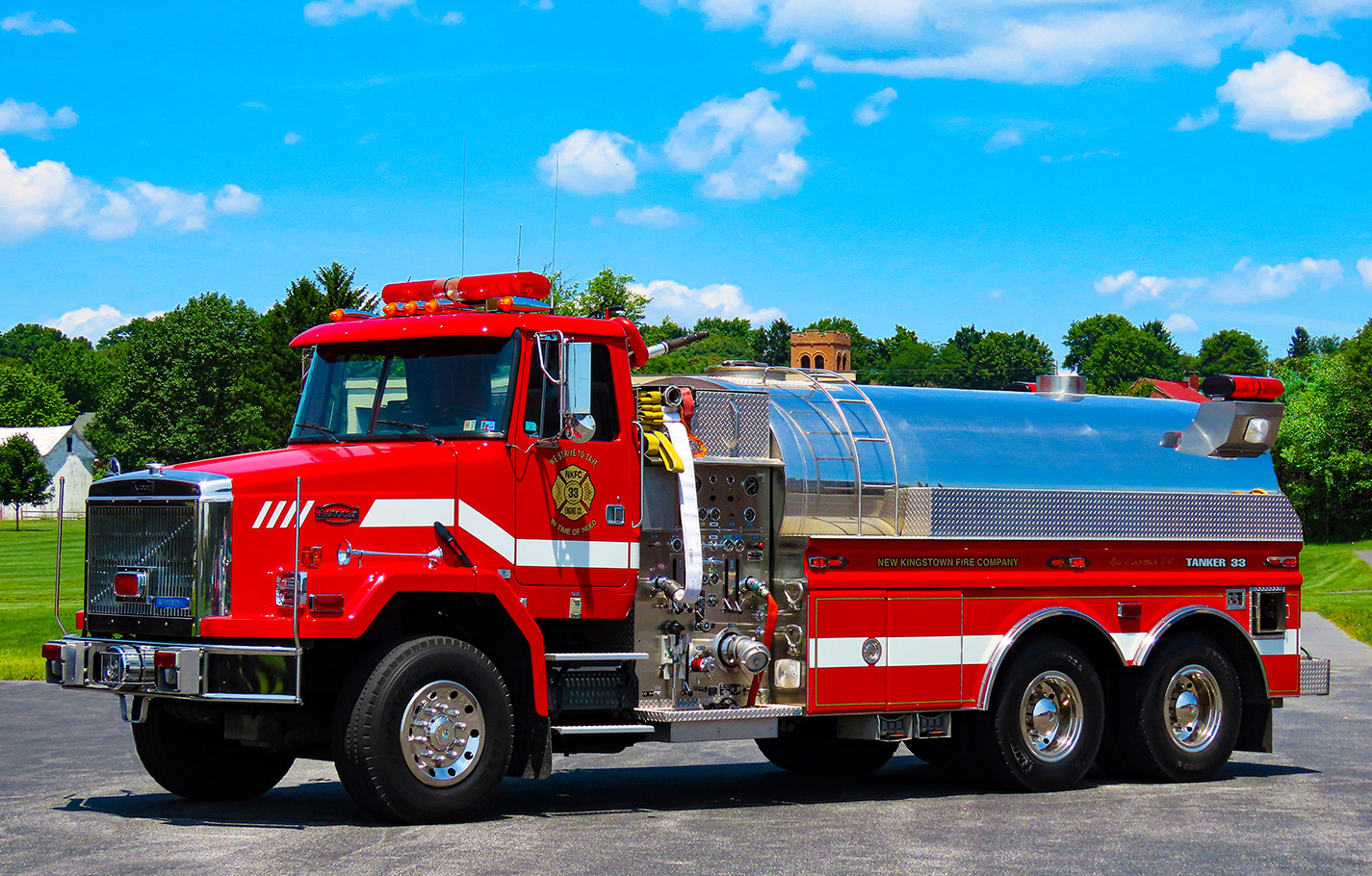 1993 Autocar/Walker 1000/2700
NEW KINGSTOWN FIRE COMPANY TRAFFIC 33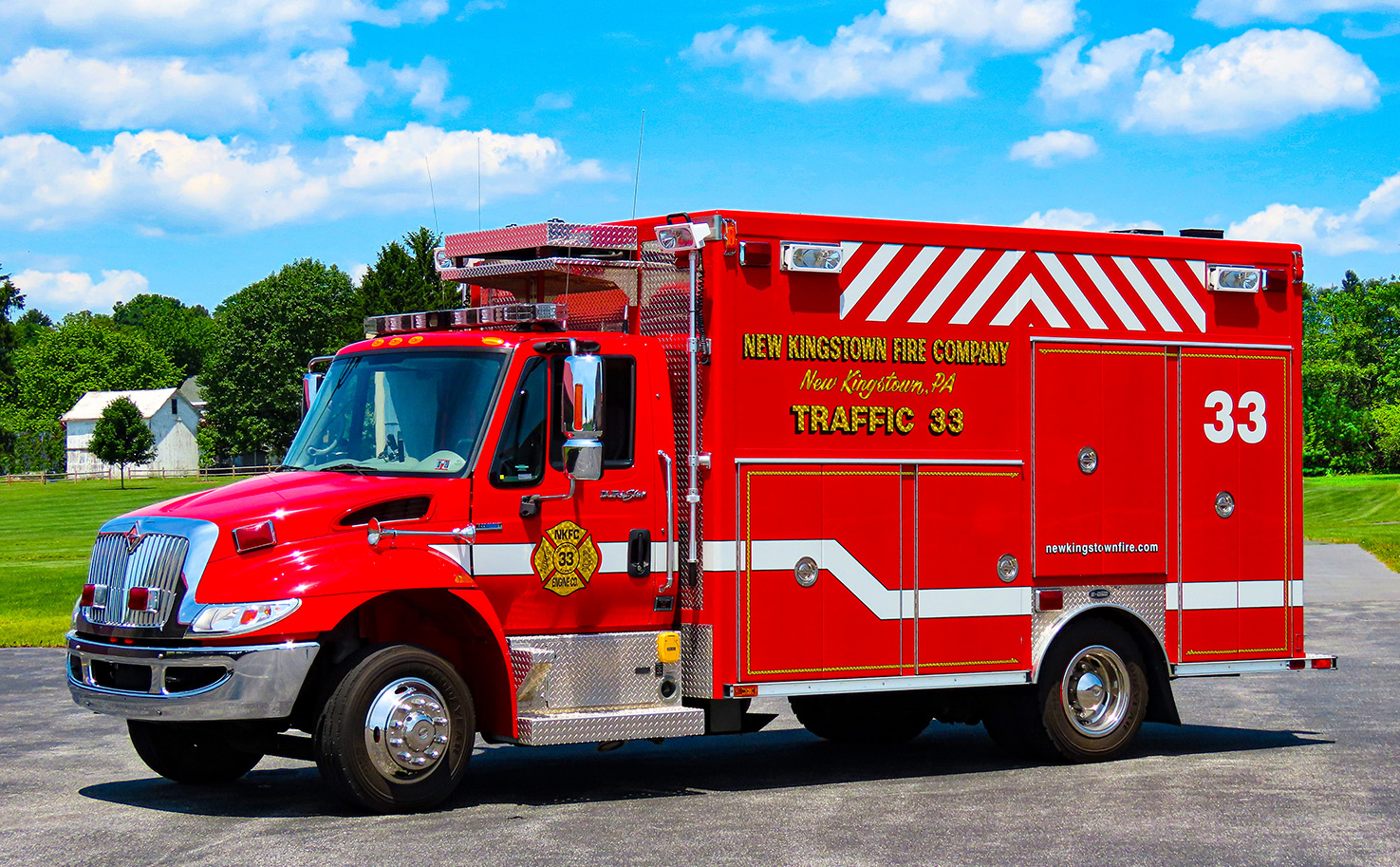 2008 International/E-One Walk-In
PLEASANT HALL VOLUNTEER FIRE COMPANY ENGINE 11-1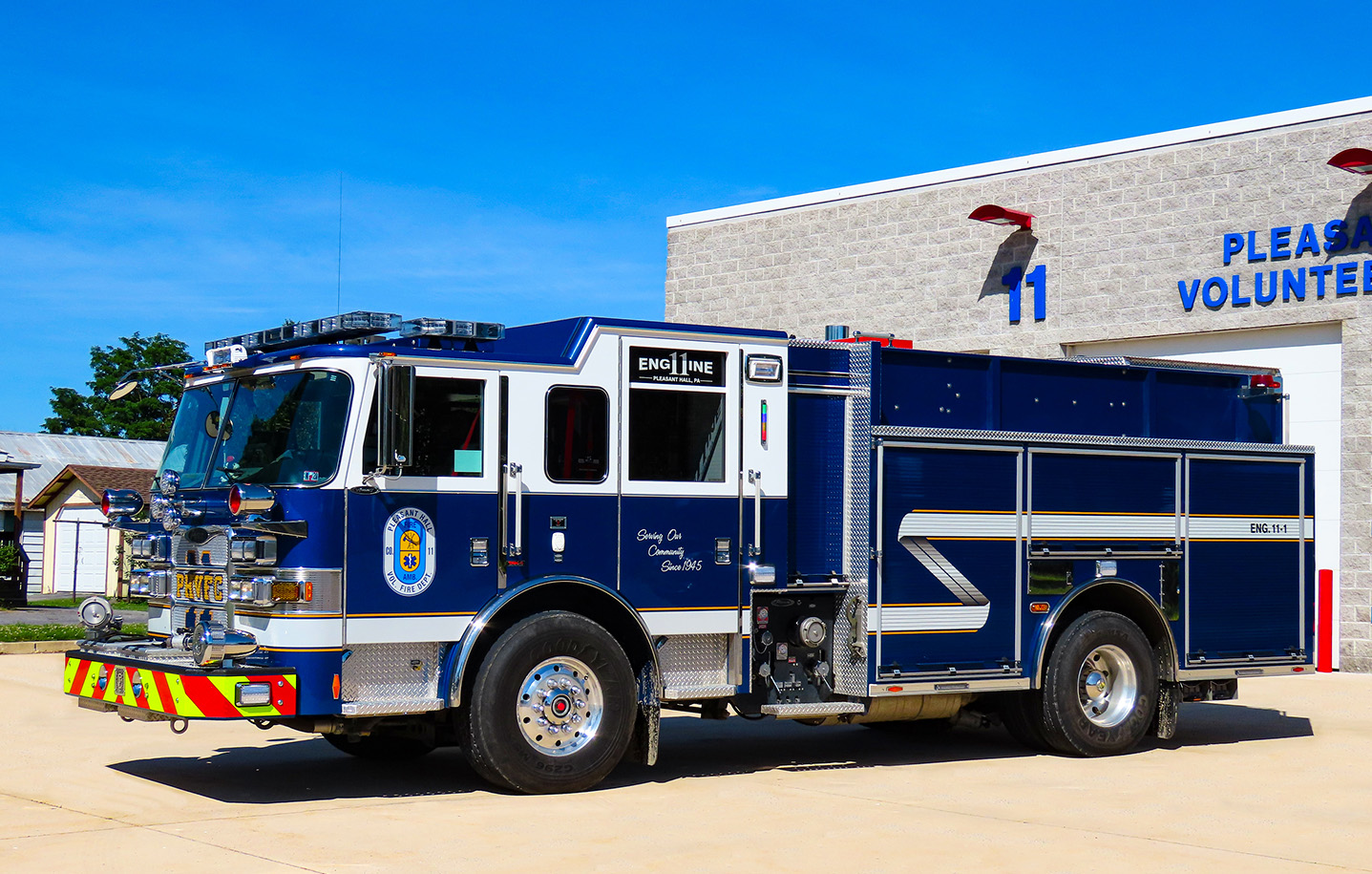 2014 Pierce Arrow XT 1500/1000
PLEASANT HALL VOLUNTEER FIRE COMPANY RESCUE ENGINE 11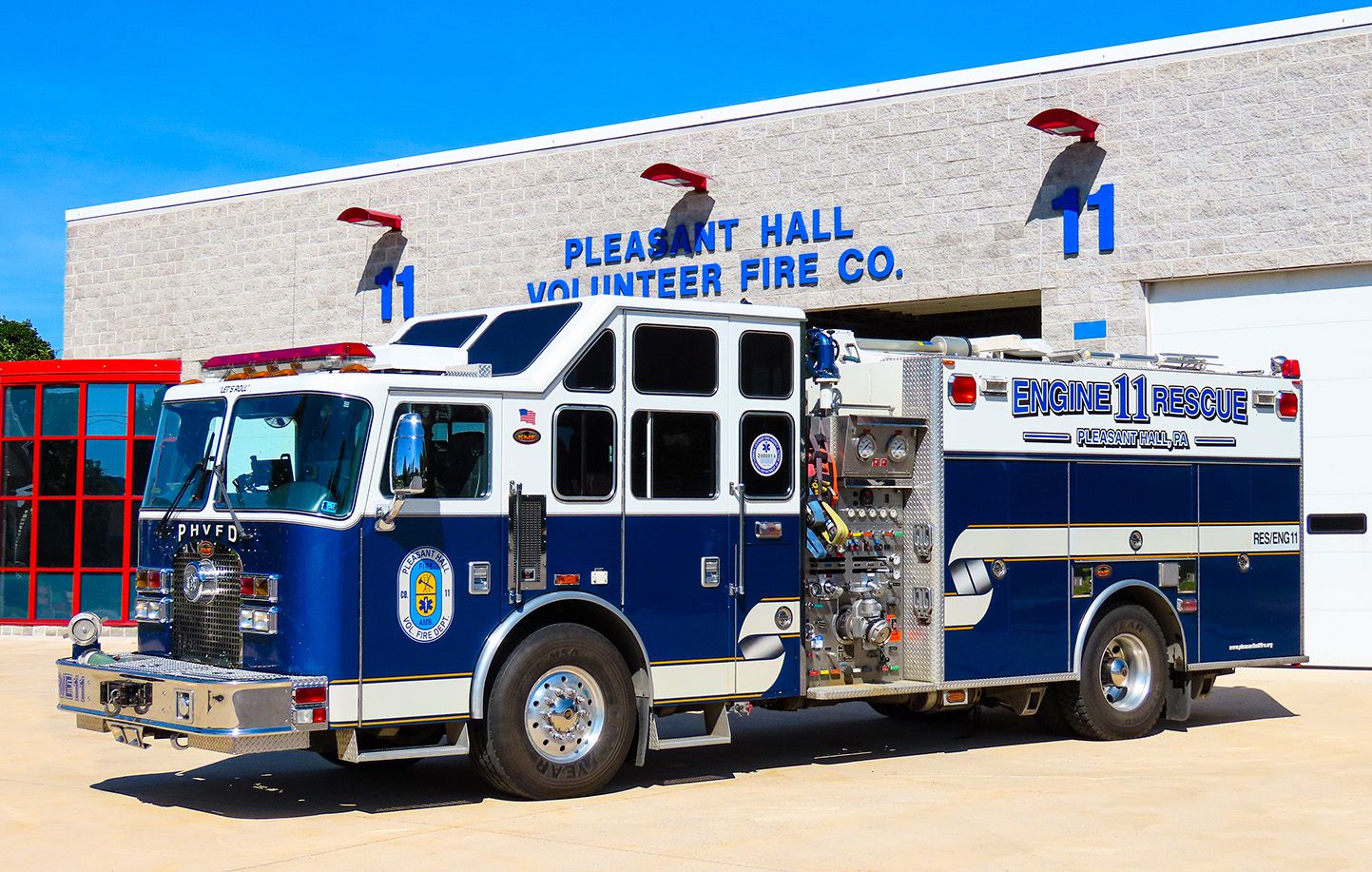 2003 KME Excel 1500/750/50F
PLEASANT HALL VOLUNTEER FIRE COMPANY SPECIAL UNIT 11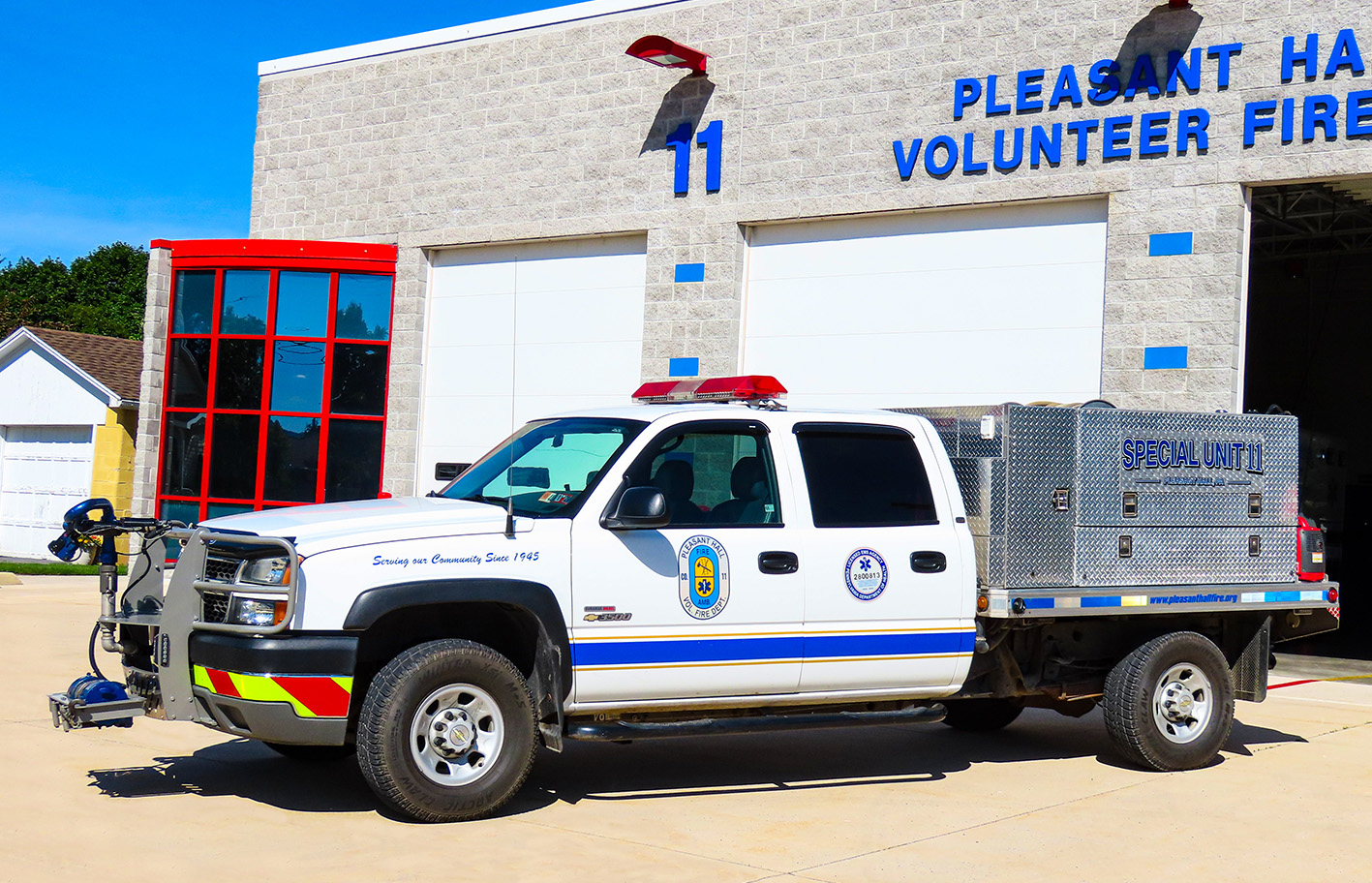 2005 Chevrolet Silverado 3500 4x4 125/175
RELIANCE HOSE COMPANY #1 {ELIZABETHVILLE} ENGINE 21
2019 Pierce Enforcer 1750/1000/25A
RELIANCE HOSE COMPANY #1 {ELIZABETHVILLE} RESCUE 21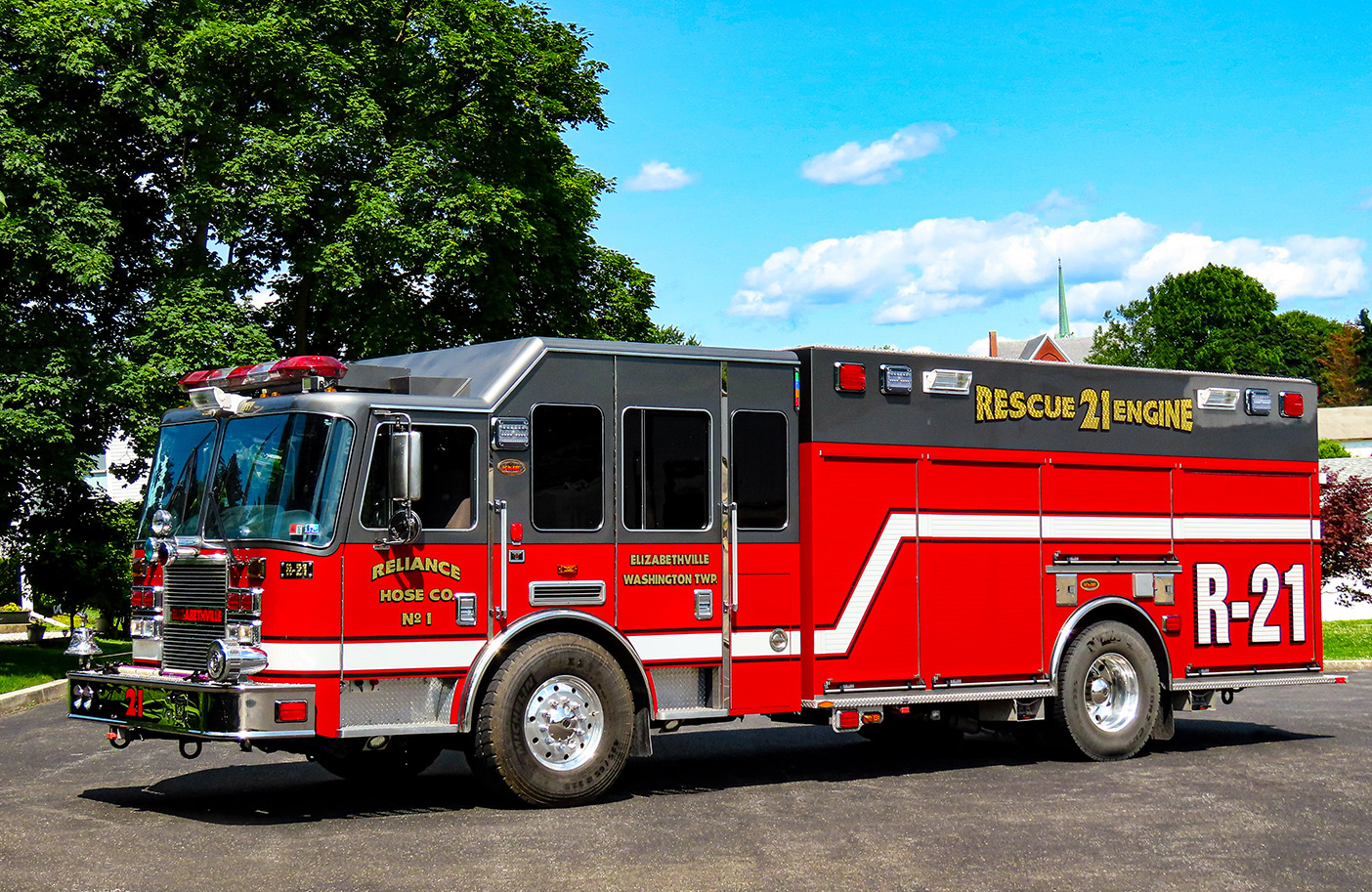 2010 KME Predator 1500/500/25A
RELIANCE HOSE COMPANY #1 {ELIZABETHVILLE} TANKER 21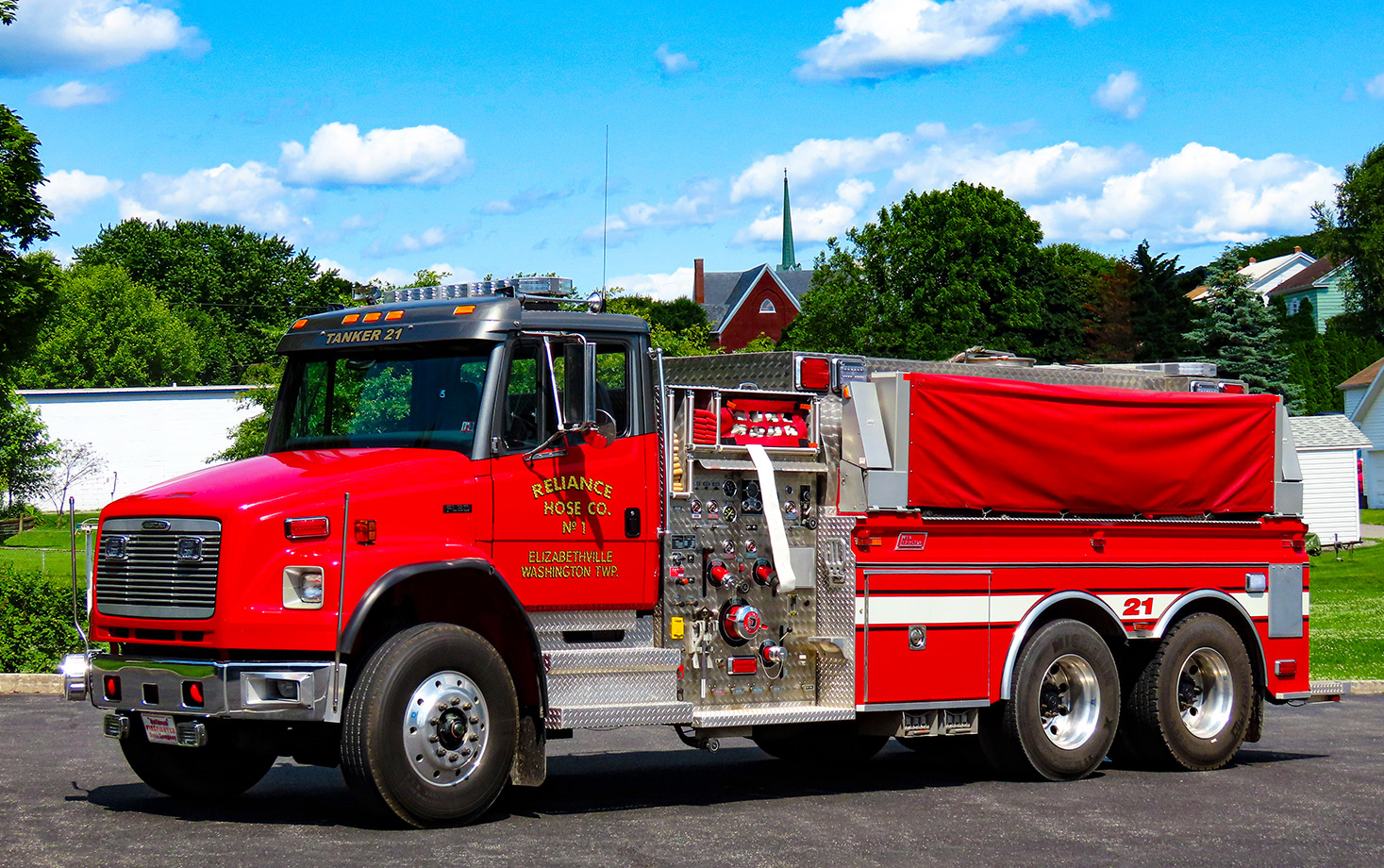 1997 Freightliner/New Lexington 1000/2500
ST. THOMAS TOWNSHIP VOLUNTEER ENGINE 18-1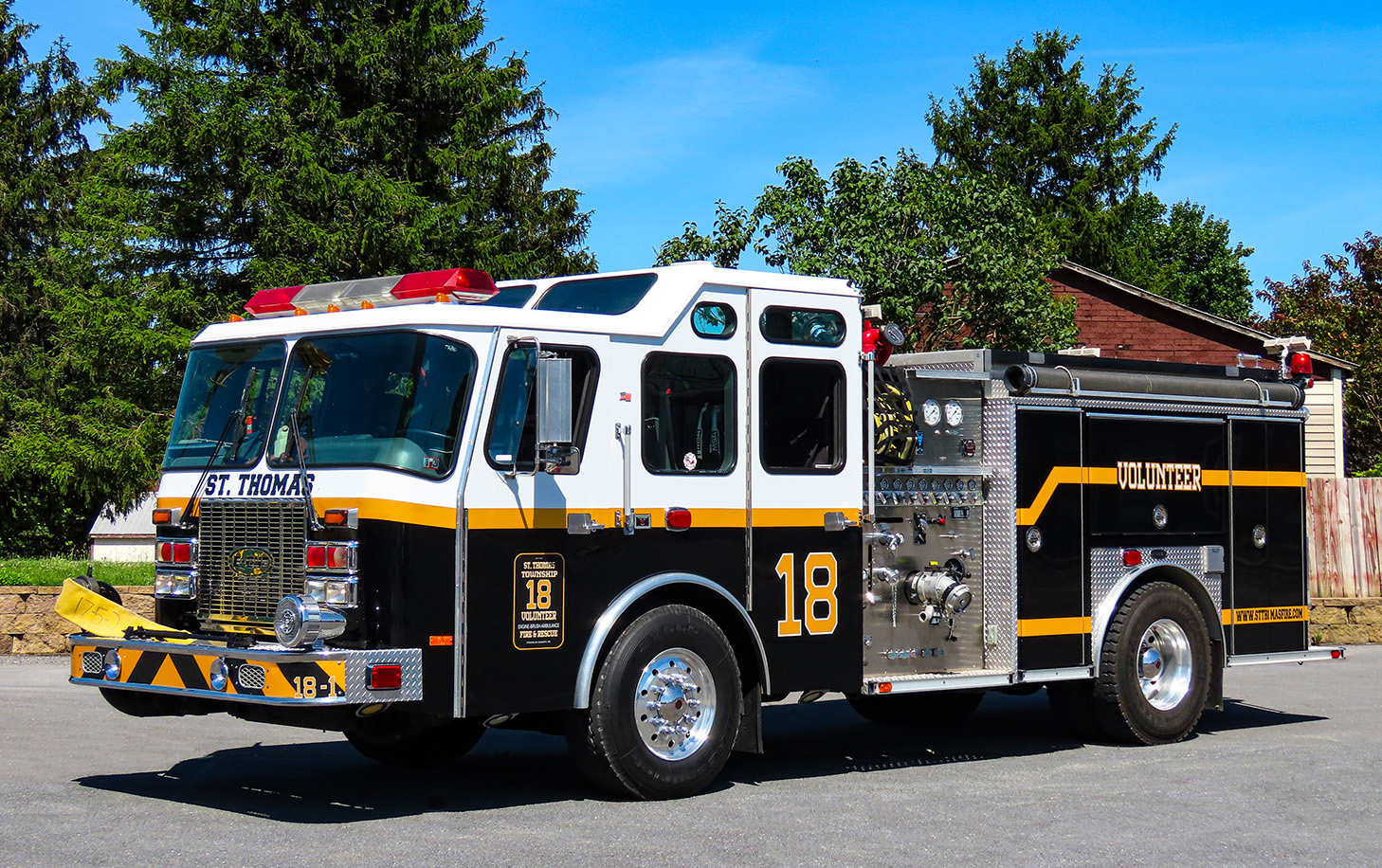 1997 E-One Cyclone 1250/750
ST. THOMAS TOWNSHIP VOLUNTEER ENGINE 18-2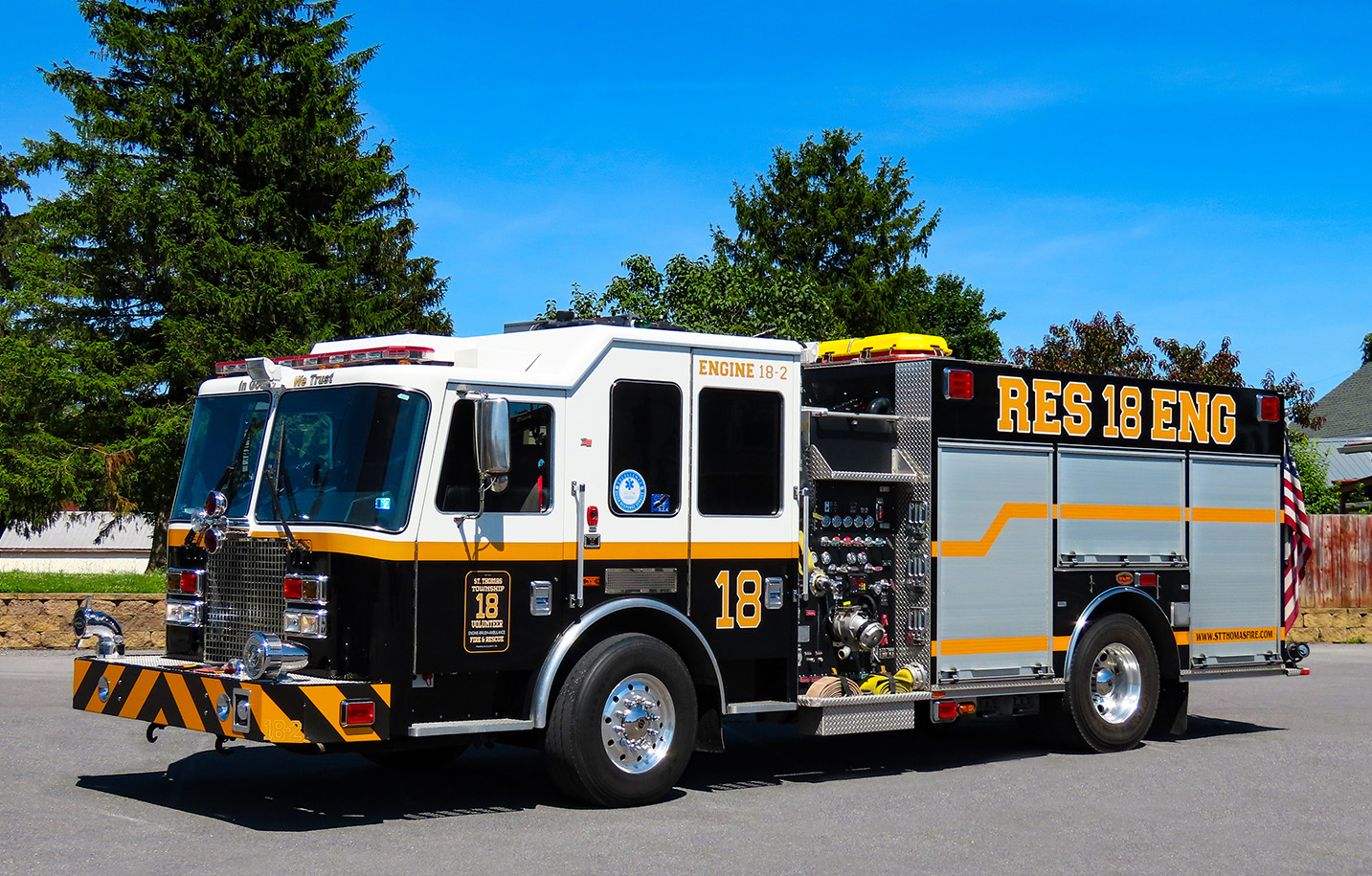 2010 KME Severe Service 1500/980/20A
ST. THOMAS TOWNSHIP VOLUNTEER BRUSH 18
2005 Ford F-250 4x4 125/350
ST. THOMAS TOWNSHIP VOLUNTEER AMBULANCE 18-9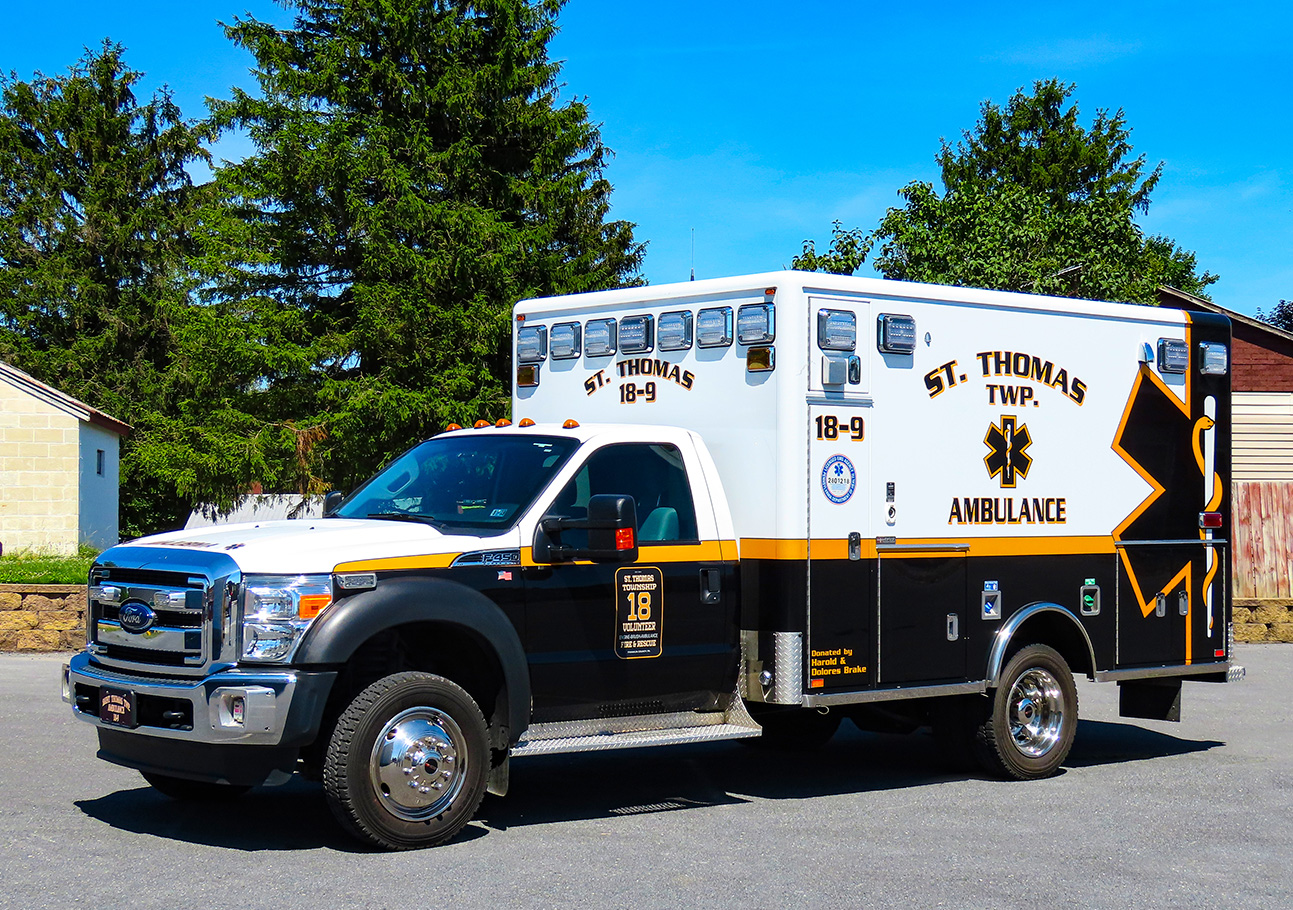 2012 Ford F-450/Horton 4x4
VIGILANT HOSE COMPANY {SHIPPENSBURG} ENGINE 152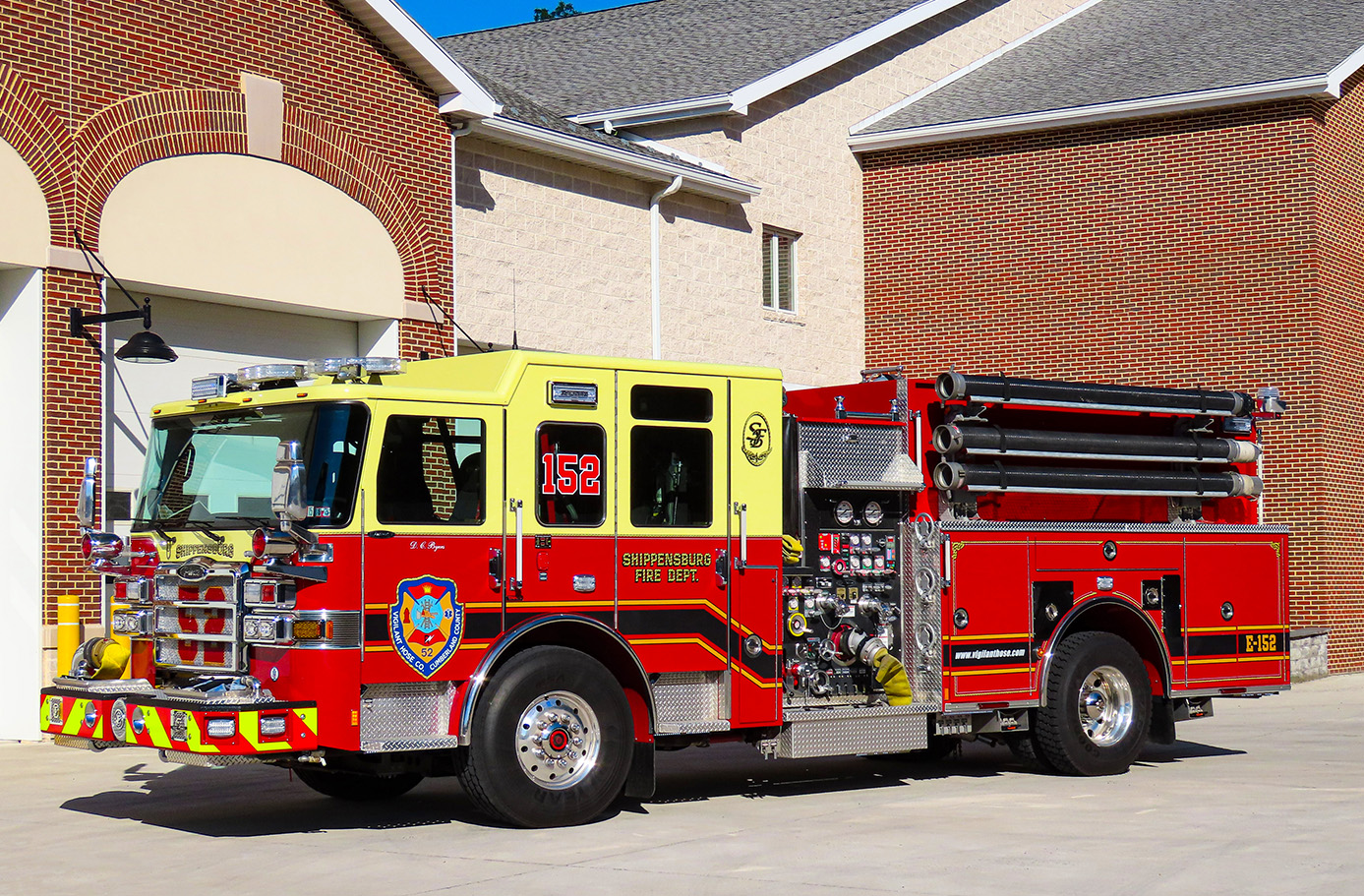 2017 Pierce Enforcer 2000/750/30A
VIGILANT HOSE COMPANY {SHIPPENSBURG} ENGINE 252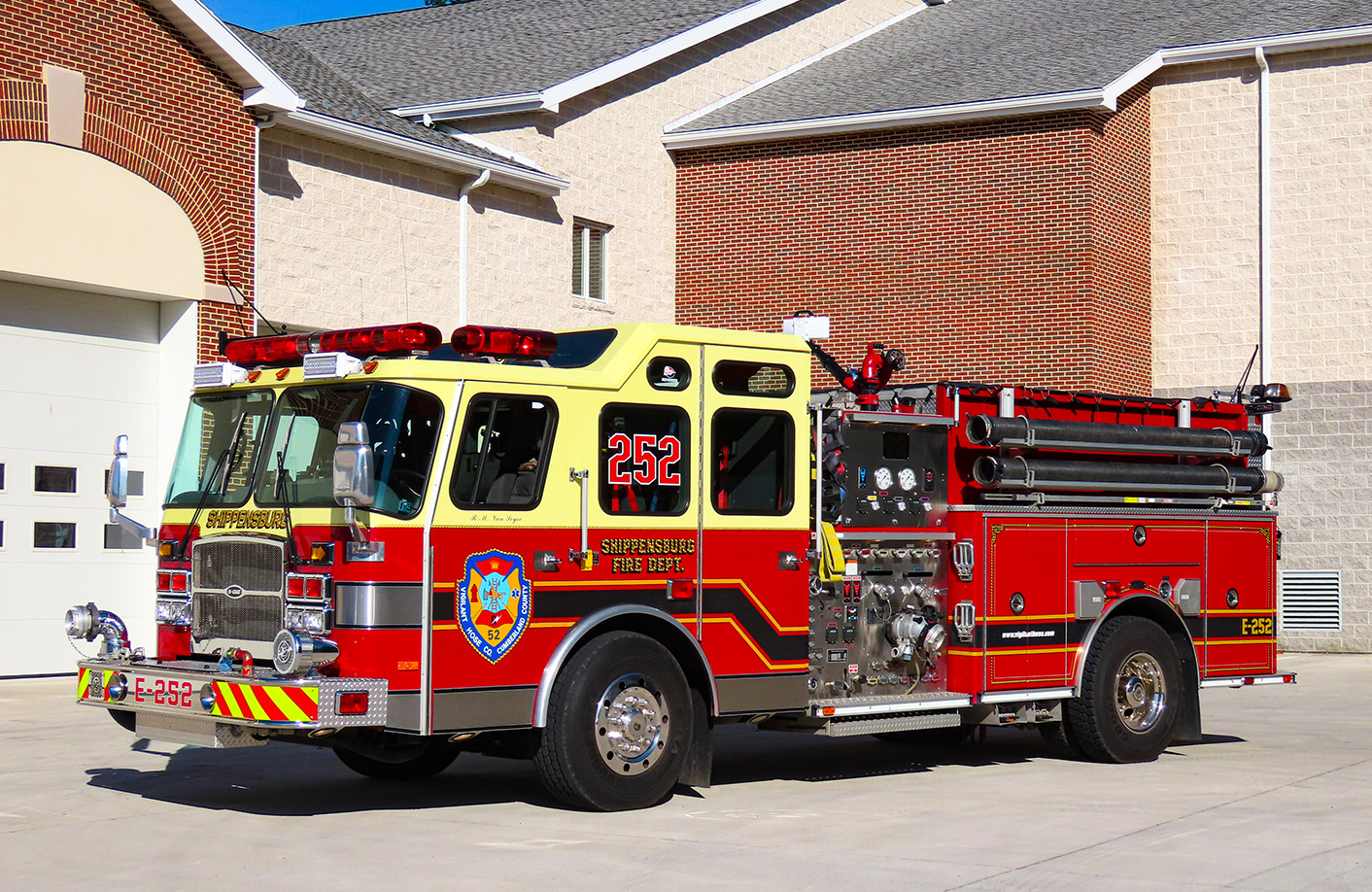 2005 E-One Typhoon 2000/750/30A/30B
VIGILANT HOSE COMPANY {SHIPPENSBURG} TANKER 52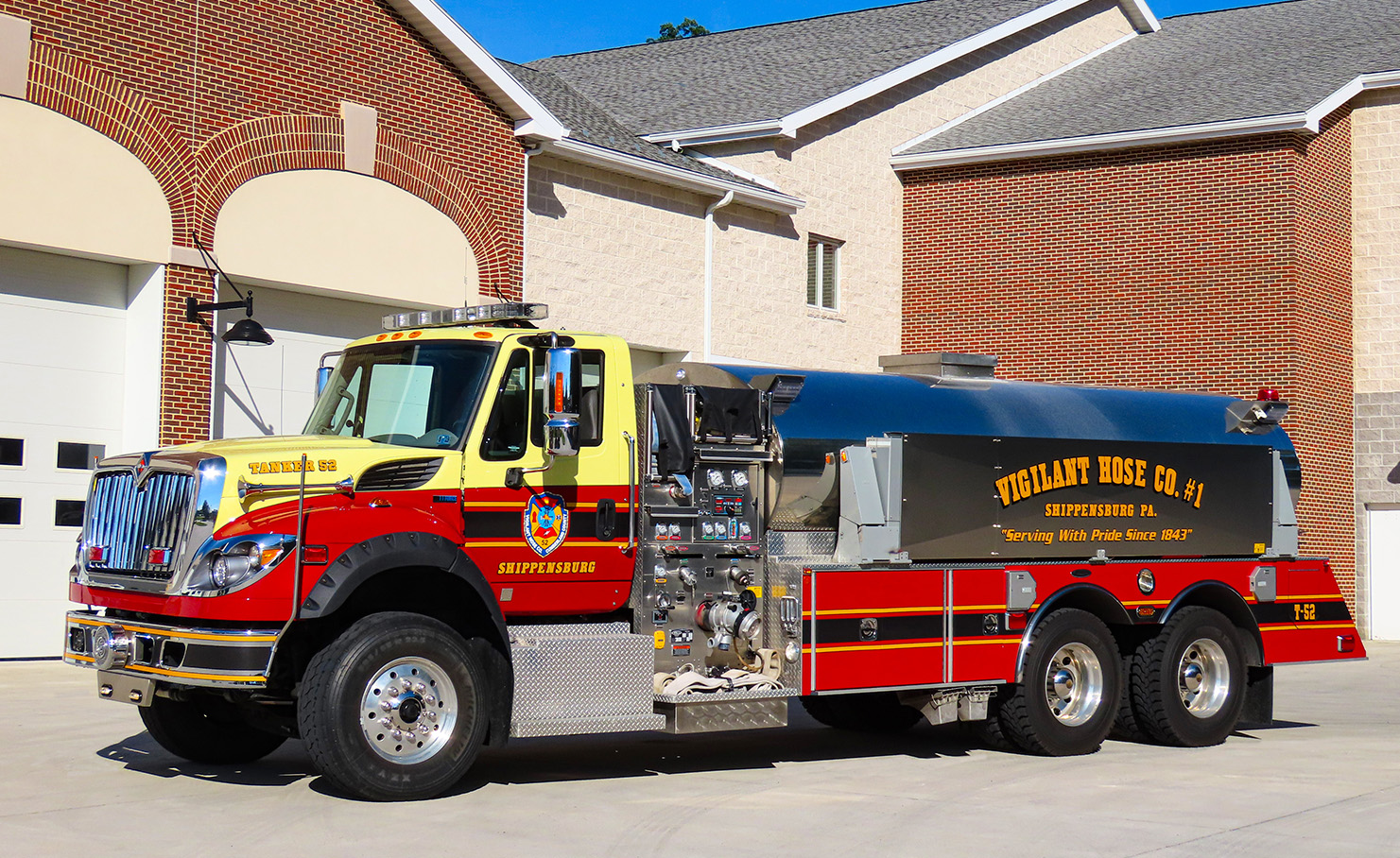 2012 International/4-Guys 1250/3000
VIGILANT HOSE COMPANY {SHIPPENSBURG} BRUSH 52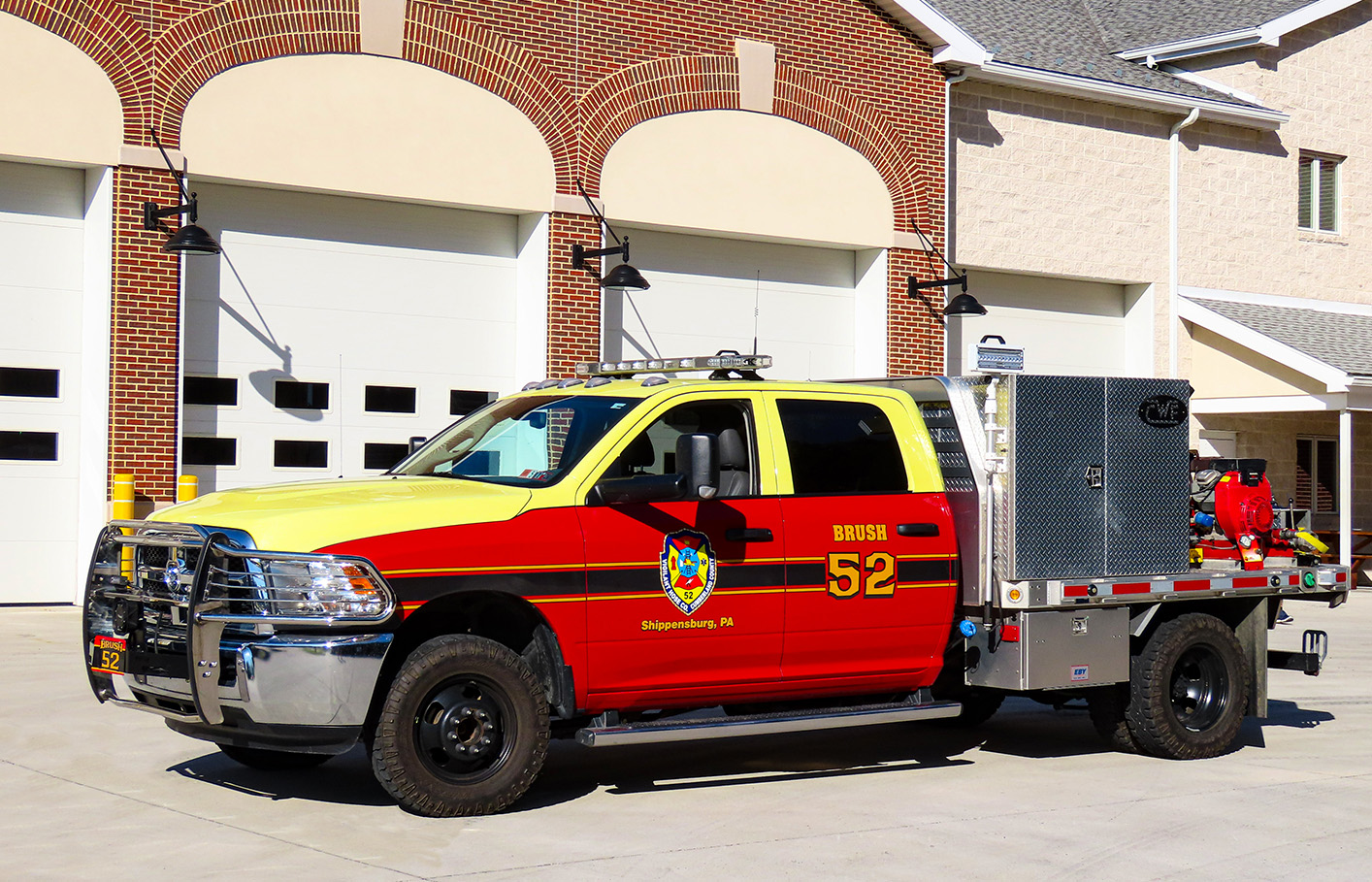 2013 Dodge Ram 3500 4x4 300/200/5F
WEST END FIRE & RESCUE {SHIPPENSBURG} ENGINE 15-1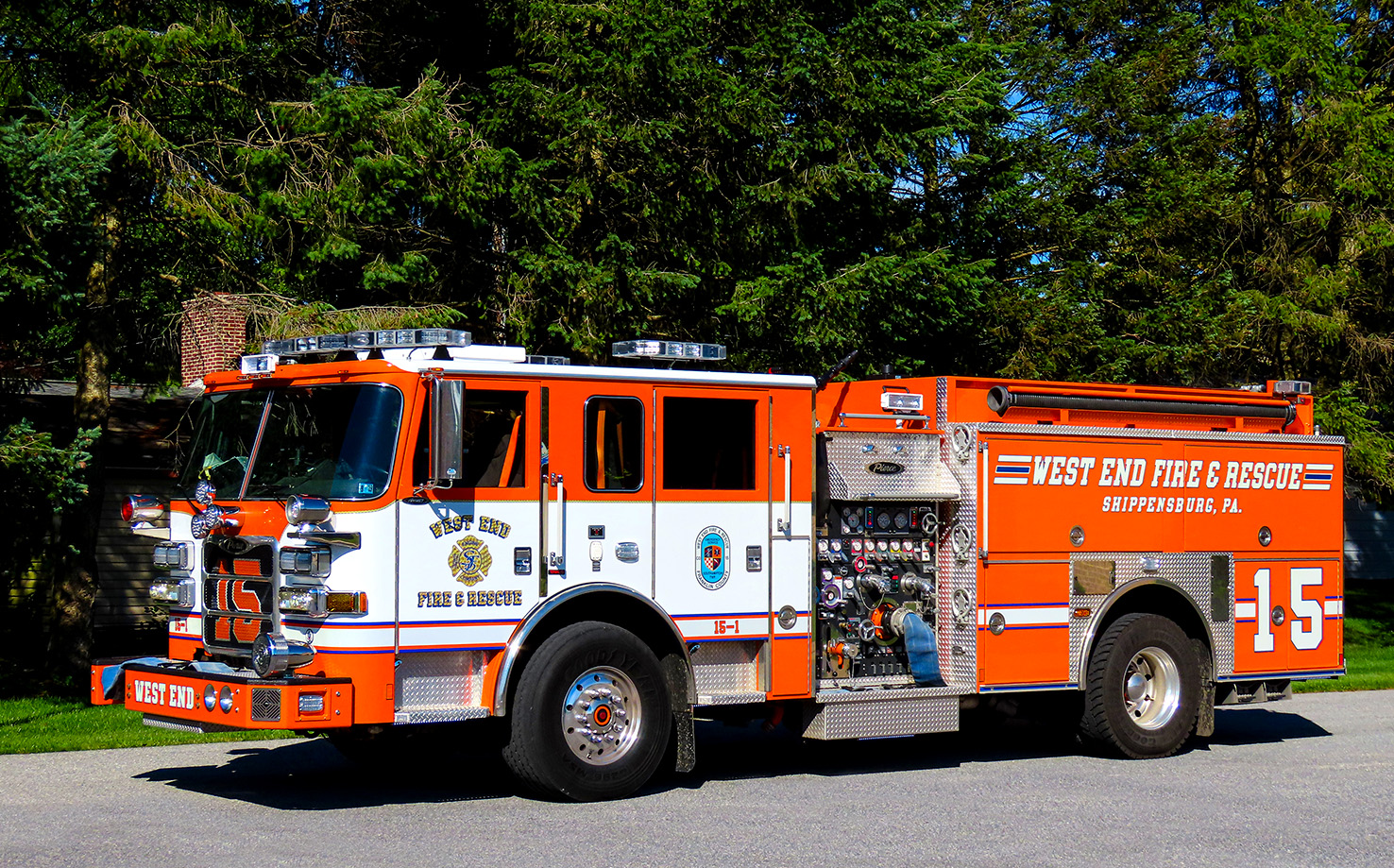 2015 Pierce Arrow XT 1500/750/30A
WEST END FIRE & RESCUE {SHIPPENSBURG} SQUAD 15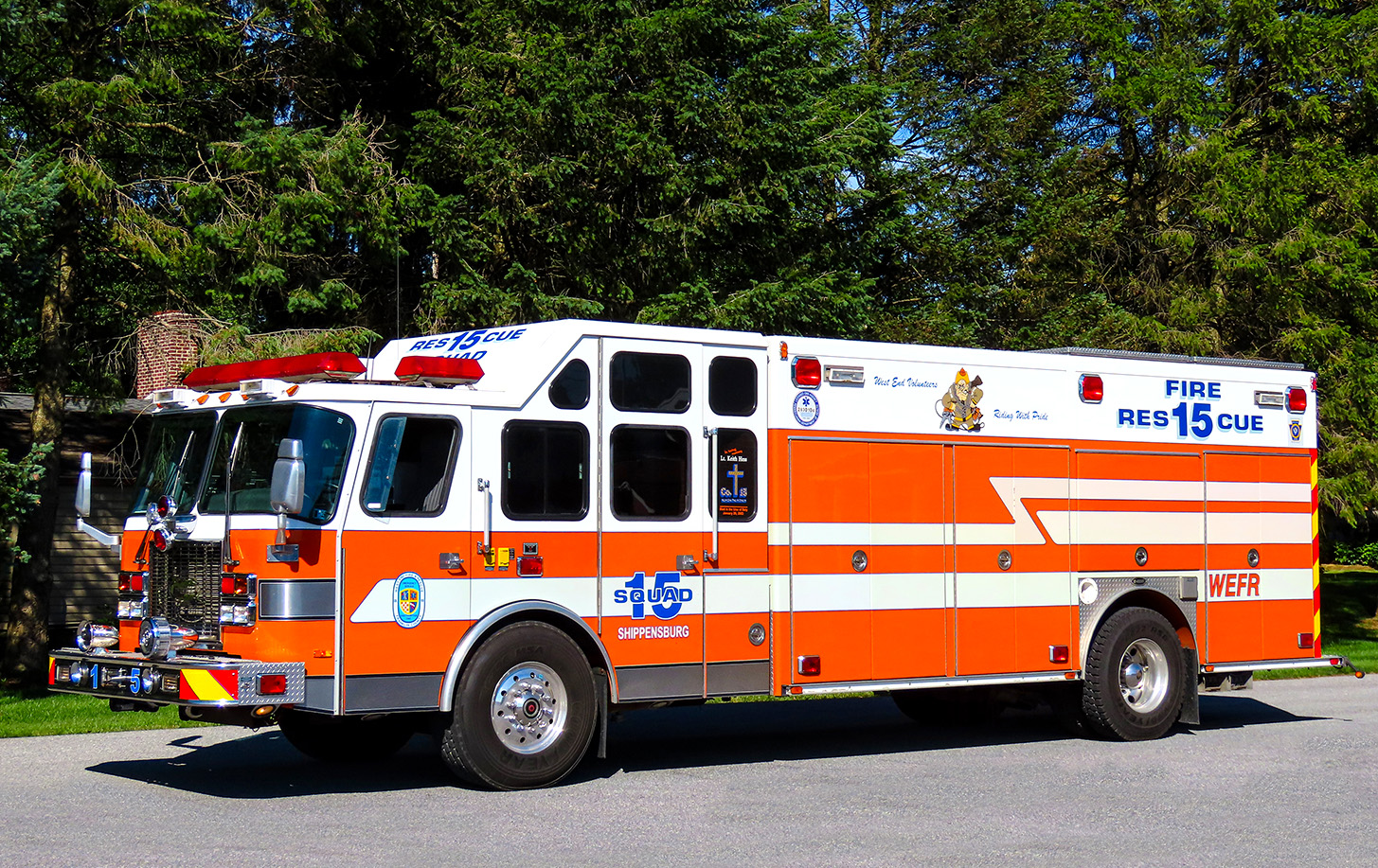 1999 E-One Heavy Rescue Walk-Around
WEST END FIRE & RESCUE {SHIPPENSBURG} BRUSH 15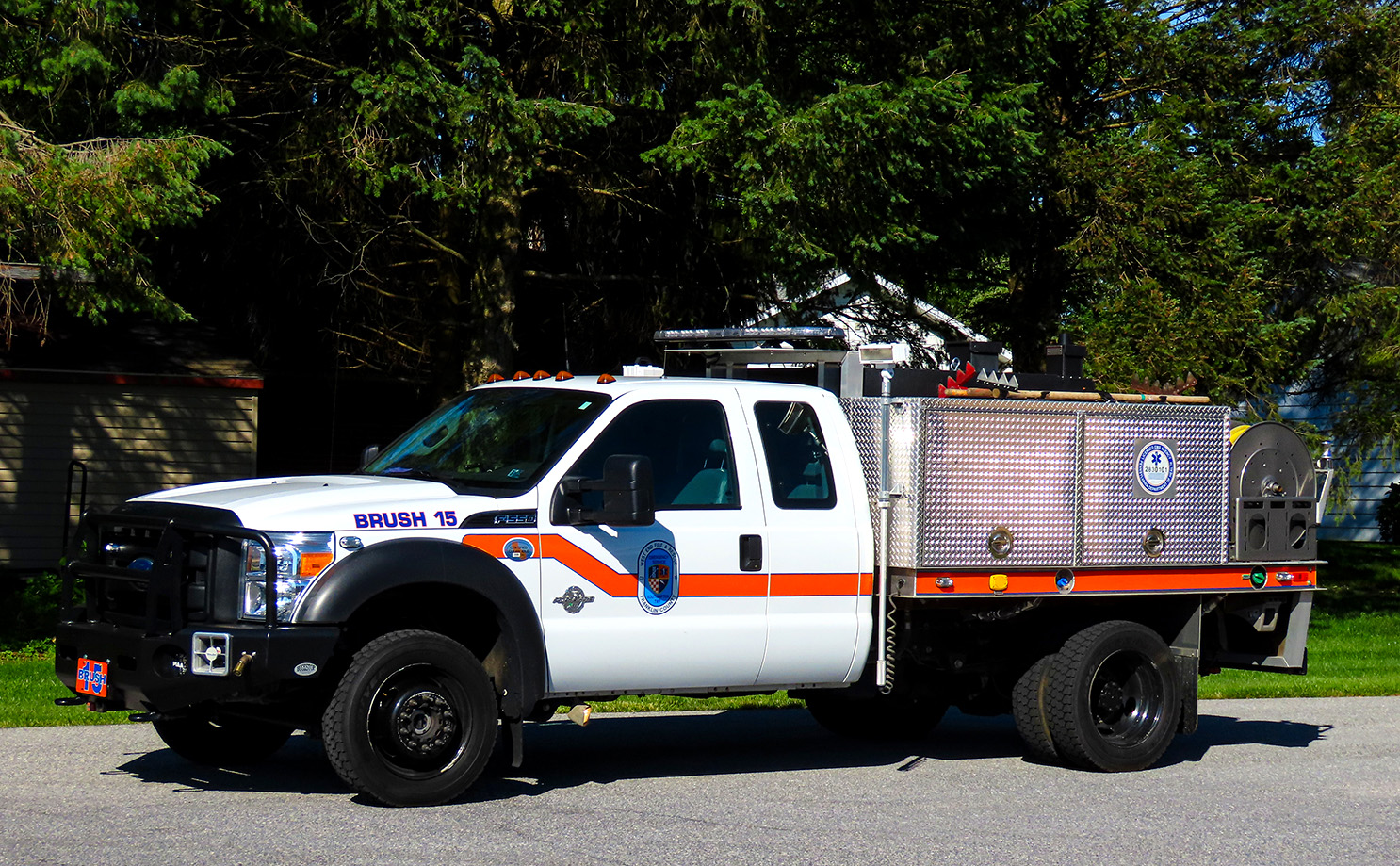 2011 Ford F-550/KME 4x4 250/400/10F
WICONISCO FIRE ENGINE COMPANY ENGINE 23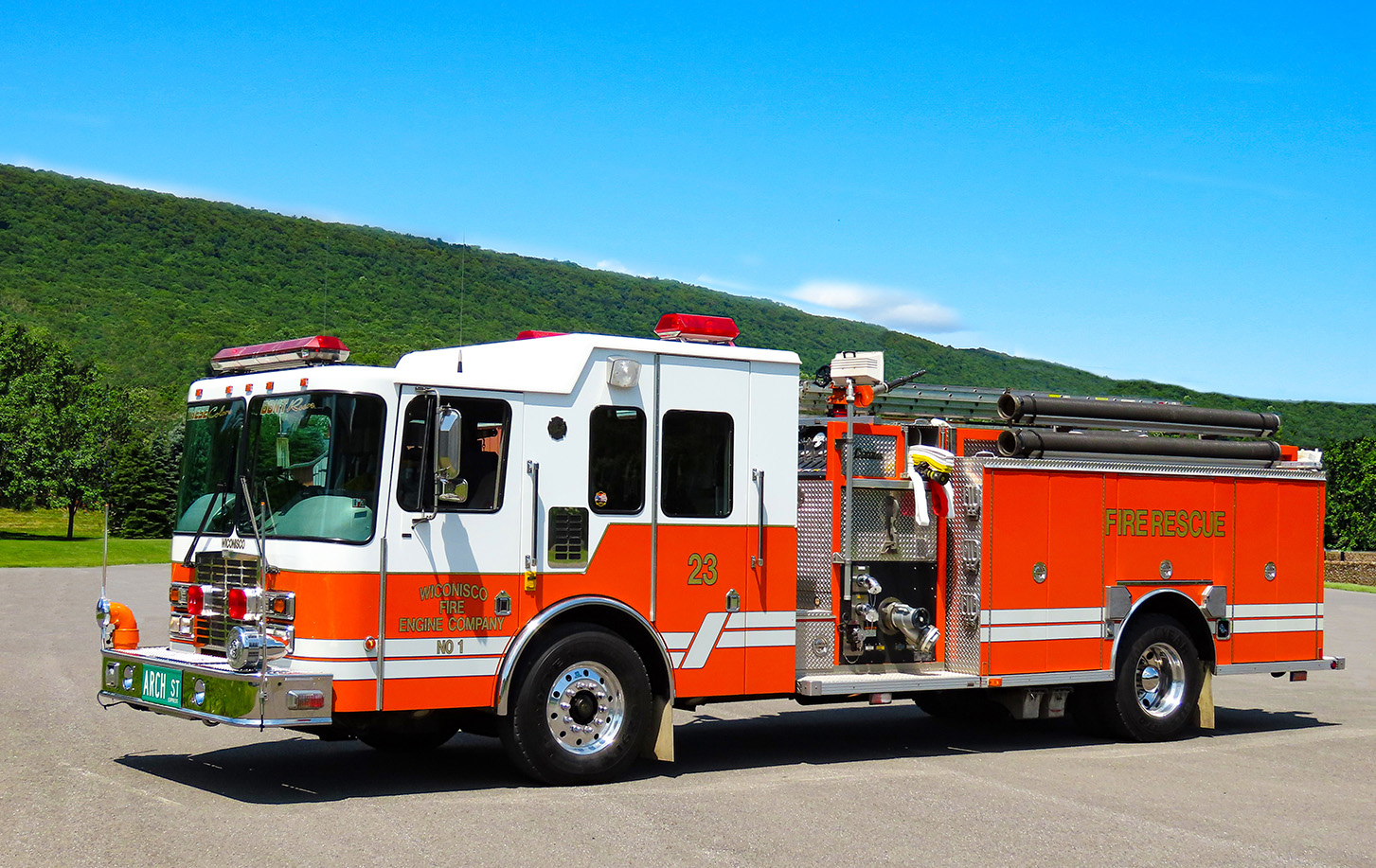 1999 HME/Central States 2000/750
WICONISCO FIRE ENGINE COMPANY RESCUE 23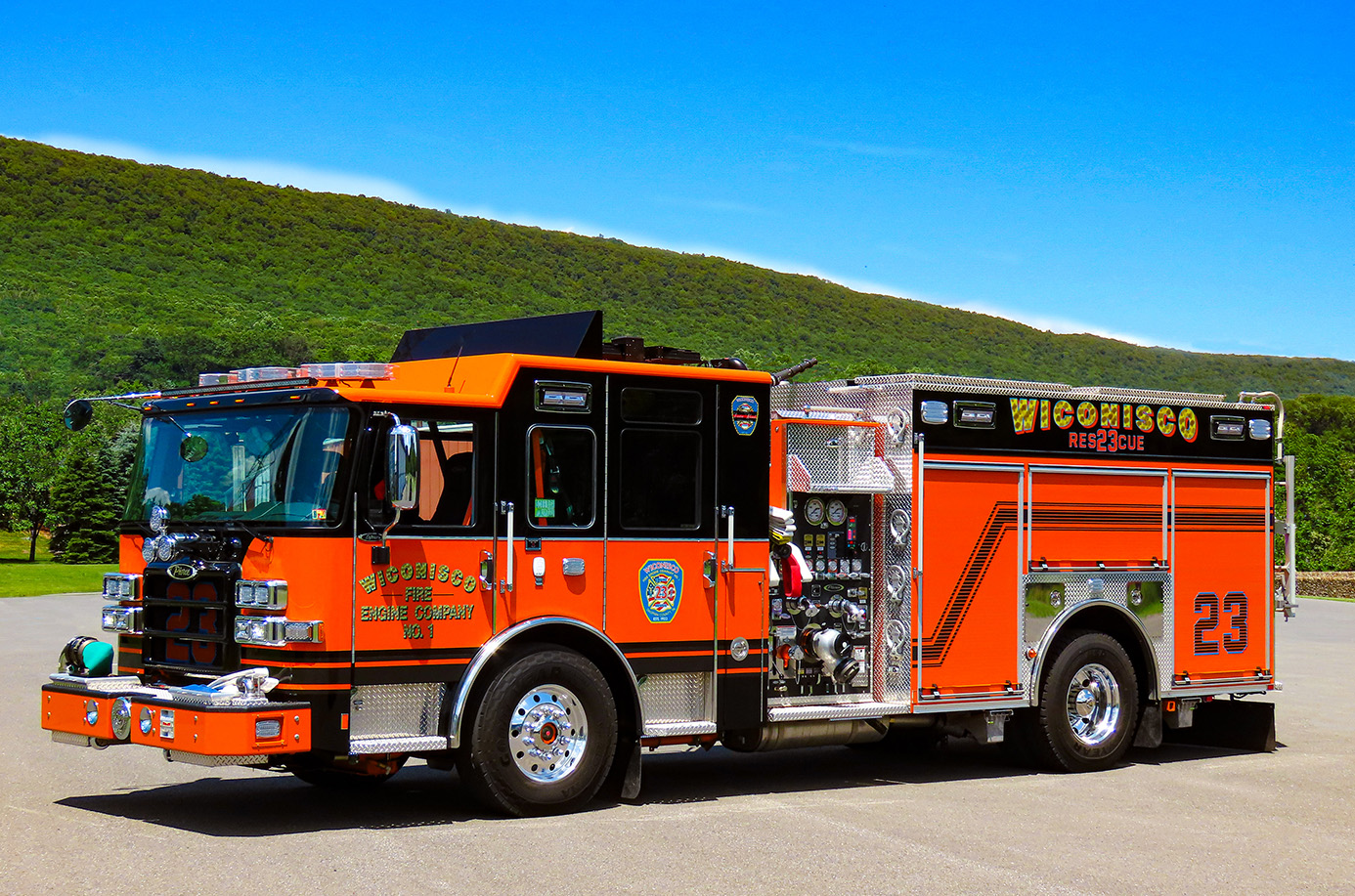 2018 Pierce Enforcer 2000/500
WICONISCO FIRE ENGINE COMPANY TANKER 23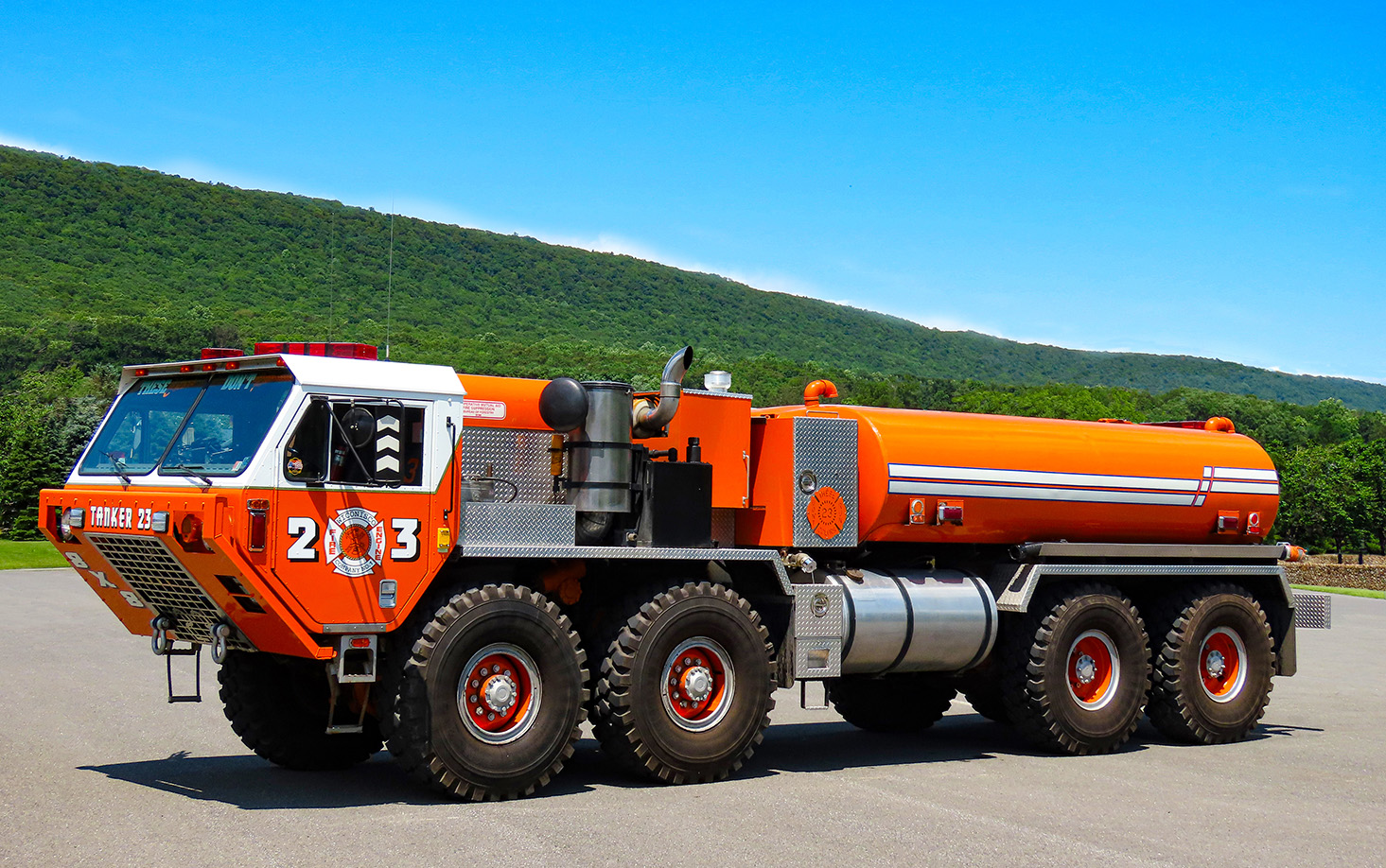 1989 Oshkosh HEMTT 8x8 500/3000
WICONISCO FIRE ENGINE COMPANY ATTACK 23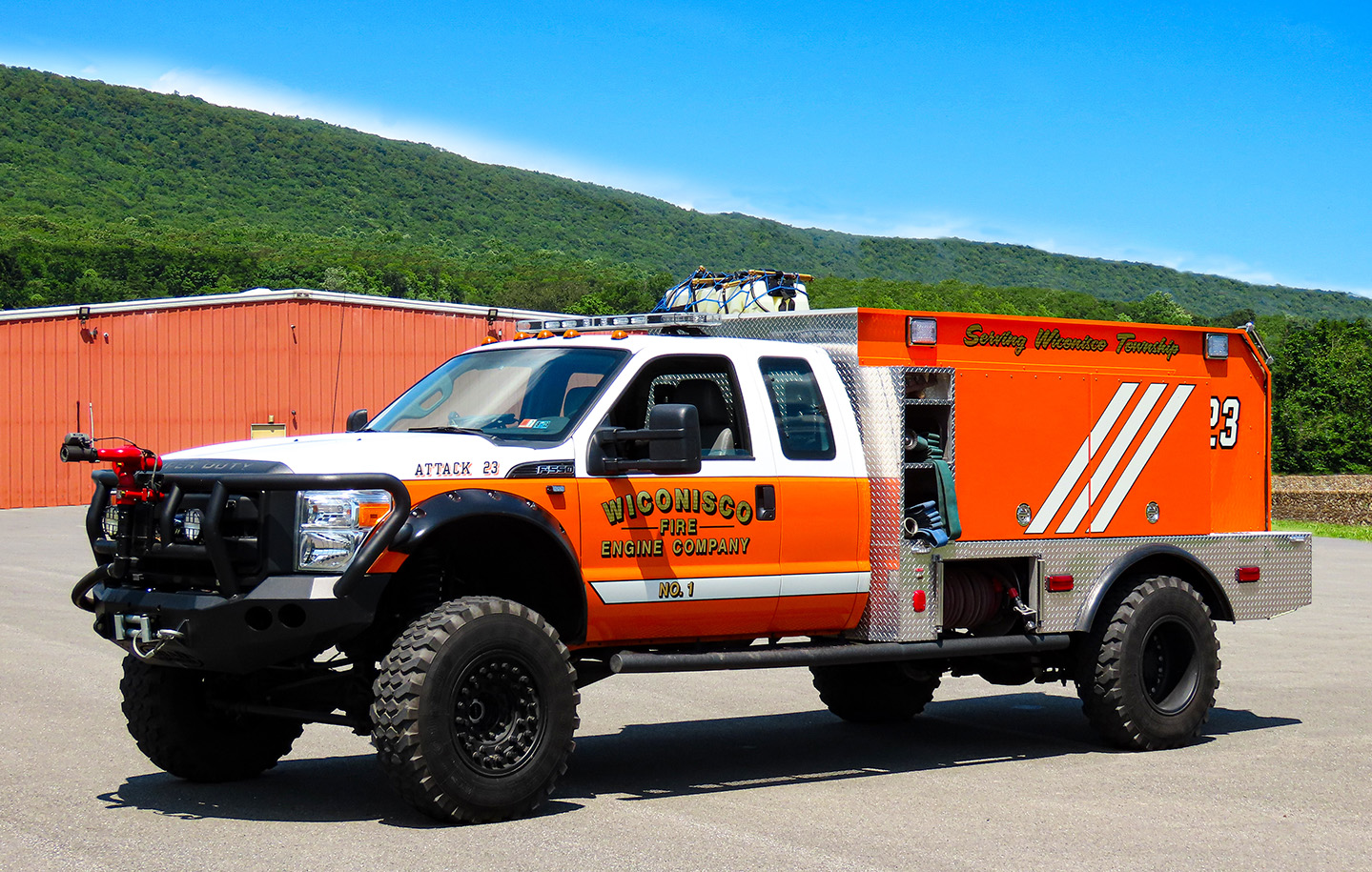 2012 Ford F-550/General Fire Equipment 4x4 500/350/20A
WICONISCO FIRE ENGINE COMPANY ANTIQUE ENGINE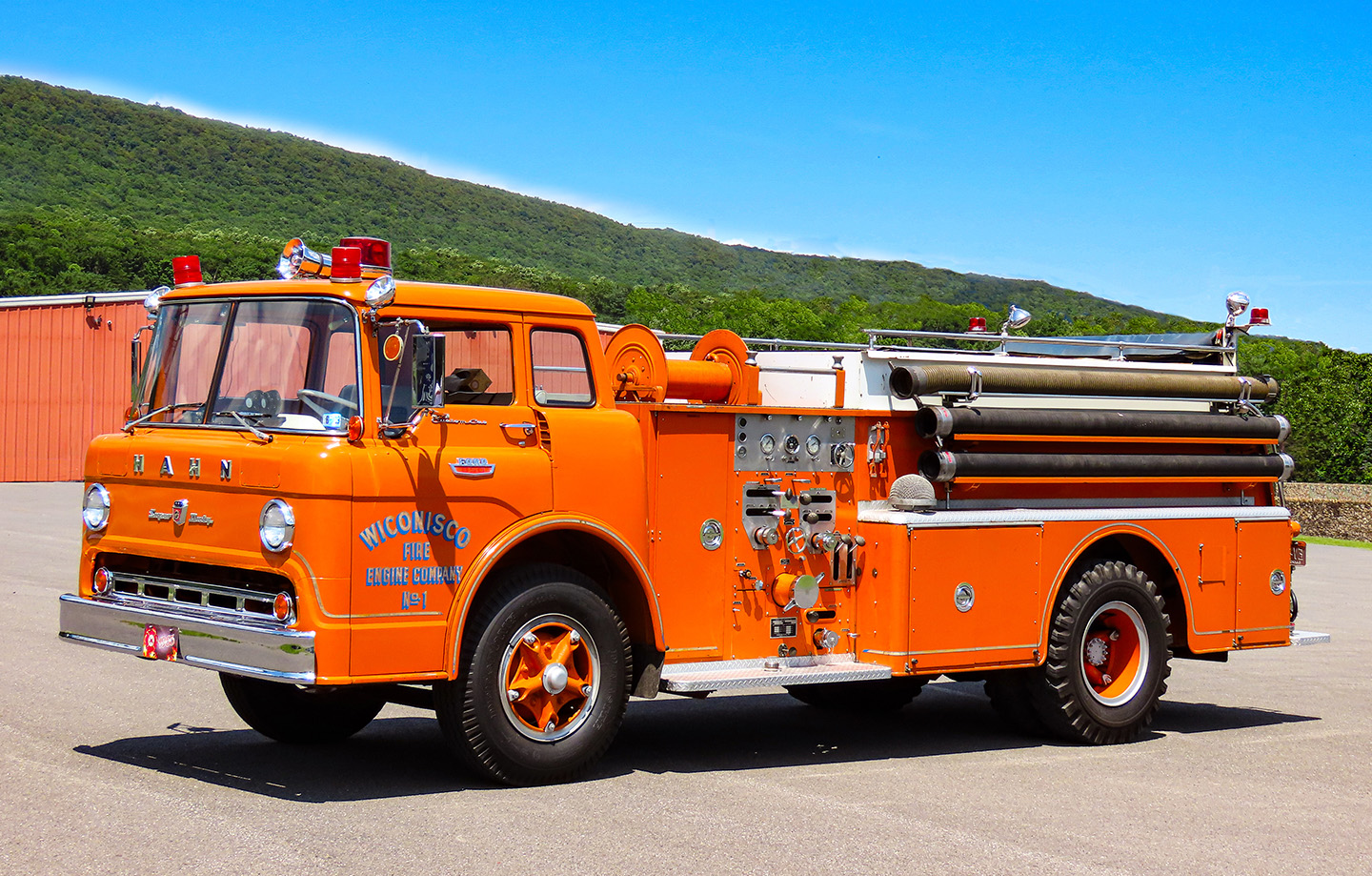 1965 Ford C800/Hahn 1000/500

All Photos Are Copyrighted 2019