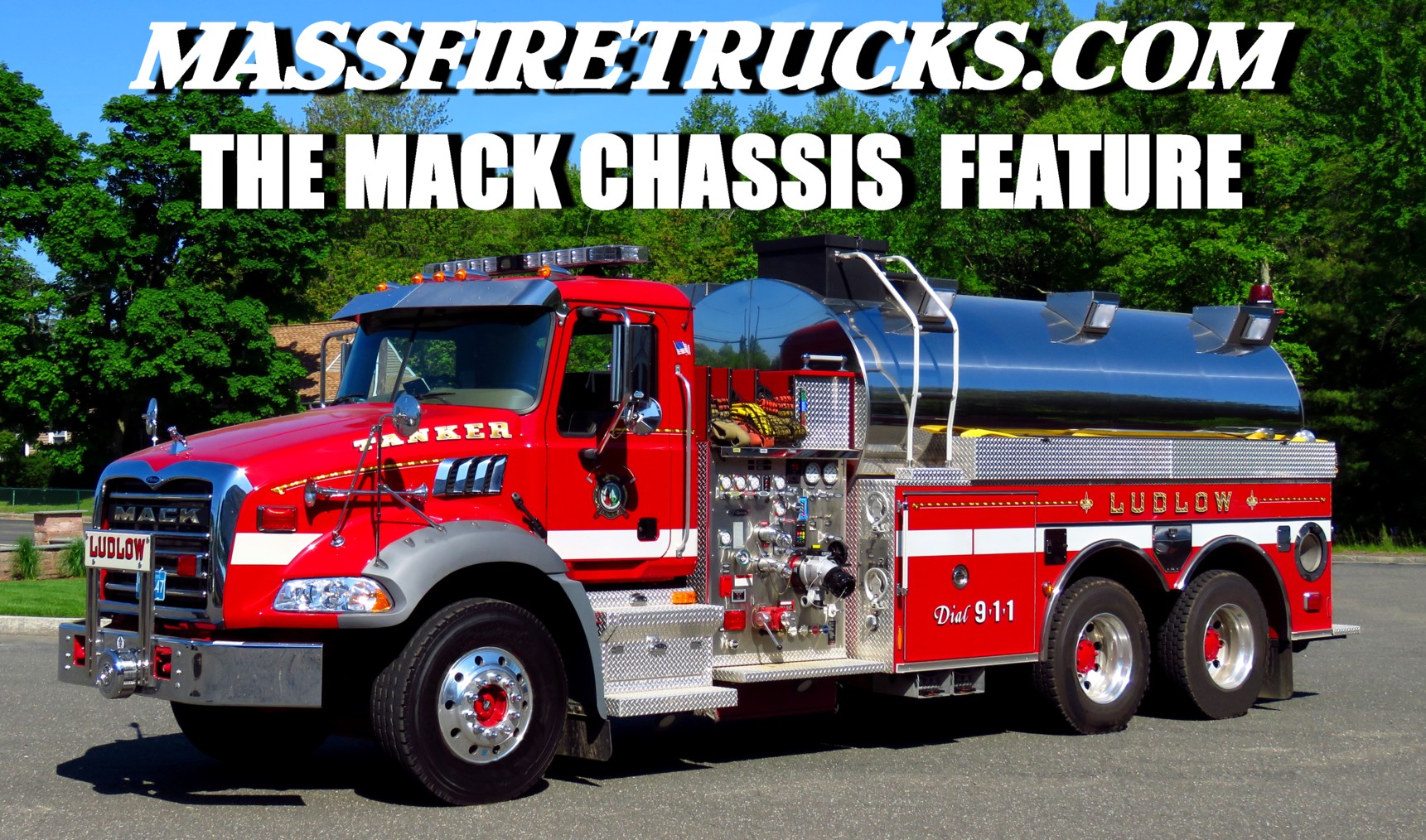 The M-80, the L, the B, the MB, the MC, the R, the RD, the MR, the Granite, the C
and especially the CF. Even the CH. These chassis models are some of the
most photographed and iconic fire apparatus of all time (easy Maxim fans!).
Mack Trucks have been a huge part of the fire apparatus landscape
for over 100 years, and today are still found in firehouses from
coast to coast. Mack itself made fire apparatus as well as selling
chassis to other manufacturers. These are some of the Macks
that I have photographed since 2003. It is a page in progress
and will be updated from time to time.
Enjoy the photos below!!


HARVARD, MA ENGINE 1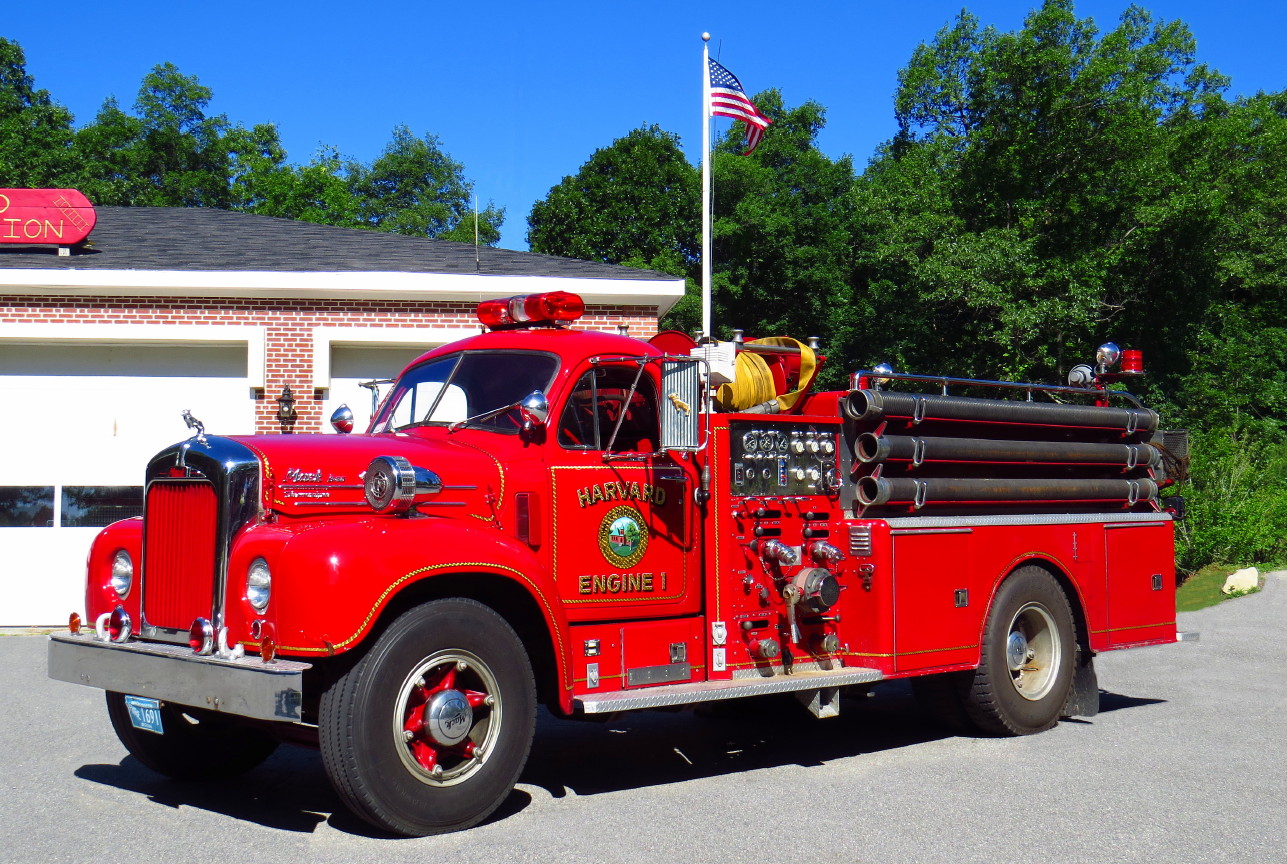 1964 Mack B 750/500
MEDFIELD, MA ENGINE 1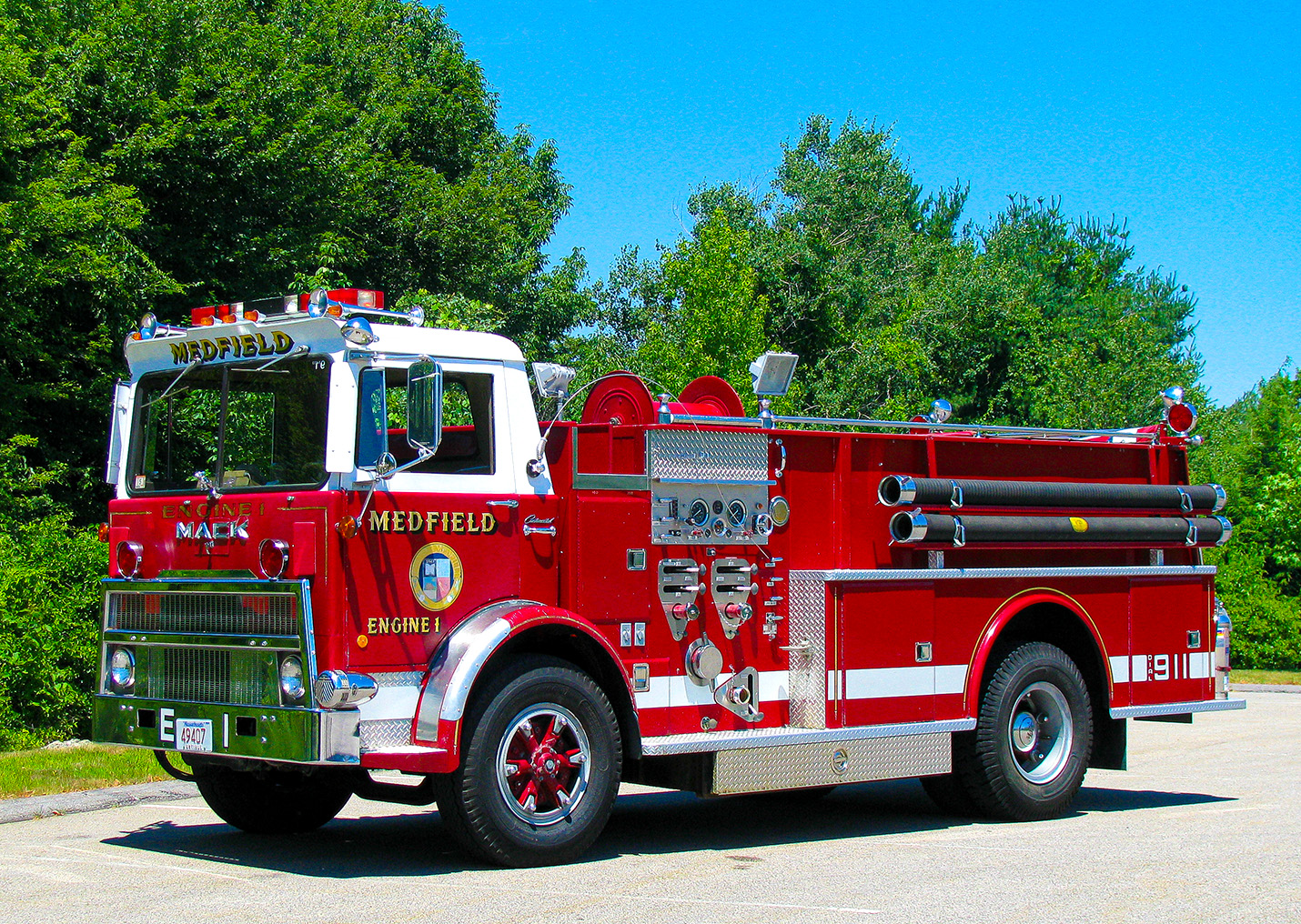 1977 Mack MB/Continental 1000/500
SOMERSET, MA ENGINE 1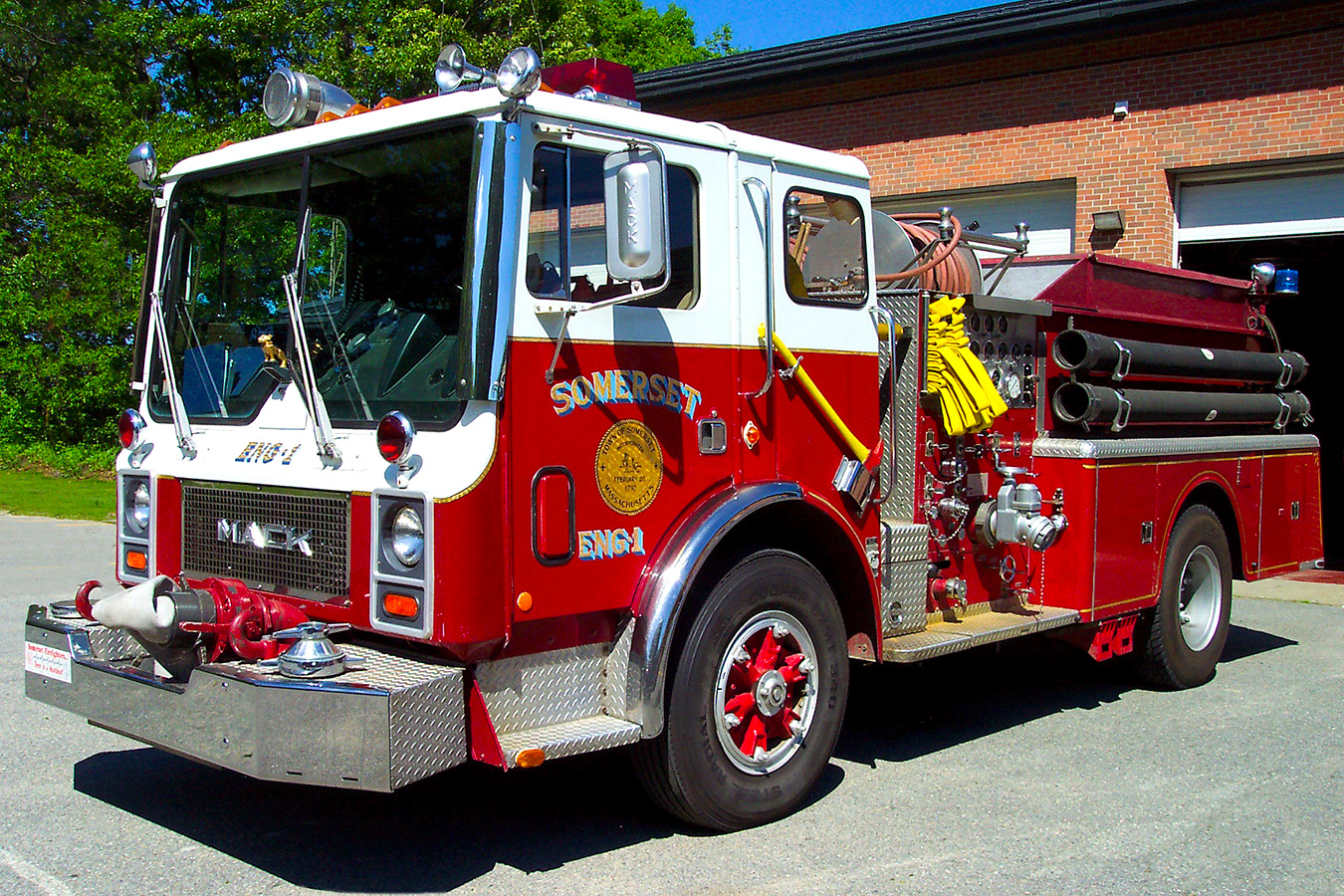 1979 Mack MC 1250/500
EDGARTOWN, MA ENGINE 1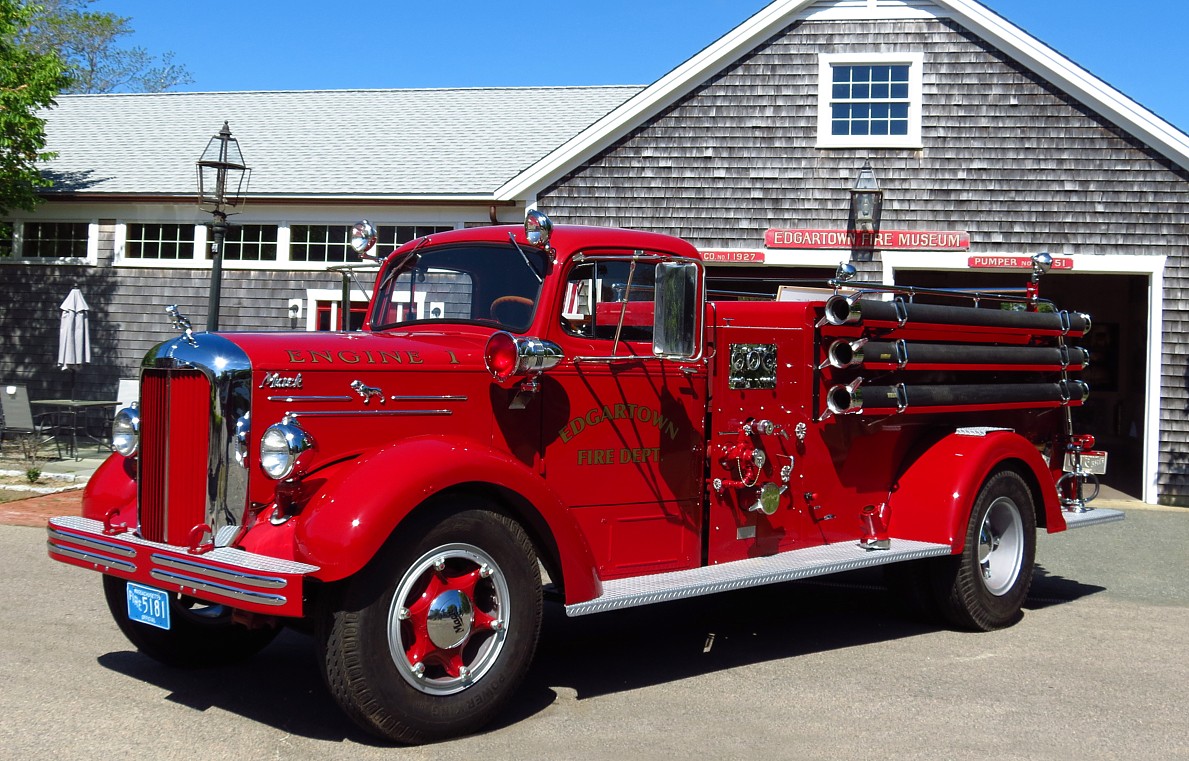 1951 Mack A 500/500
FITCHBURG, MA ENGINE 5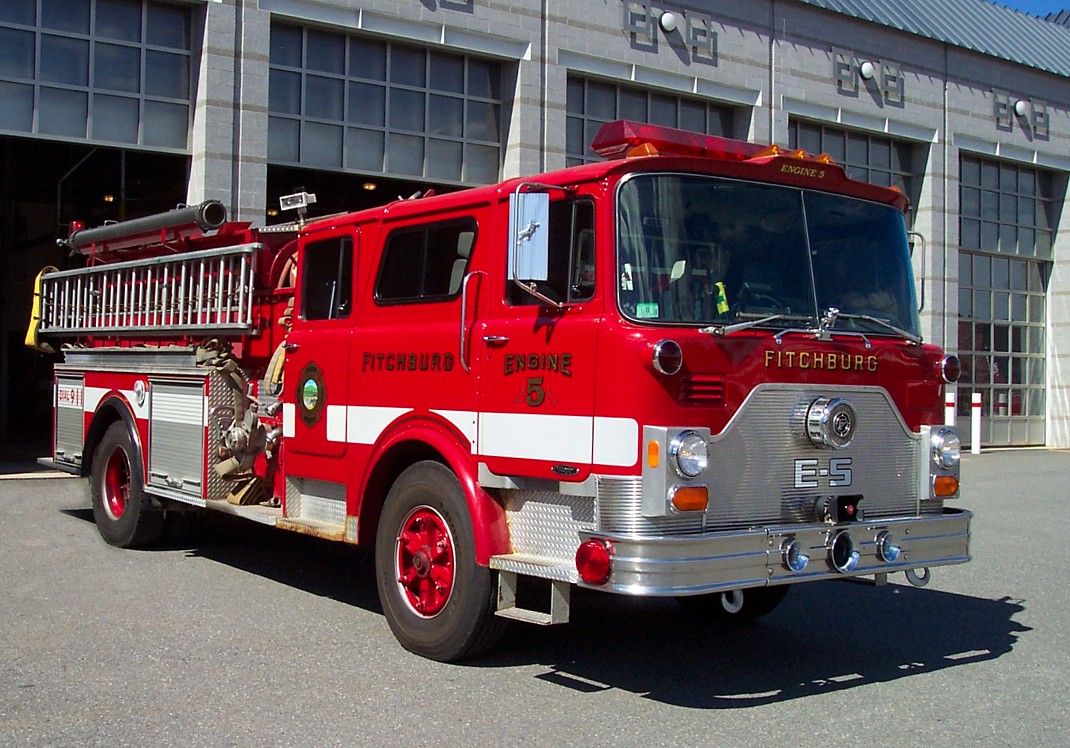 1982 Mack CF 1500/1000
NORTHAMPTON, MA TANKER 1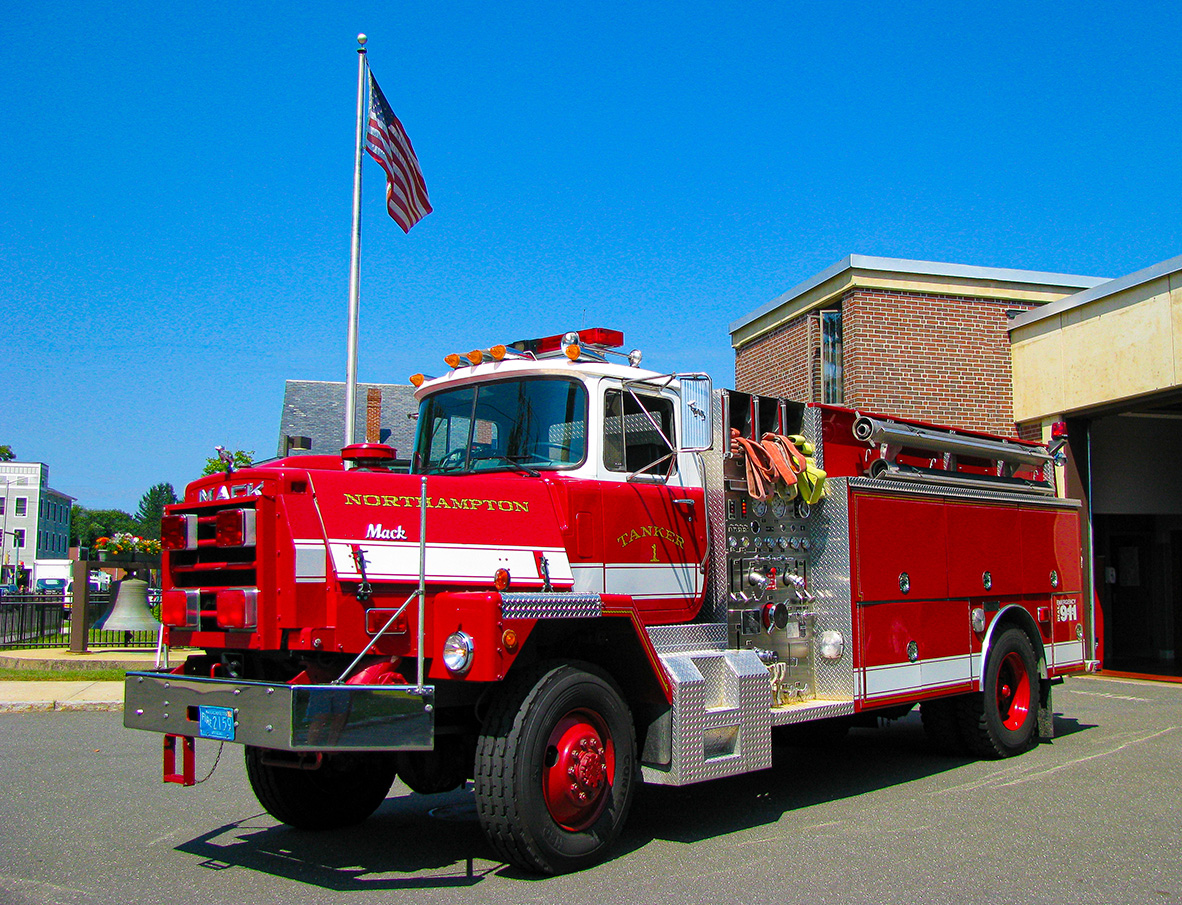 1990 Mack RM/4 Guys 1000/1500
ORLEANS, MA ENGINE 2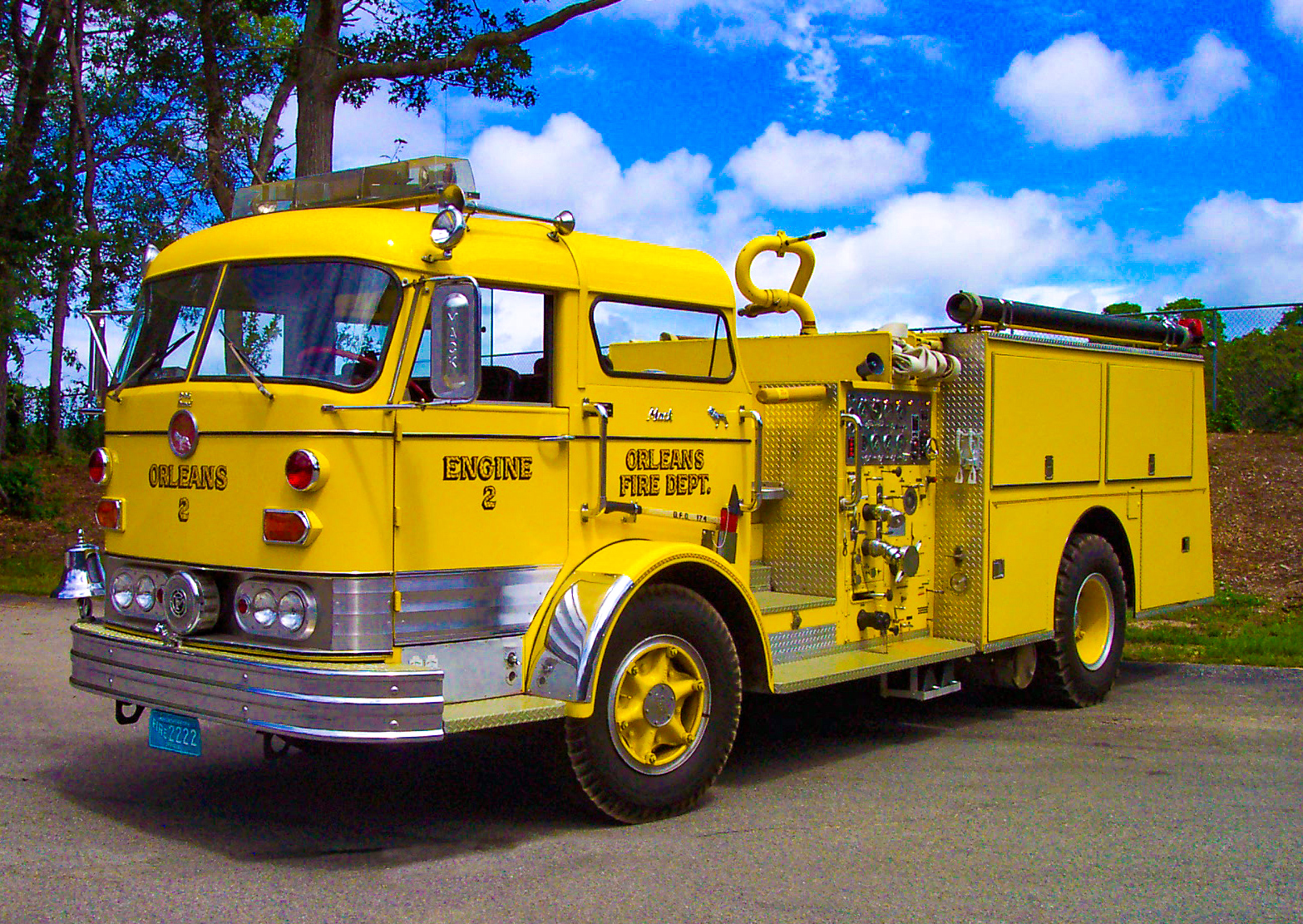 1966 Mack C 1000/500
ASHBURNHAM, MA LADDER 1
1983 Mack CF/LTI 106' RMA (Originally Fort Lauderdale, FL)
ST. JOSEPH'S ABBEY {SPENCER}, MA ENGINE 1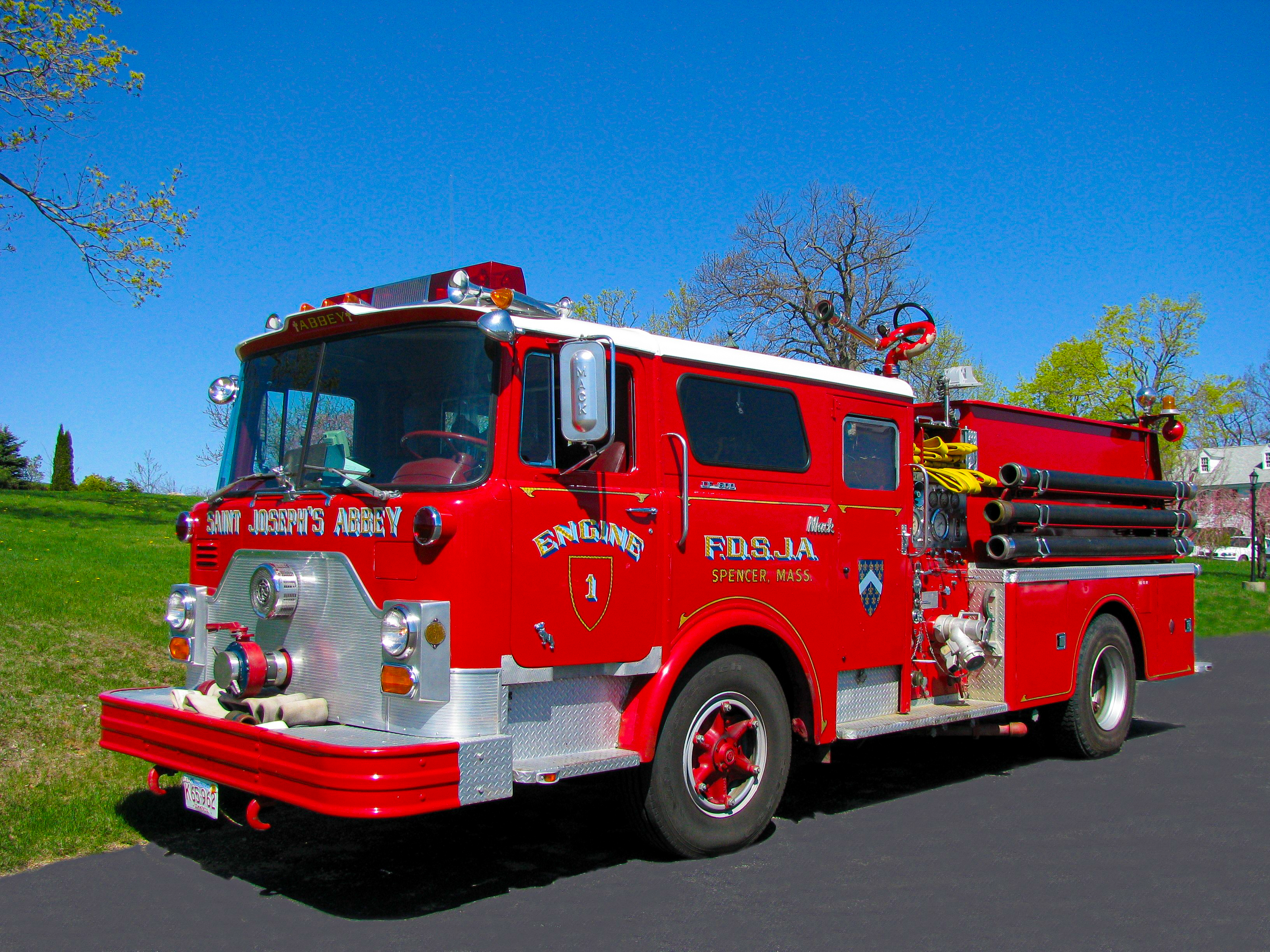 1972 Mack CF 1500/500 (Originally FDNY)
WEST BOYLSTON, MA RESCUE 5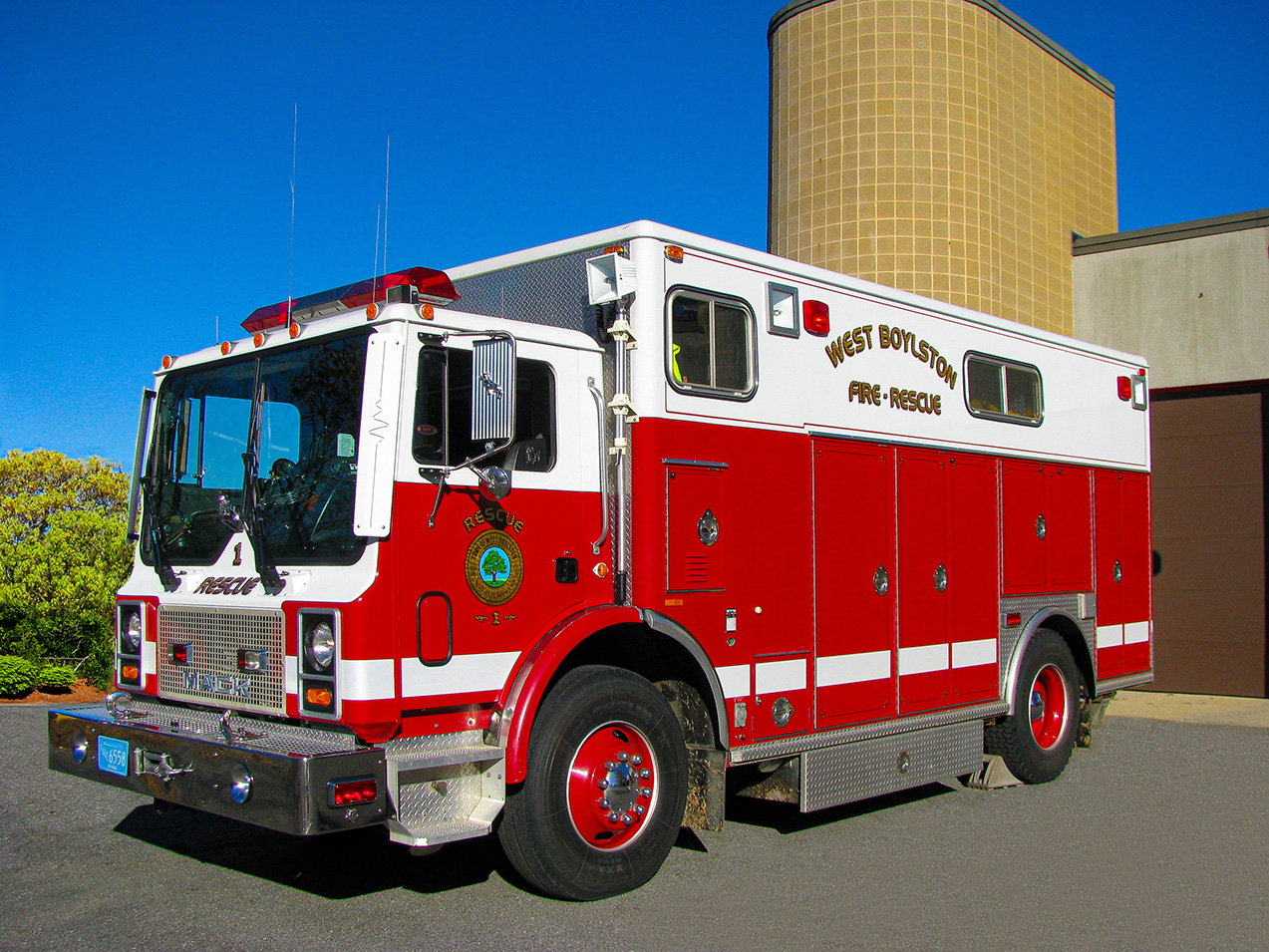 1995 Mack MR/Ranger
MILLBURY, MA ENGINE 4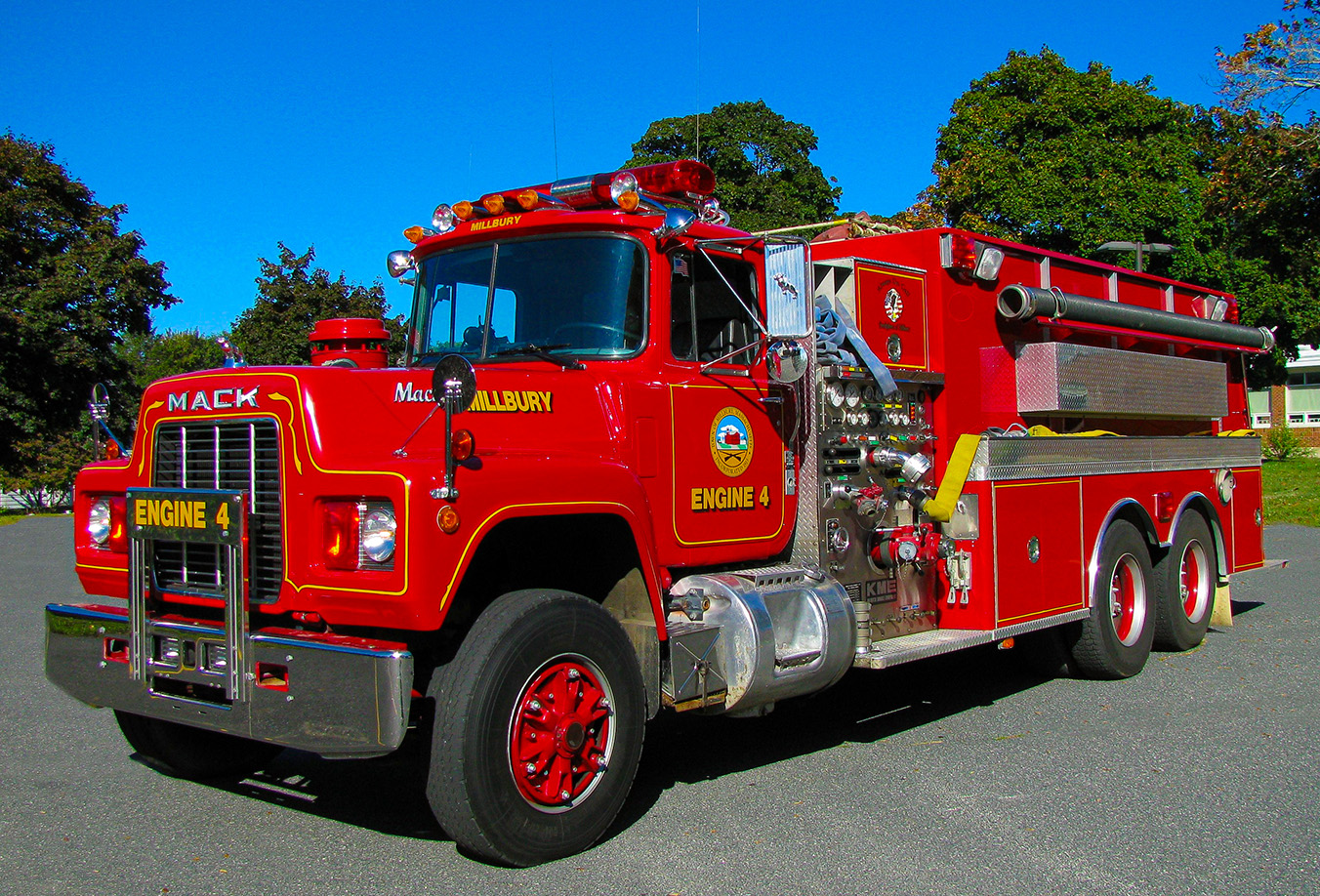 1989 Mack R/KME 1500/3000
VALLEY FALLS {CUMBERLAND}, RI ENGINE 1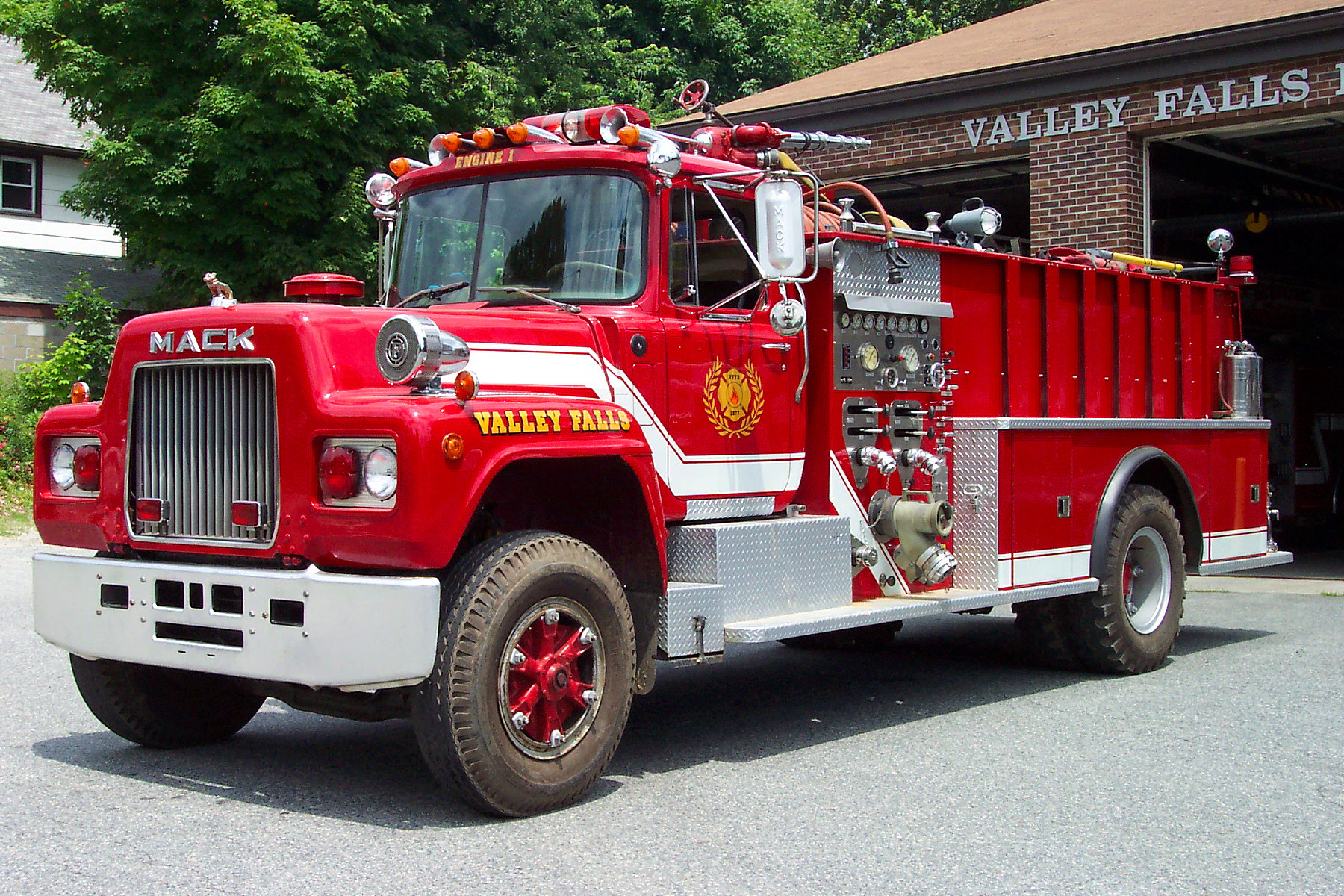 1978 Mack R/Continental 1250/600
WALPOLE, MA ENGINE 2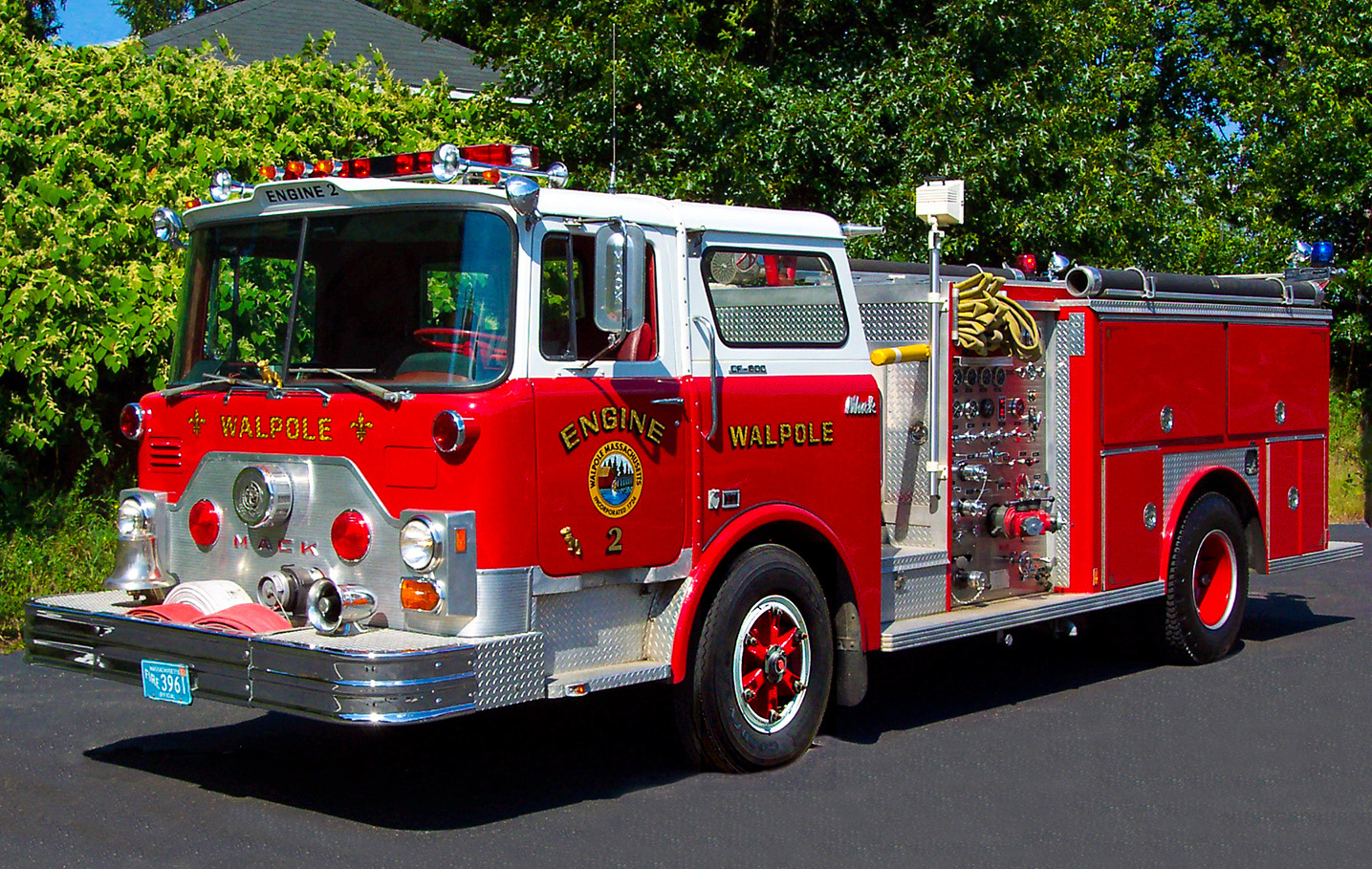 1975 Mack CF 1250/500
SHERBORN, MA ENGINE 2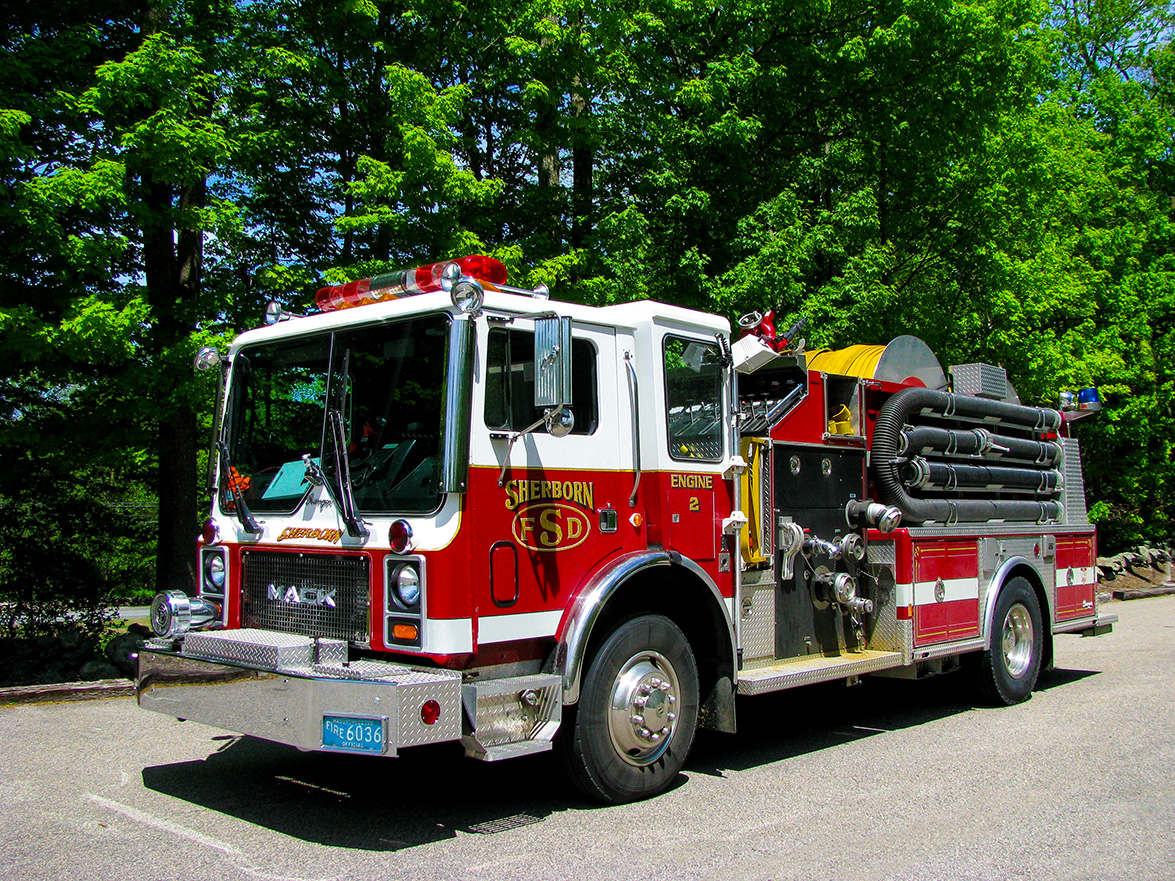 1990 Mack MR/Ranger 1500-gpm w/ 5,000 foot LDH Reel
MEDFORD, MA AUXILIARY ENGINE 9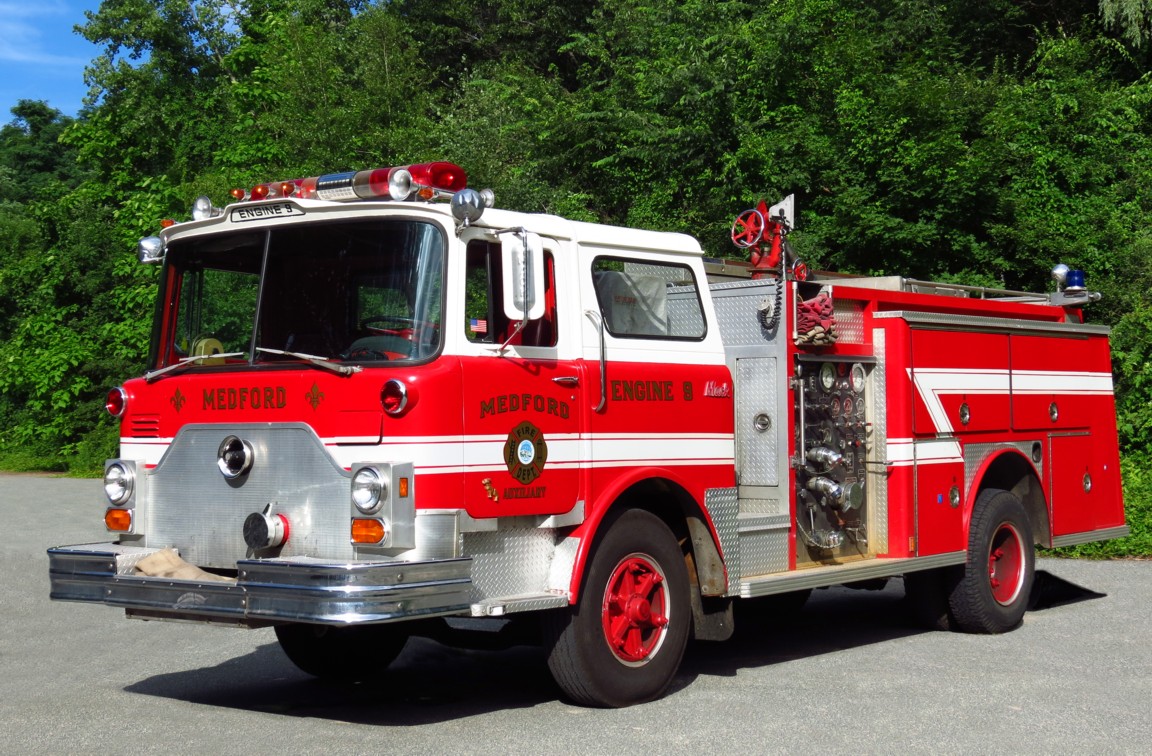 1976 Mack CF 1250/500
SHEFFIELD, MA TANKER 4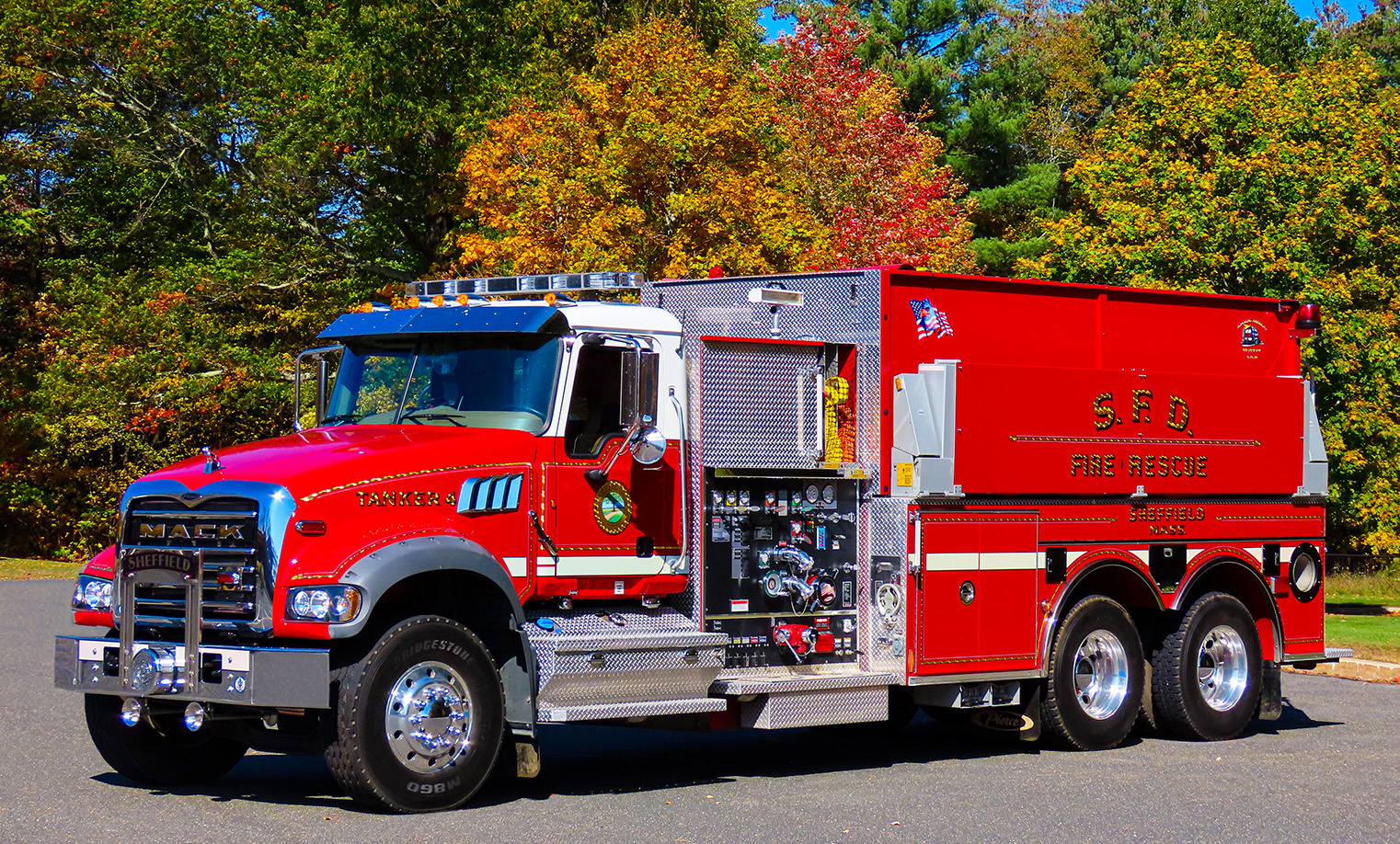 2010 Mack Granite/Pierce 1750/3000
DEVENS, MA ENGINE 4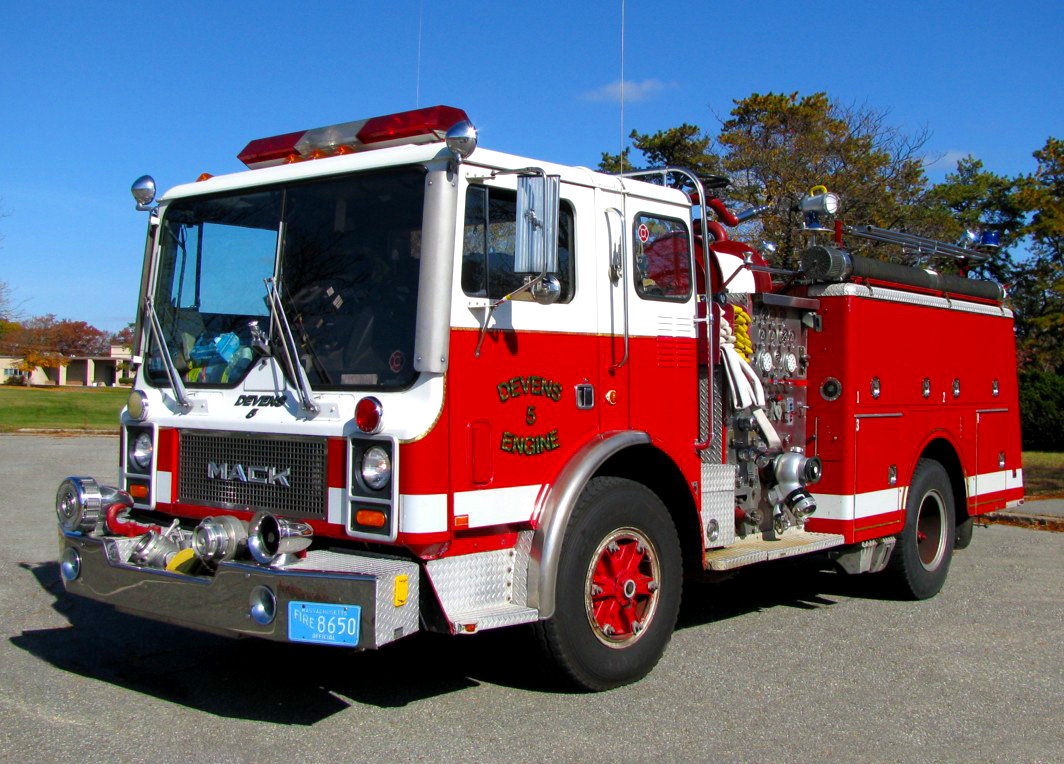 1981 Mack MC 1250/1000
GLOUCESTER, MA LADDER 2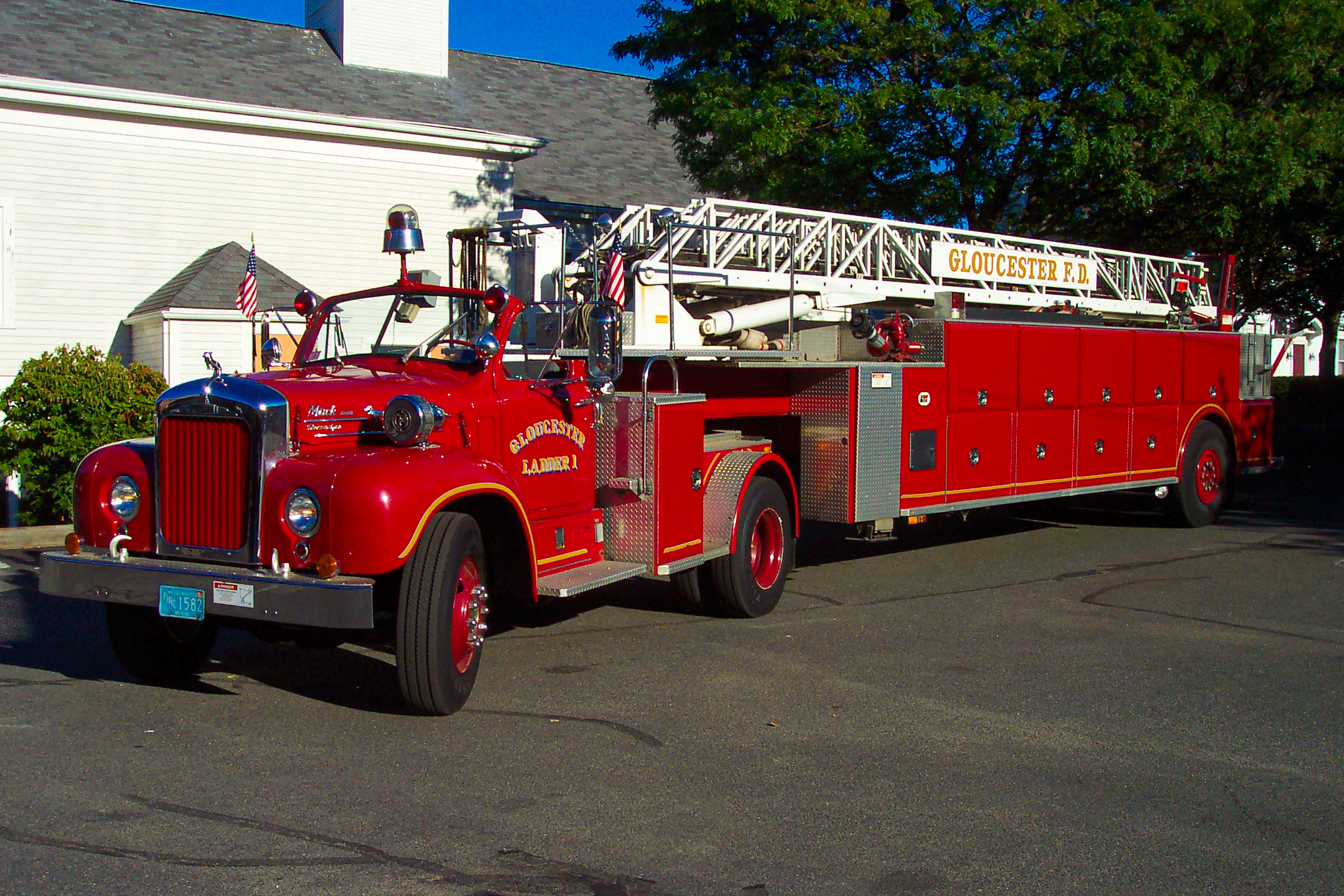 1966 Mack B/1985 LTI 106' TDA
WAYLAND, MA ENGINE 5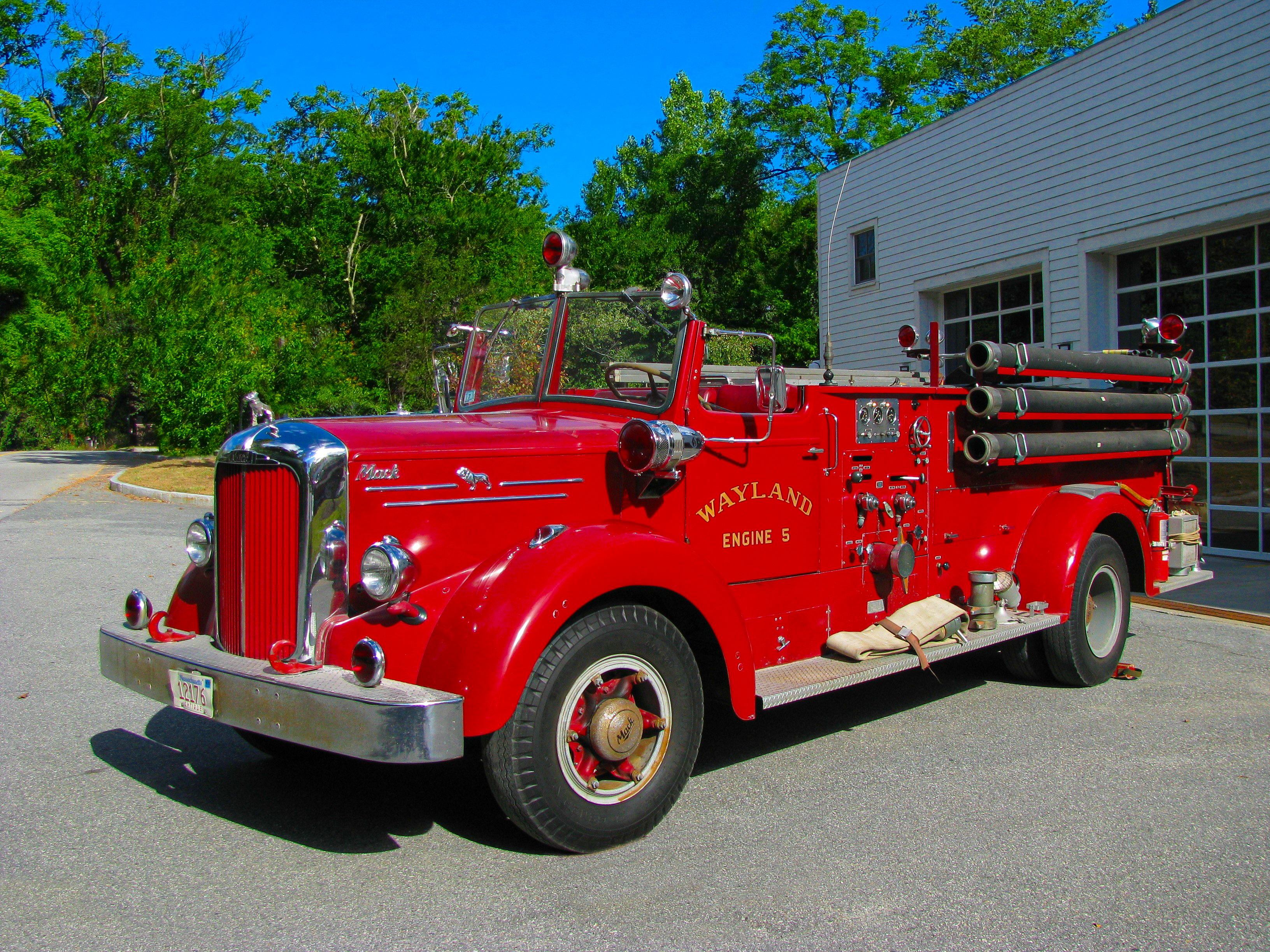 1953 Mack L 750/500
HAZLE TOWNSHIP, PA TANKER 106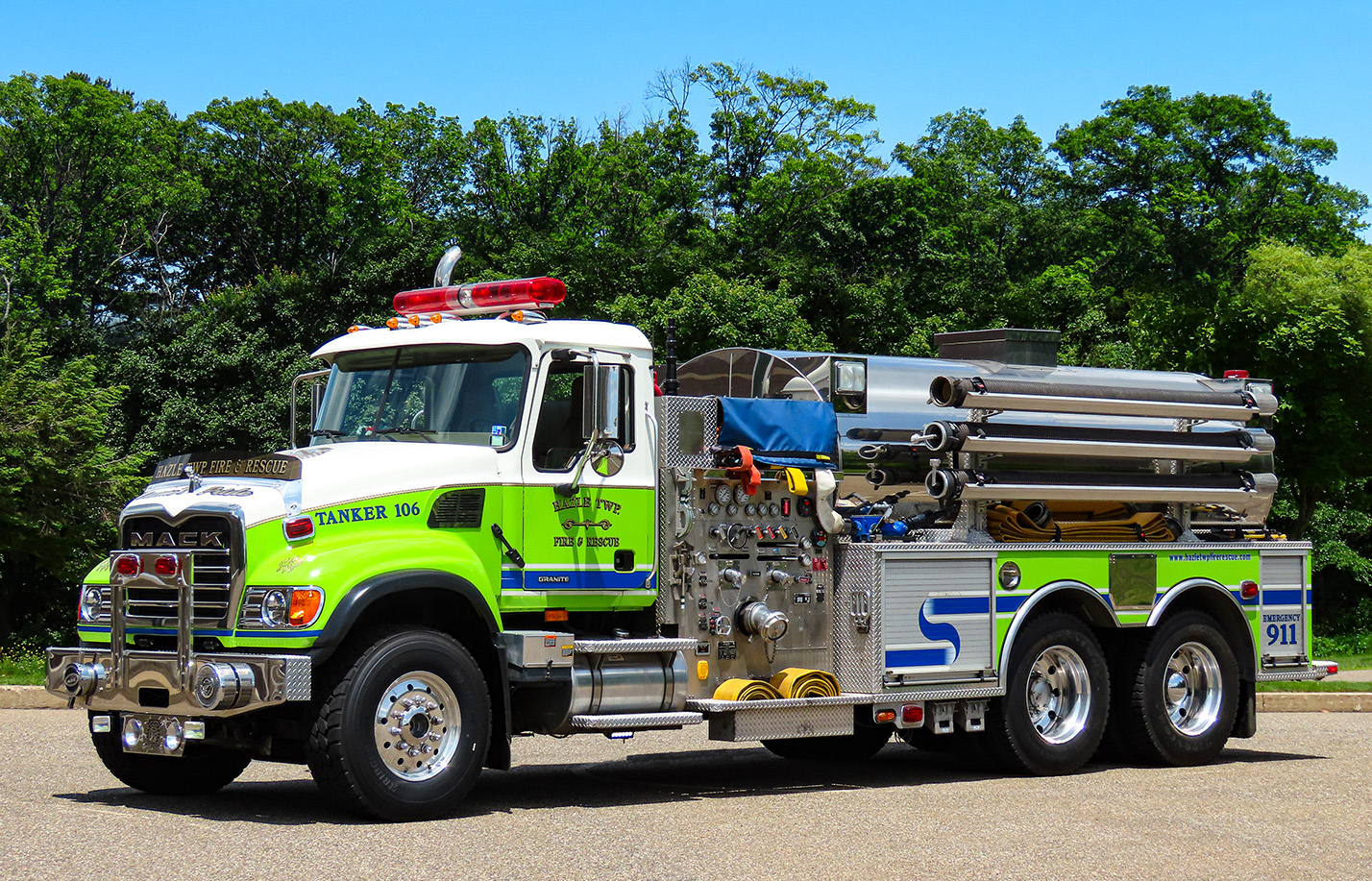 2006 Mack Granite/KME 1500/2500
WORCESTER, MA AERIALSCOPE 2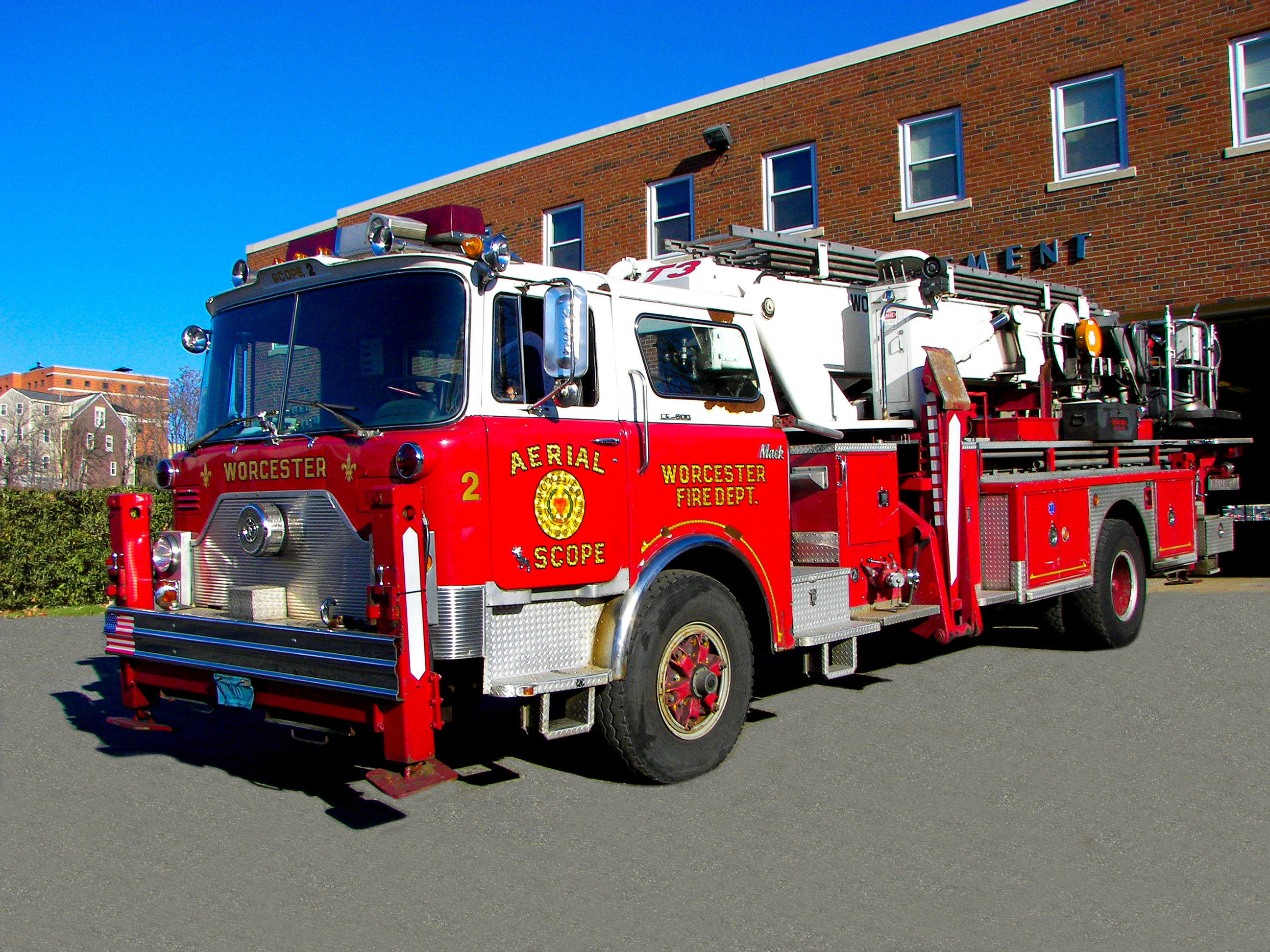 1973 Mack CF 75' Aerialscope
BROCKTON, MA LADDER 4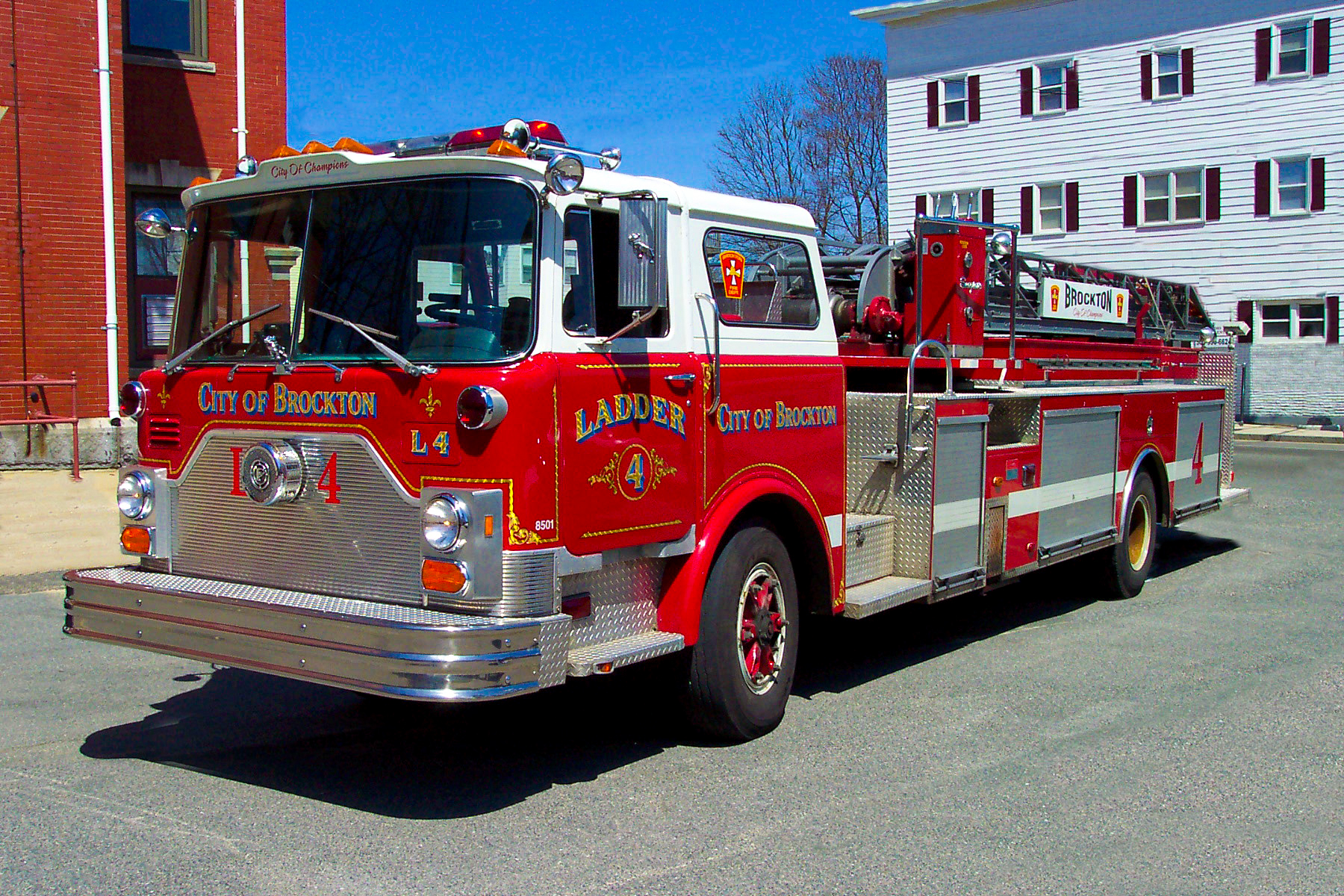 1985 Mack CF/1967 Seagrave 85' MMA
BROCKTON, MA ENGINE 6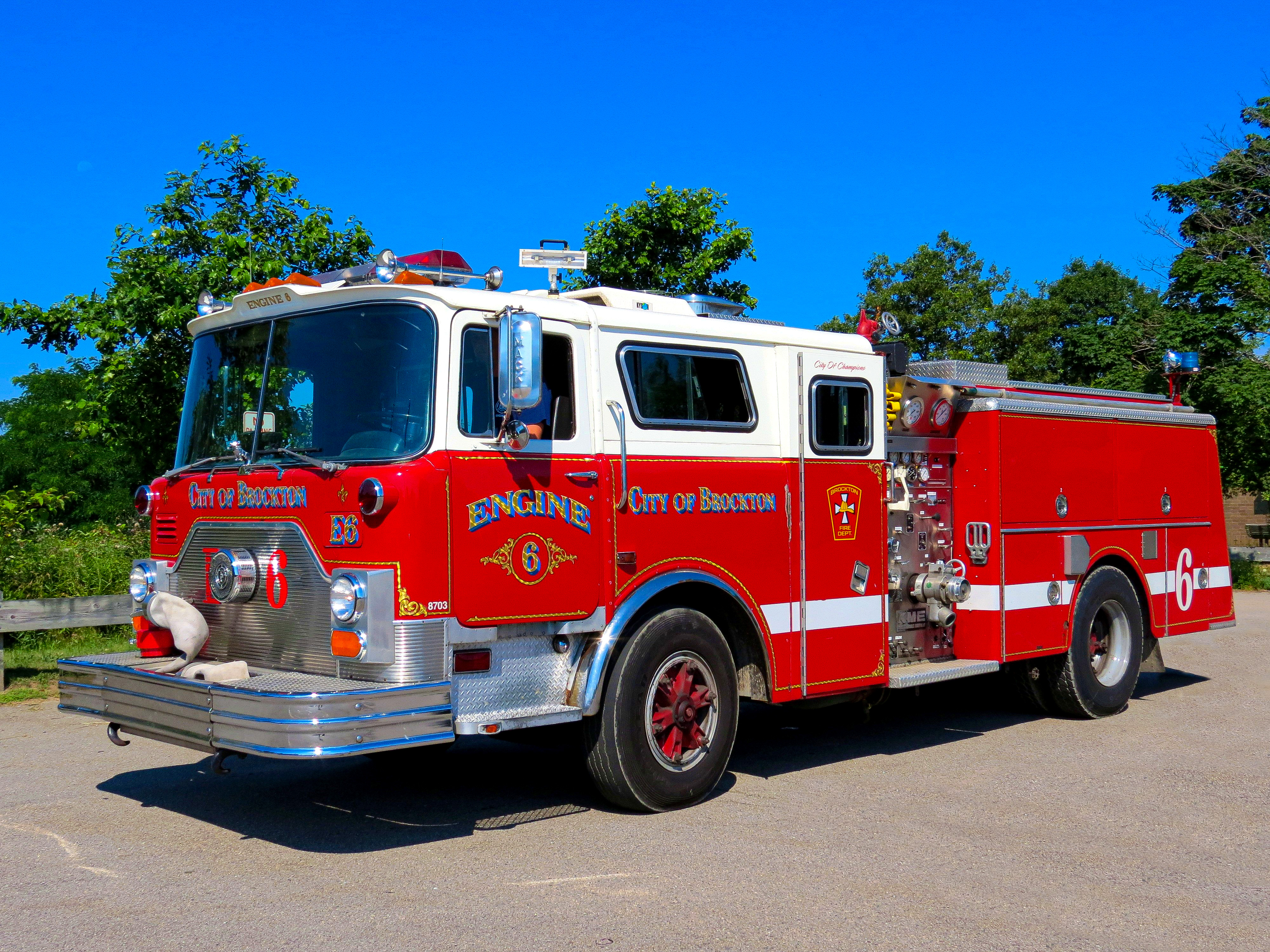 1987 Mack CF/KME 1000/500
RUSSELL, MA ENGINE 2
1982 Mack MS "Mid-Liner"/Ward 79 1000/750
NORTH ADAMS, MA ENGINE 4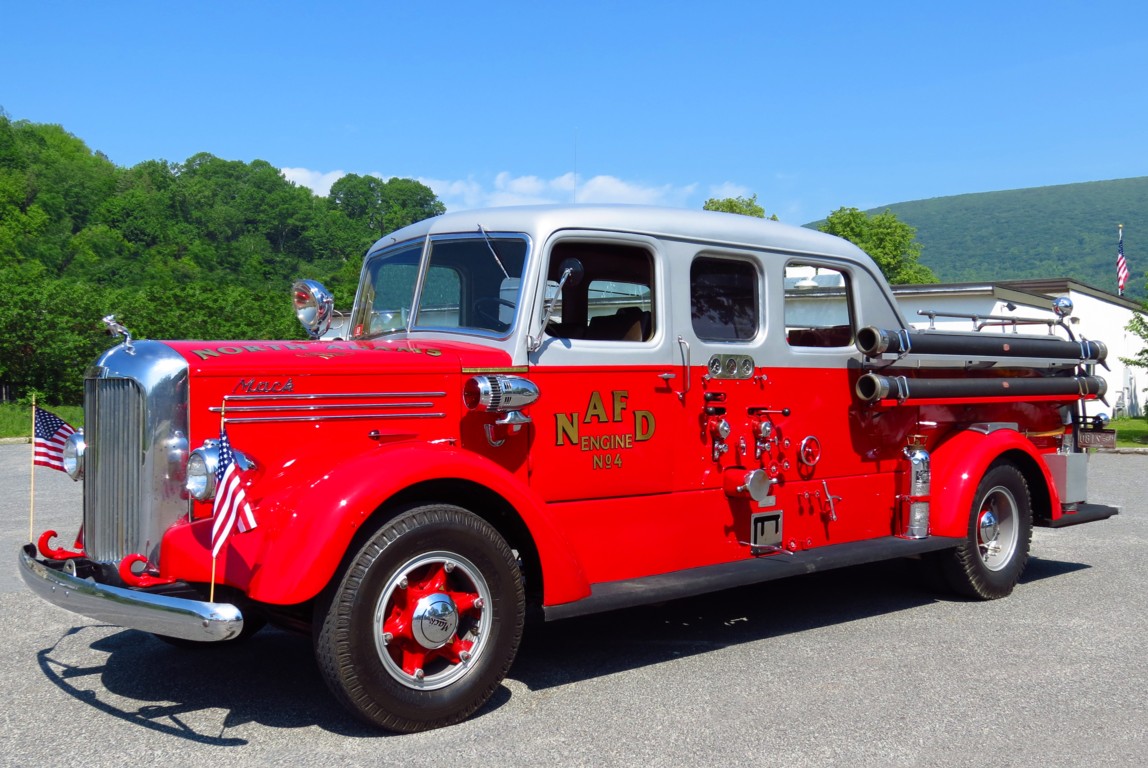 1941 Mack L 750/200
ROWE, MA ENGINE 4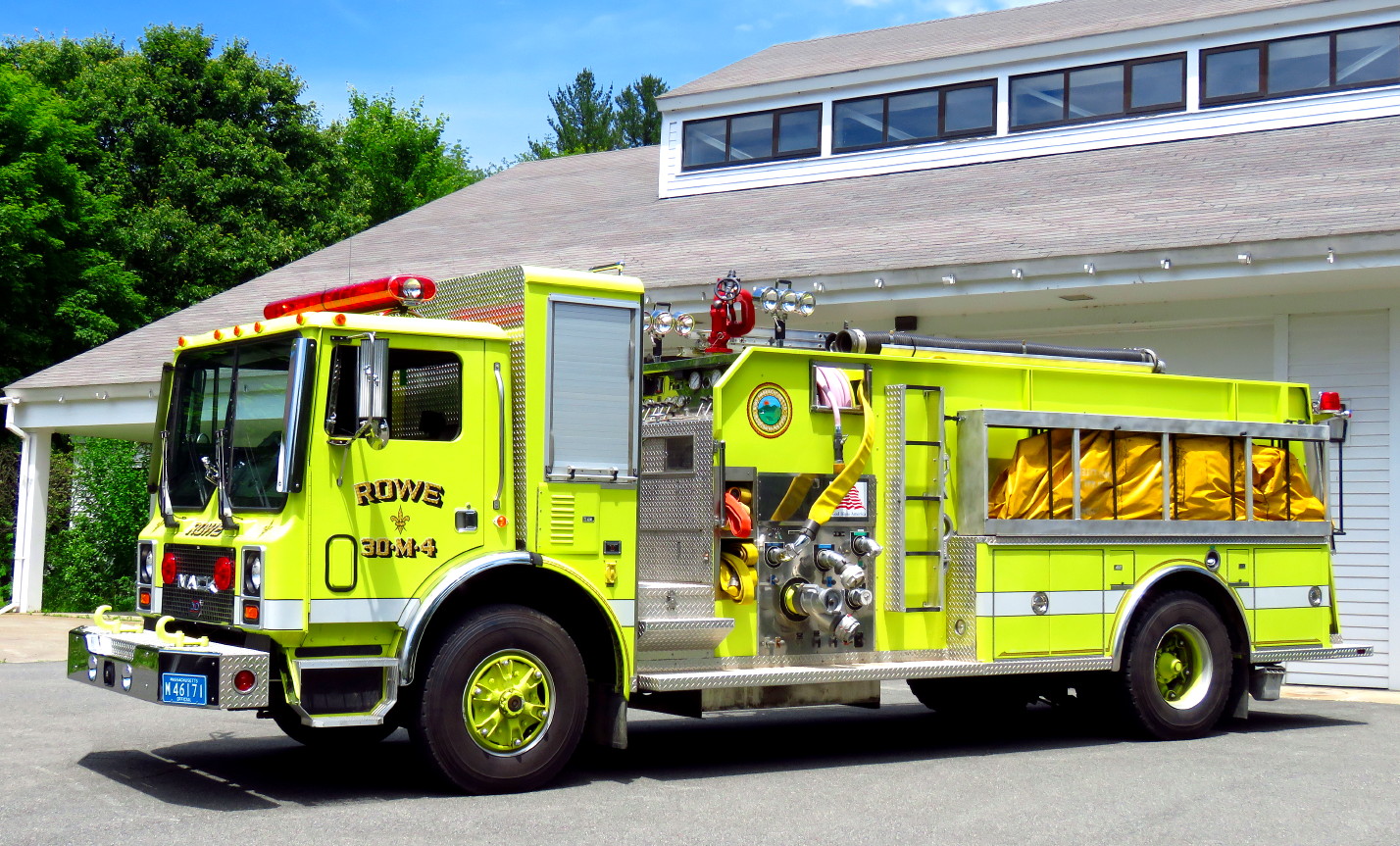 1993 Mack MR/3D 1500/1500
LEYDEN, MA ENGINE 7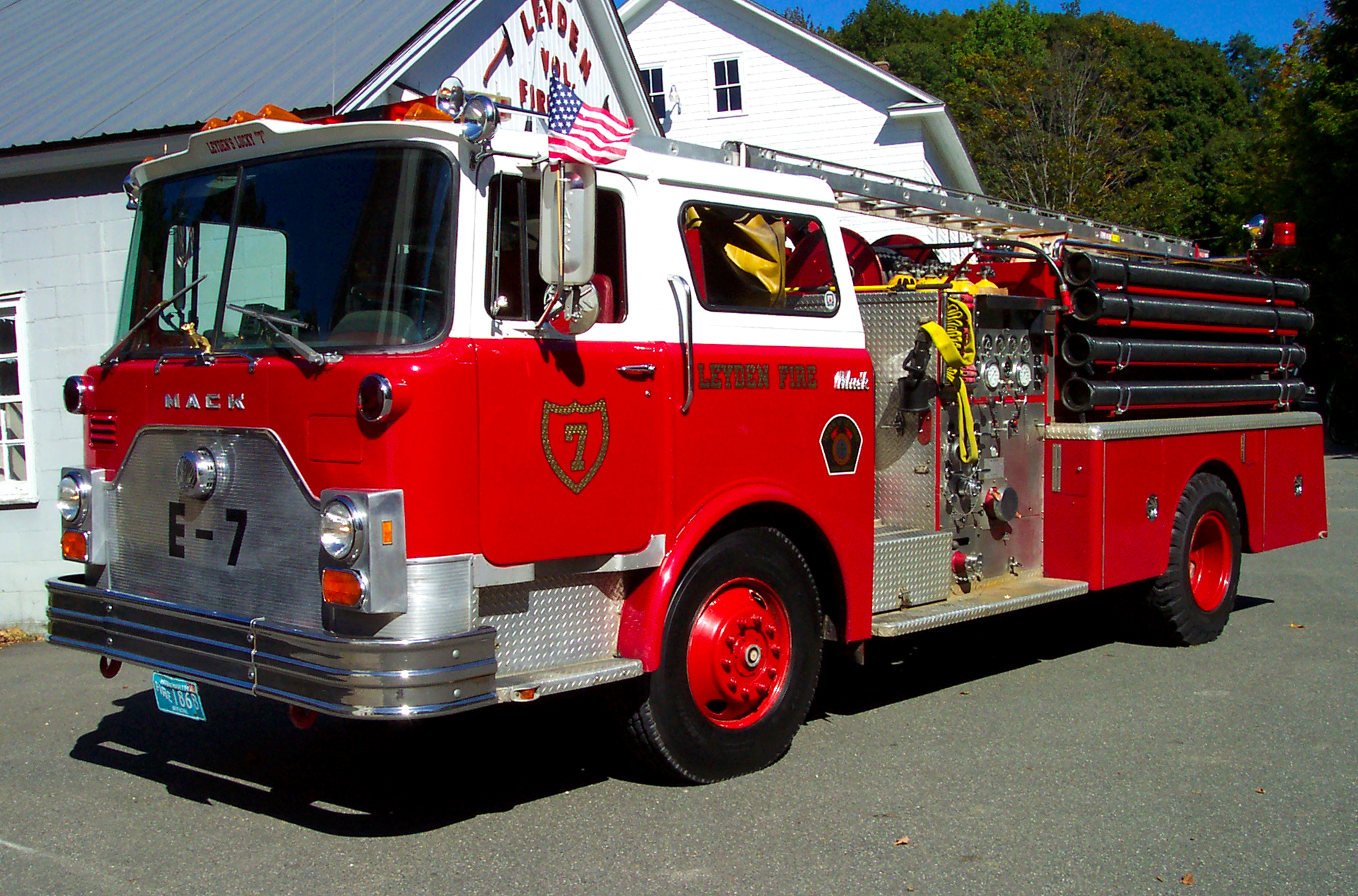 1978 Mack CF 1000/750
COLRAIN, MA ENGINE 3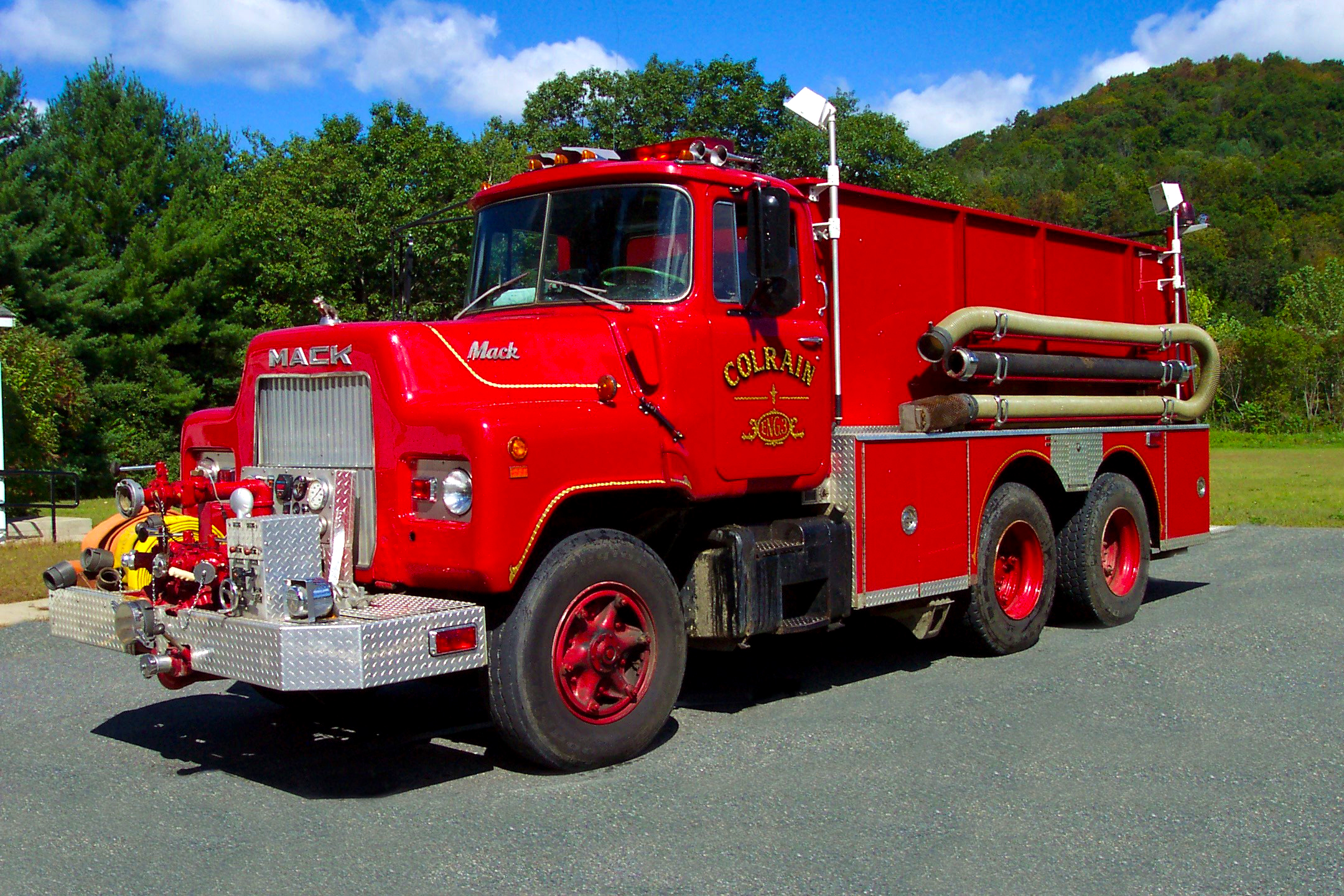 1973 Mack R/1995 Middleboro 1250/2100
LYNNFIELD, MA ENGINE 3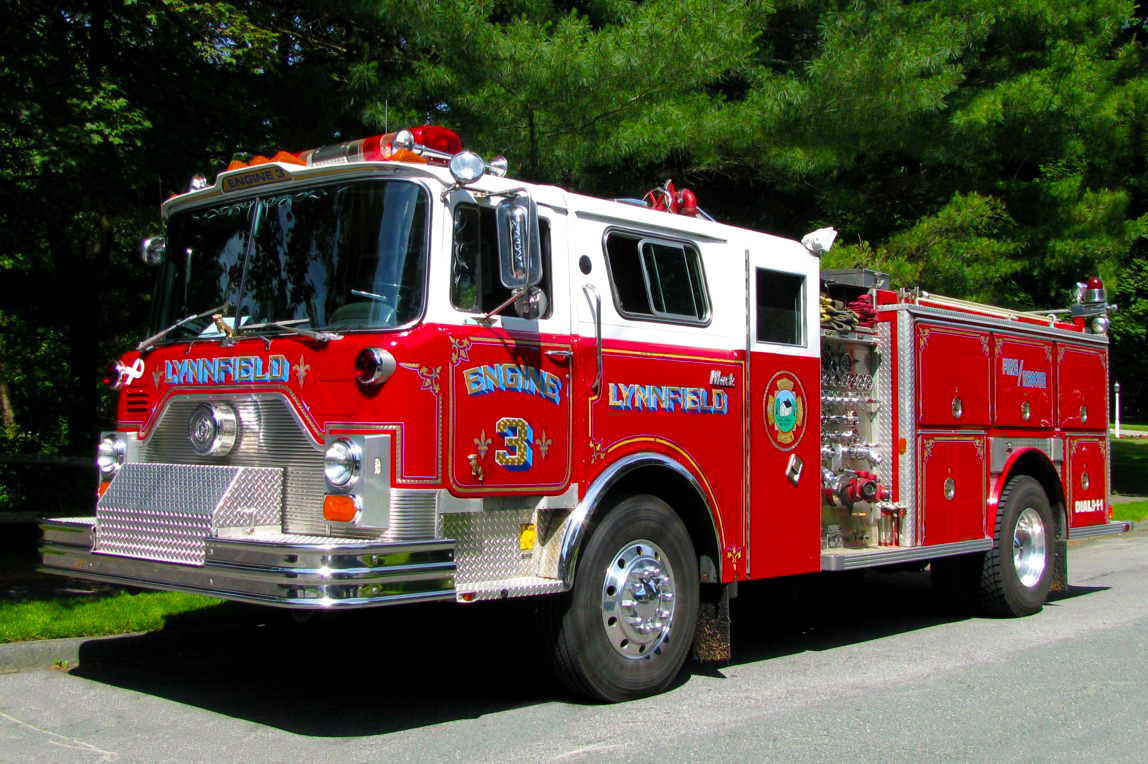 1985 Mack CF/E-One 1500/750/50F
PEPPERELL, MA LADDER 3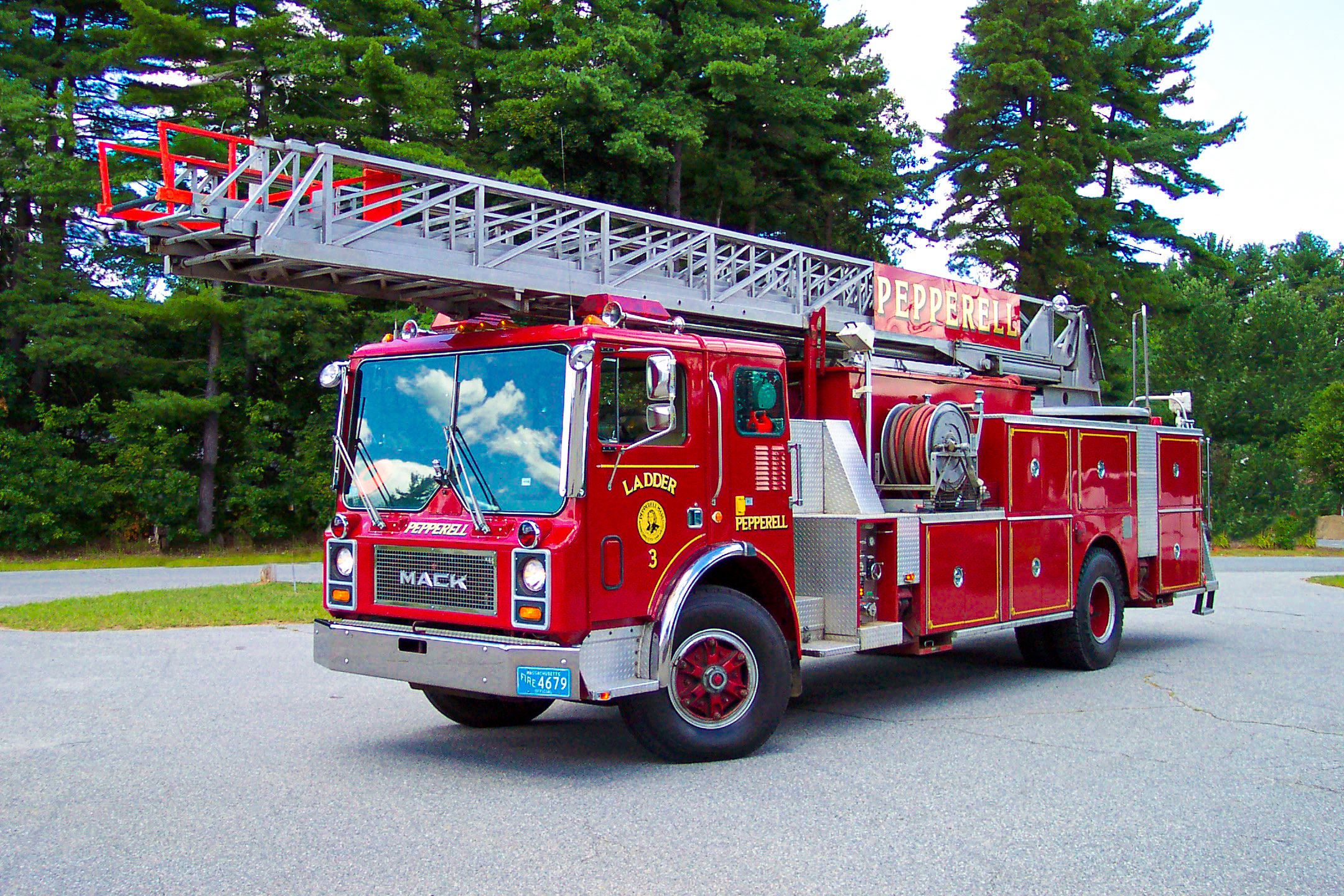 1987 Mack MC/KME/Hahn 450/200 106' RMA
NEWBURY, MA TANKER 2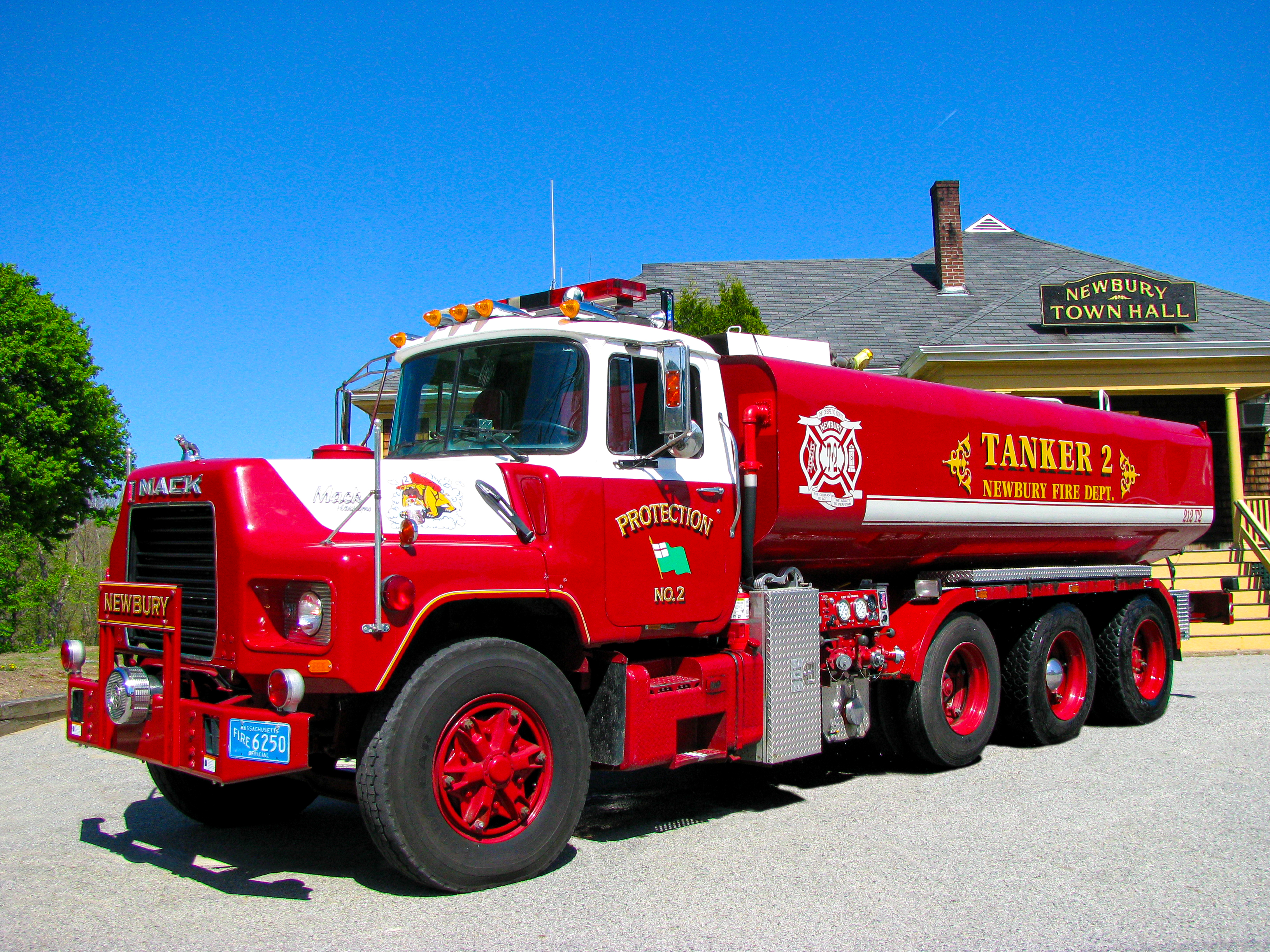 1991 Mack DM 750/5600
DOVER, MA LADDER 1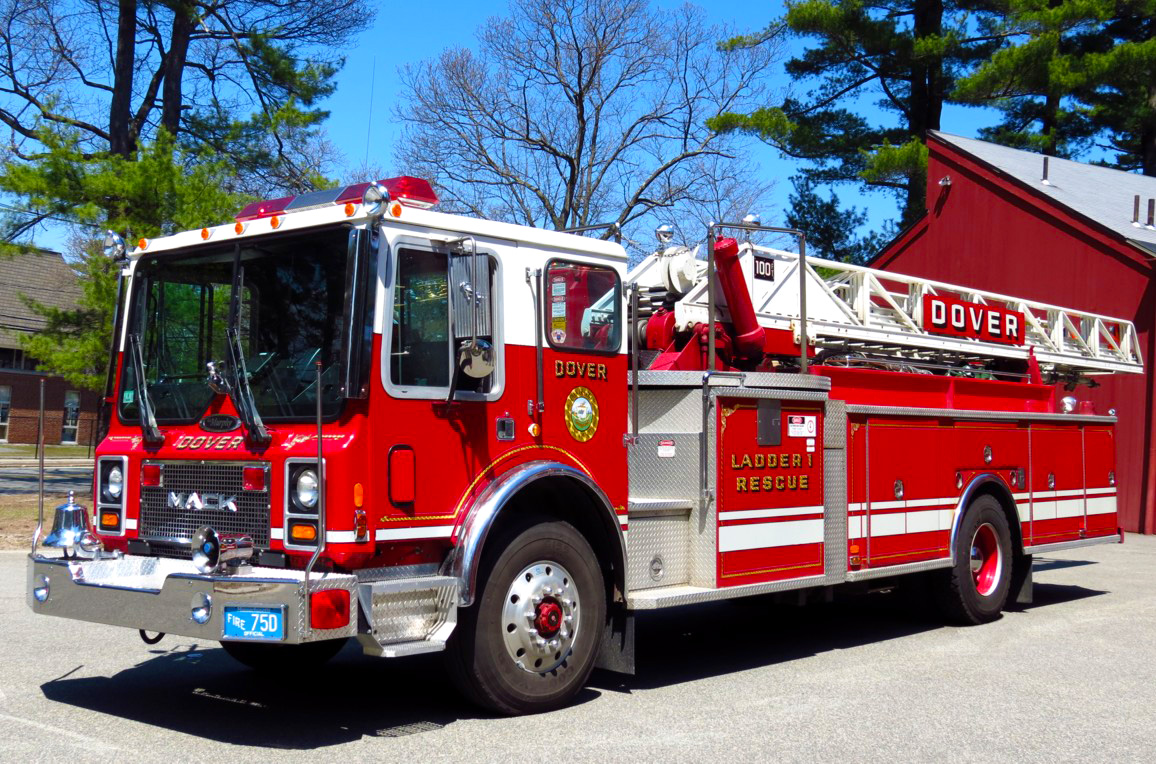 1993 Mack MR/EJ Murphy/American LaFrance 100' MMA
LINGLESTOWN {LOWER PAXTON}, PA TANKER 35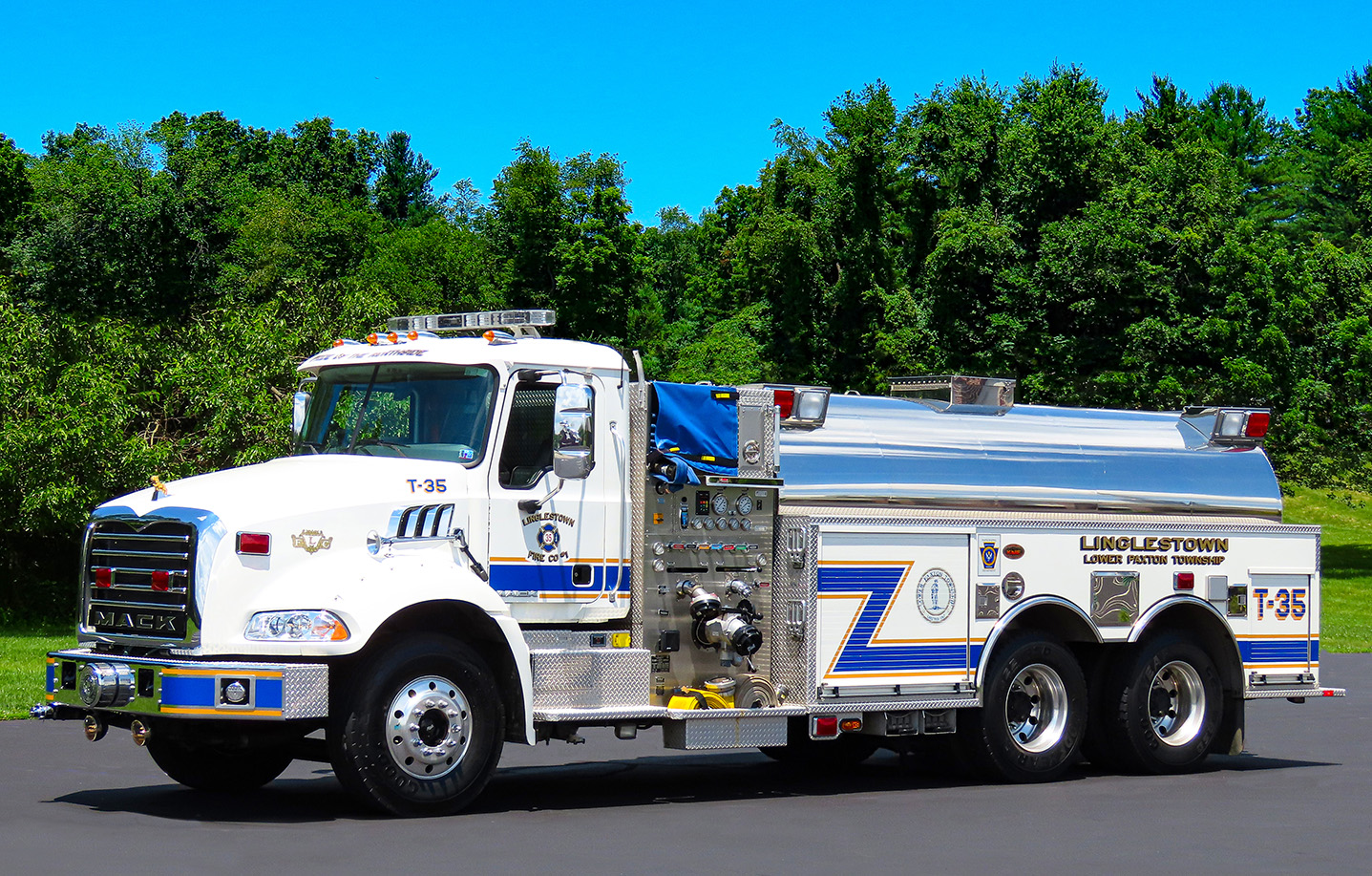 2016 Mack Granite/KME 1250/2500
OAKHAM, MA TANKER 1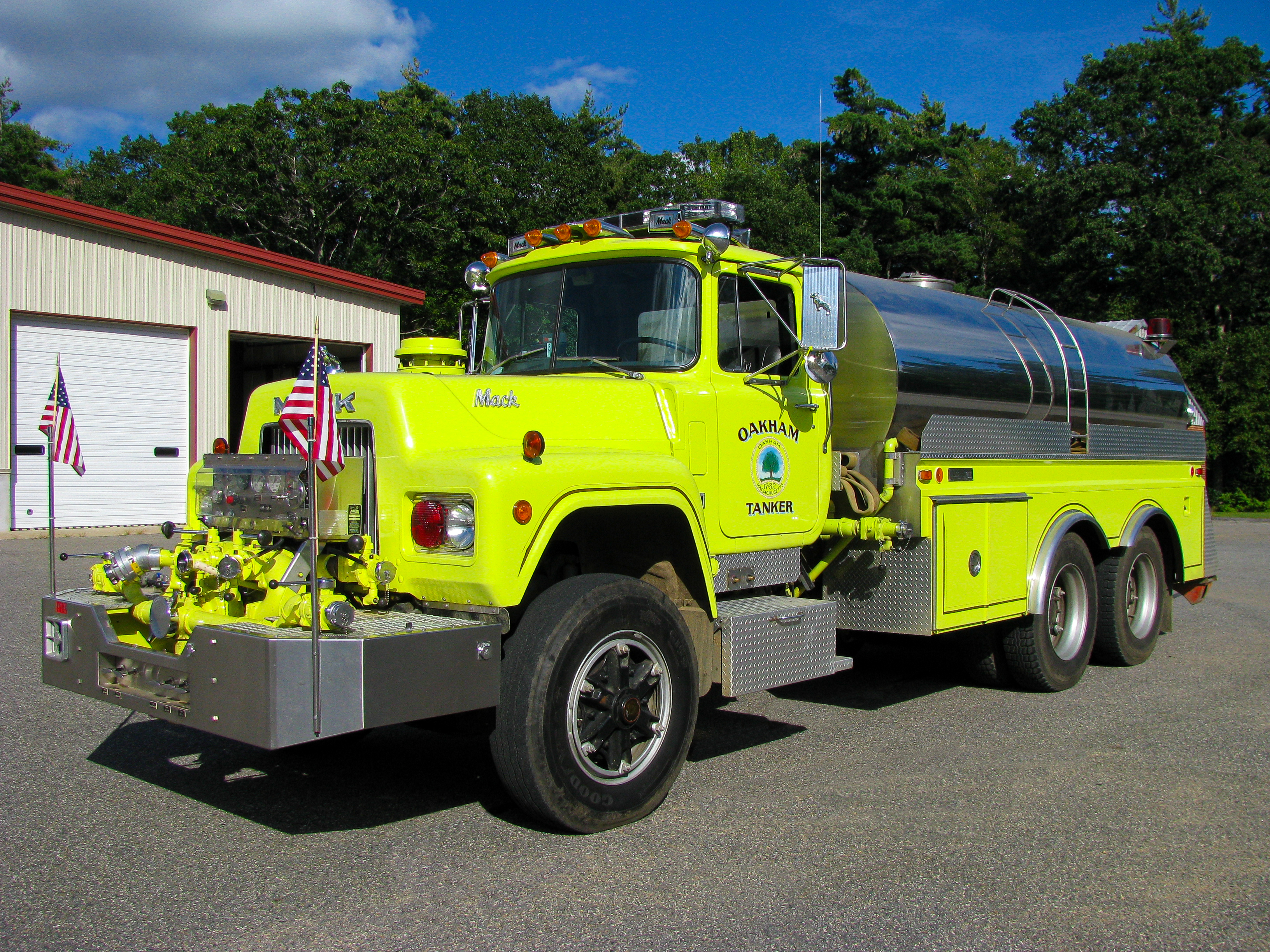 1987 Mack R/4-Guys 1000/3000
SWANSEA, MA ENGINE 8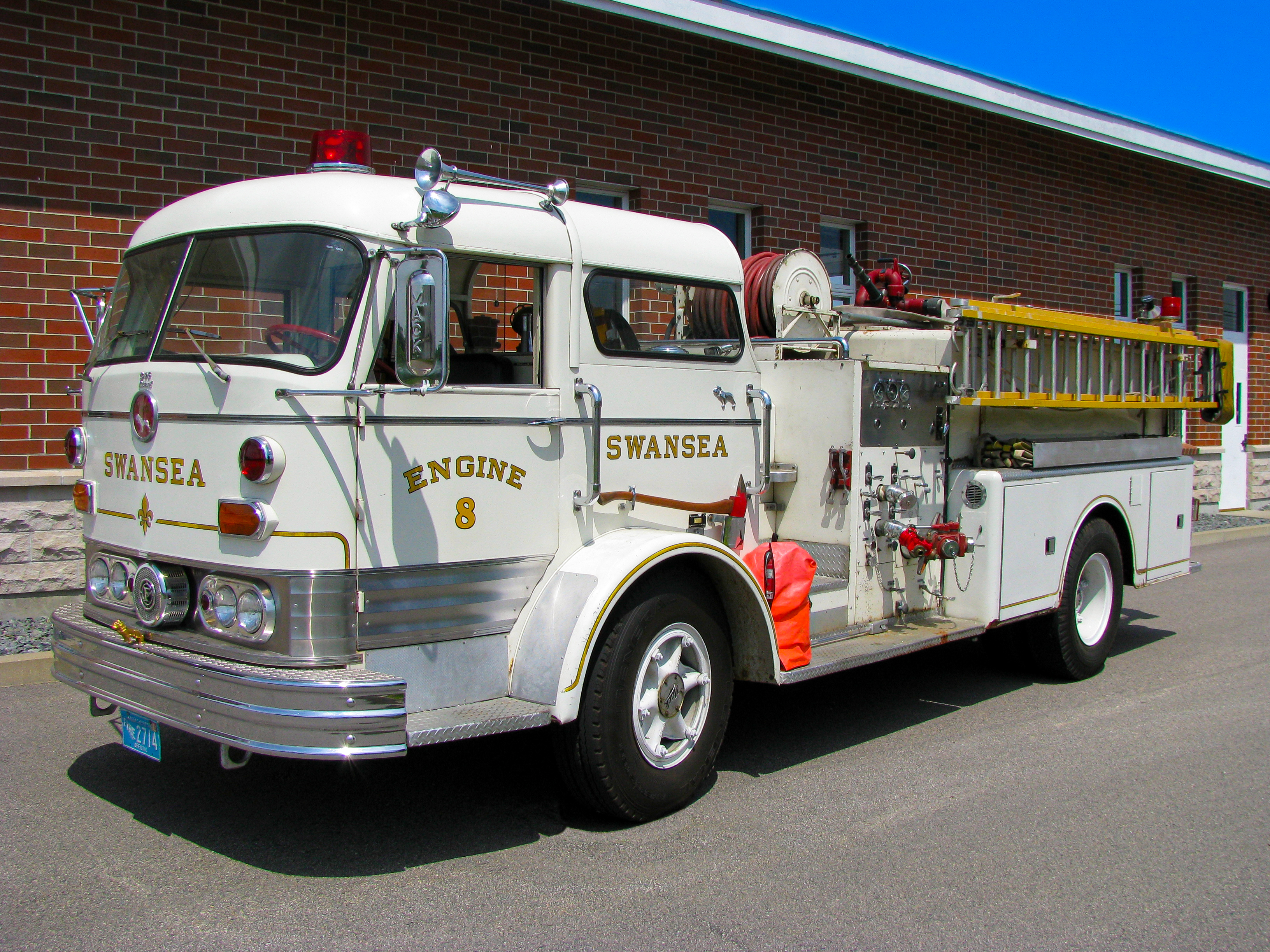 1967 Mack C 1000/500
BREWSTER, MA ENGINE 234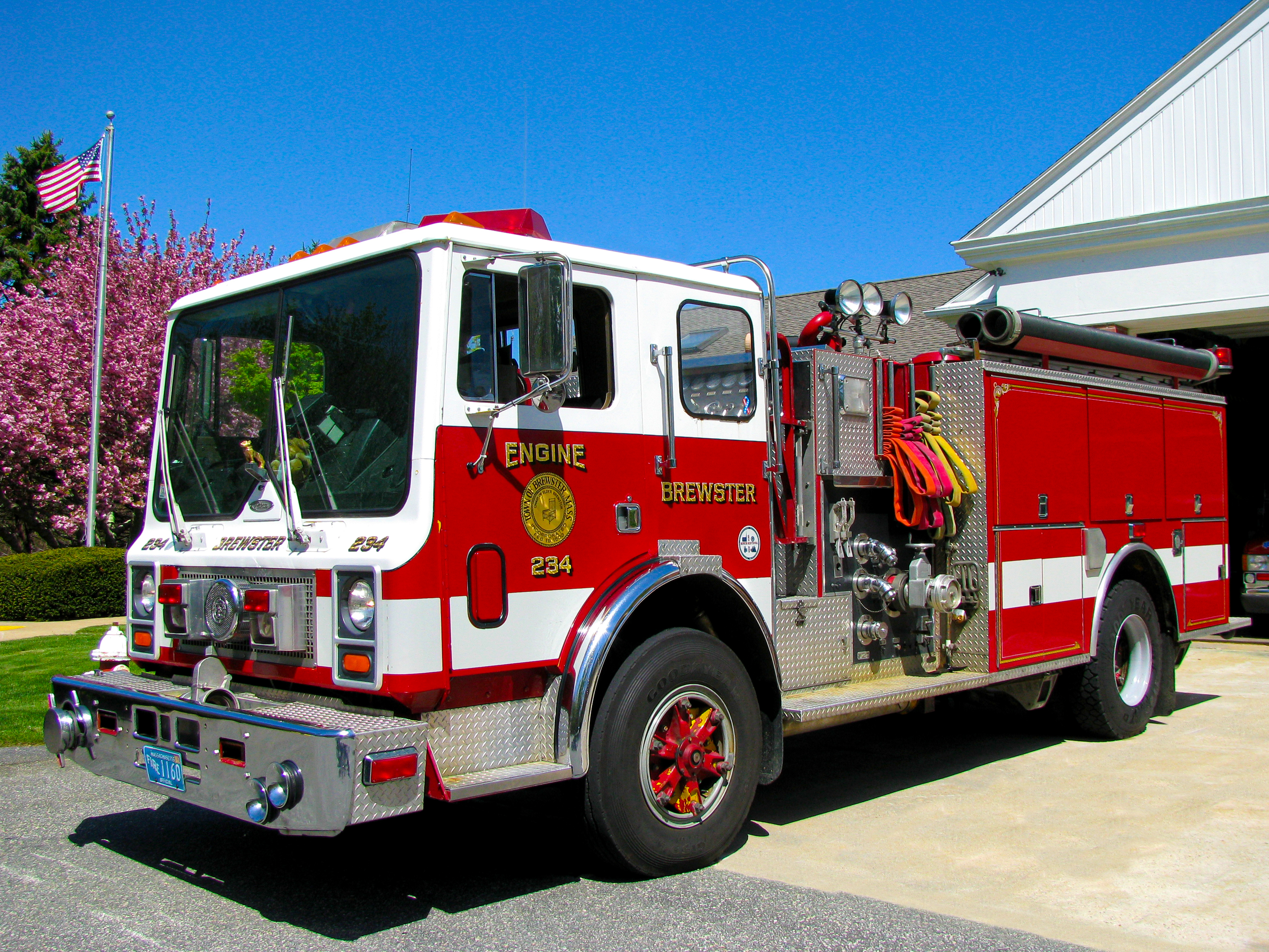 1980 Mack MC/Fire Resources 1500/500
CANTON, MA ENGINE 2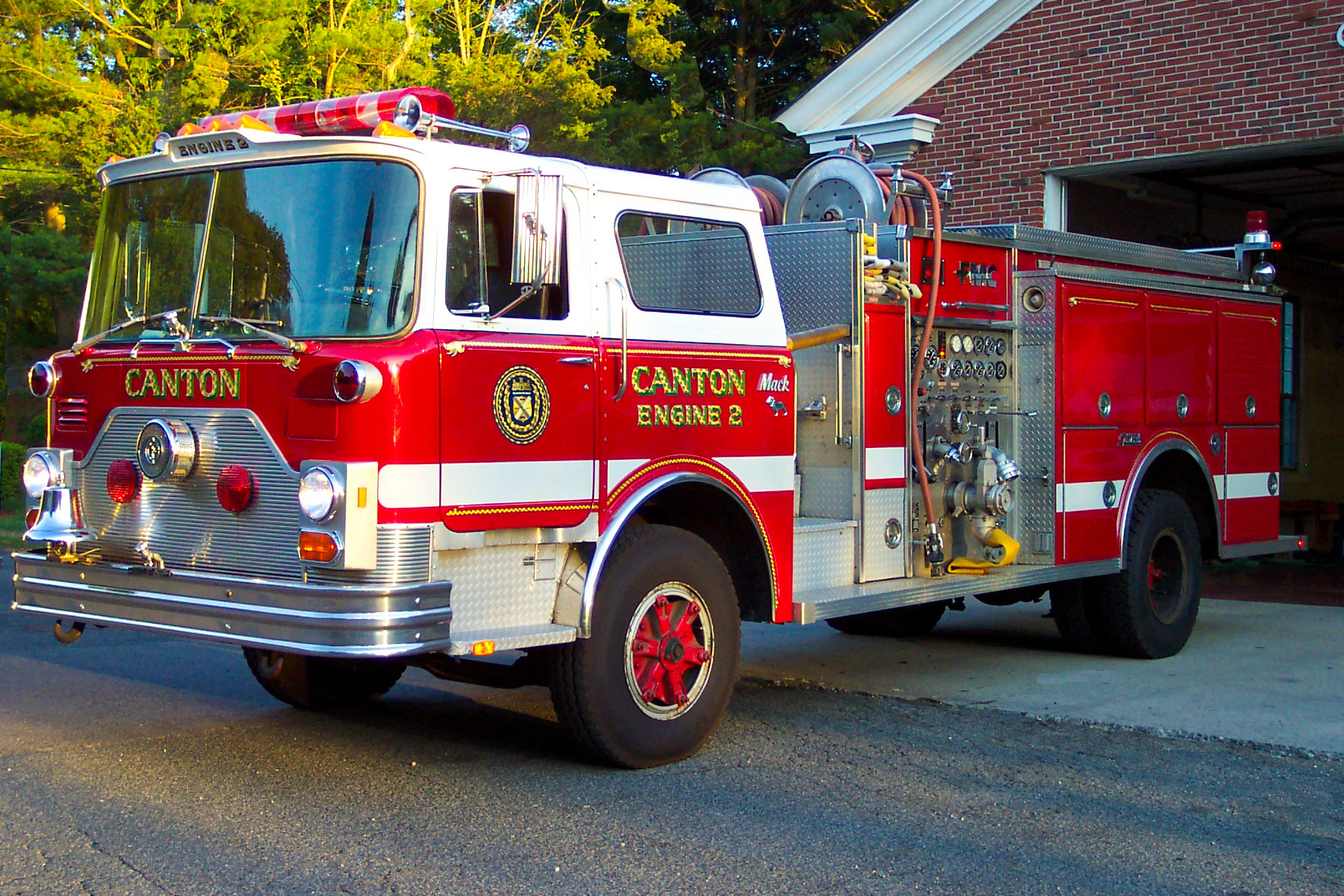 1980 Mack CF/FMC 1000/500
STOUGHTON, MA ENGINE 4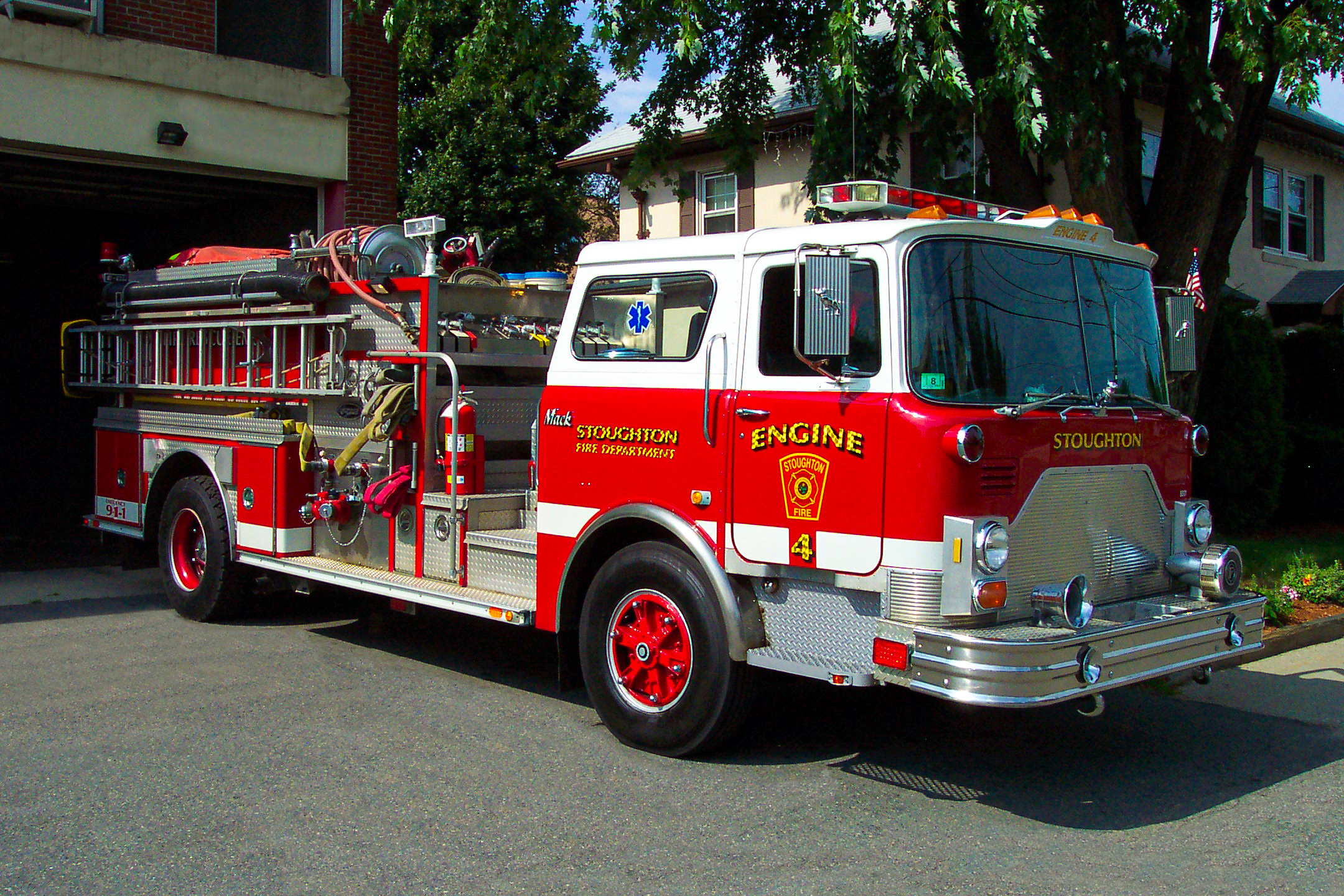 1988 Mack CF/E-One 1250/675
STOUGHTON, MA ENGINE 2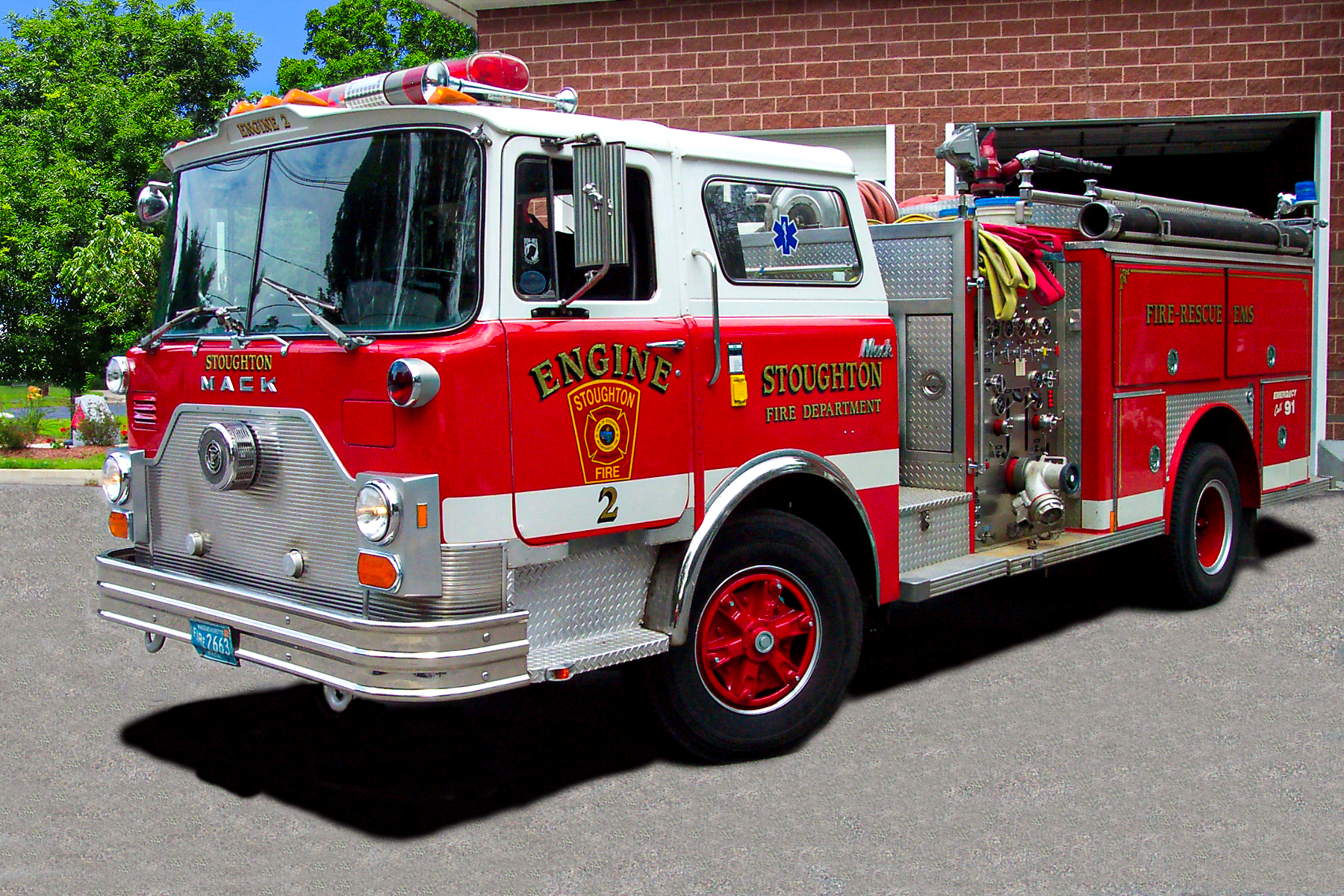 1984 Mack CF/E-One 1250/500
LISCURN COMMUNITY FIRE CO. {LOWER ALLEN TWP.}, PA TANKER 24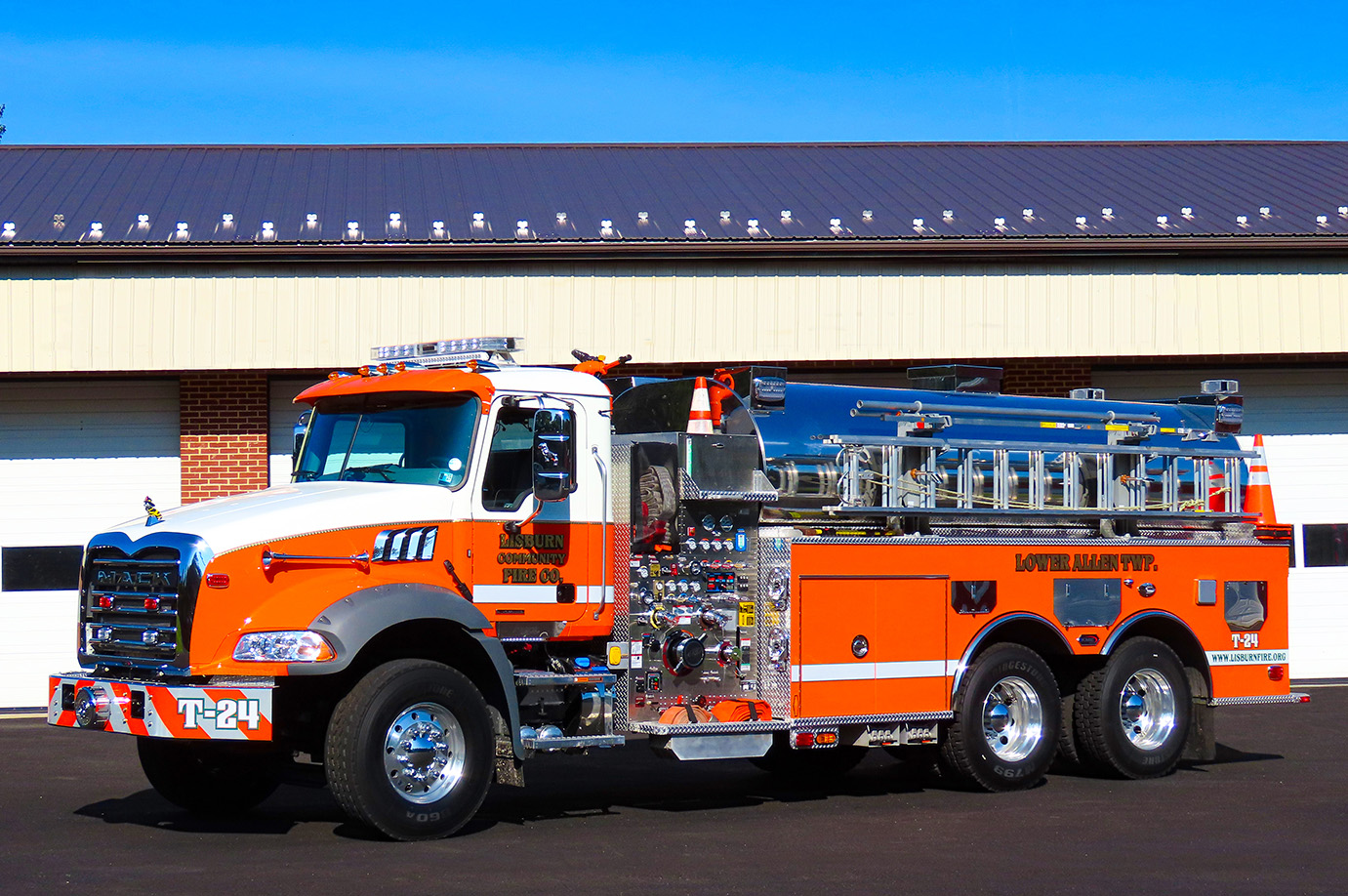 2018 Mack Granite/KME 1500/3000
PHILLIPSTON, MA TANKER 2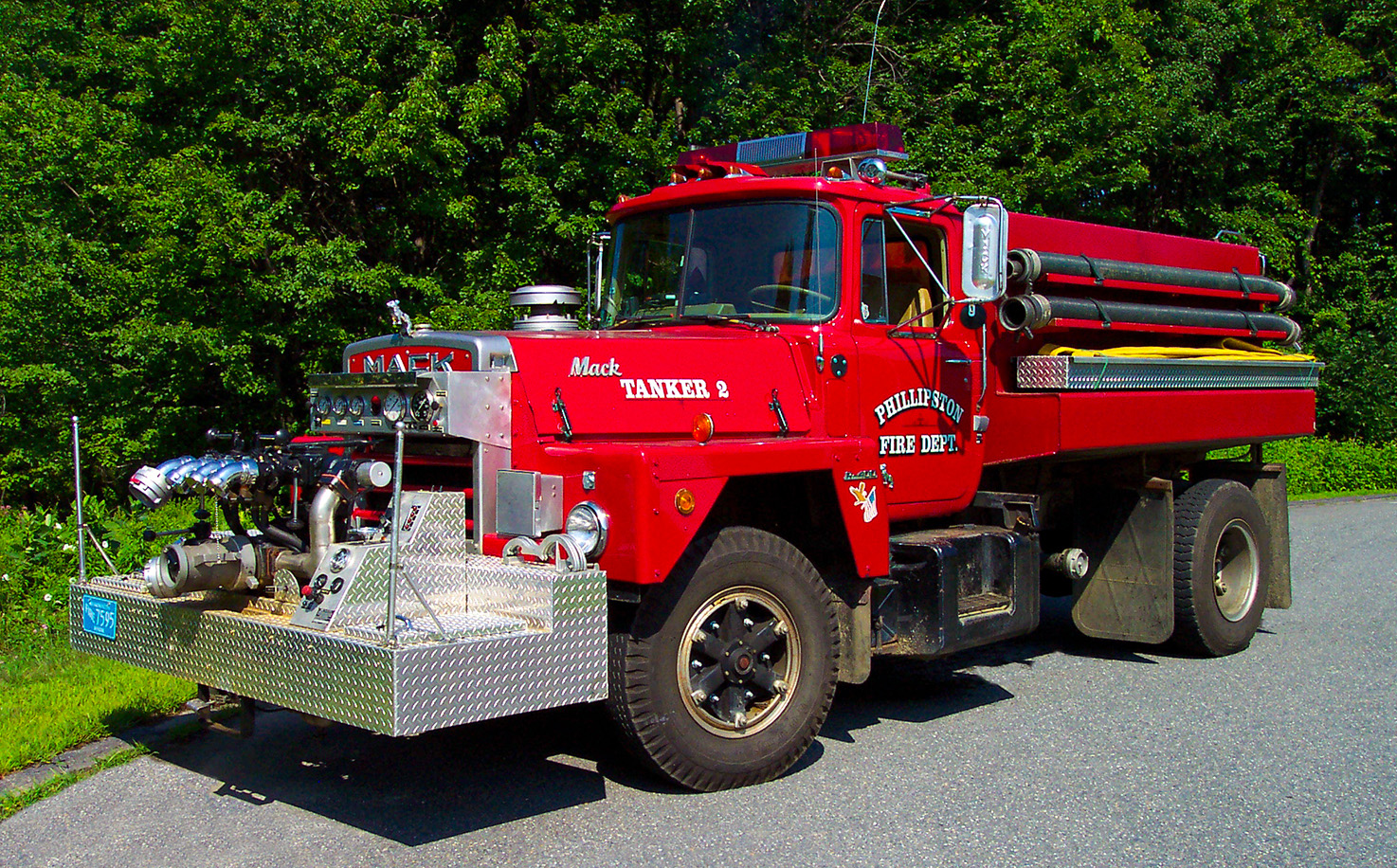 1986 Mack DM 1000/2200
GROTON, MA TANKER 1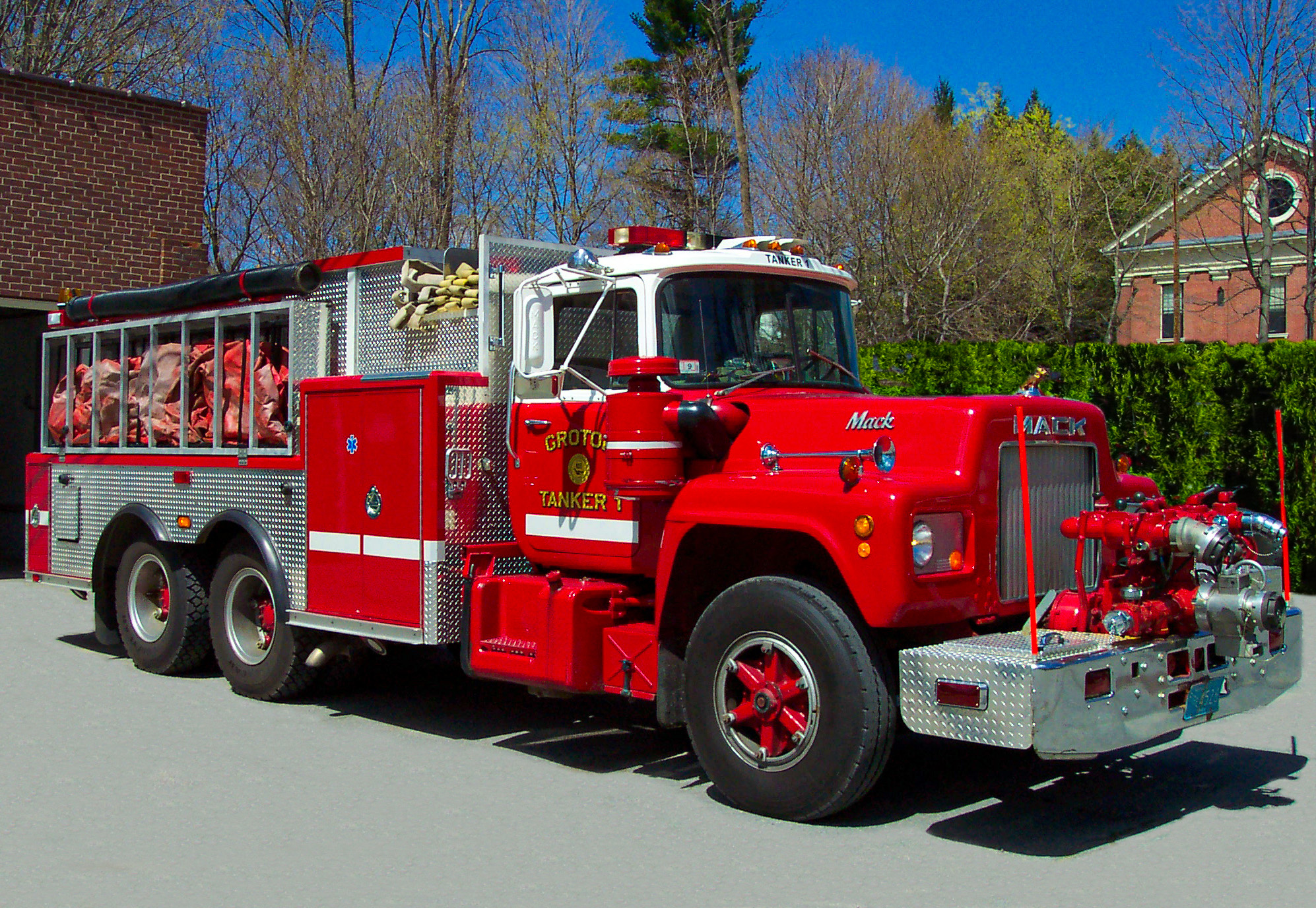 1978 Mack R 1250/1800
WEST SPRINGFIELD, MA ENGINE 2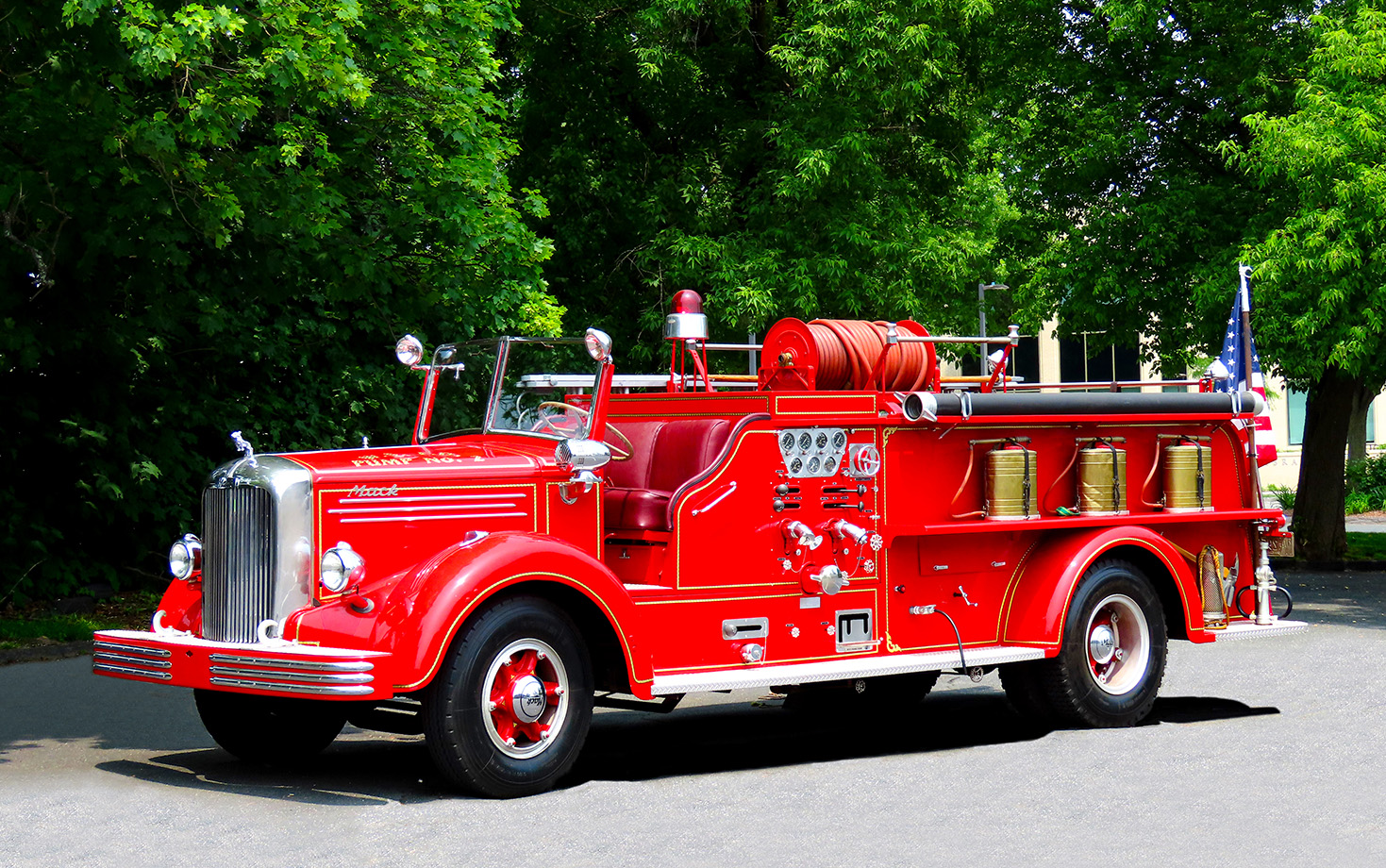 1949 Mack L 750/350
RANDOLPH, MA ENGINE 3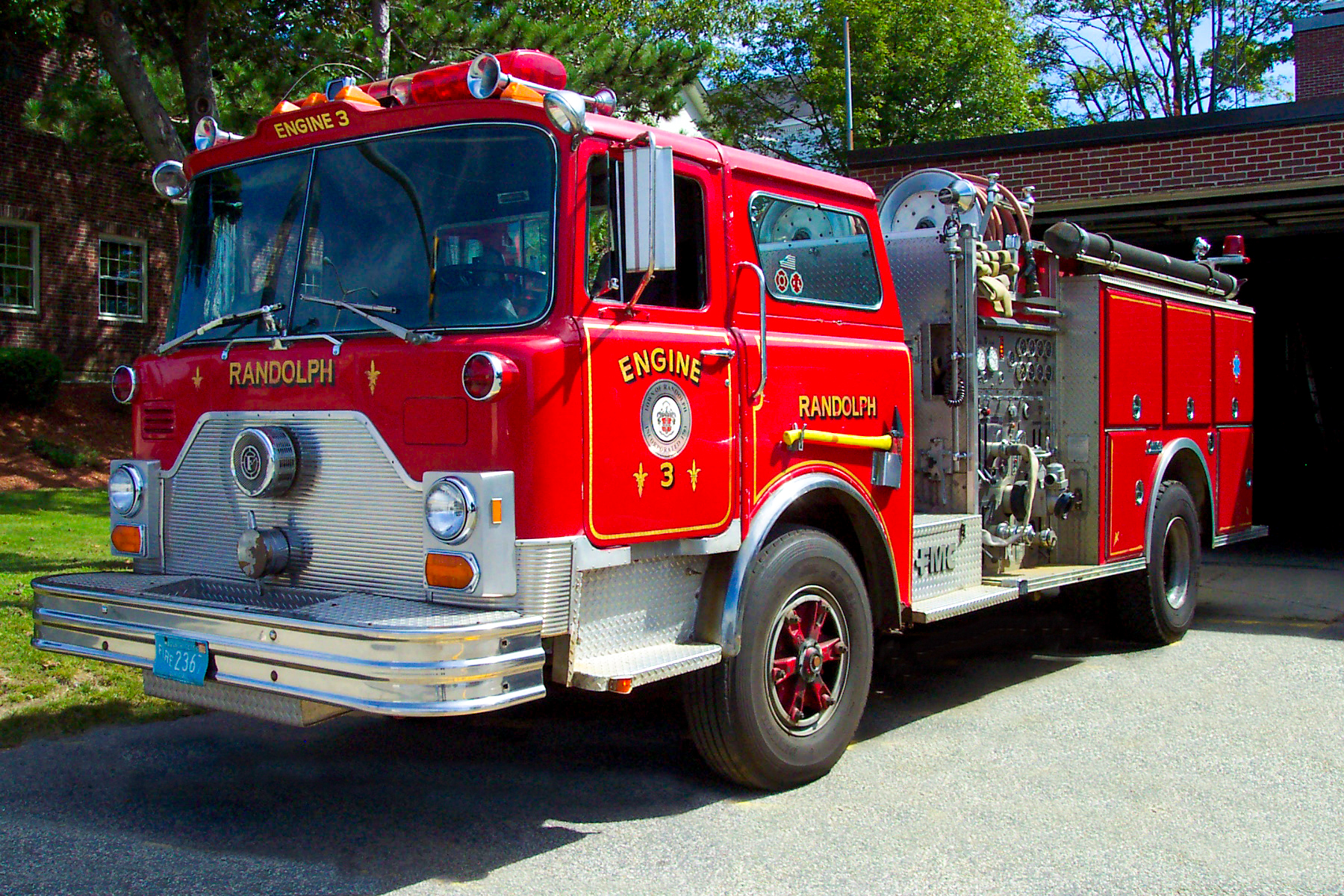 1986 Mack CF/FMC 1000/500
NORTH READING, MA ENGINE 7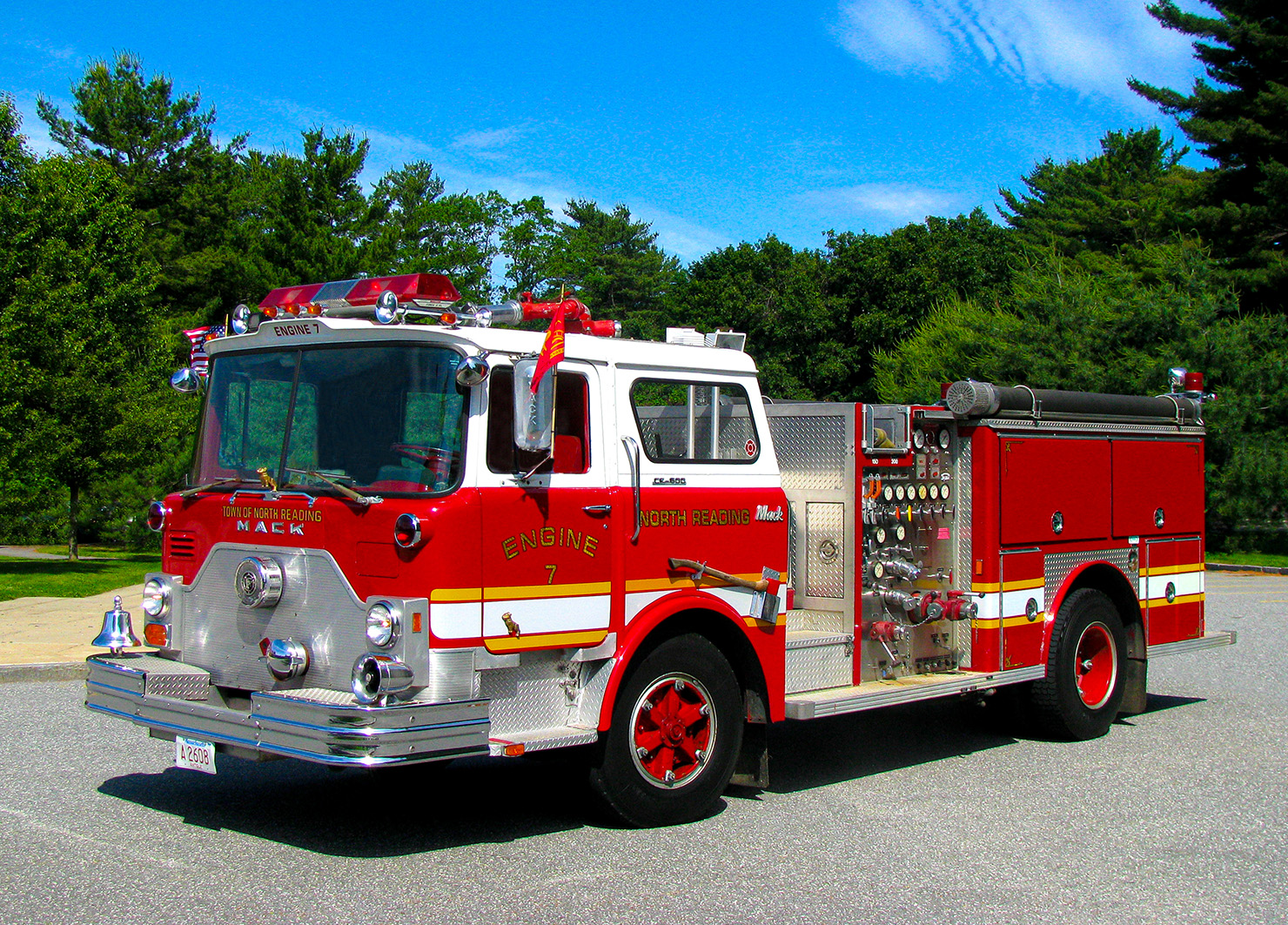 1975 Mack CF 1250/500
MALDEN, MA ENGINE 4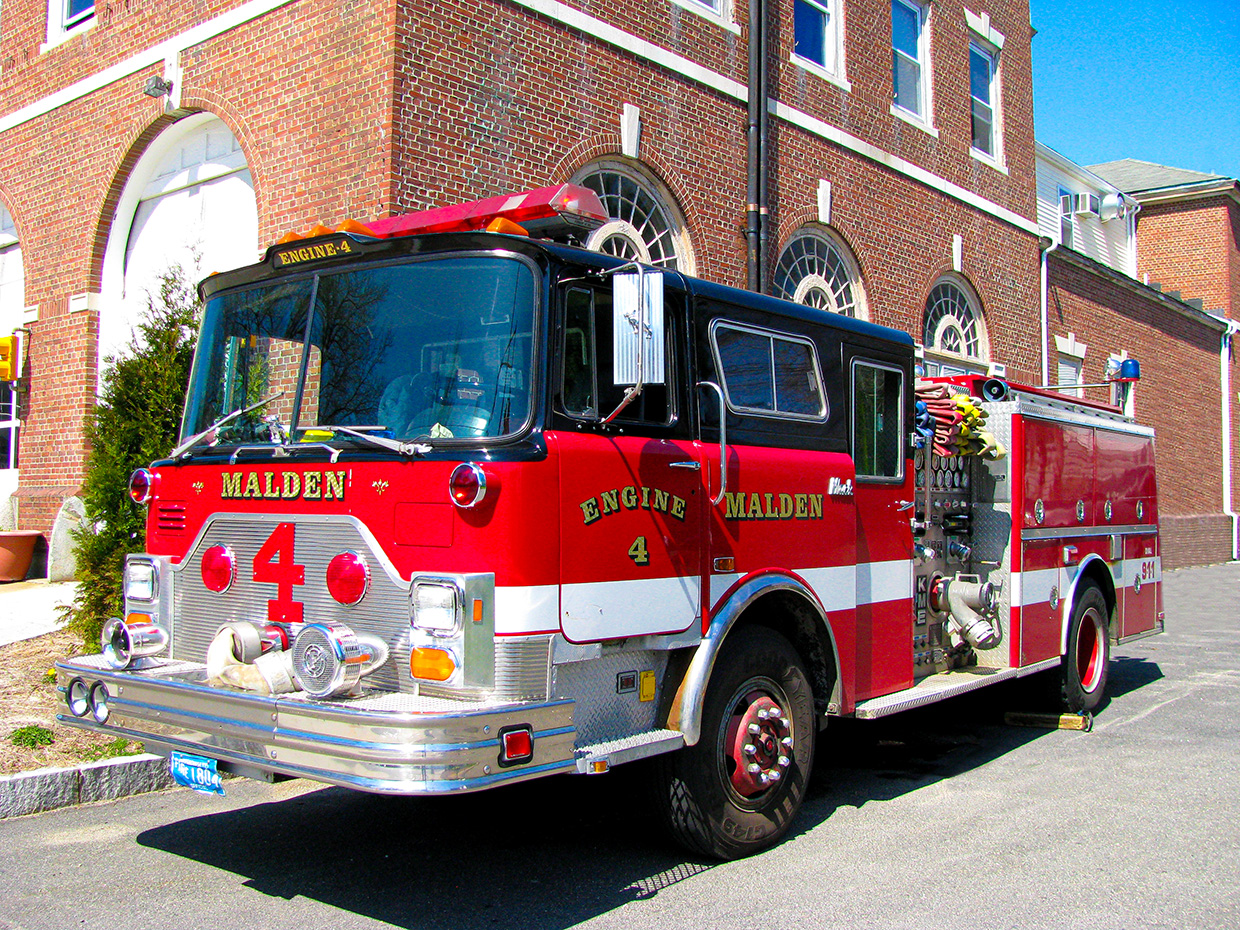 1989 Mack CF/KME 1250/500
NORTH HAVEN, CT WEST RIDGE VOLUNTEER COMPANY 3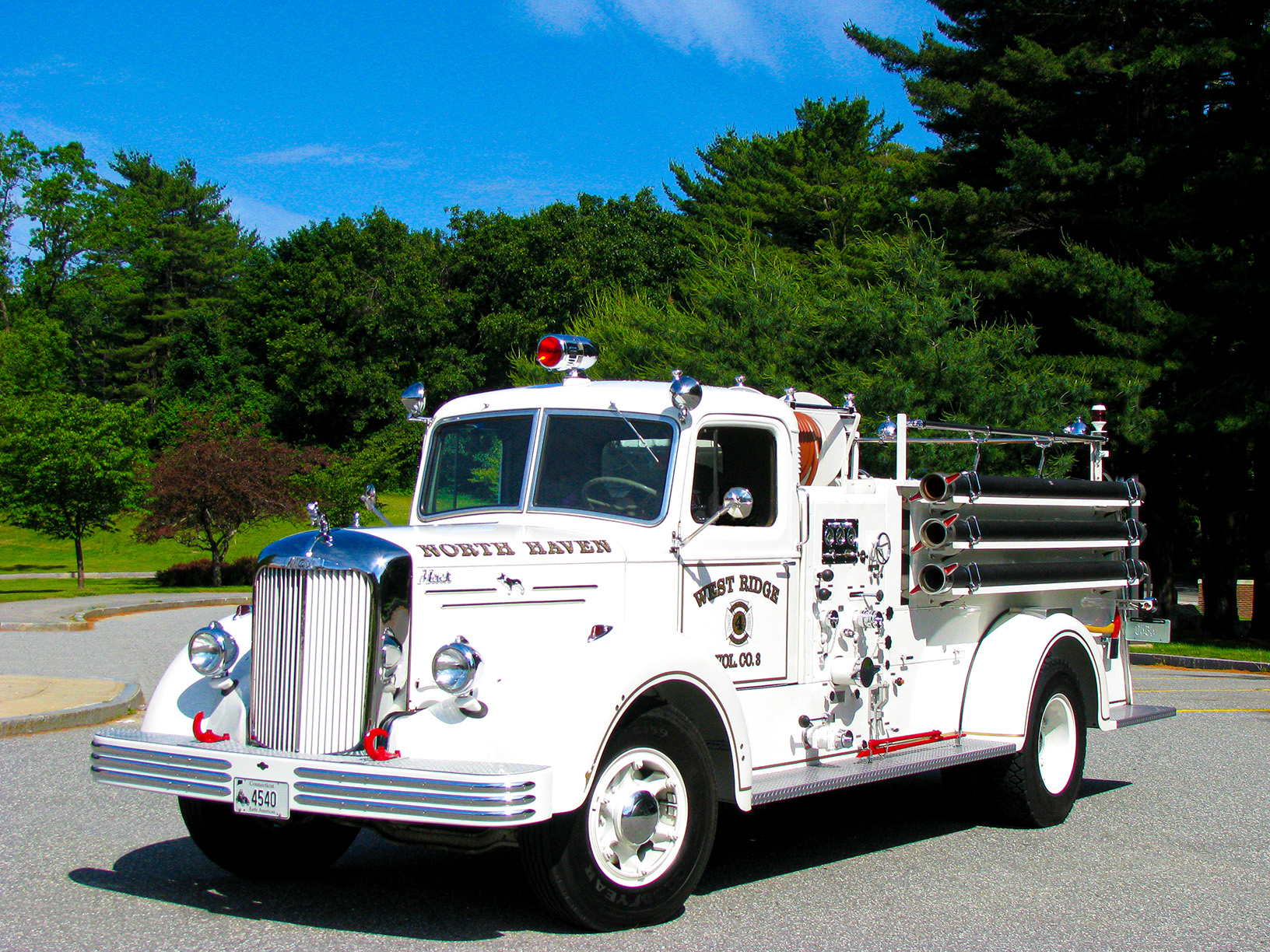 1951 Mack L
ORANGE, MA ENGINE 1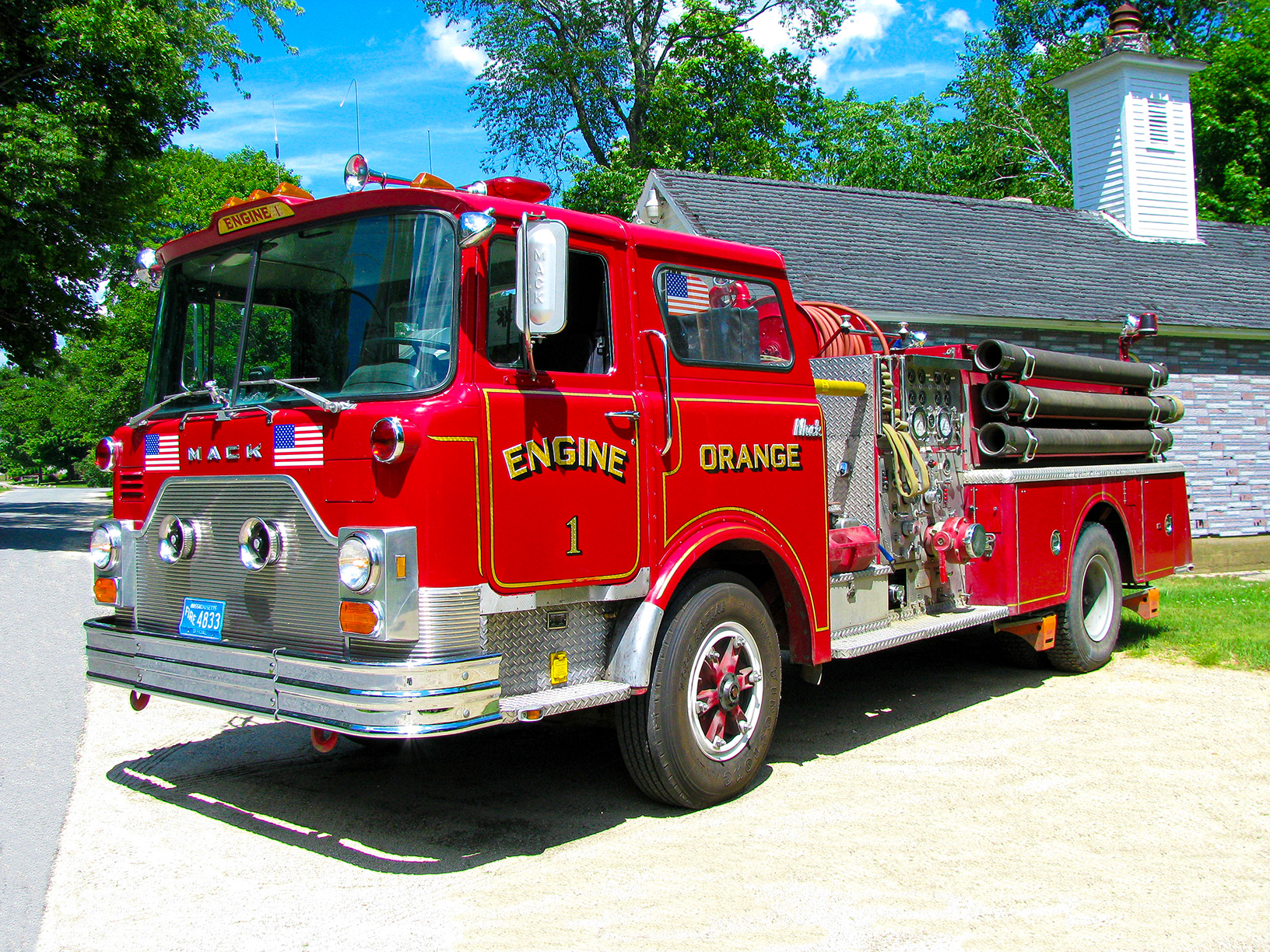 1980 Mack CF 1250/500
ORANGE, MA ENGINE 1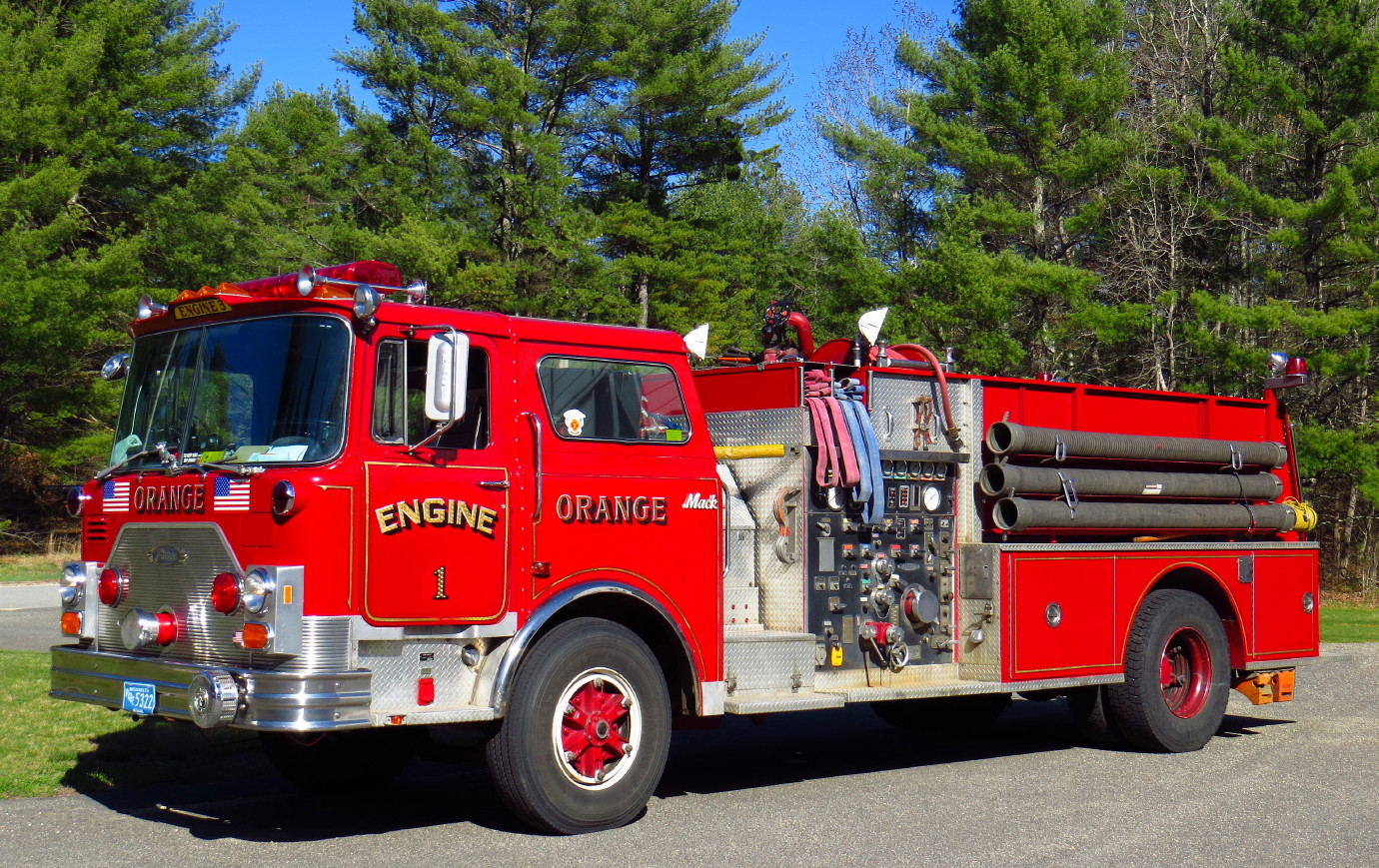 1987 Mack CF/Pierce 1500/1000
BOXBOROUGH, MA TANKER 67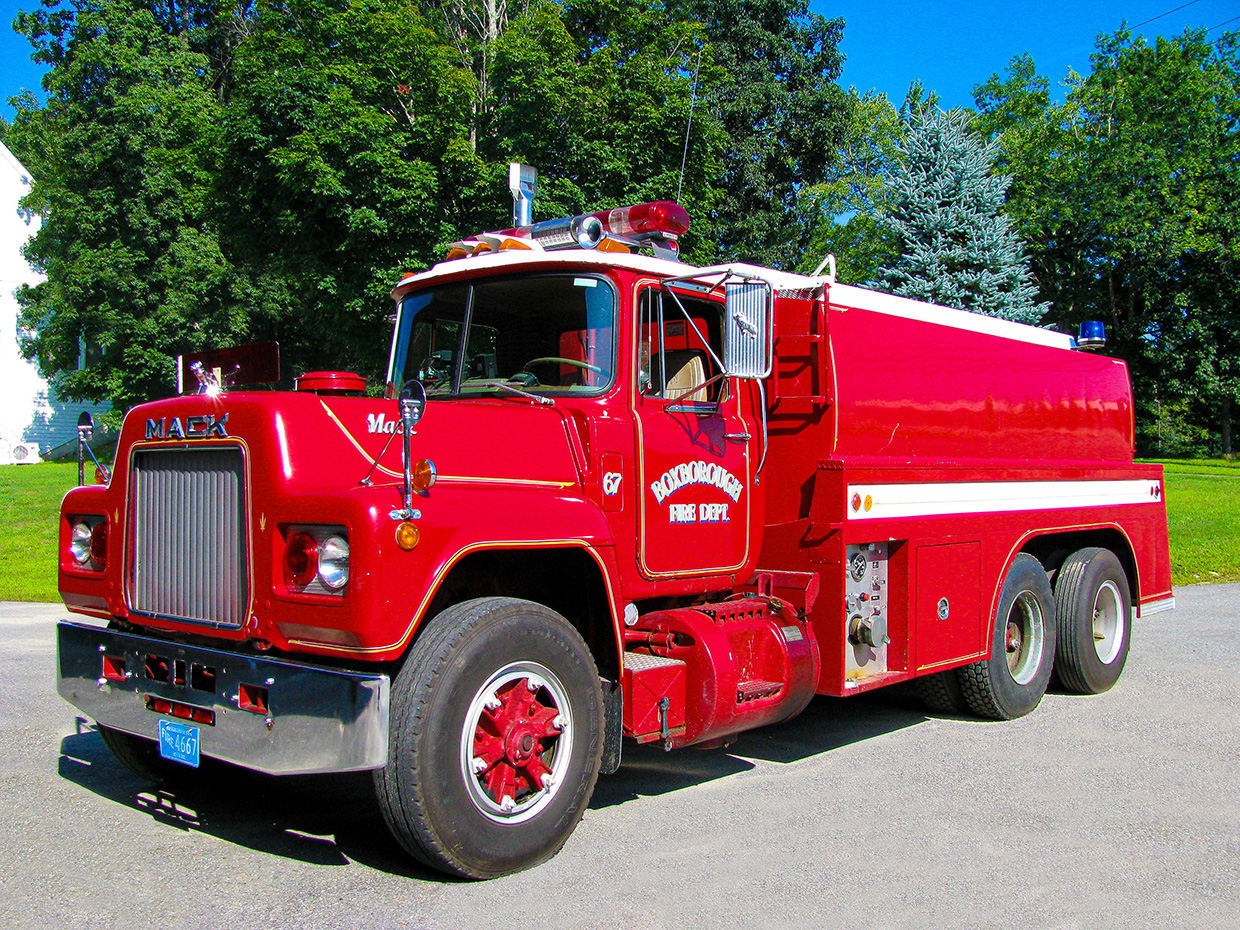 1977 Mack R/Techweld 500/2750
HEIDLERSBURG FIRE COMPANY {GETTYSBURG}, PA ENGINE 25-2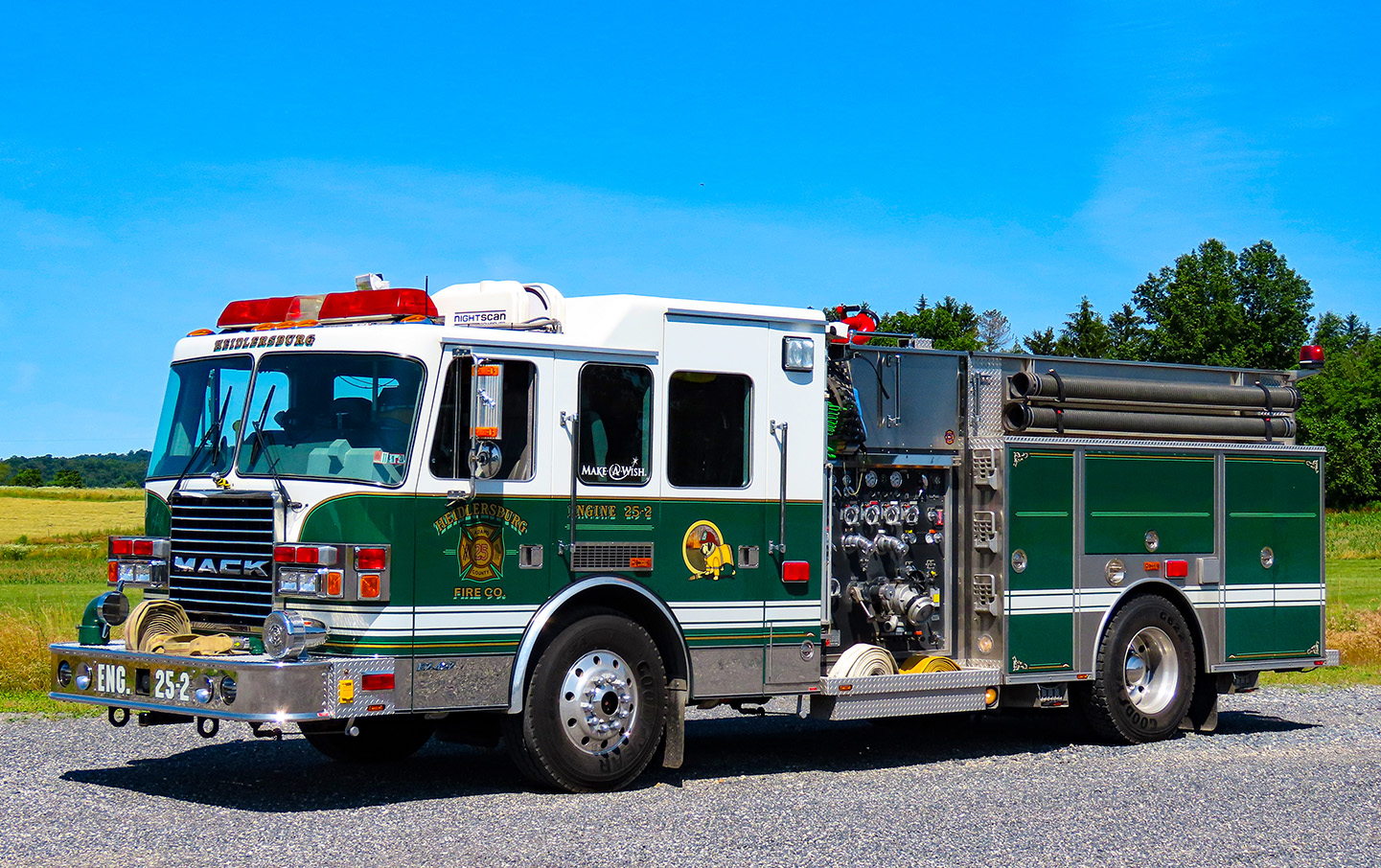 2000 Mack CH/Truck Cab Mfg./Sutphen 1500/800 (Only One Ever Made)
WEYMOUTH, MA ENGINE 1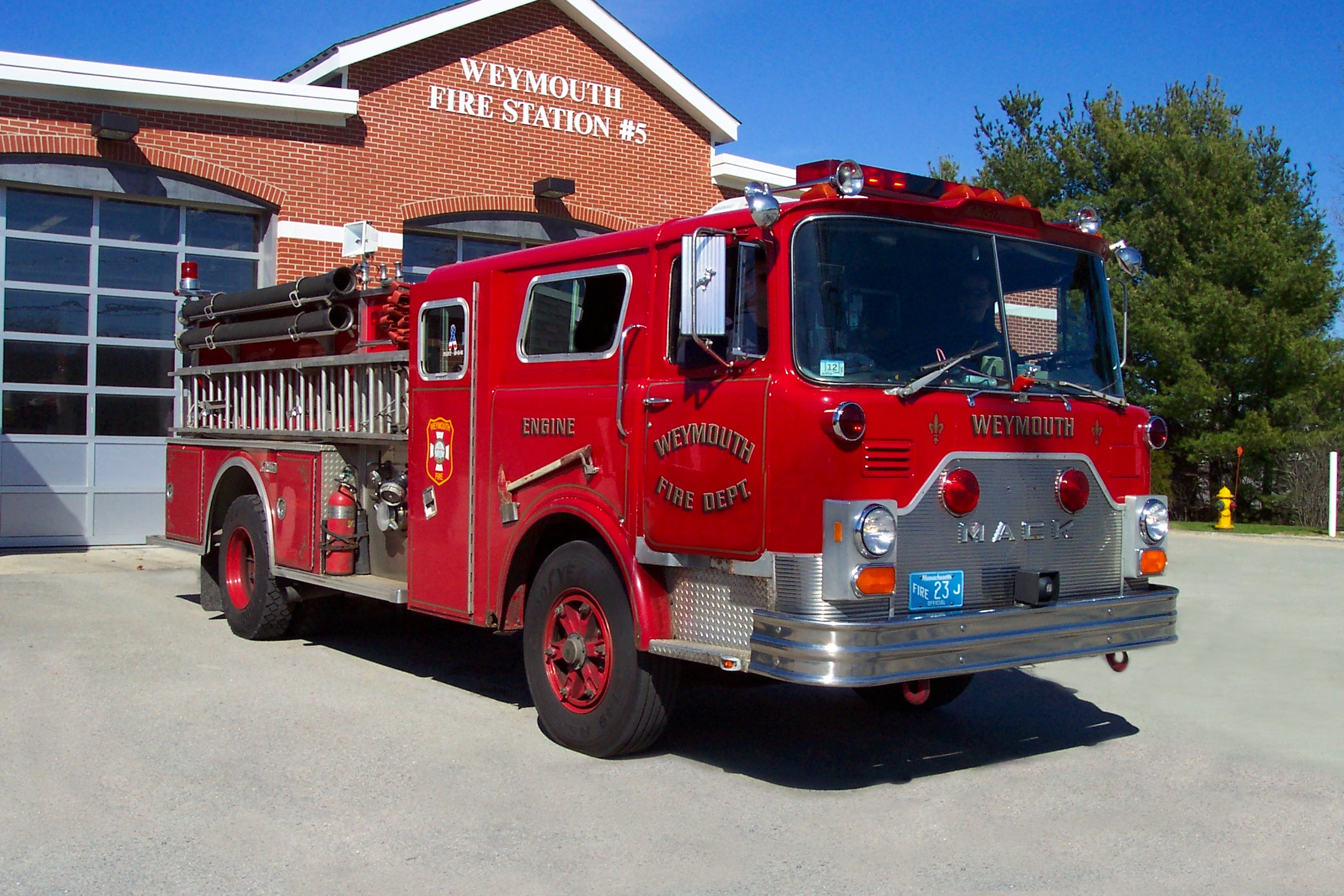 1987 Mack CF/FMC 1250/500
SALISBURY, MA ENGINE 6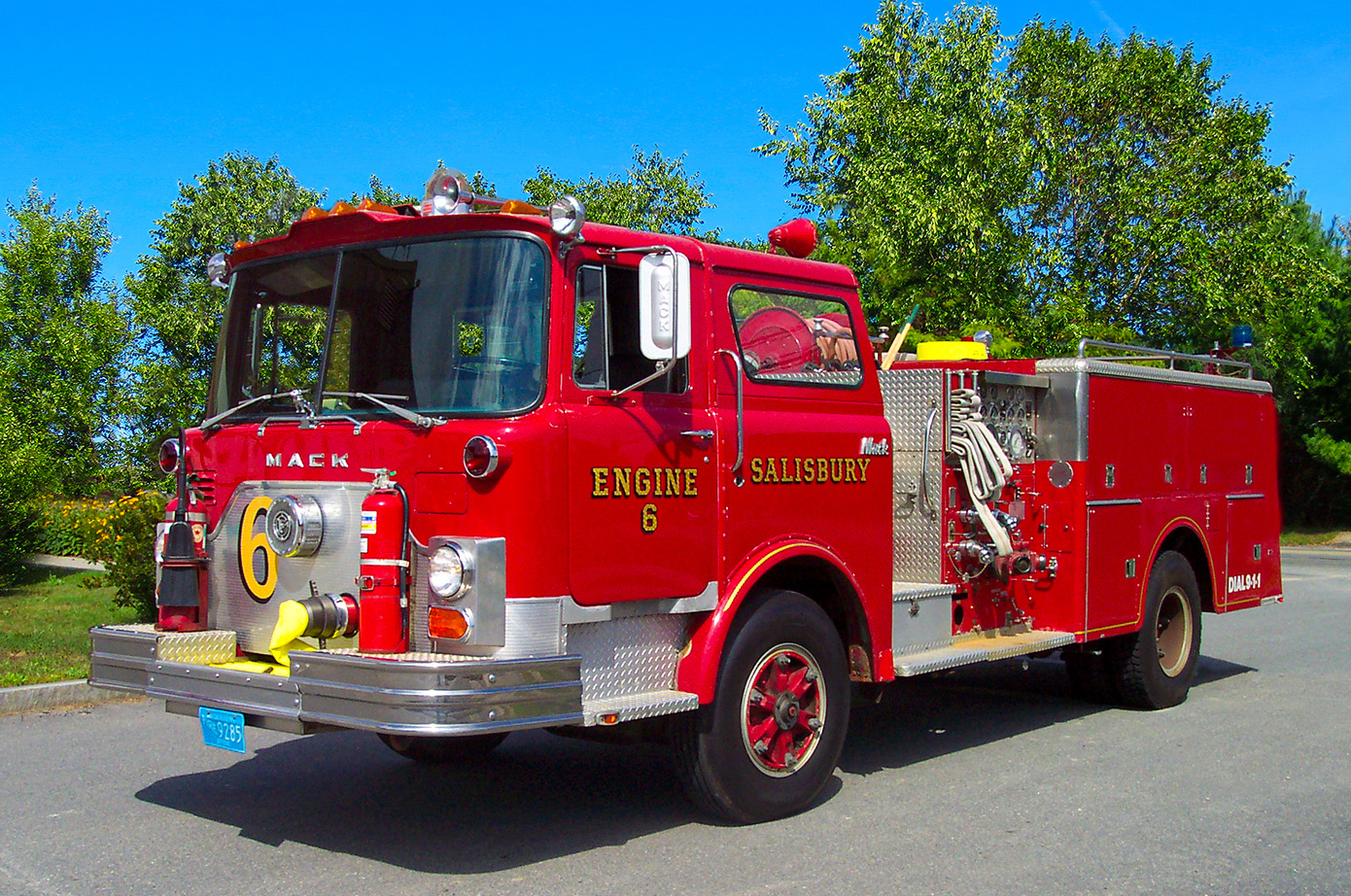 1981 Mack CF 1250/600
TOLLAND, MA ENGINE 2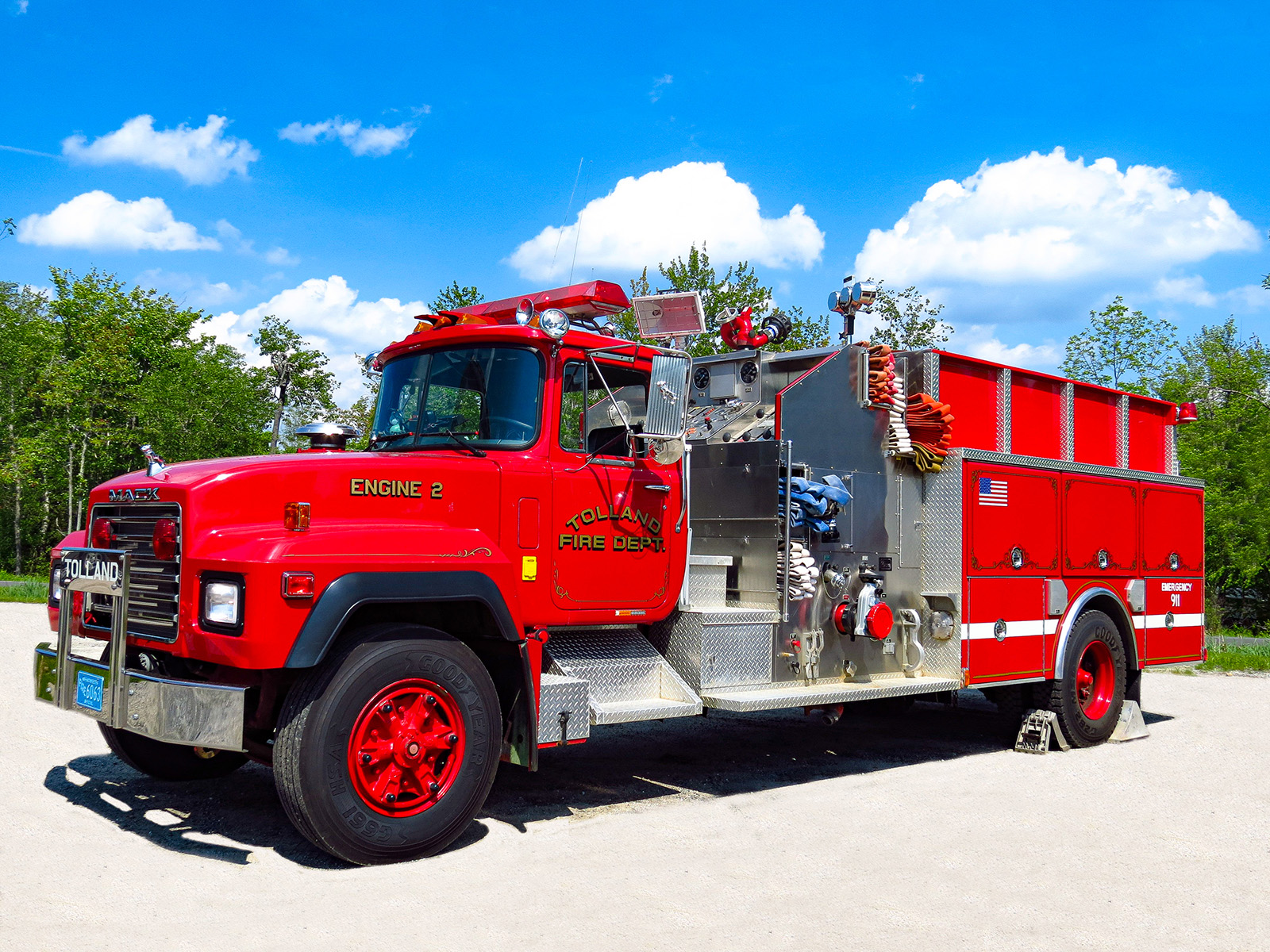 1992 Mack RD/4-Guys 1250/1200
TOWNSEND, MA ENGINE 4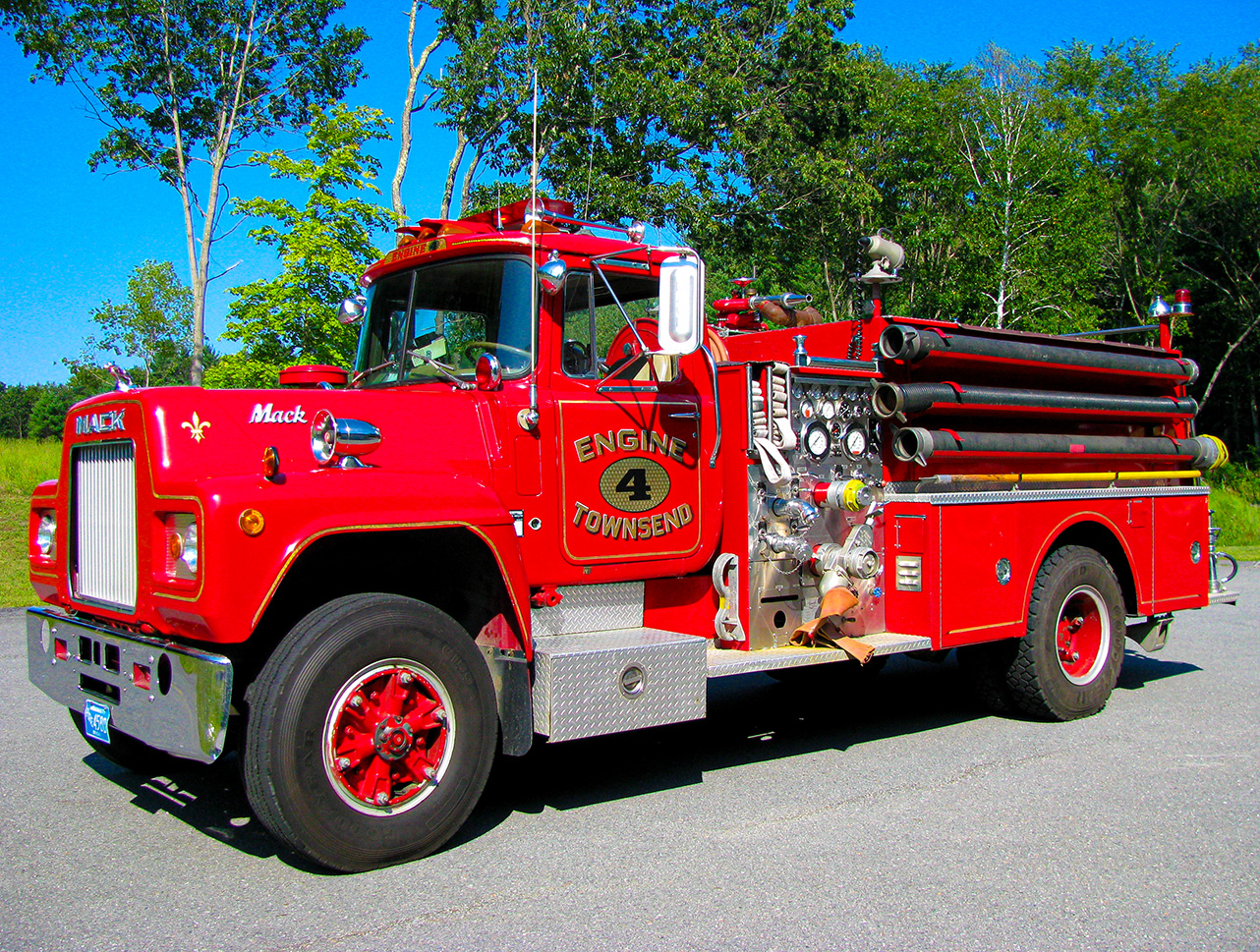 1978 Mack R 1000/750
HINSDALE, MA RESCUE 4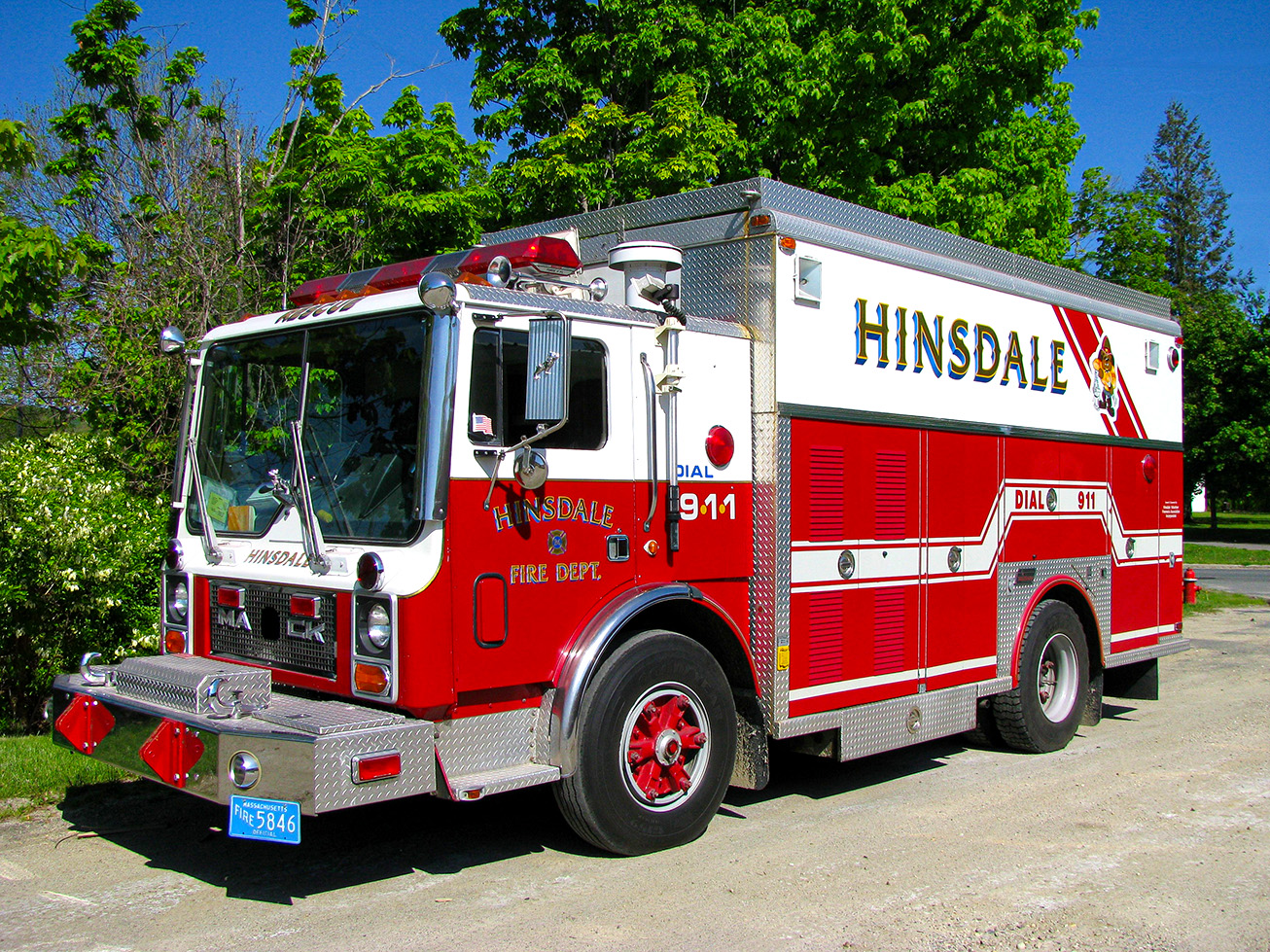 1983 Mack MC/Saulsbury Heavy Rescue
HINSDALE, MA REHAB 6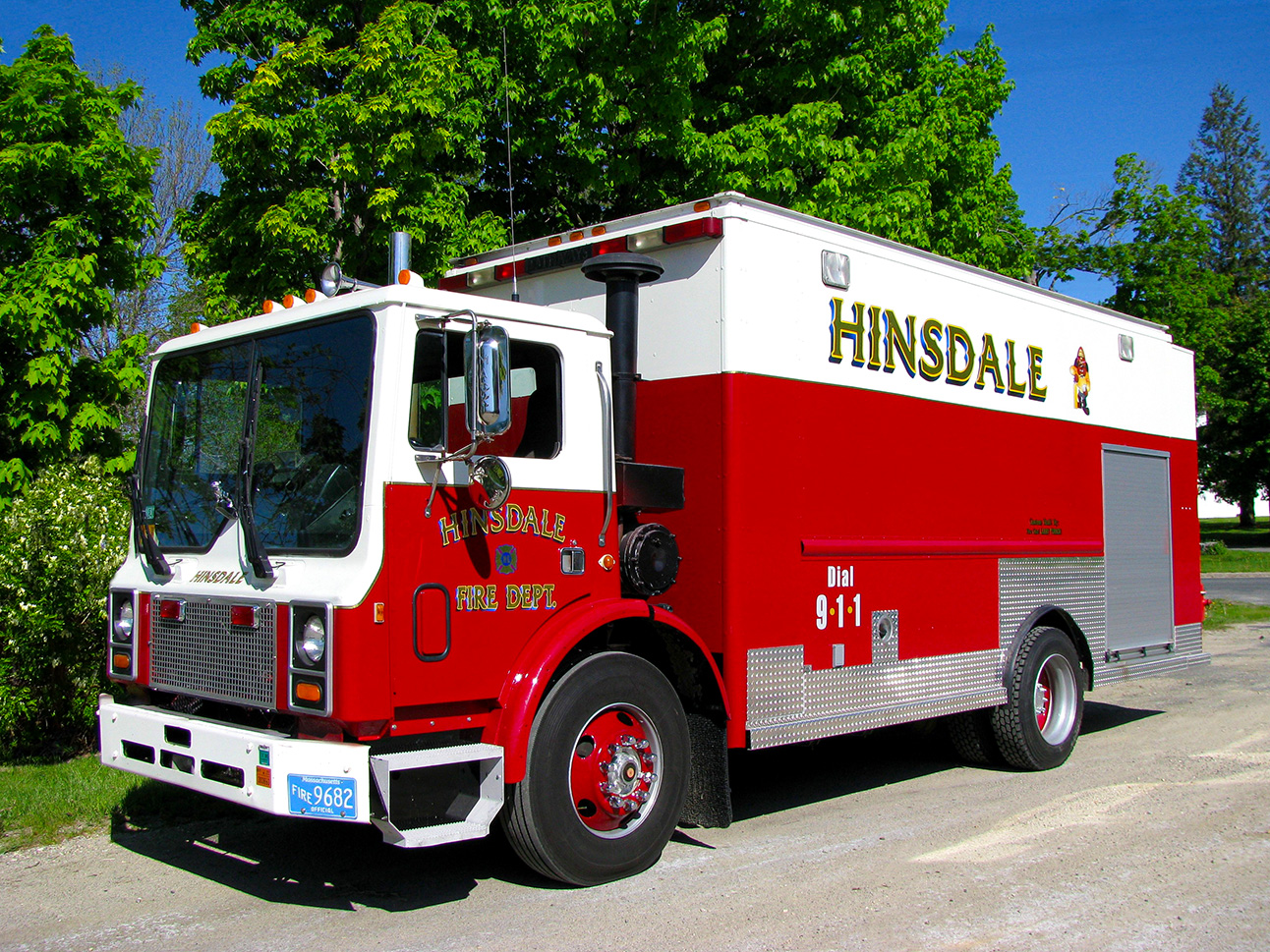 1993 Mack MR/Utilimaster/Dept. Made Rehab Unit
CHARLTON, MA SCOPE 1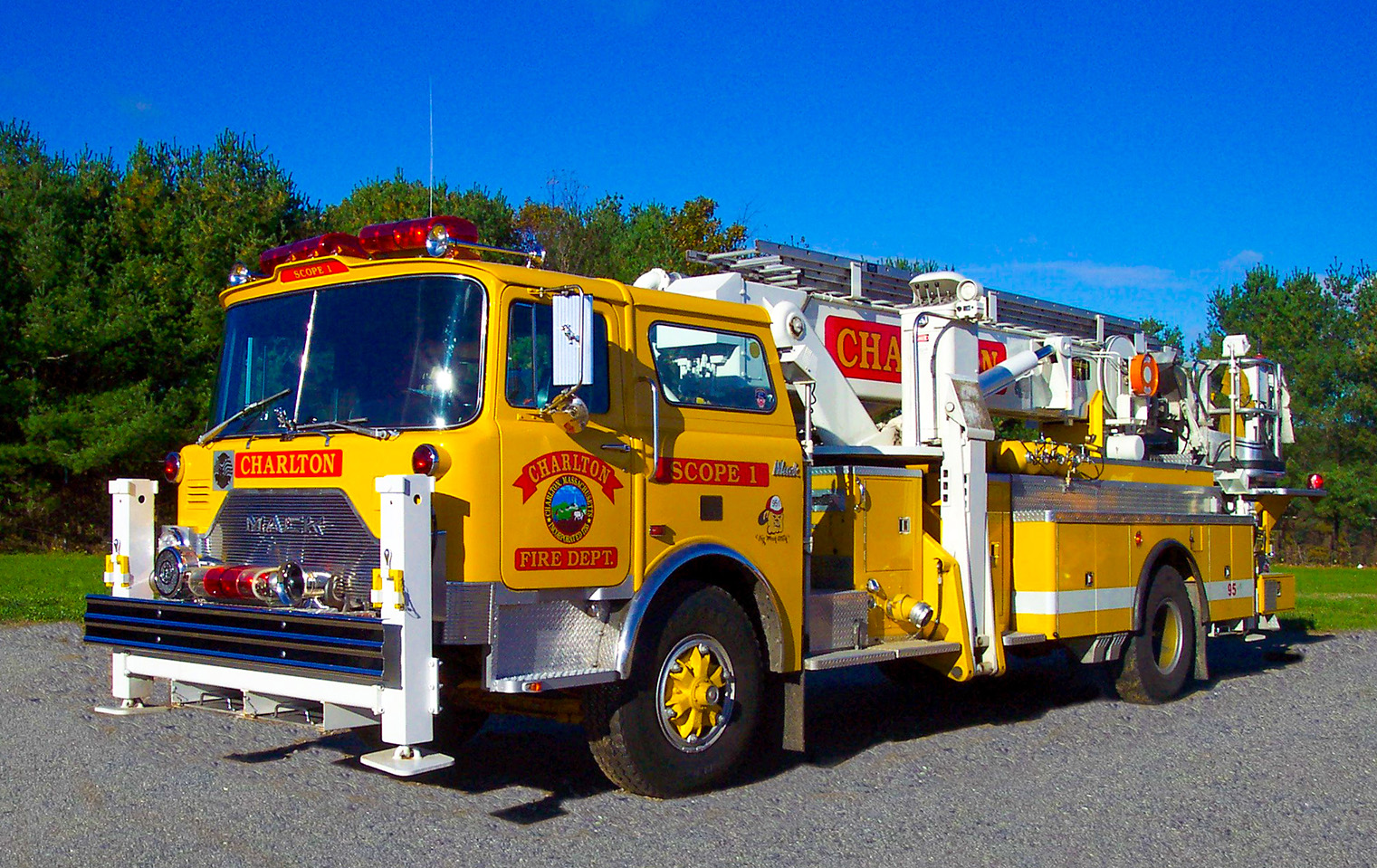 1974 Mack CF/Baker Aerialscope 75' MMA (Originally FDNY)
AUBURN, MA ENGINE 3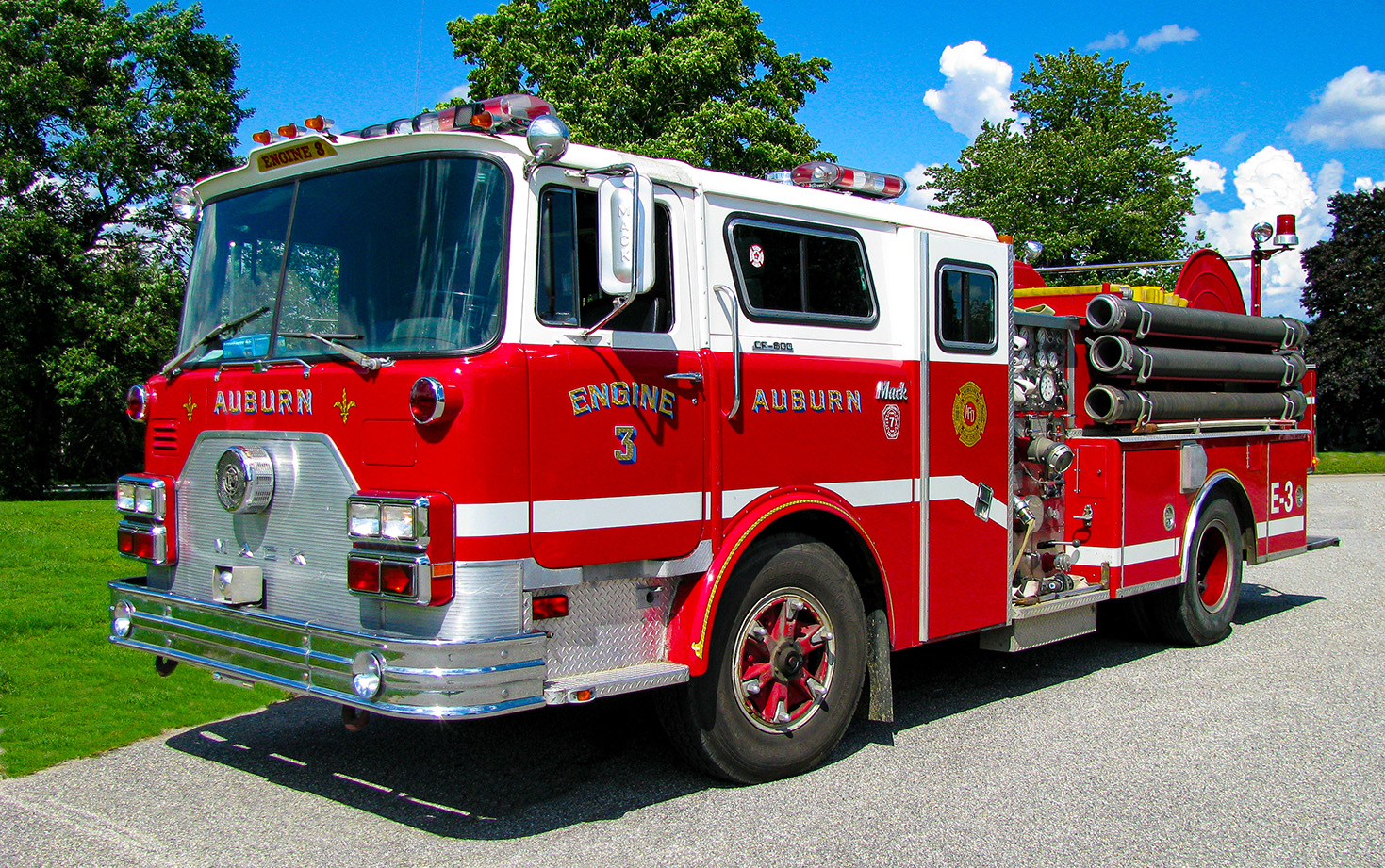 1977 Mack CF/2005 Middleboro 1500/500
SHERBORN, MA ENGINE 1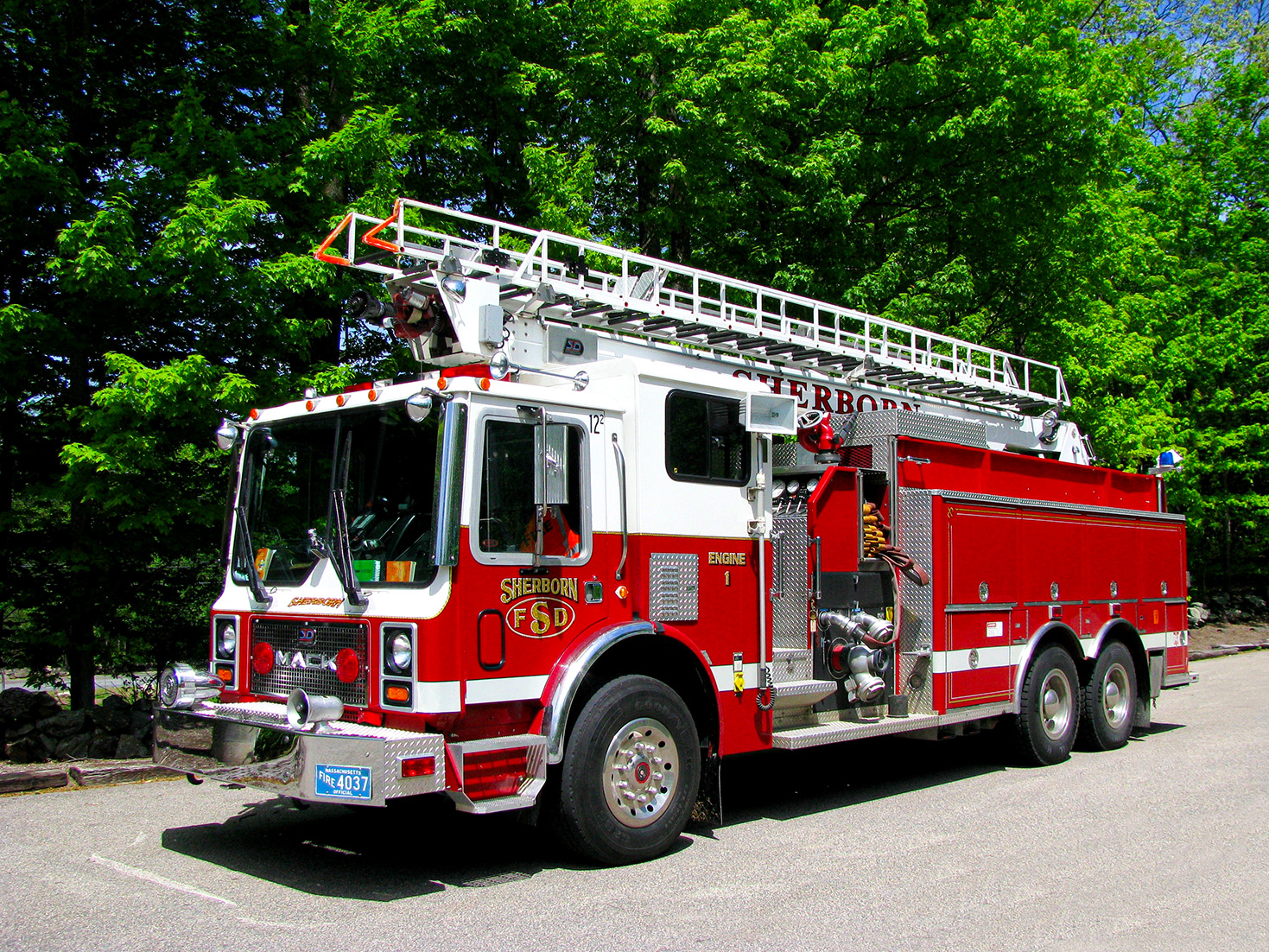 1993 Mack MR/KME/3D 1500/1500/30A 55' RMA
REHOBOTH, MA TANKER 2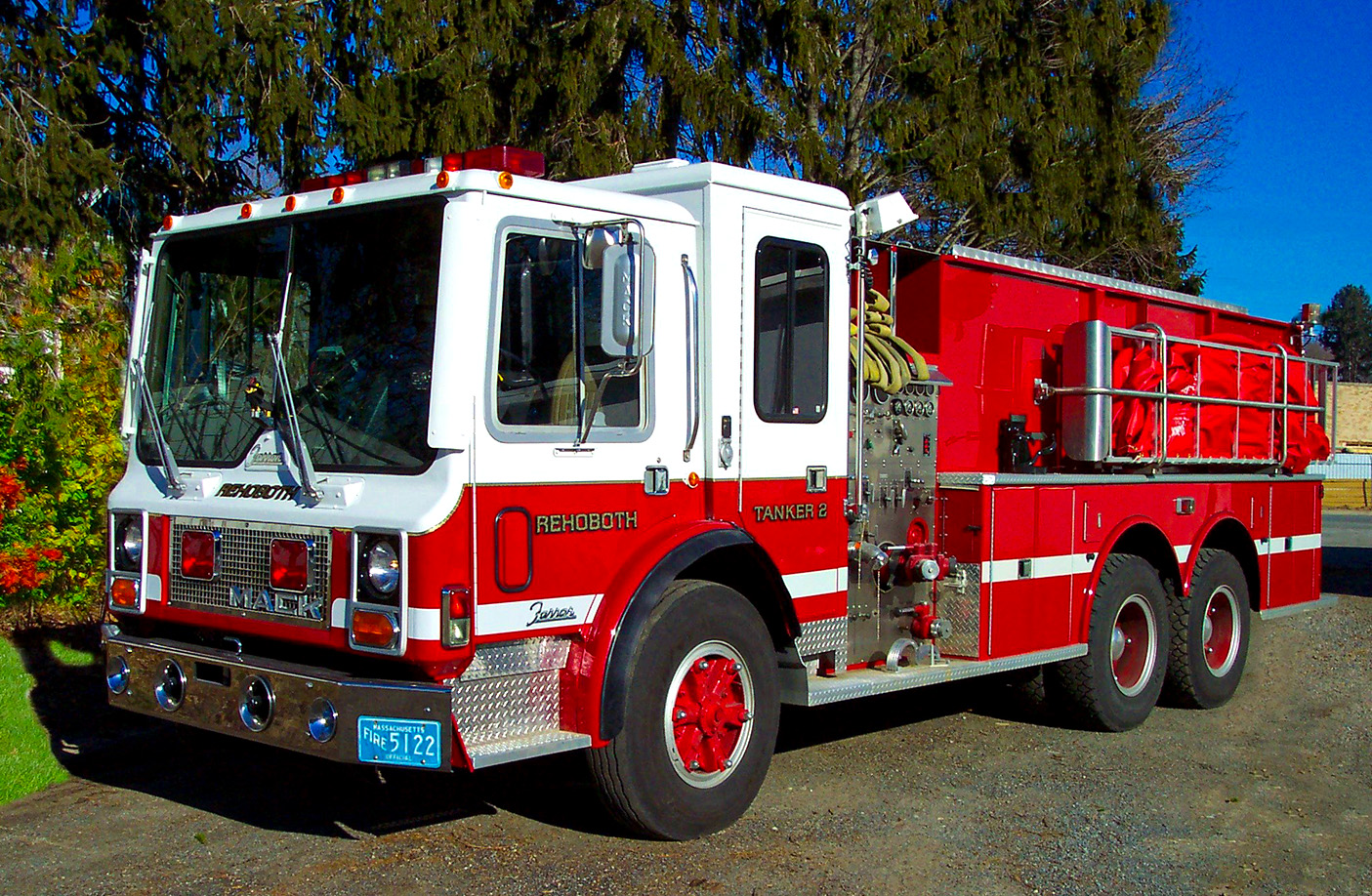 1979 Mack MC/Farrar 1250/2000
REHOBOTH, MA LADDER 1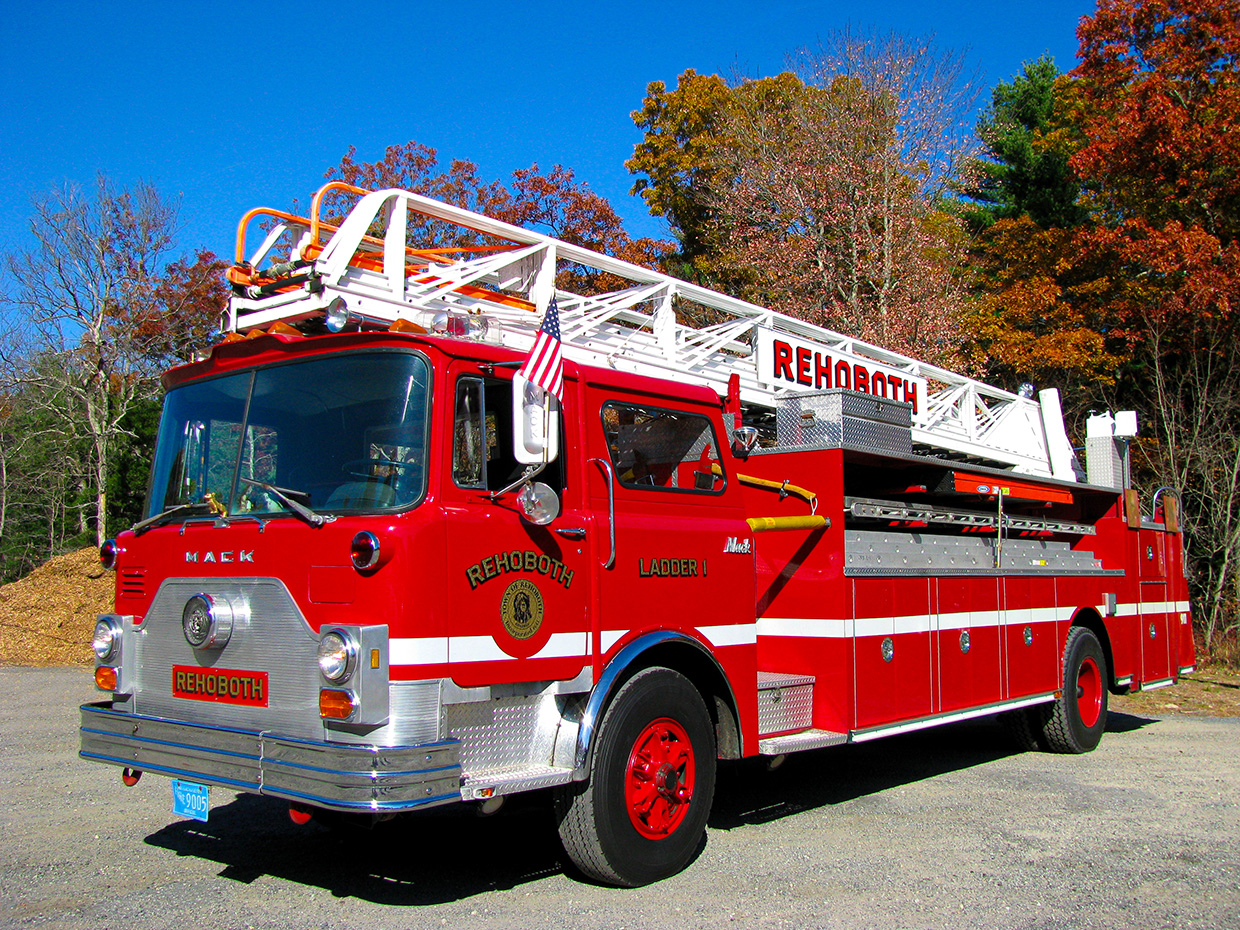 1980 Mack CF/American LaFrance 100' RMA
REHOBOTH, MA TANKER 1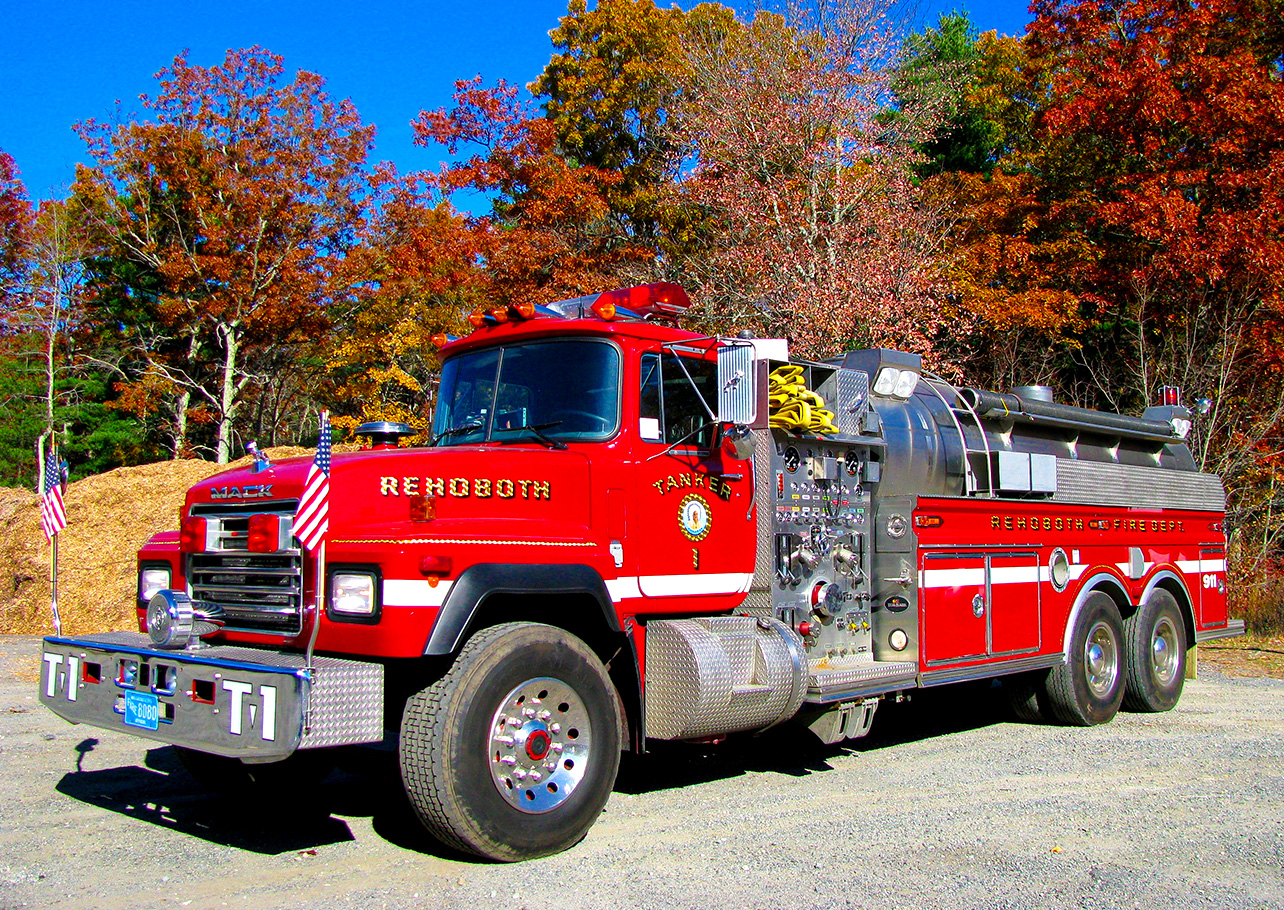 1993 Mack RD/Trailblazer 1500/3000
REHOBOTH, MA TANKER 3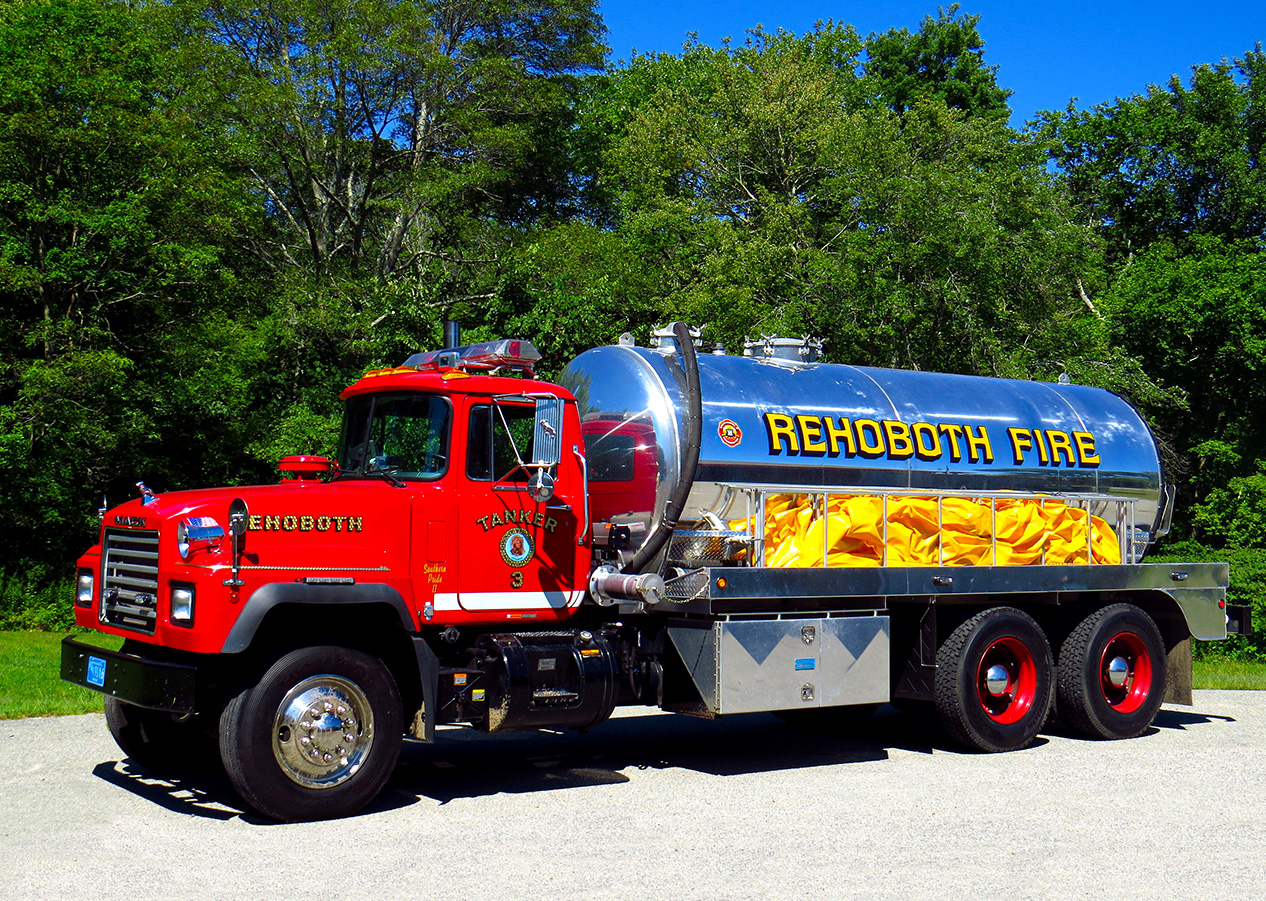 2000 Mack RD/2015 Progress Tank 750/3600
PALMER, MA TANKER 1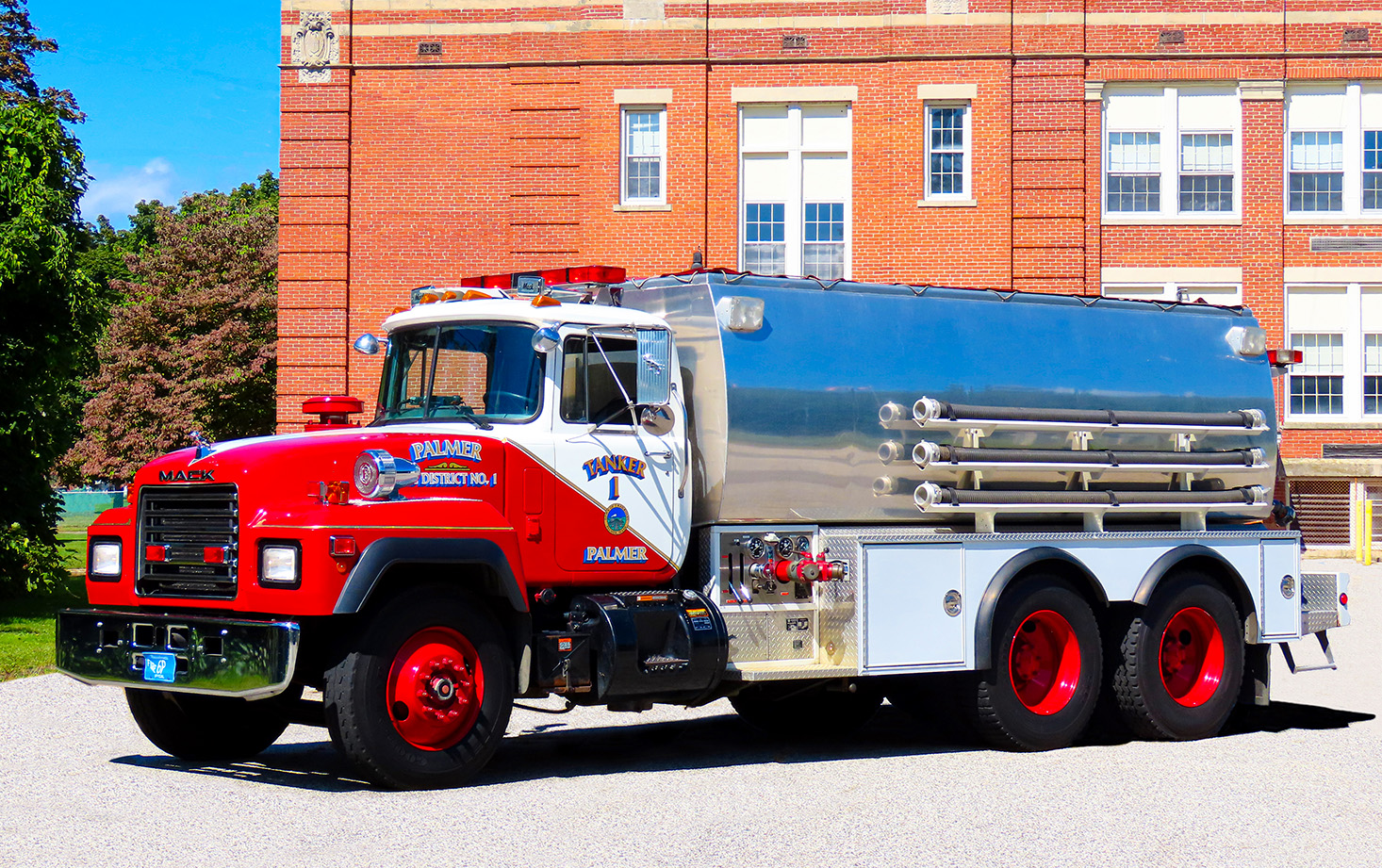 1992 Mack RD/Trans Tech 500/3000
PEABODY, MA ENGINE 2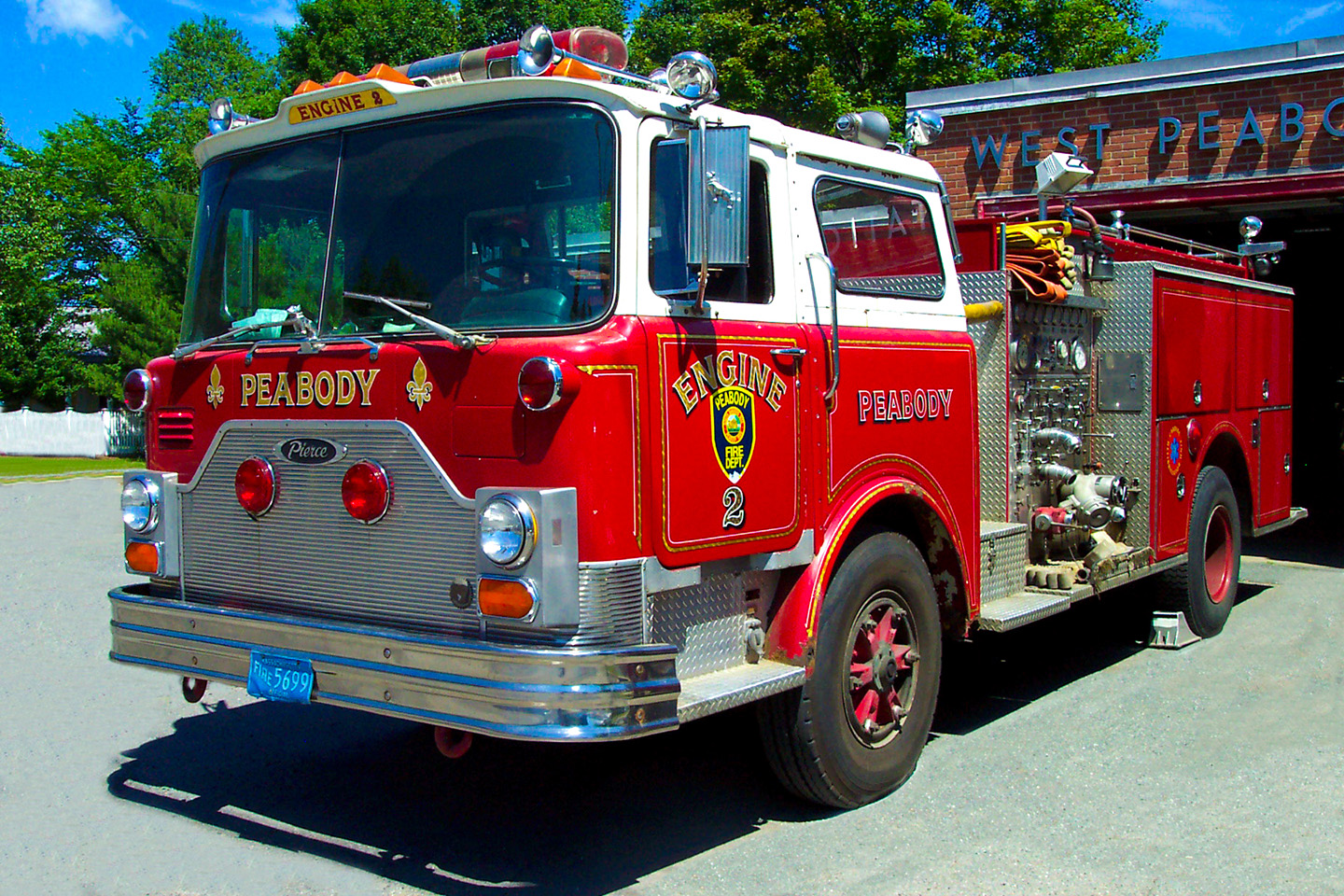 1981 Mack CF/Pierce 1250/500
PEABODY, MA ENGINE 6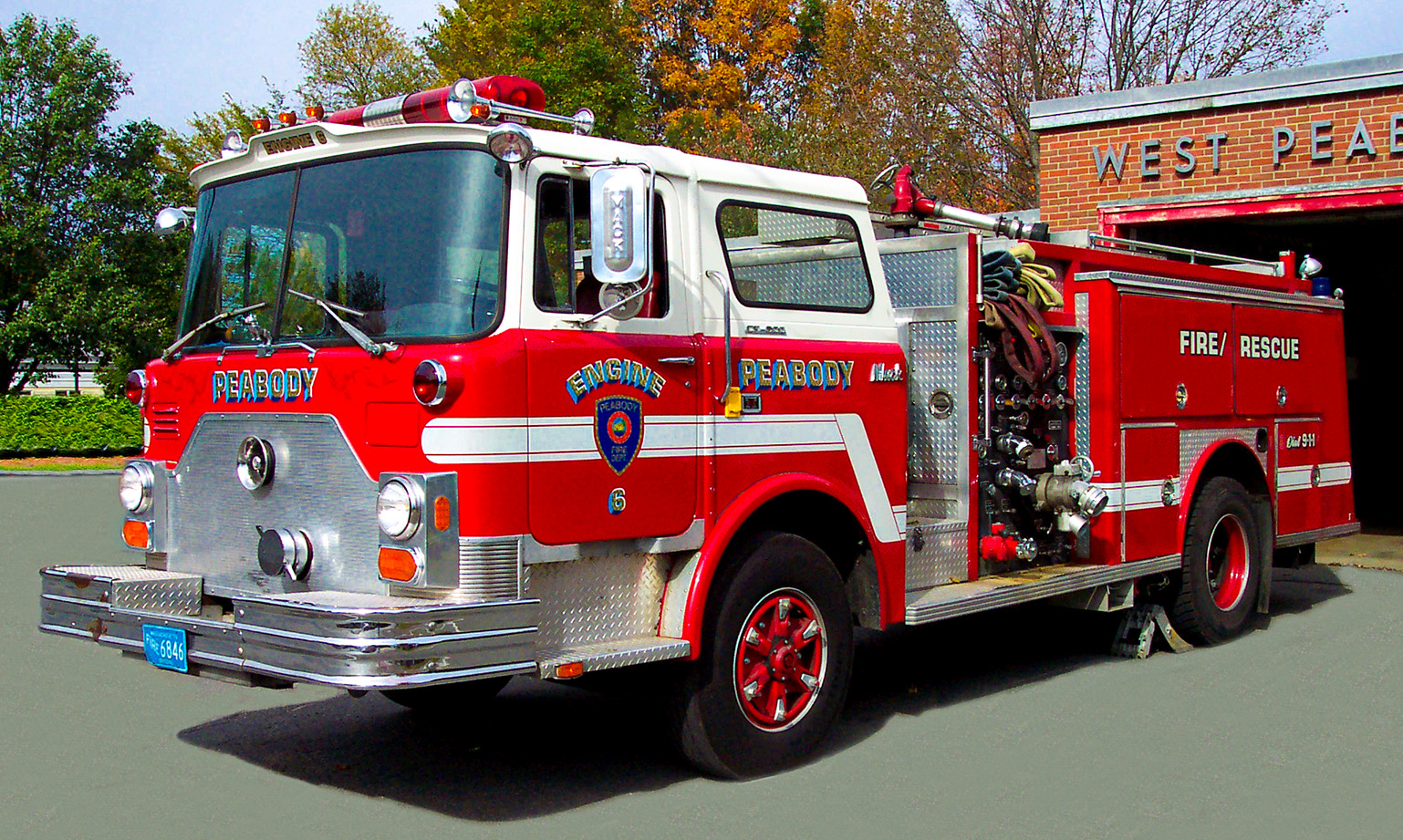 1978 Mack CF 1000/500
PEABODY, MA ENGINE 4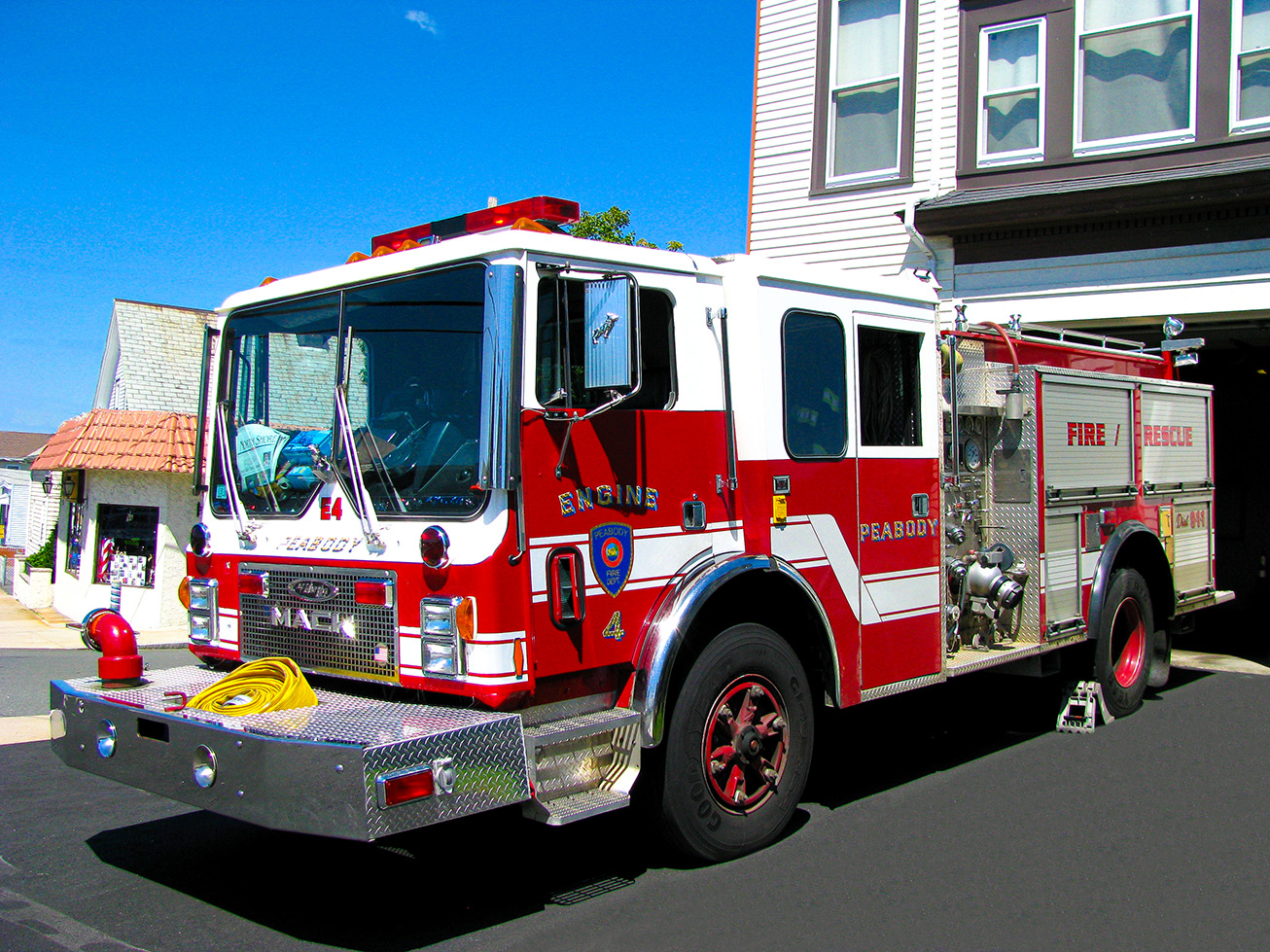 1989 Mack MC/Pierce/Murphy 1250/500
PEABODY, MA ENGINE 26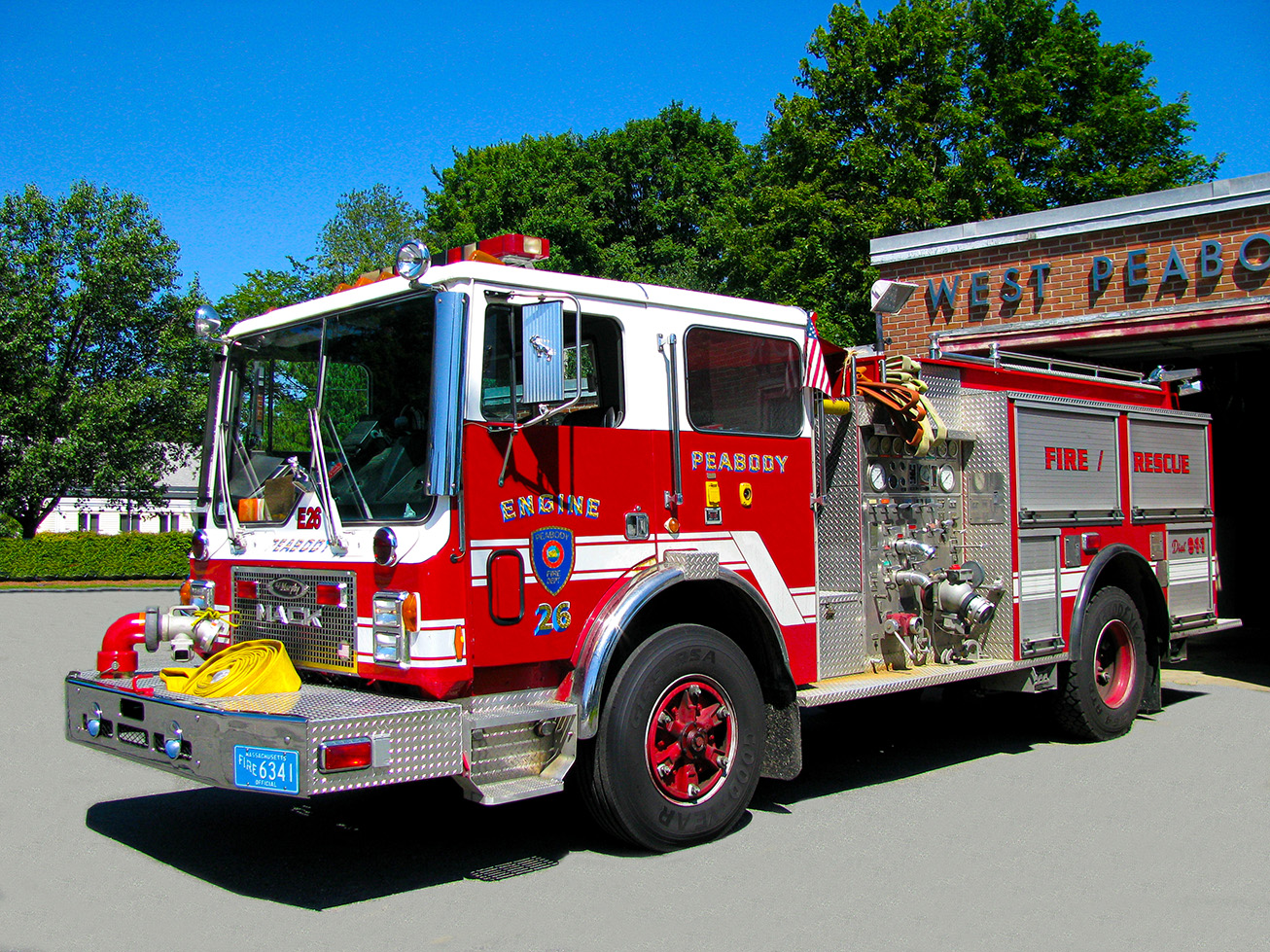 1989 Mack MC/Pierce 1250/500
ROWE, MA ENGINE 1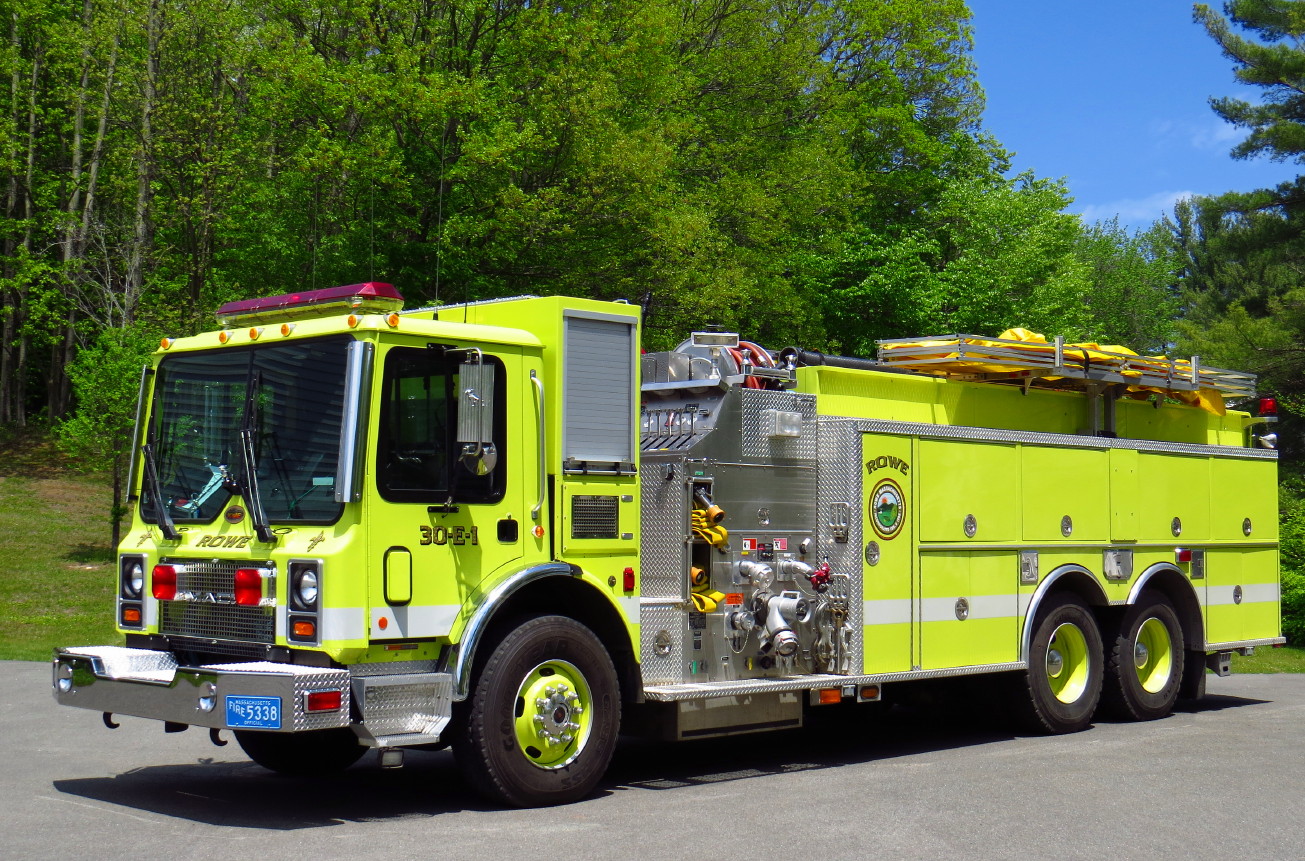 2004 Mack MR/KME 1500/2000
WALPOLE, MA ENGINE 1
1985 Mack CF/E-One 1250/500
WEBSTER, MA TANKER 1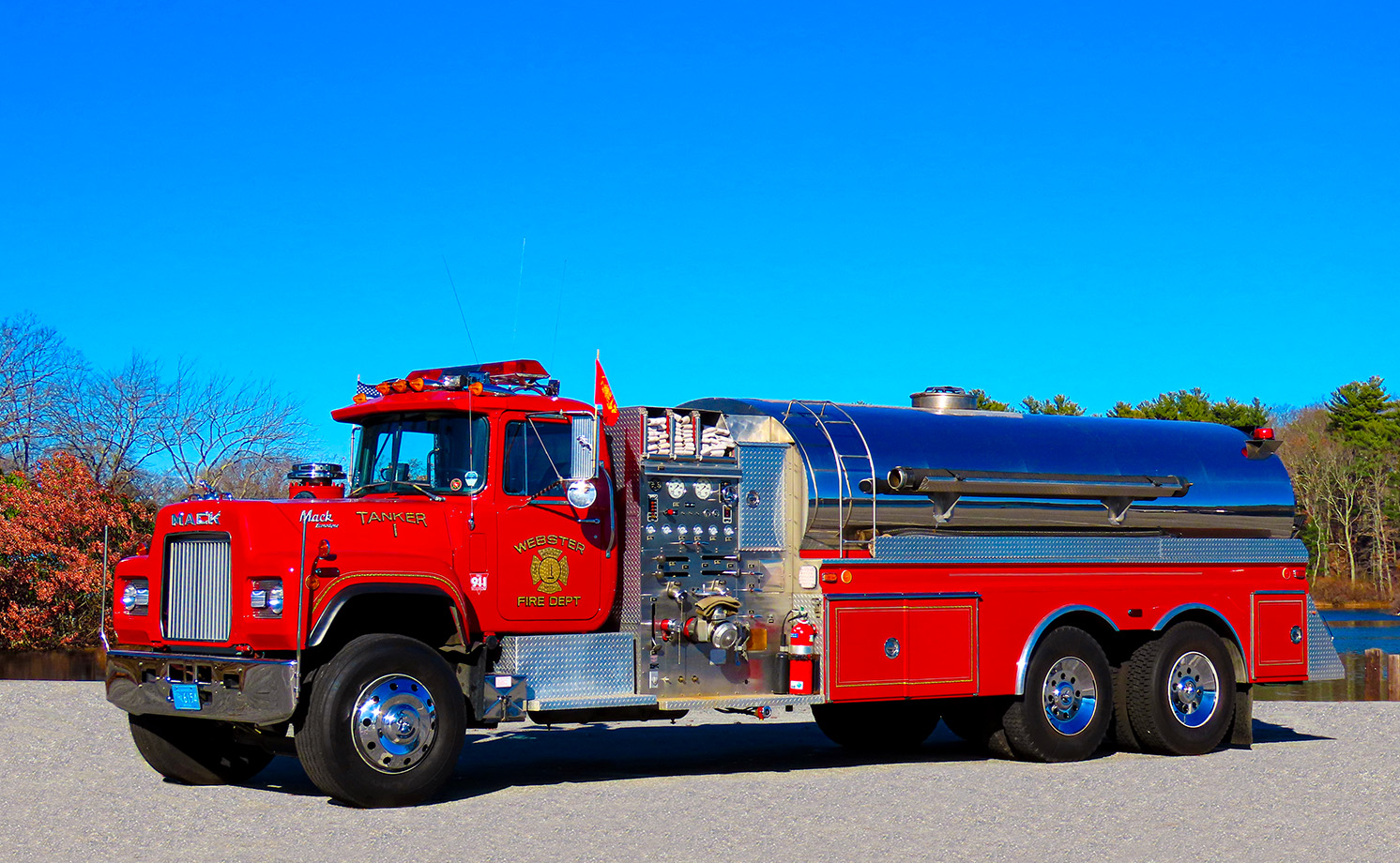 1988 Mack R/4-Guys 1000/3500
MOUNT CARBON FIRE CO. {NORTH MANHEIM TWP.}, PA TANKER 53-30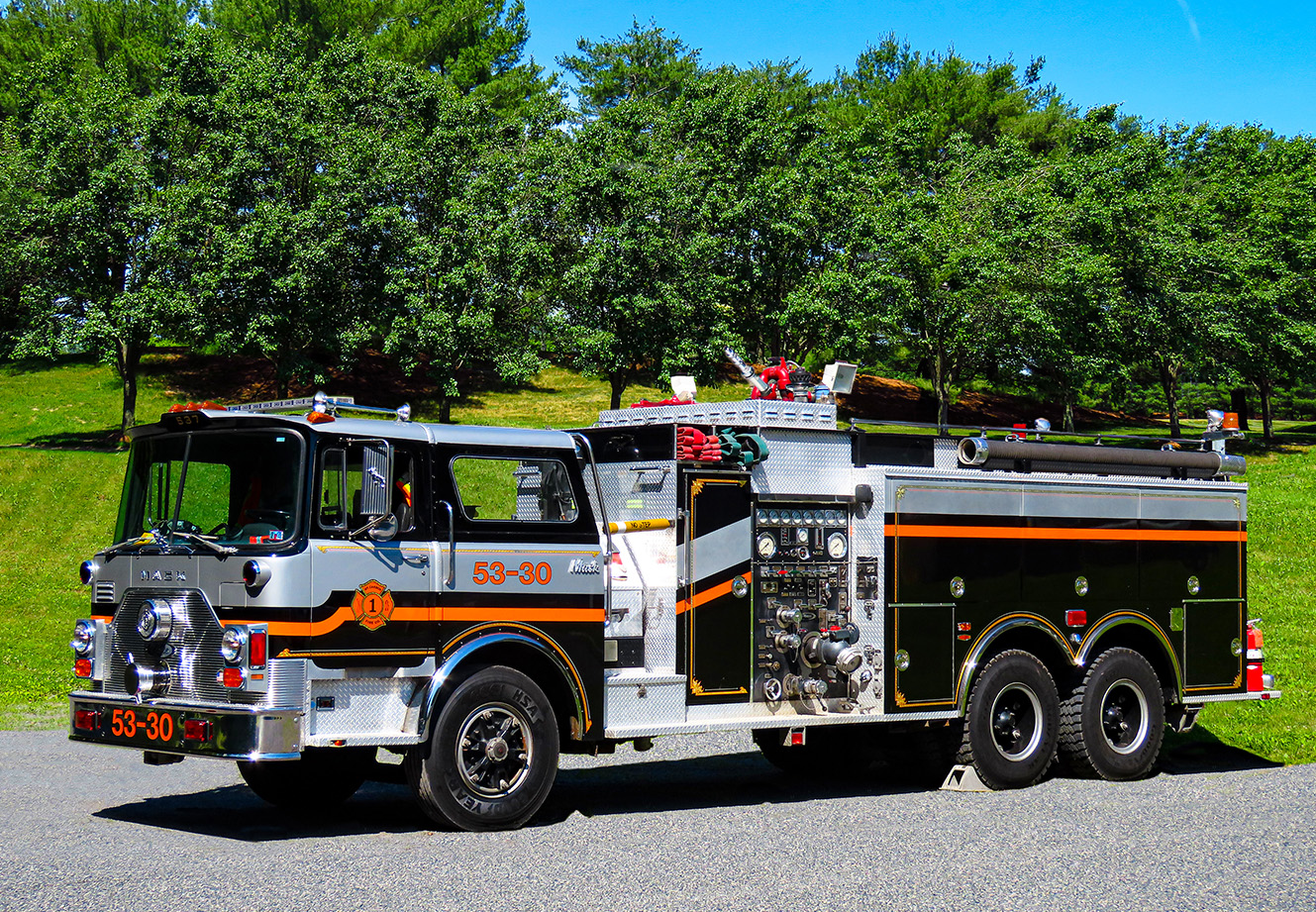 1983 Mack CF/Pierce 1500/2000
WINCHESTER, MA ENGINE 2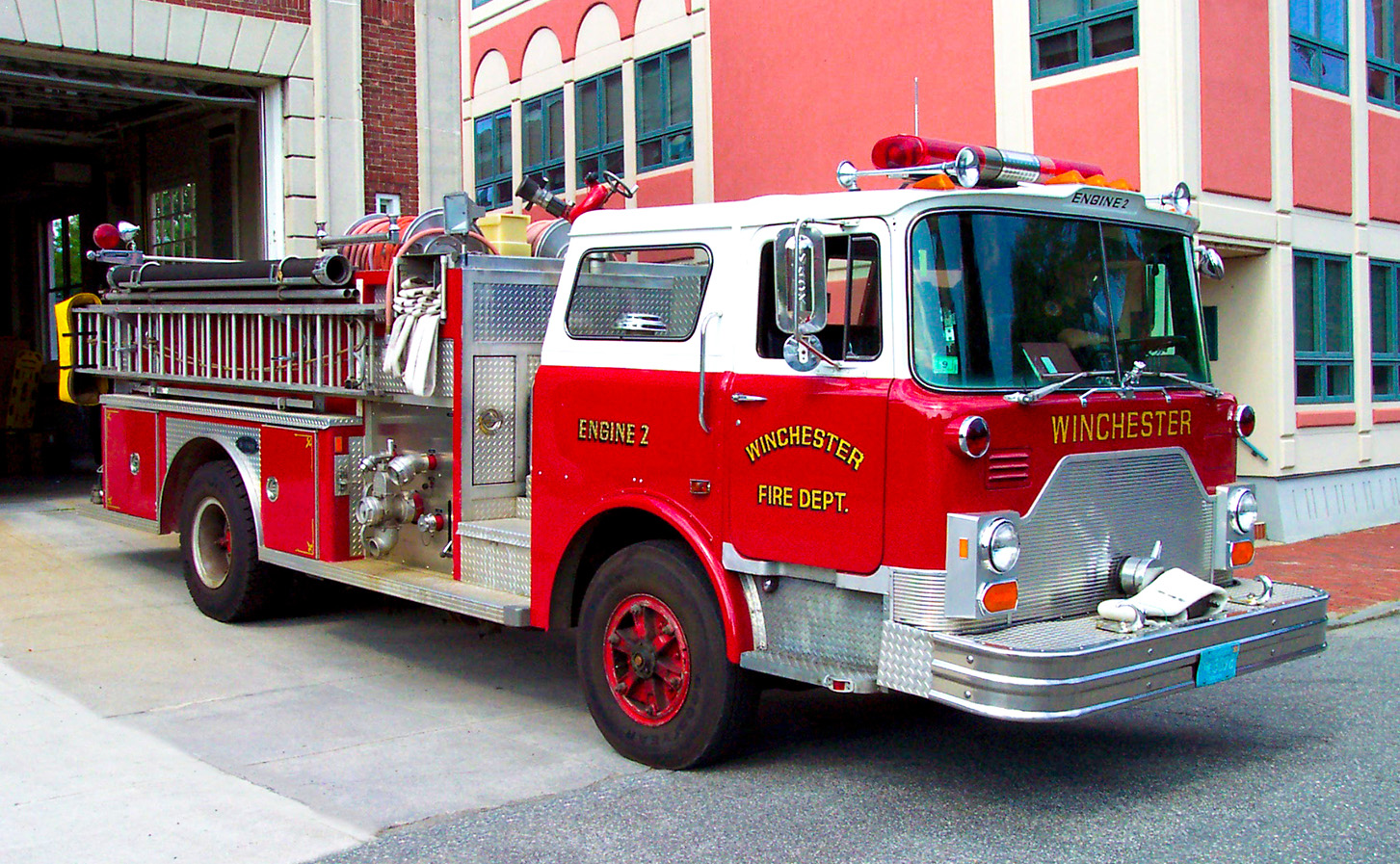 1987 Mack CF/E-One 1250/500
WOBURN, MA AUXILIARY SQUAD 8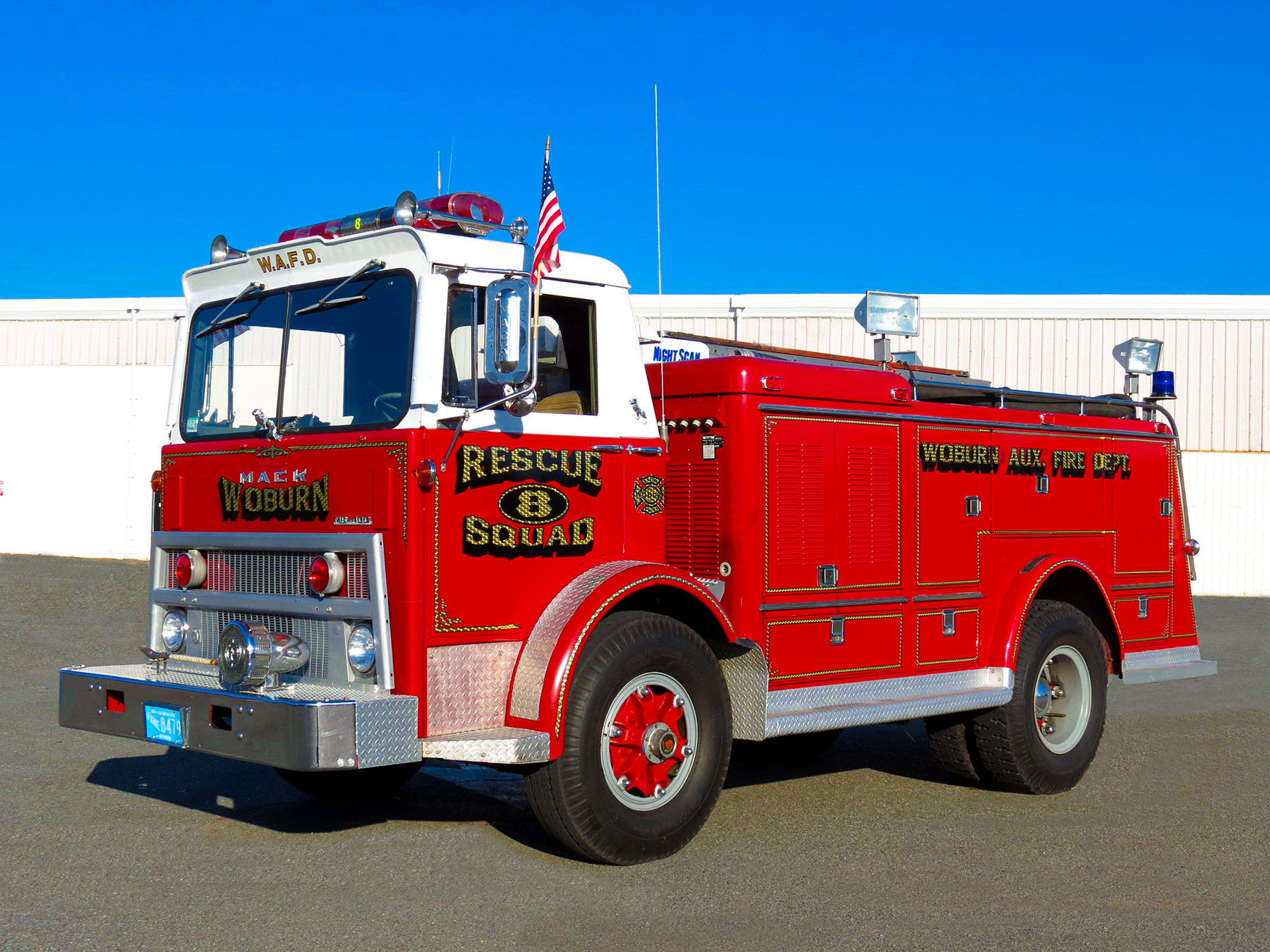 1971 Mack MB/1956 Lacey Air & Light Unit (former Wakefield, MA)
SAYLESVILLE {LINCOLN}, RI ENGINE 55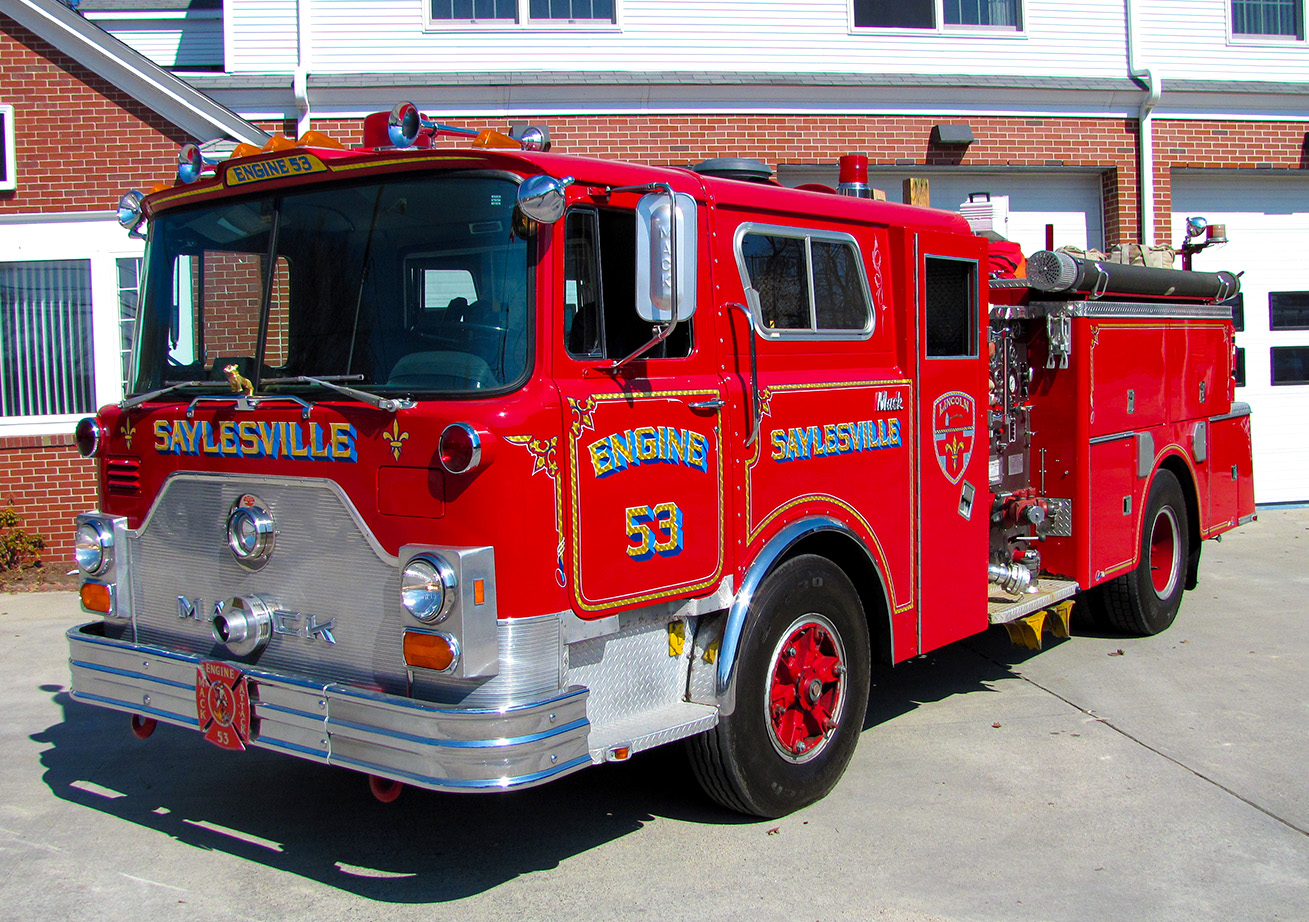 1978 Mack CF 1250/500
HARDWICK, MA TANKER 12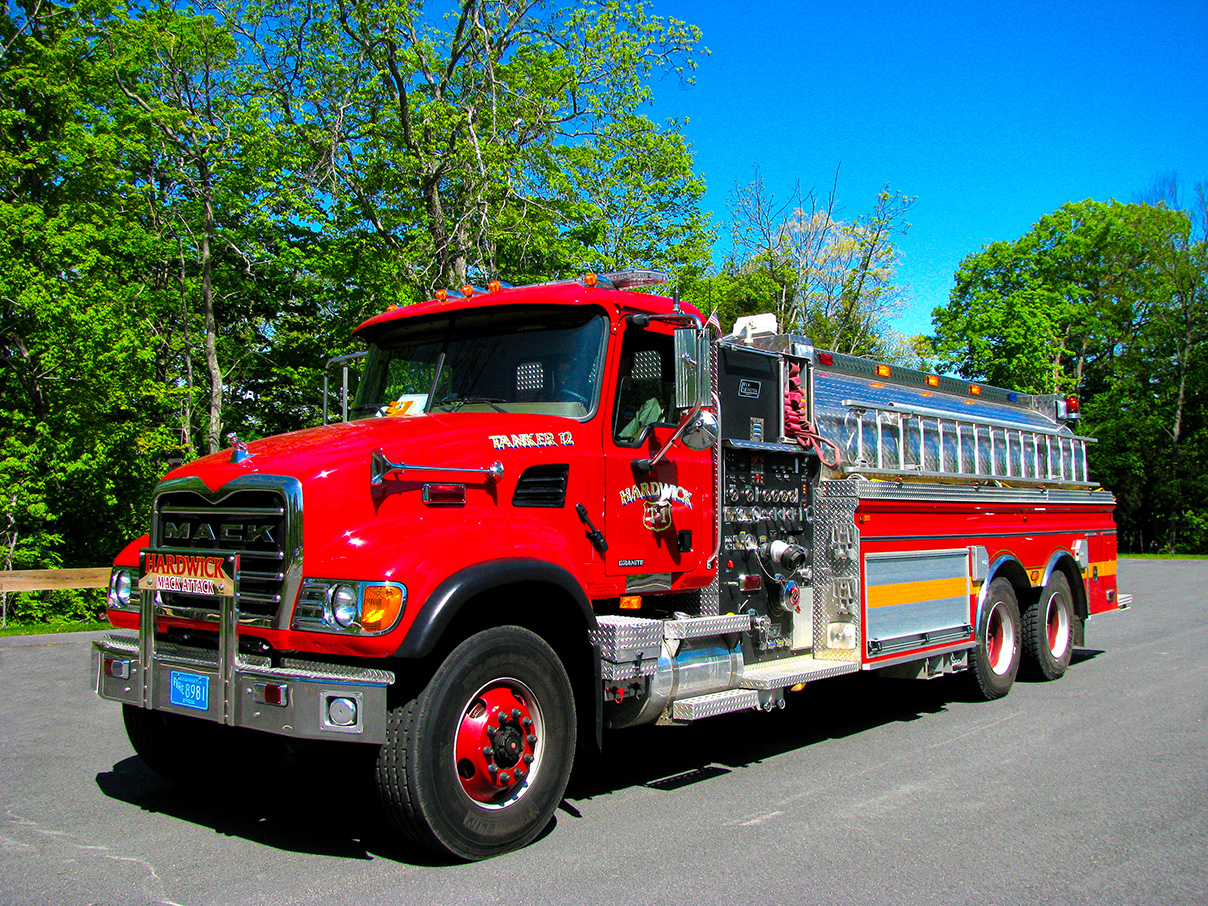 2004 Mack Granite/New Lexington 1500/3500
WORCESTER, MA AERIALSCOPE 2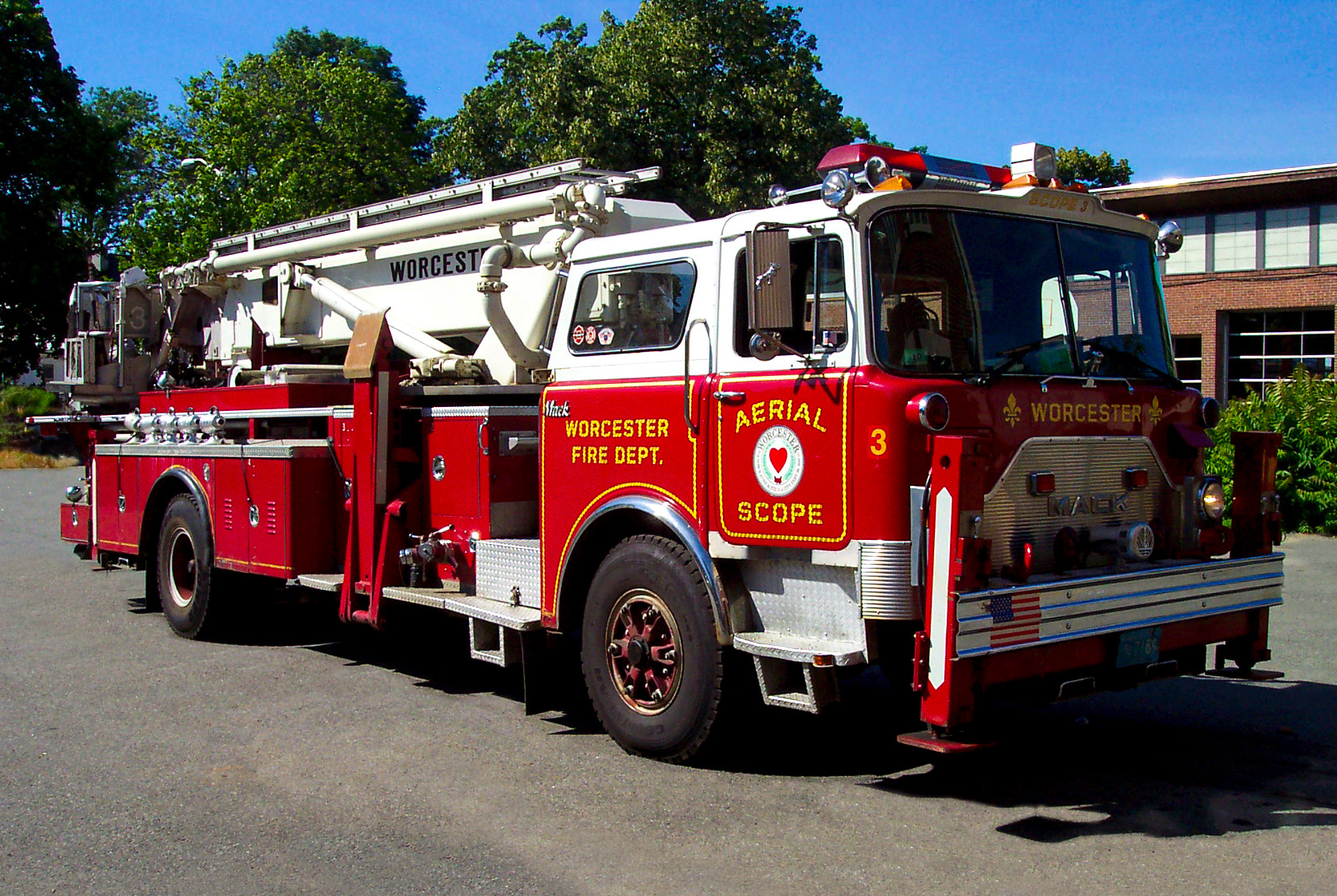 1983 Mack CF/Baker Aerialscope 75' MMA
MARBLEHEAD, MA ENGINE 3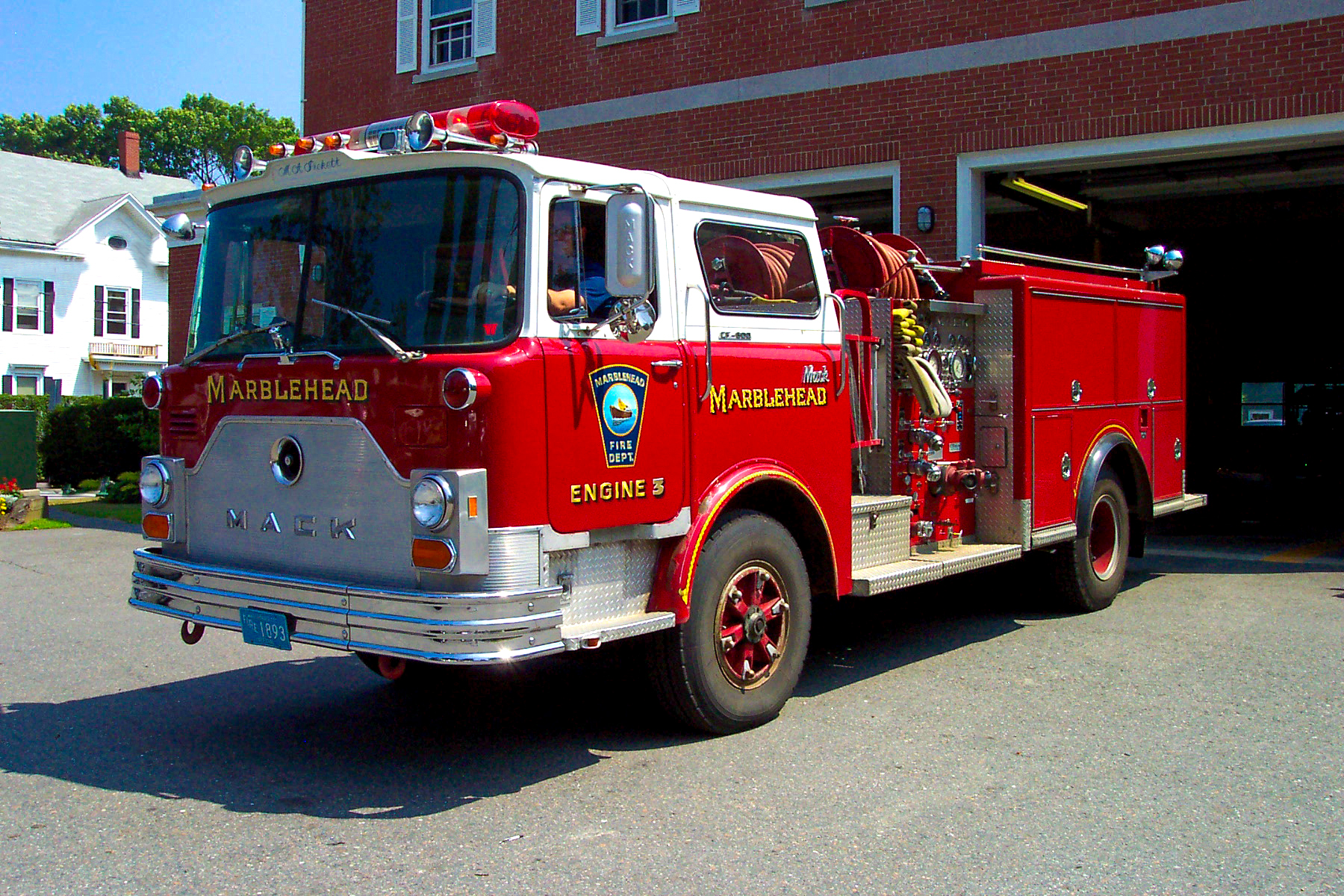 1977 Mack CF 1250/500
MARBLEHEAD, MA ENGINE 3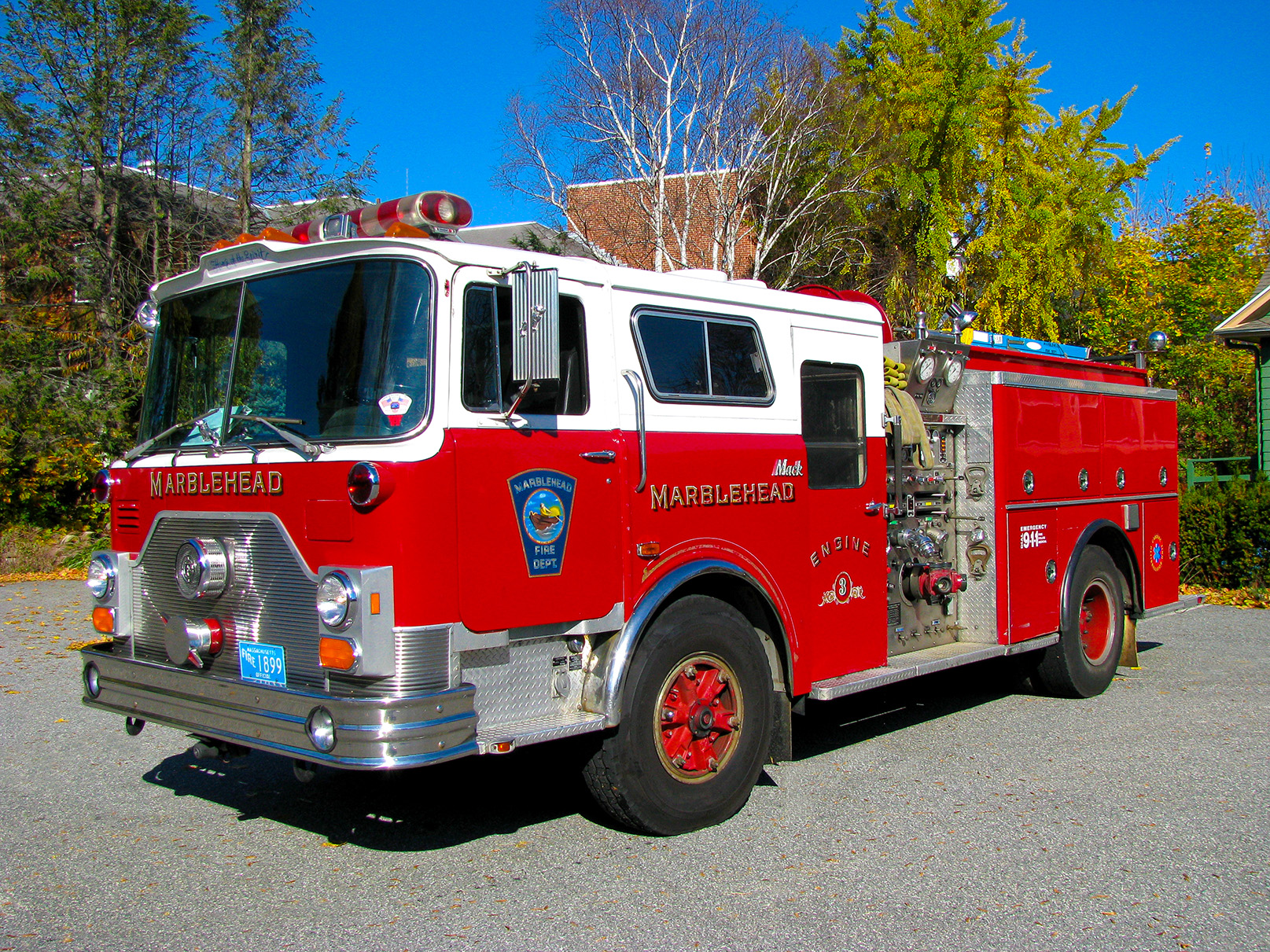 1989 Mack CF/KME 1250/500
NAHANT, MA ENGINE 32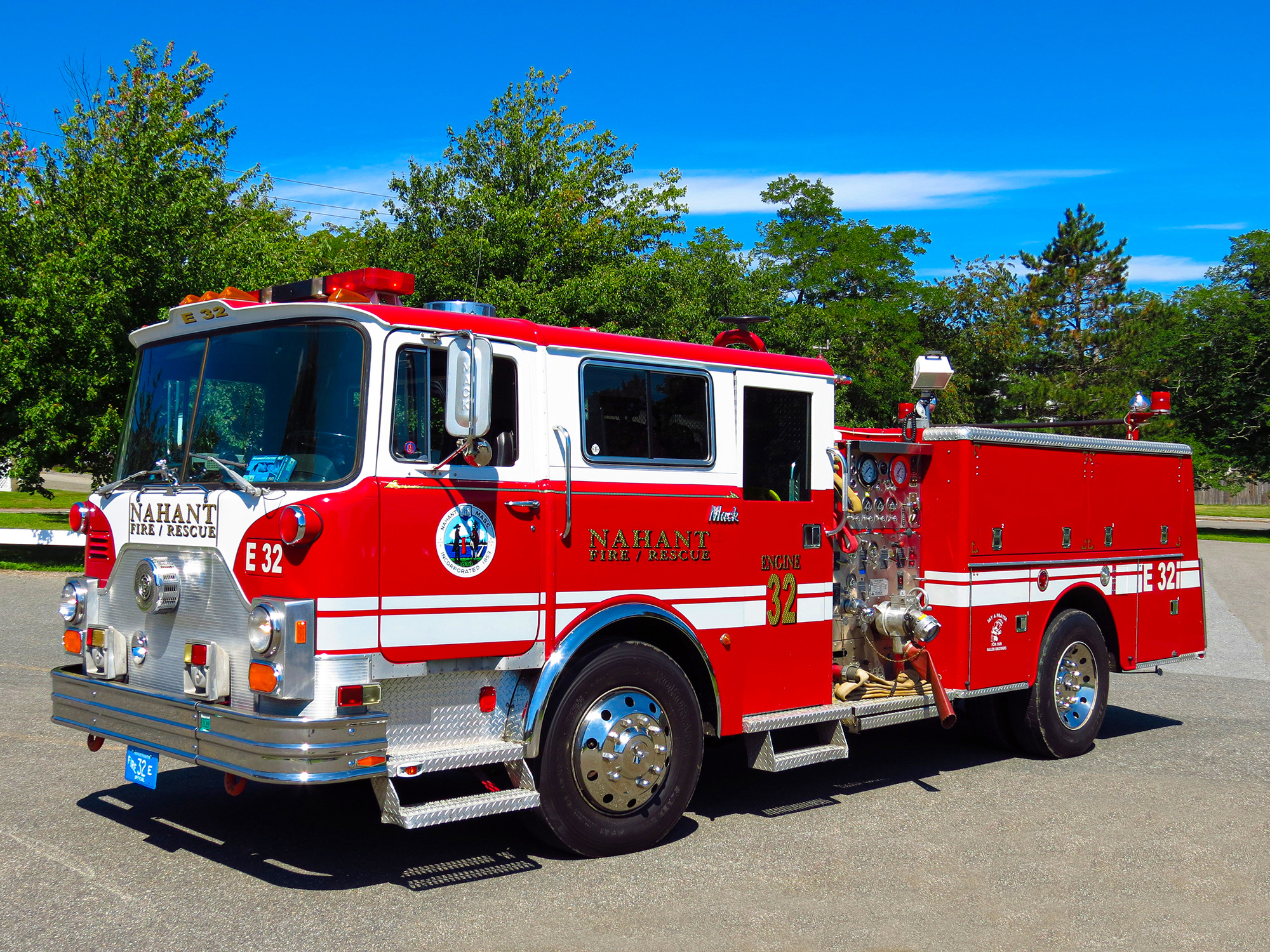 1980 Mack CF 1250/500
AVON, MA ENGINE 1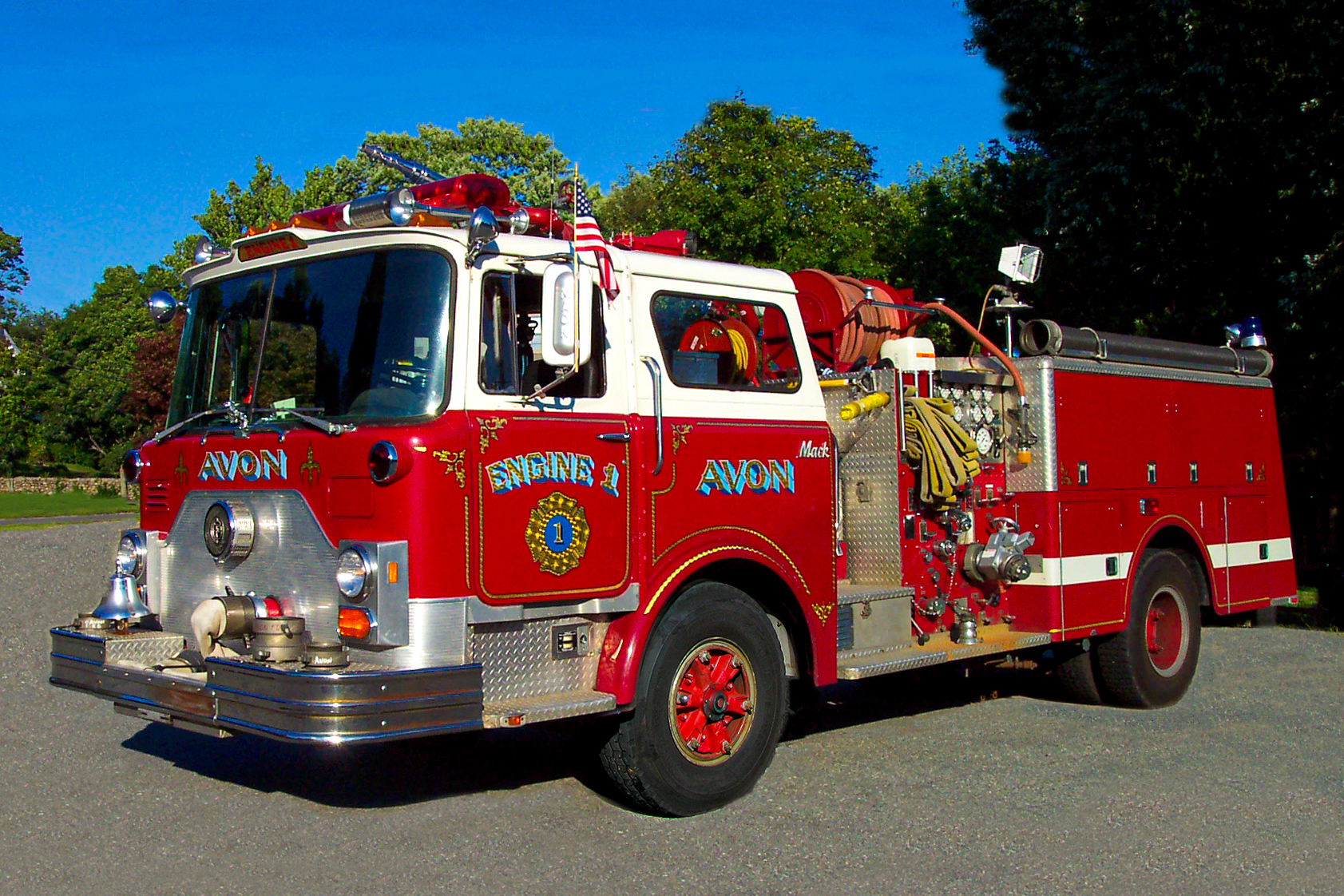 1981 Mack CF 1250/500
STERLING, MA ENGINE 1
1974 Mack CF 1250/1000
STERLING, MA LADDER 1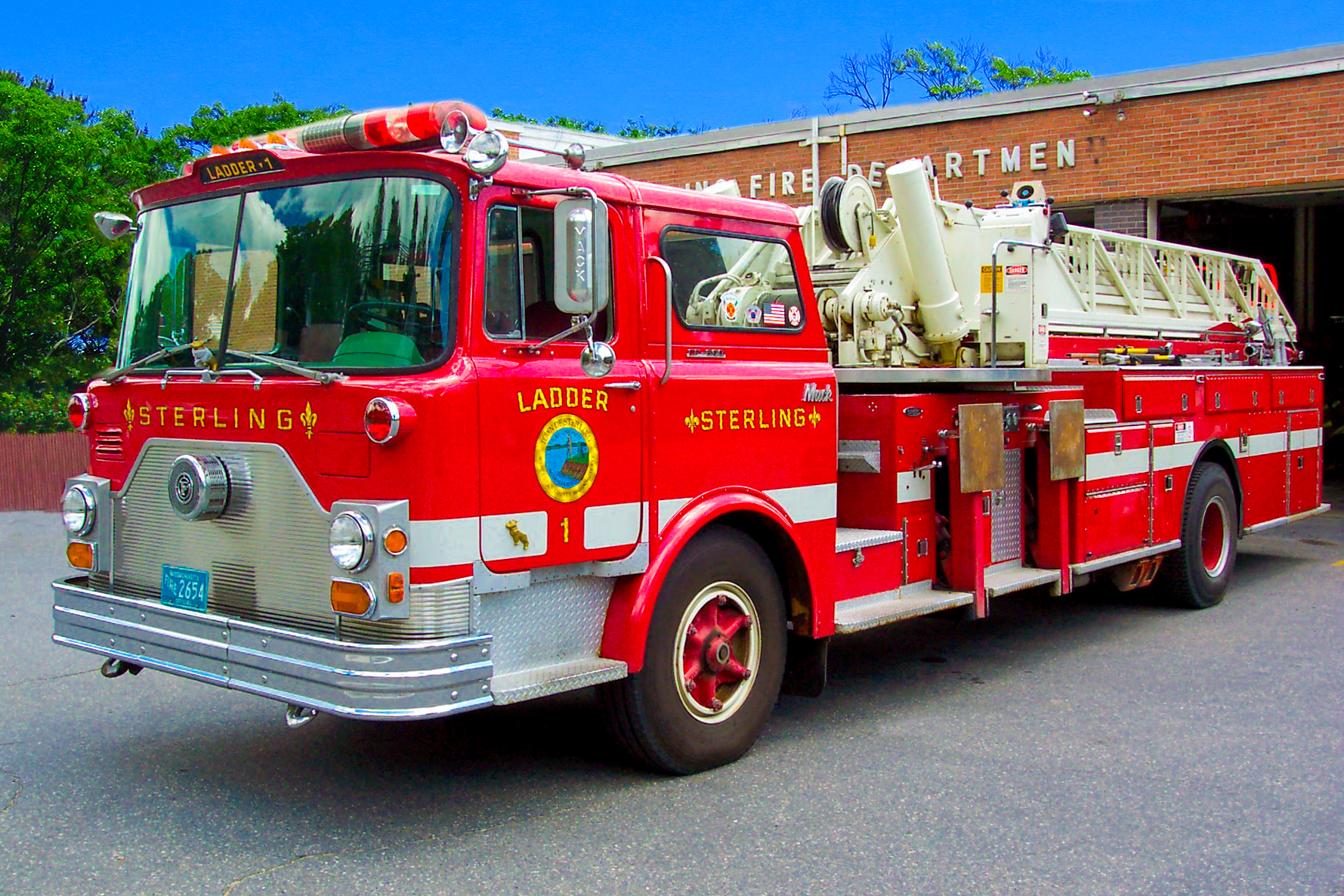 1971 Mack CF/Thibault/Murphy 85' MMA
HARVARD, MA ENGINE 4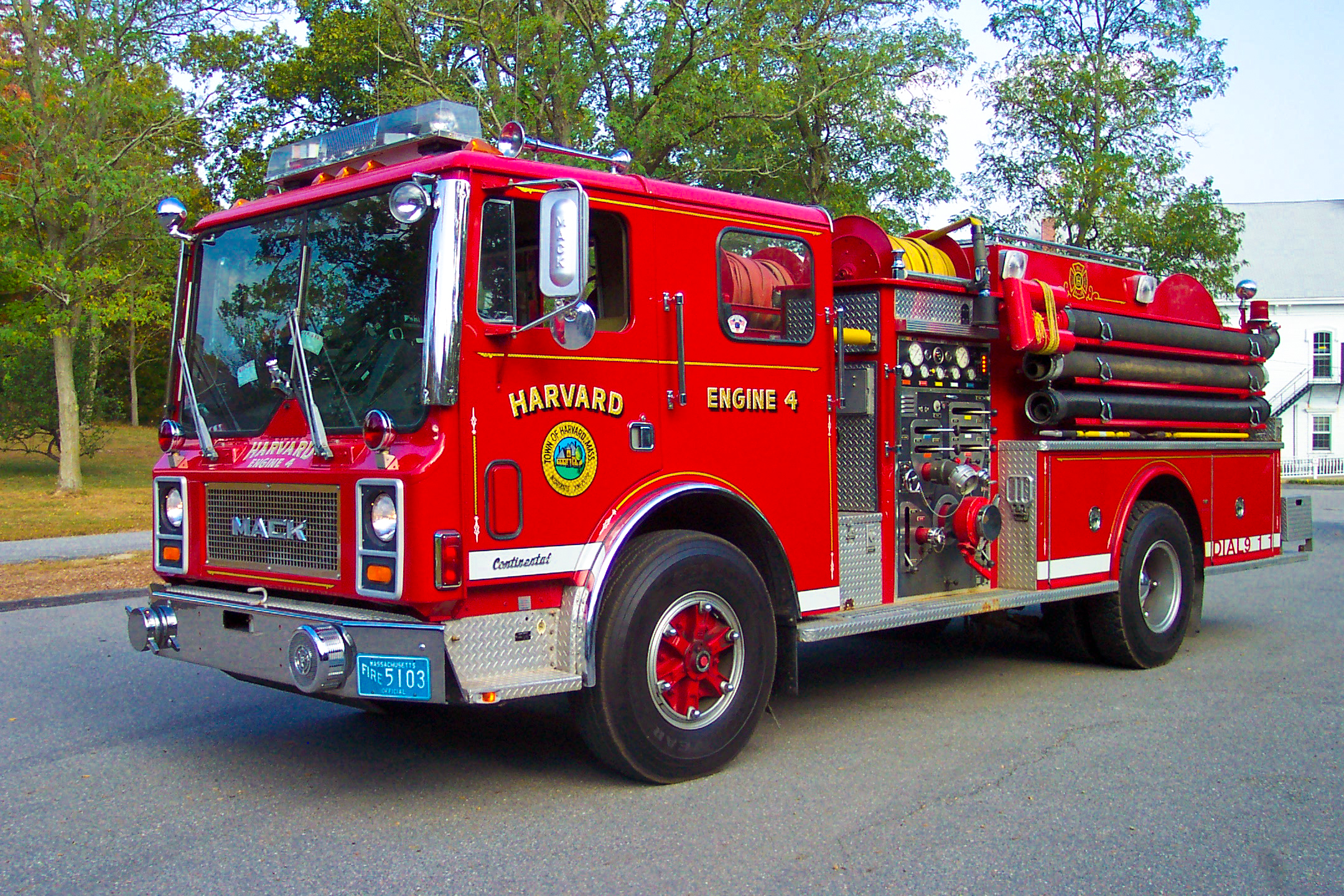 1981 Mack MC/Continental 1250/500 3,000' 4" Reel
BOXFORD, MA ENGINE 3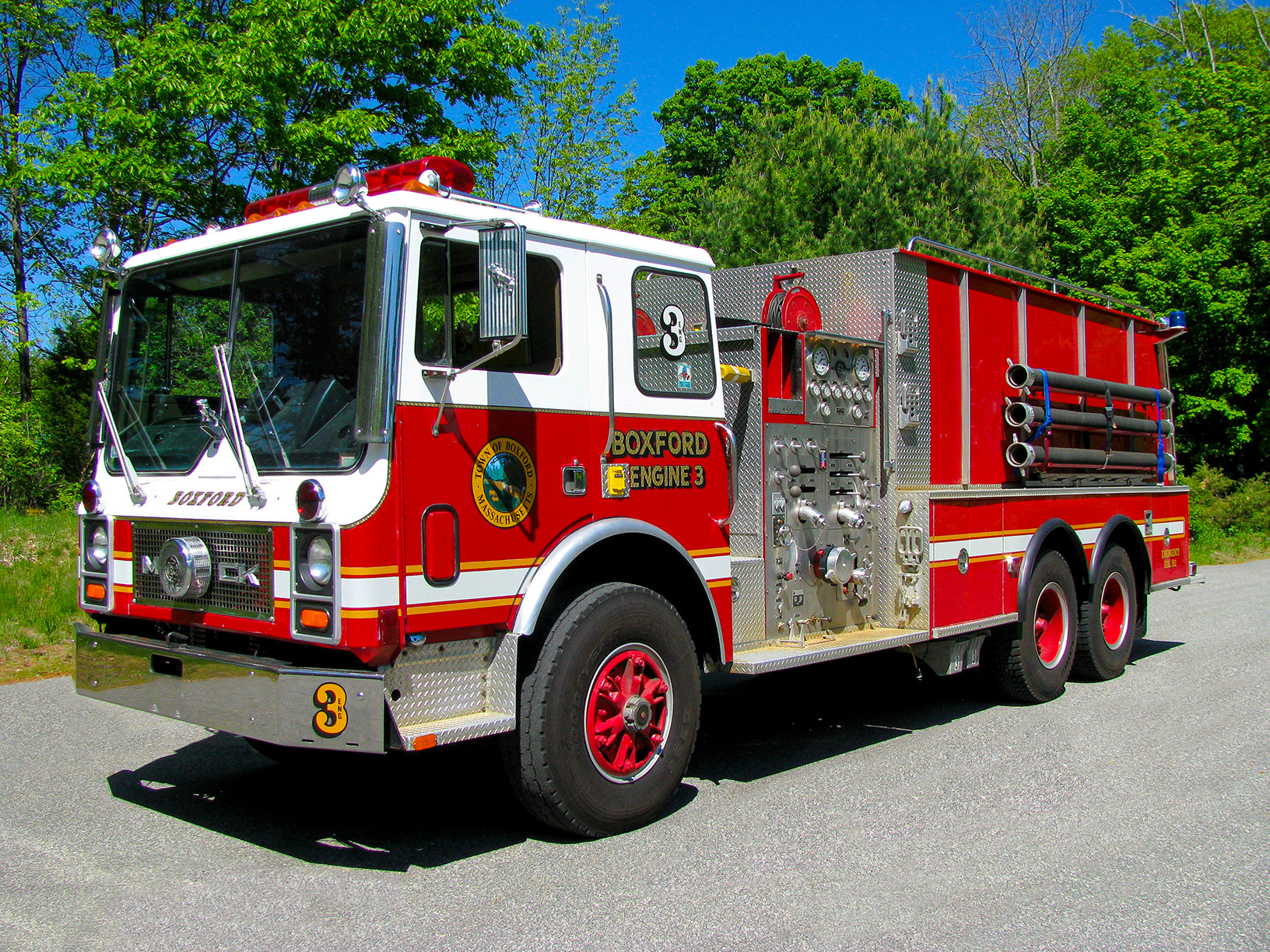 1987 Mack MC/Steeldraulic 750/2500
BOYLSTON, MA TANKER 1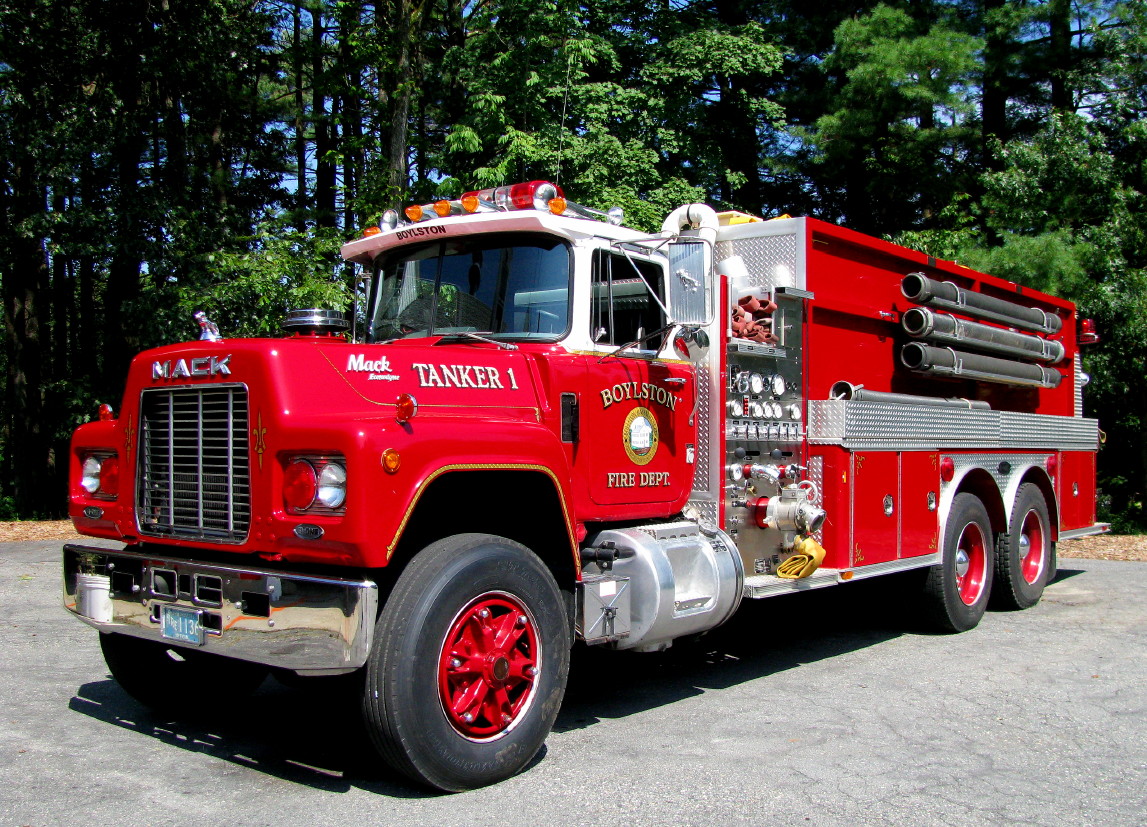 1989 Mack R/E-One 1250/3000
BROOKLINE, MA ENGINE 3
1986 Mack MC/Ward 1250/500
NEWTON, MA ENGINE 12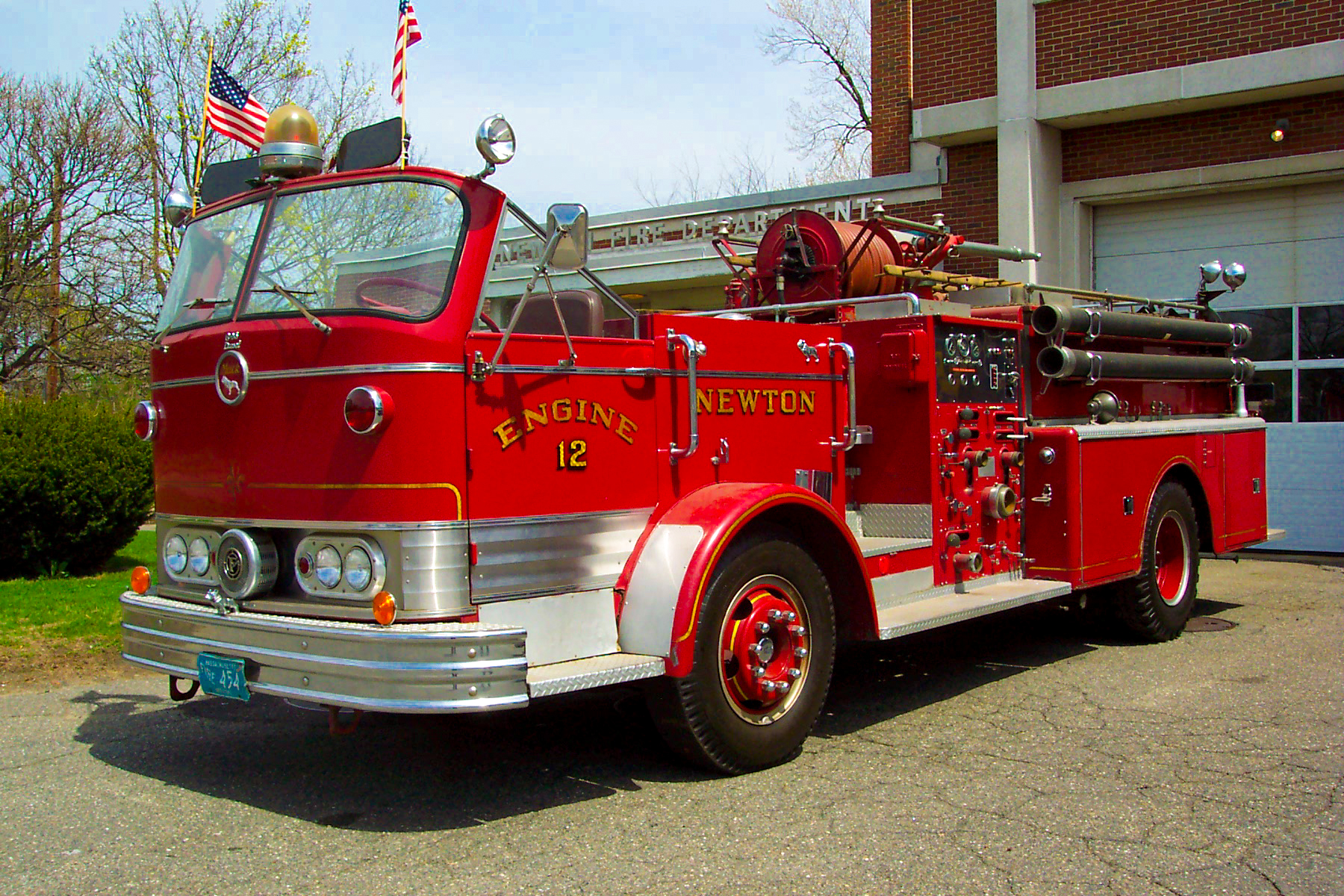 1966 Mack C 1000/500
PROVIDENCE, RI TOWER LADDER 2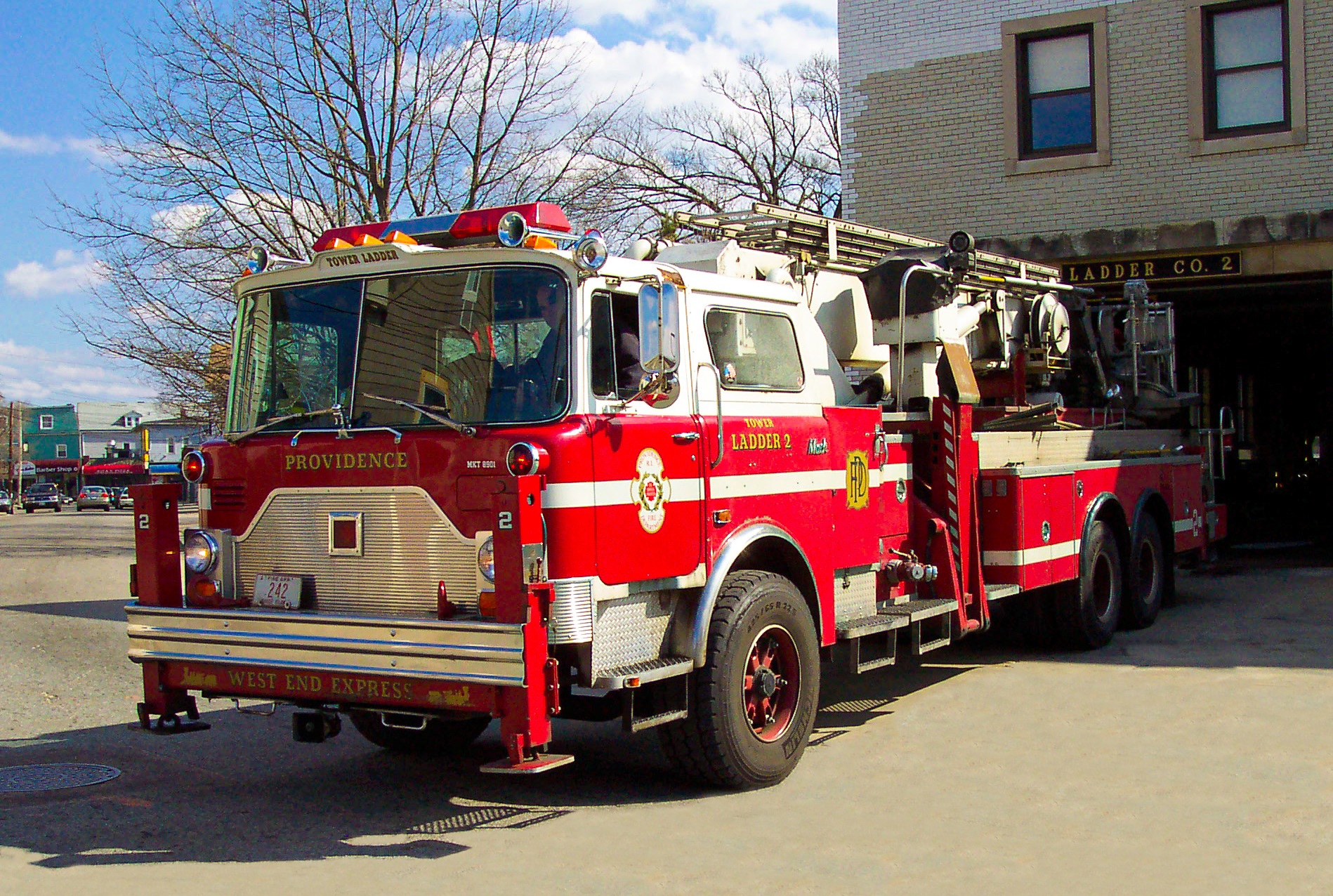 1989 Mack CF/Baker Aerialscope 75' MMA
HAWLEY, MA ENGINE 3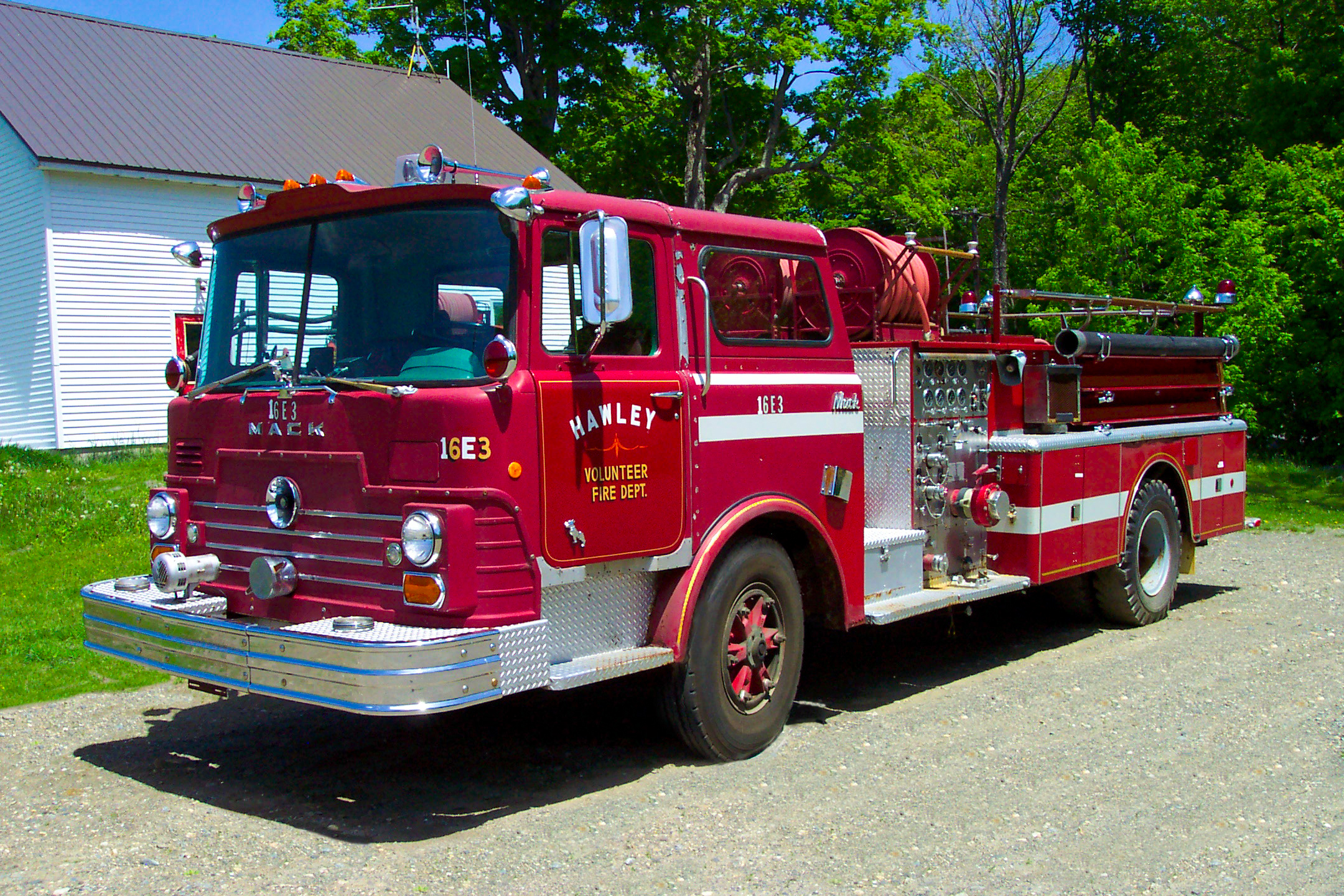 1969 Mack CF 1000/500
WEST STOCKBRIDGE, MA ENGINE 1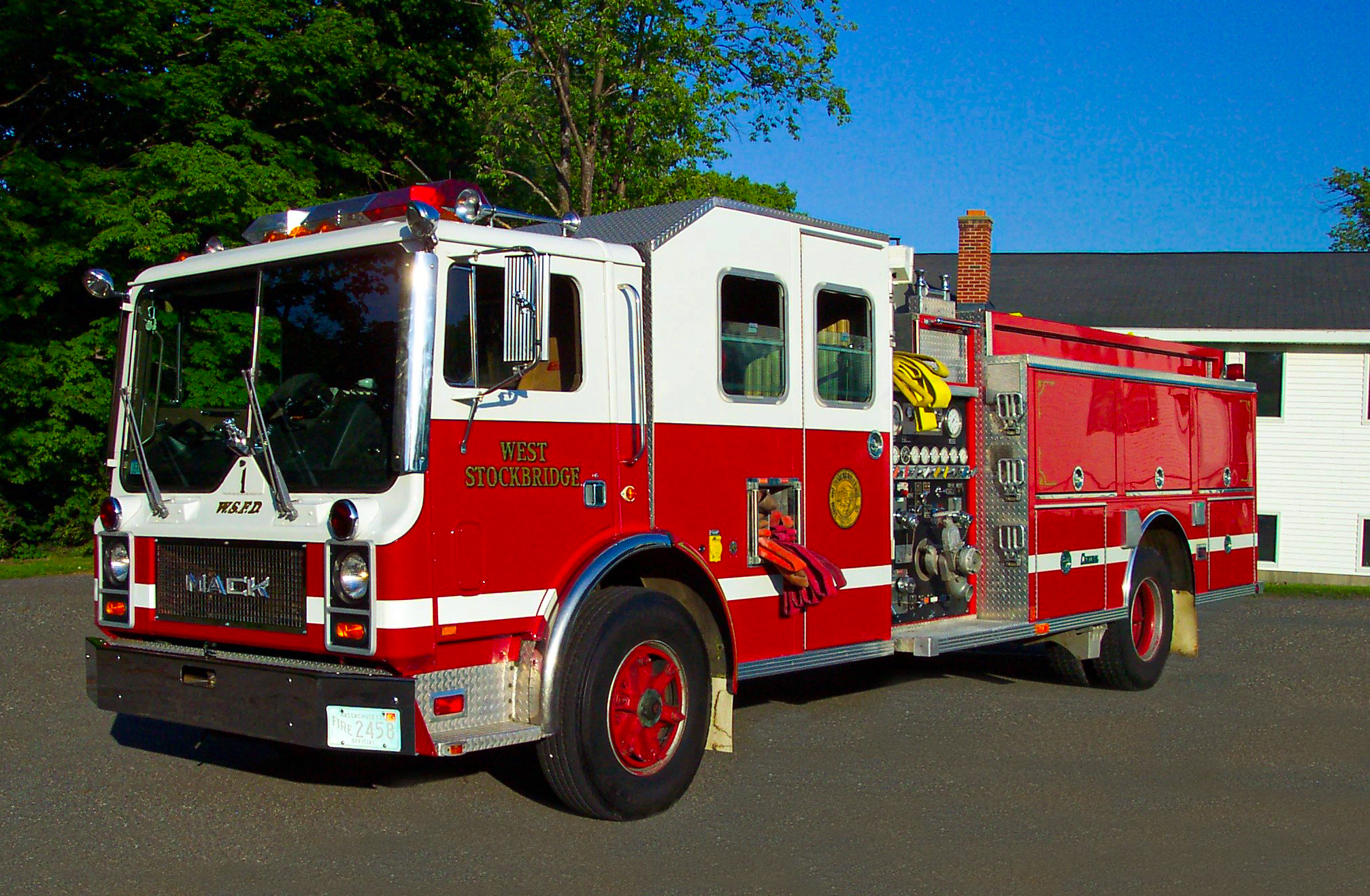 1982 Mack MC/Central States Ward 1000/800
HEATH, MA ENGINE 2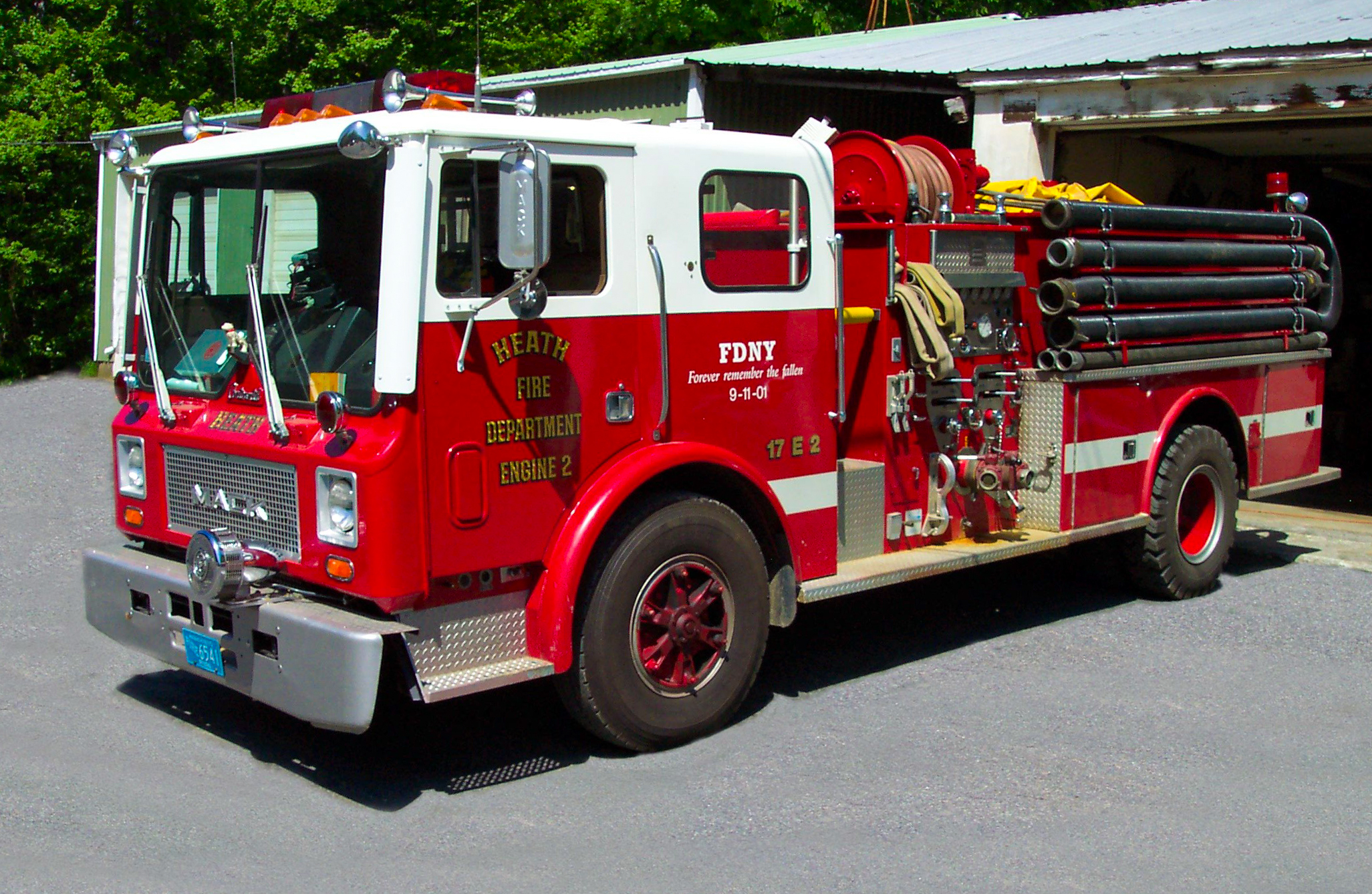 1980 Mack MC/Continental 1000/1000
GROVELAND, MA ENGINE 3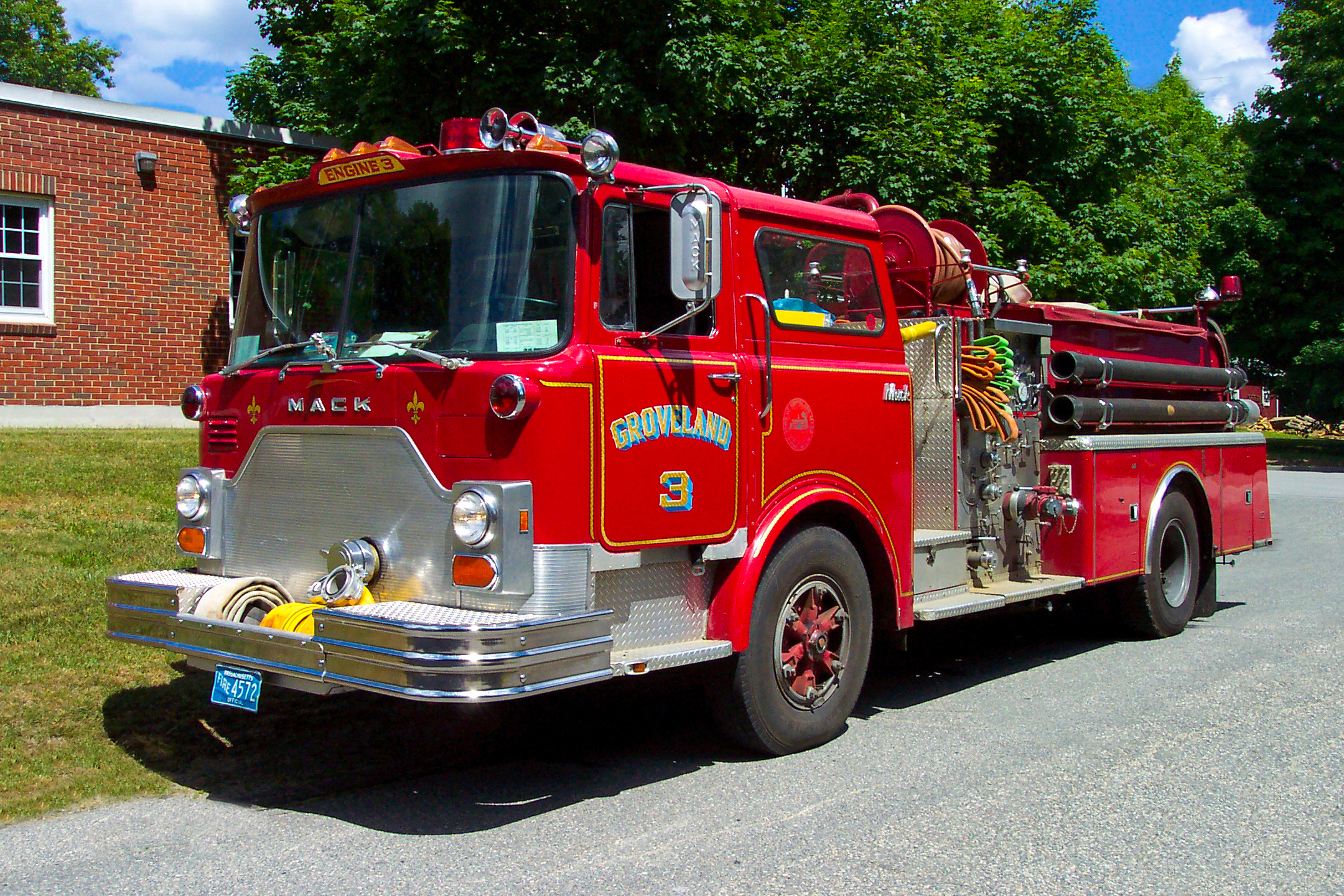 1978 Mack CF 1000/500
LINCOLN {LIME ROCK}, RI ENGINE 35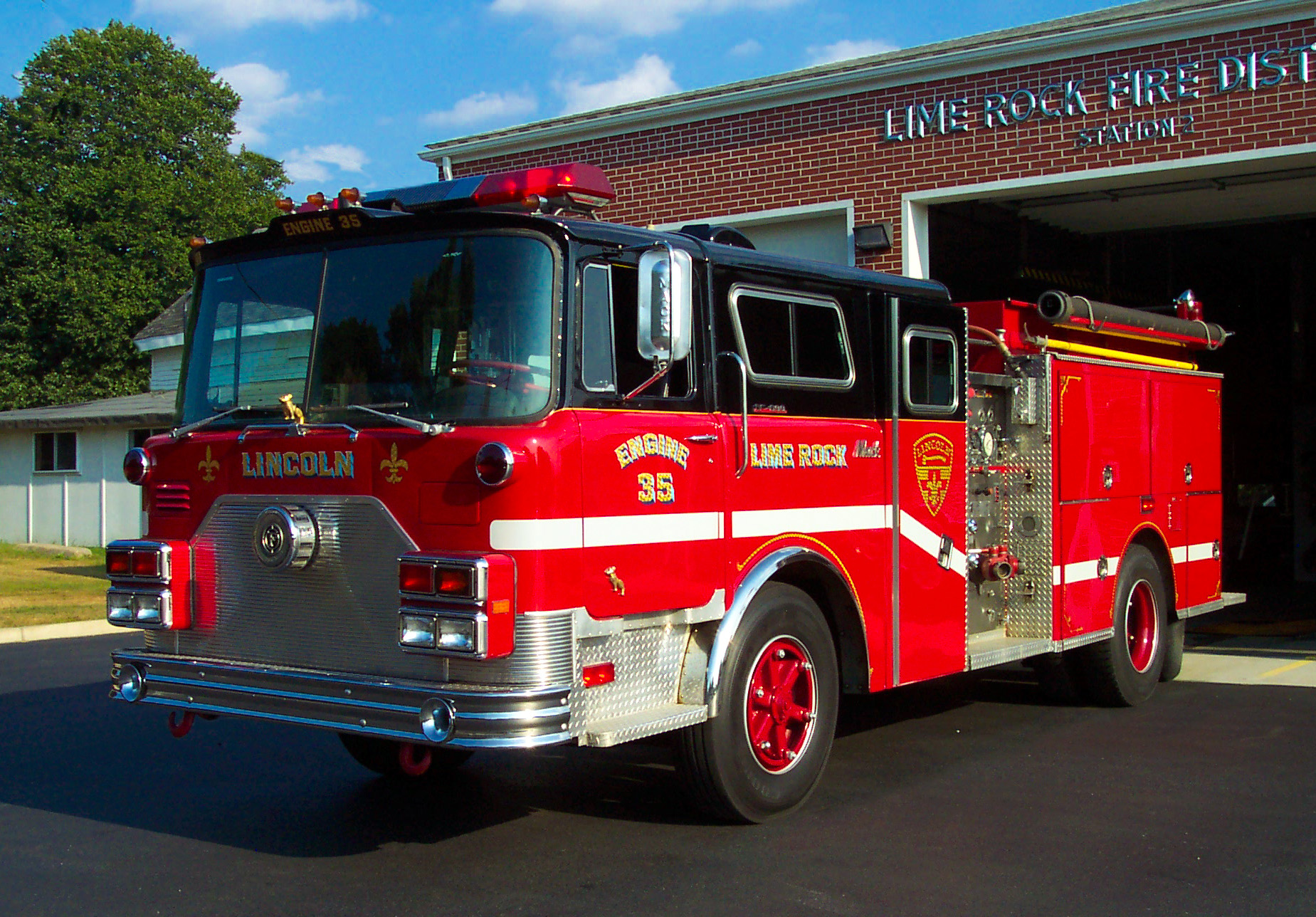 1975 Mack CF 1500/750
WENHAM, MA ENGINE 3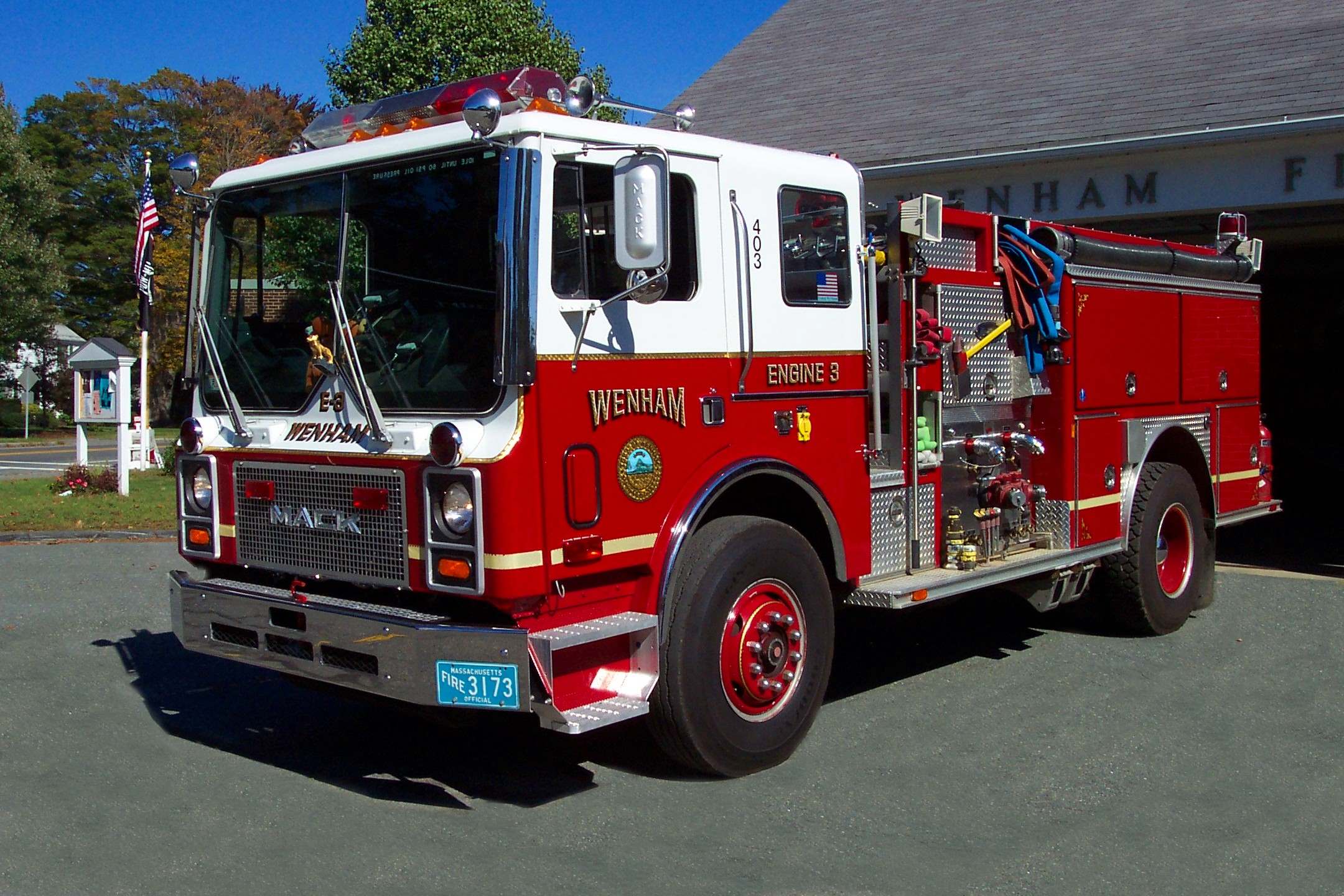 1989 Mack MC/E-One 1250/500
LAFAYETTE {LANCASTER}, PA ENGINE 6-3-2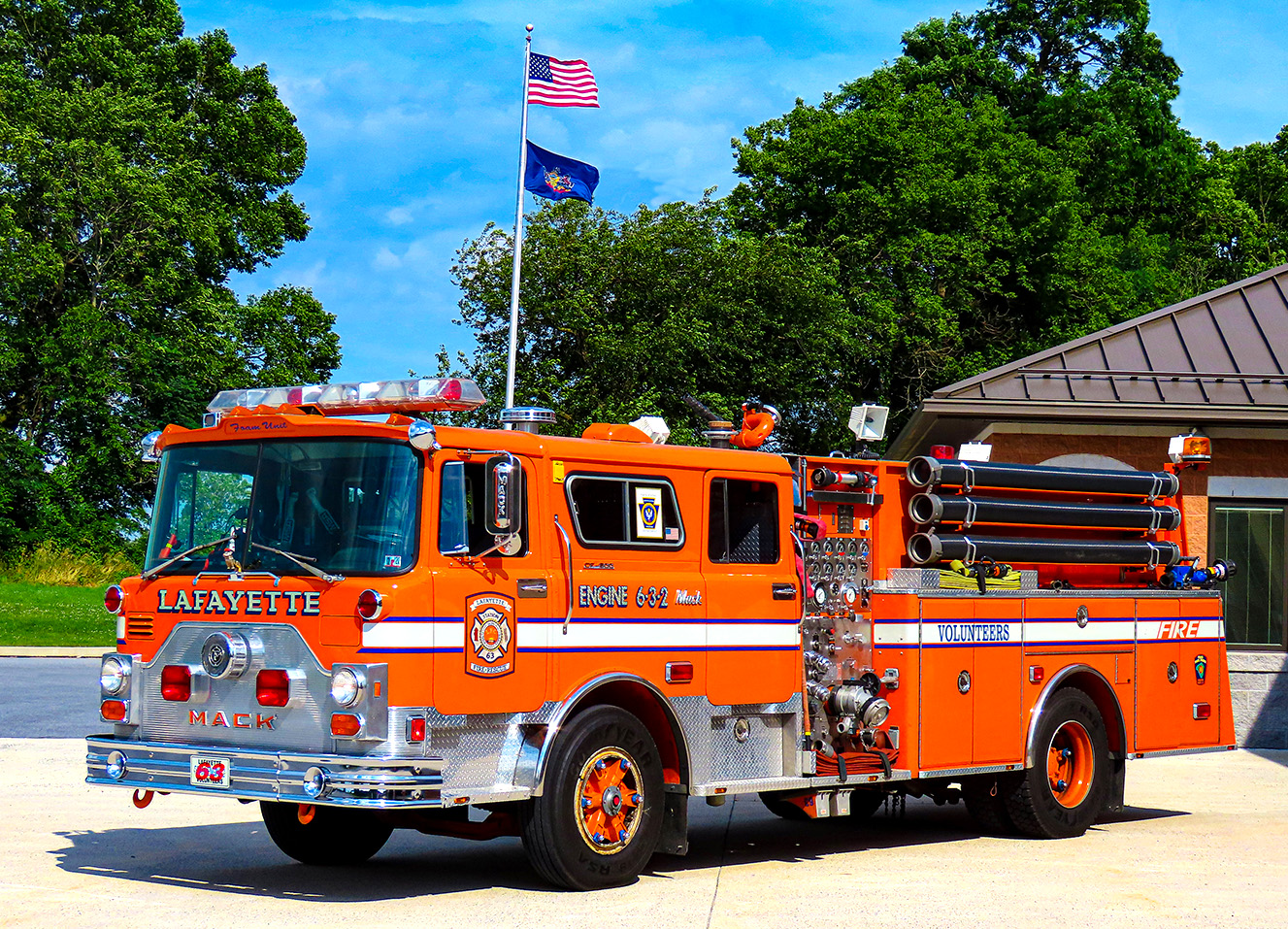 1978 Mack CF 1500/500/200 AR-AFFF
BERKLEY, MA ENGINE 4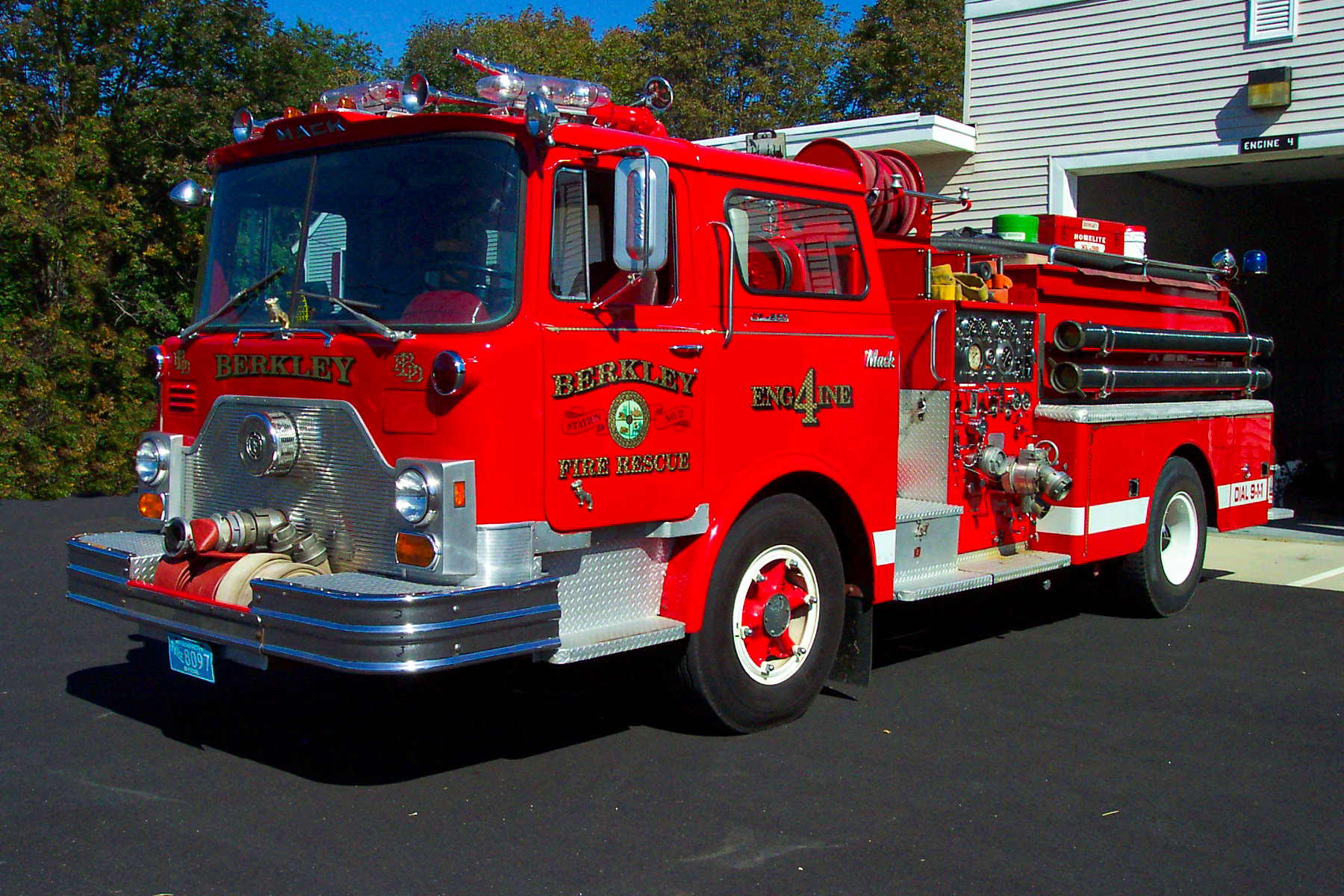 1978 Mack CF 1000/500
GROVELAND, MA ENGINE 3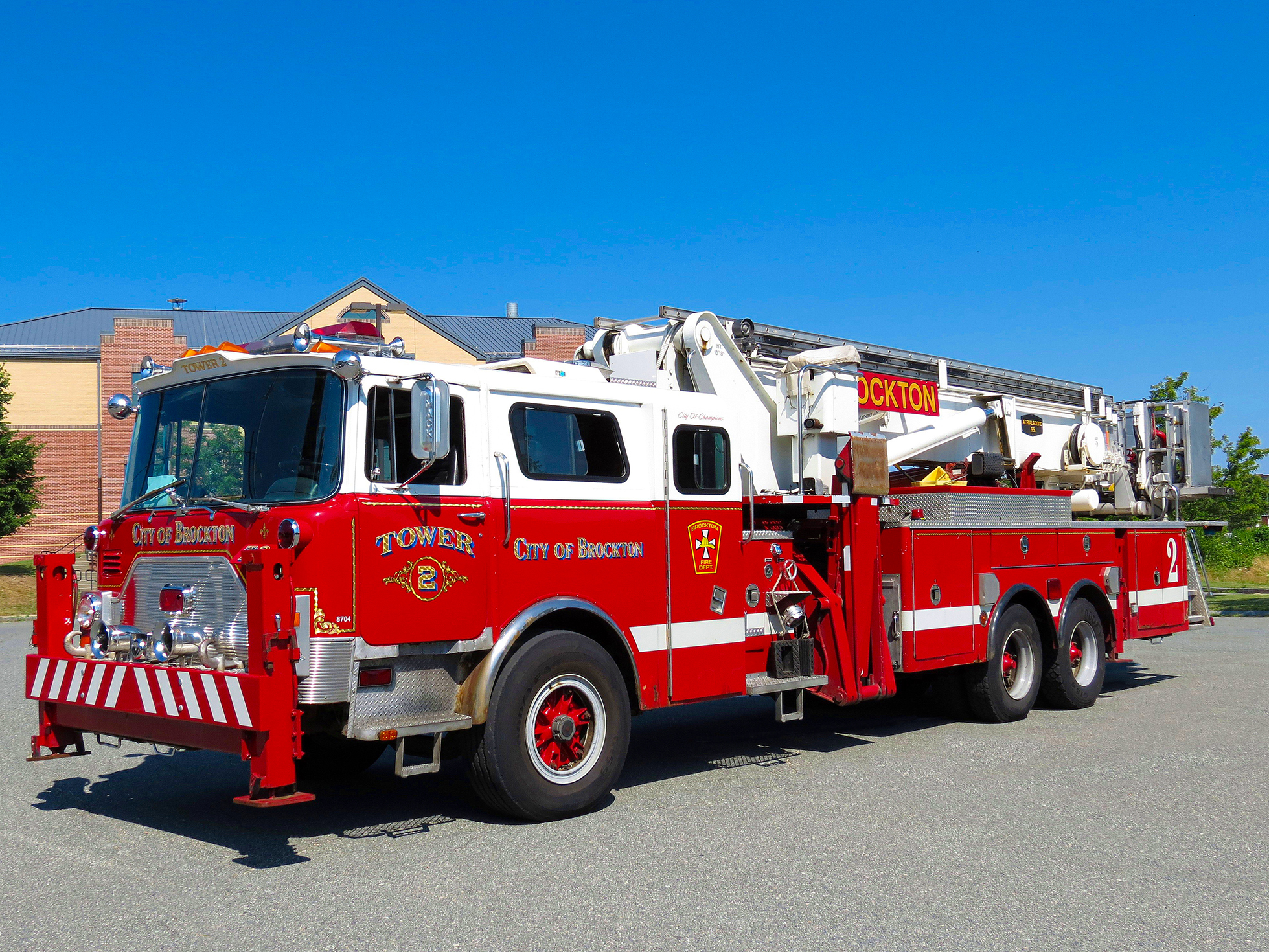 1987 Mack CF/Baker 95' Aerialscope
BROOKLINE, MA RESCUE 1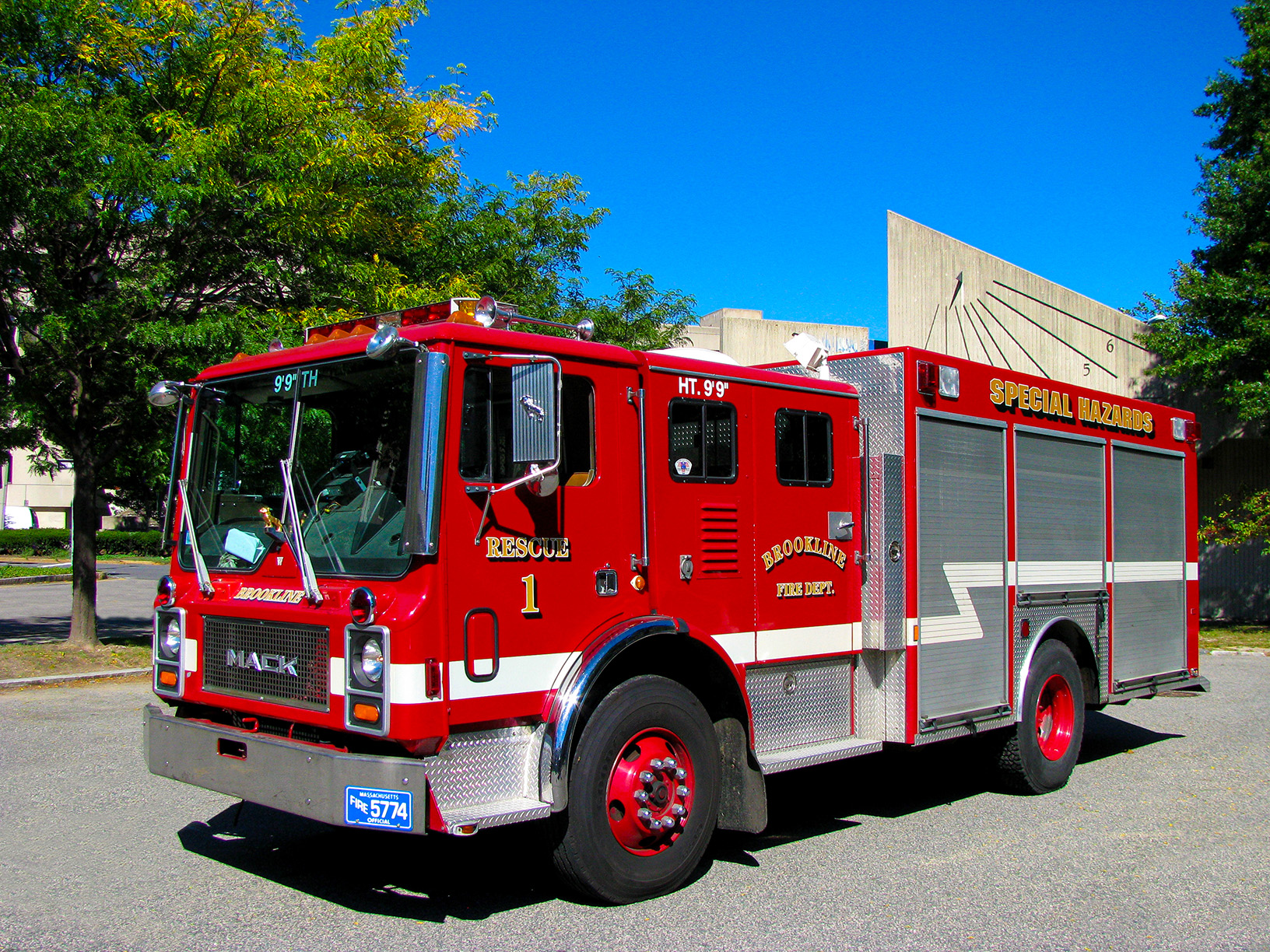 1985 Mack MC/Middleborough
MEDFIELD, MA ENGINE 3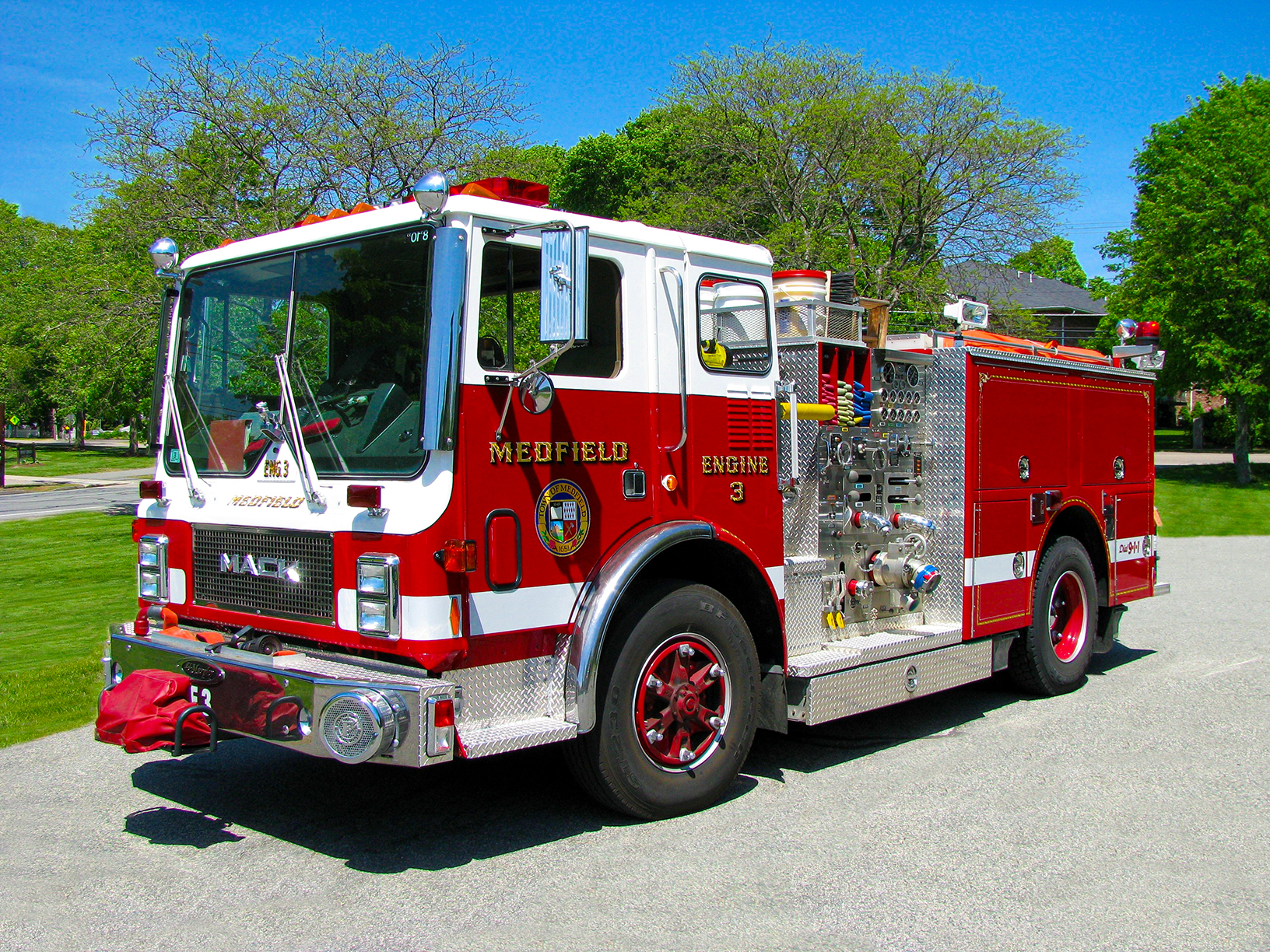 1984 Mack MC/EJ Murphy 1250/500
SANDISFIELD, MA TANKER 3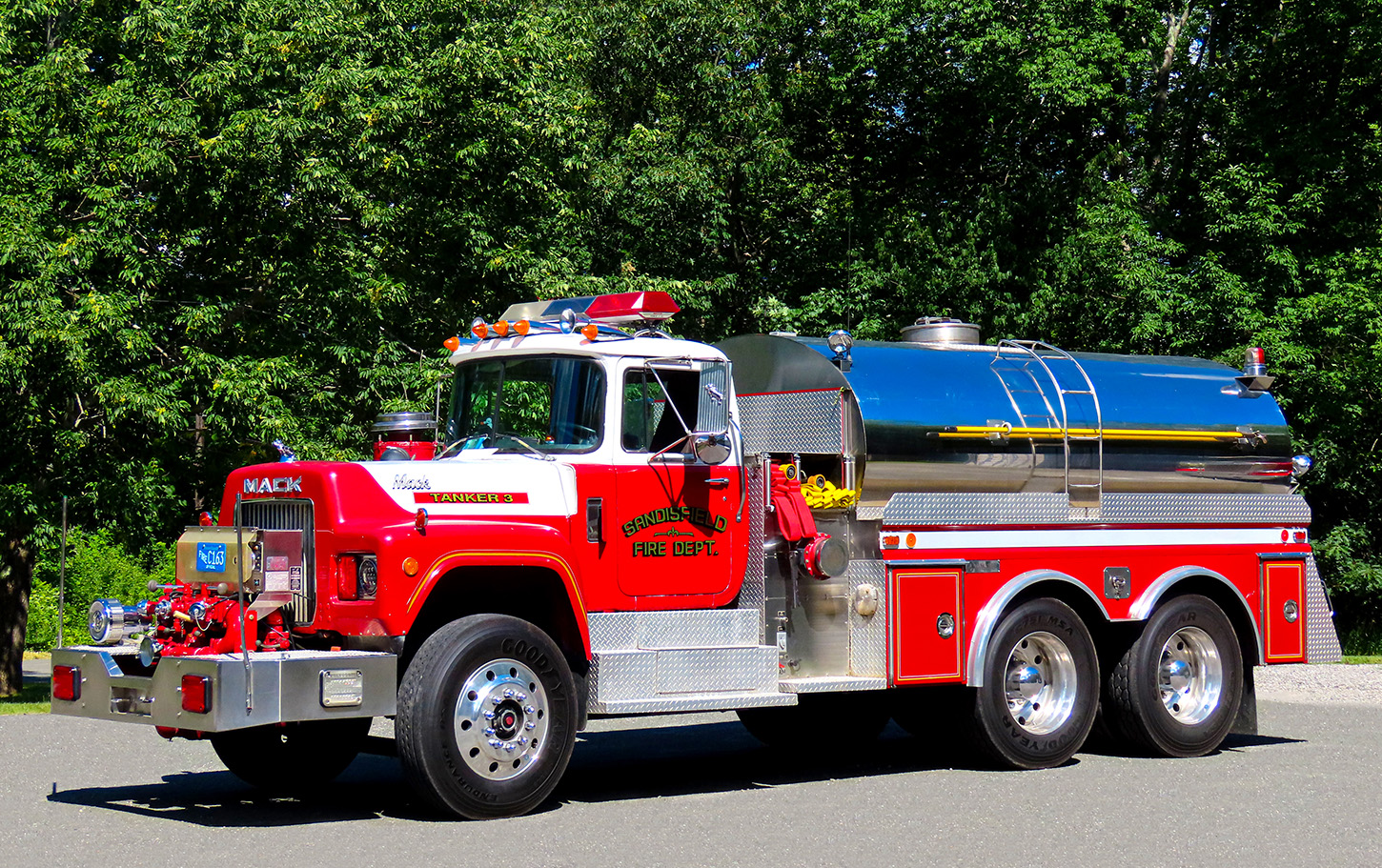 1988 Mack R/4 Guys 750/2500
ROWE, MA TANKER 3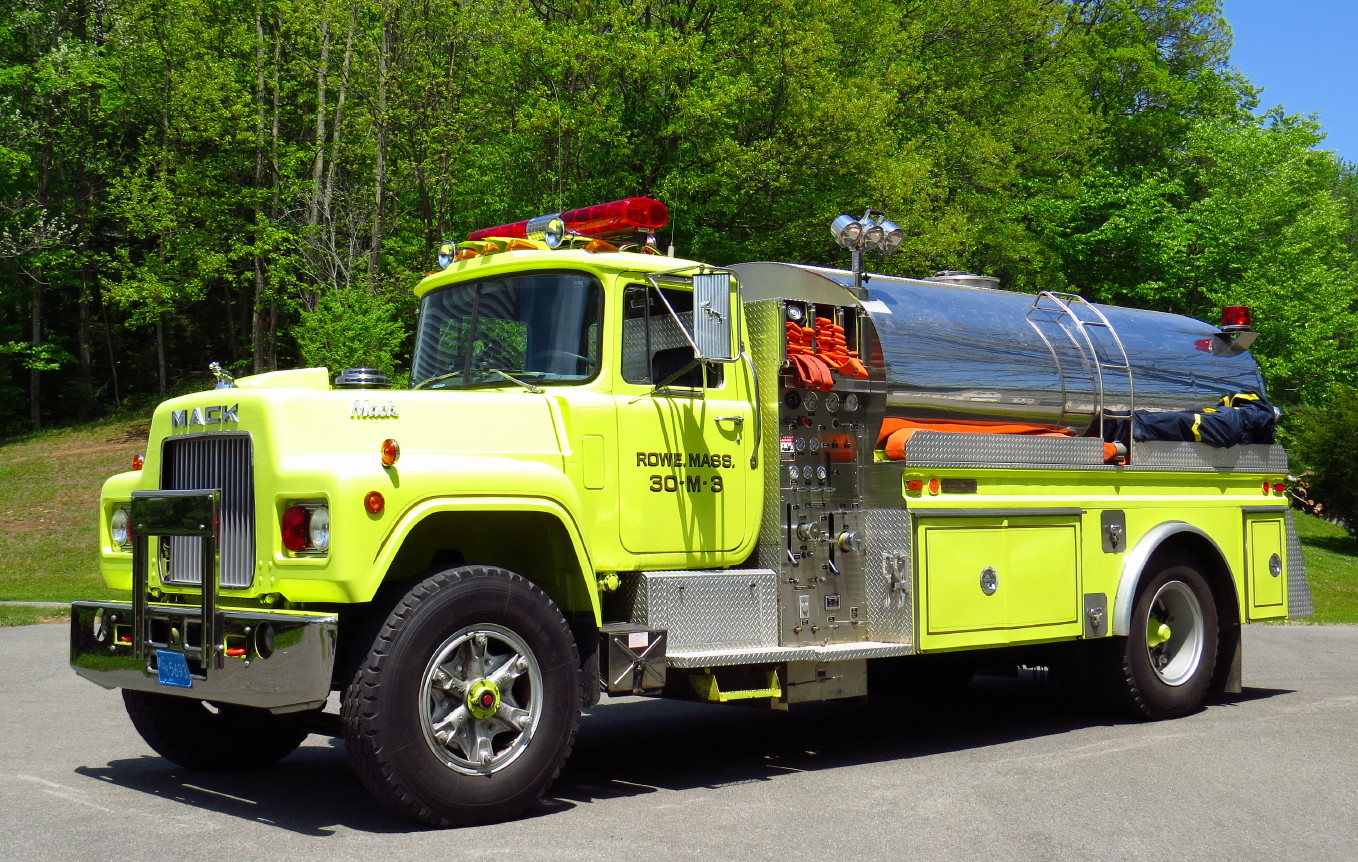 1993 Mack R/3D 500/2000
WENDELL, MA TANKER 2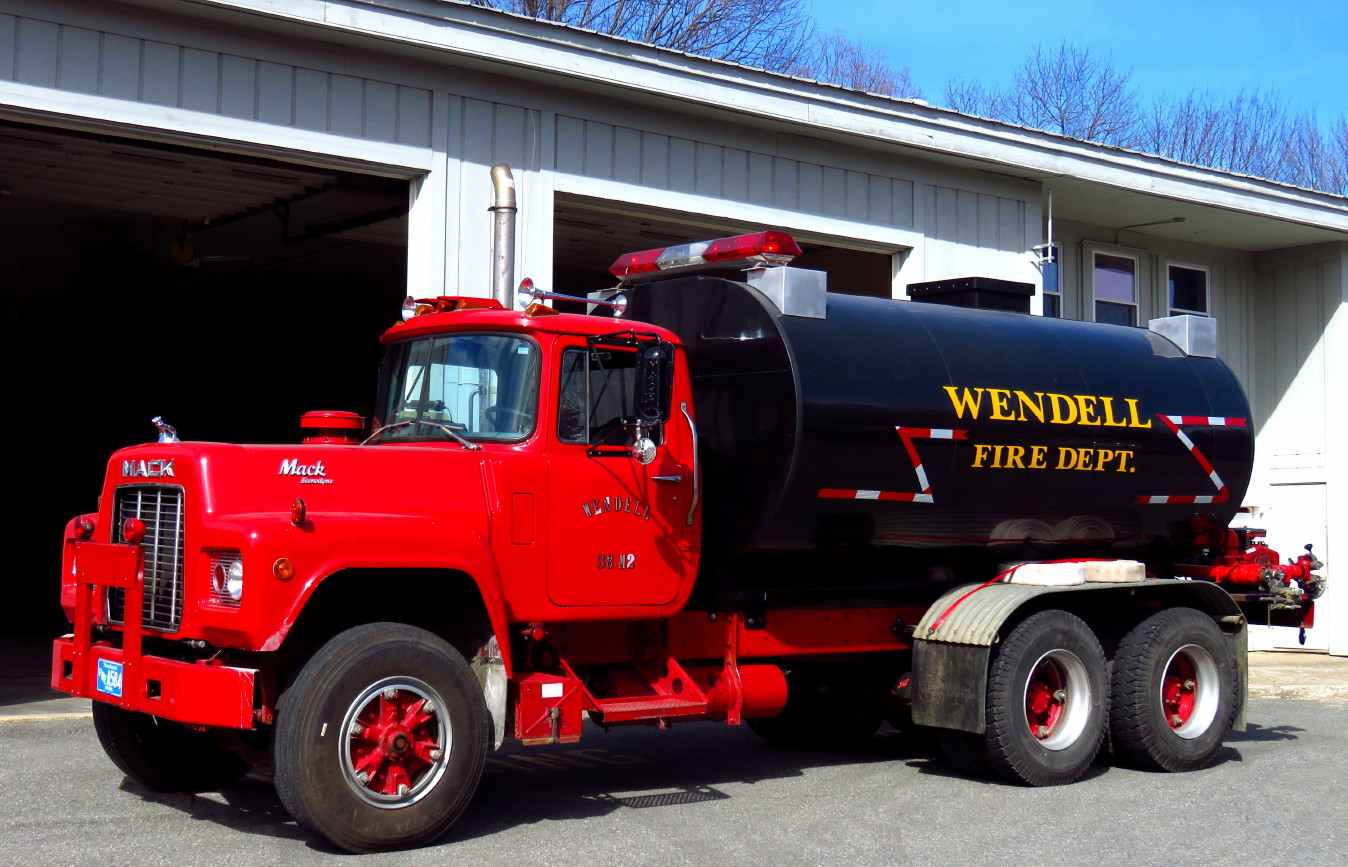 1988 Mack R/2011 Bulldog 350/3300
WOBURN, MA ENGINE 6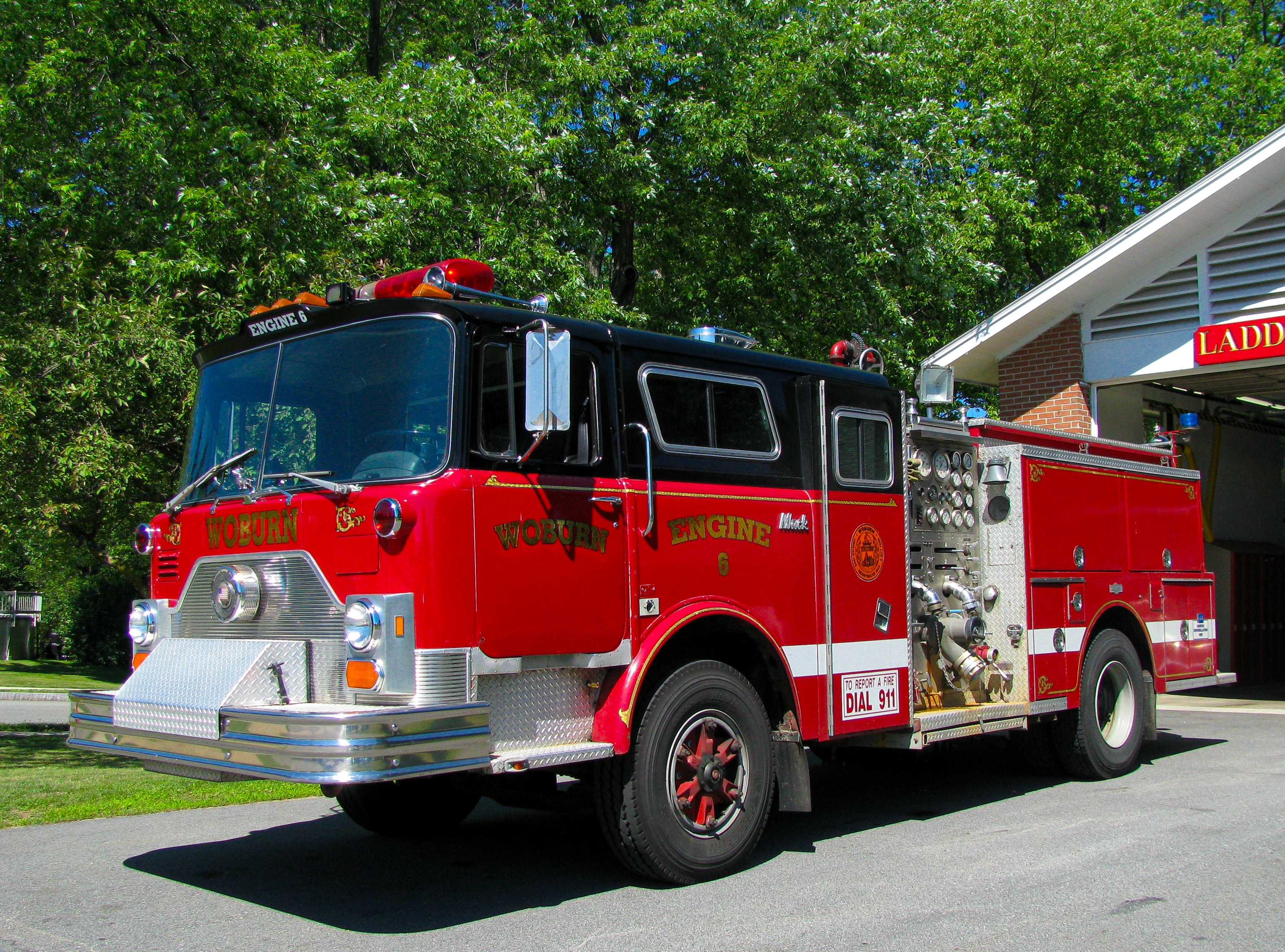 1986 Mack CF/Pirsch 1250/500
LEICESTER, MA SCOPE 1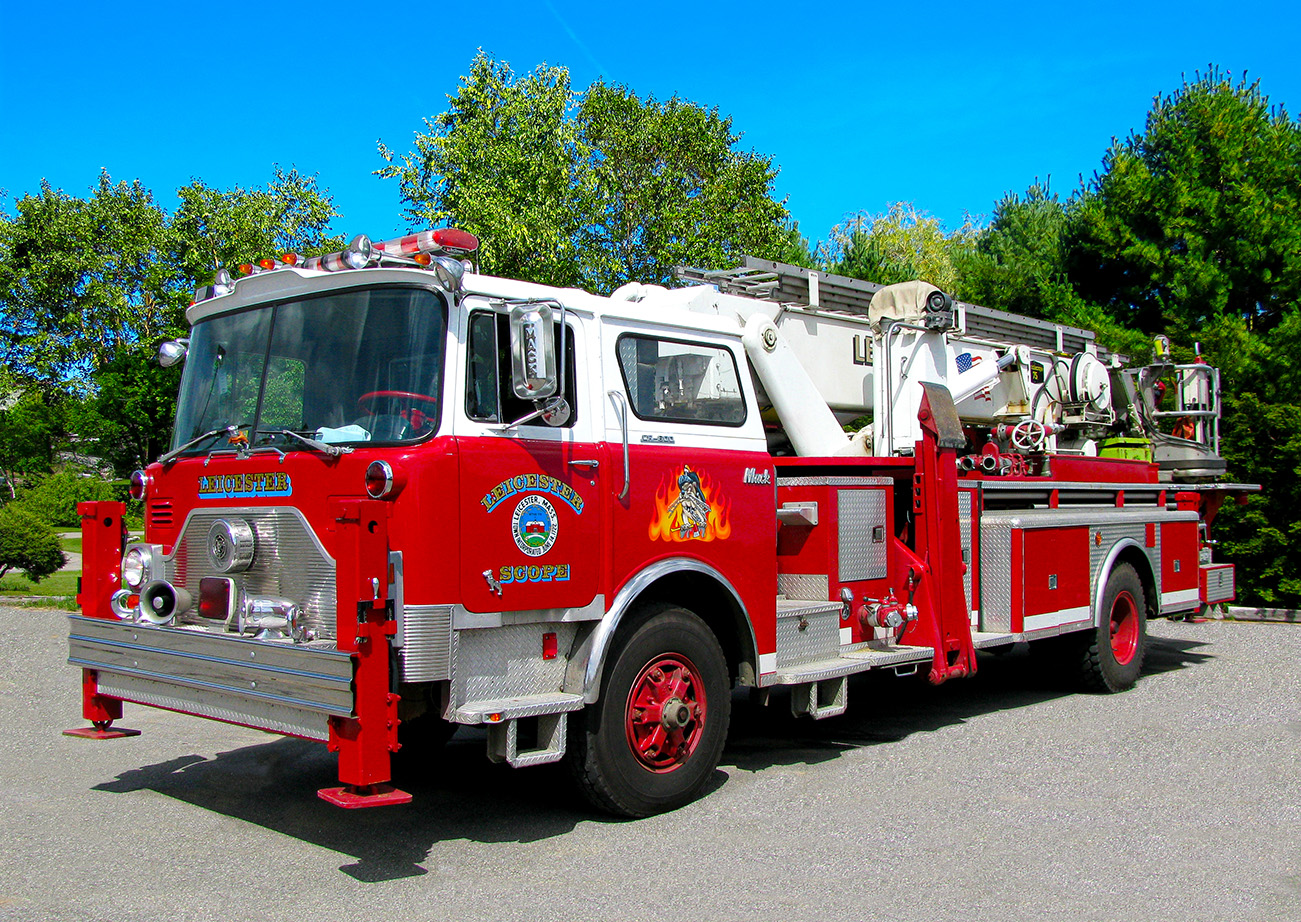 1975 Mack CF/Baker 75' Aerialscope
BOLTON, MA ENGINE 5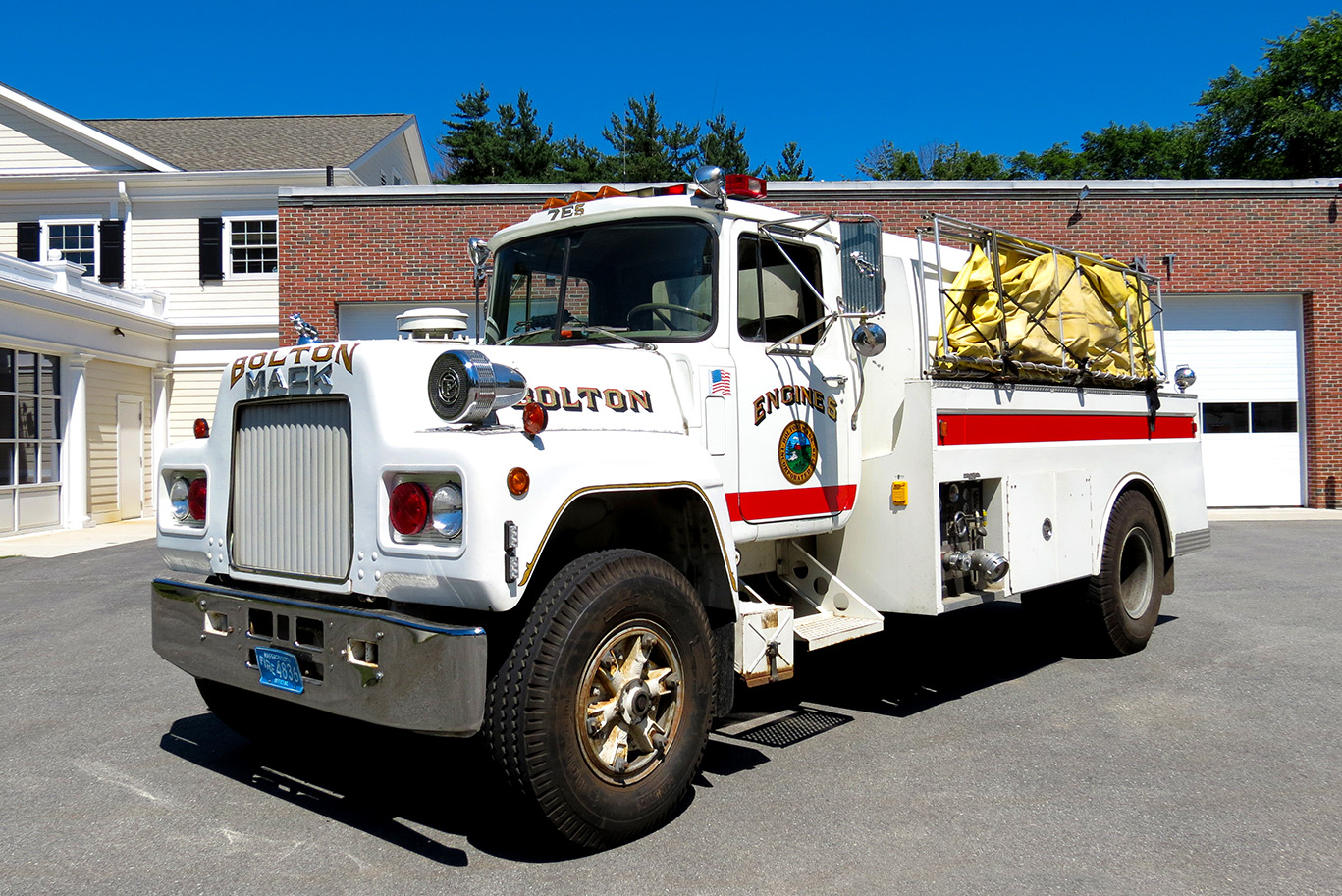 1981 Mack R/Moody 500/2100
CRANSTON, RI ENGINE 7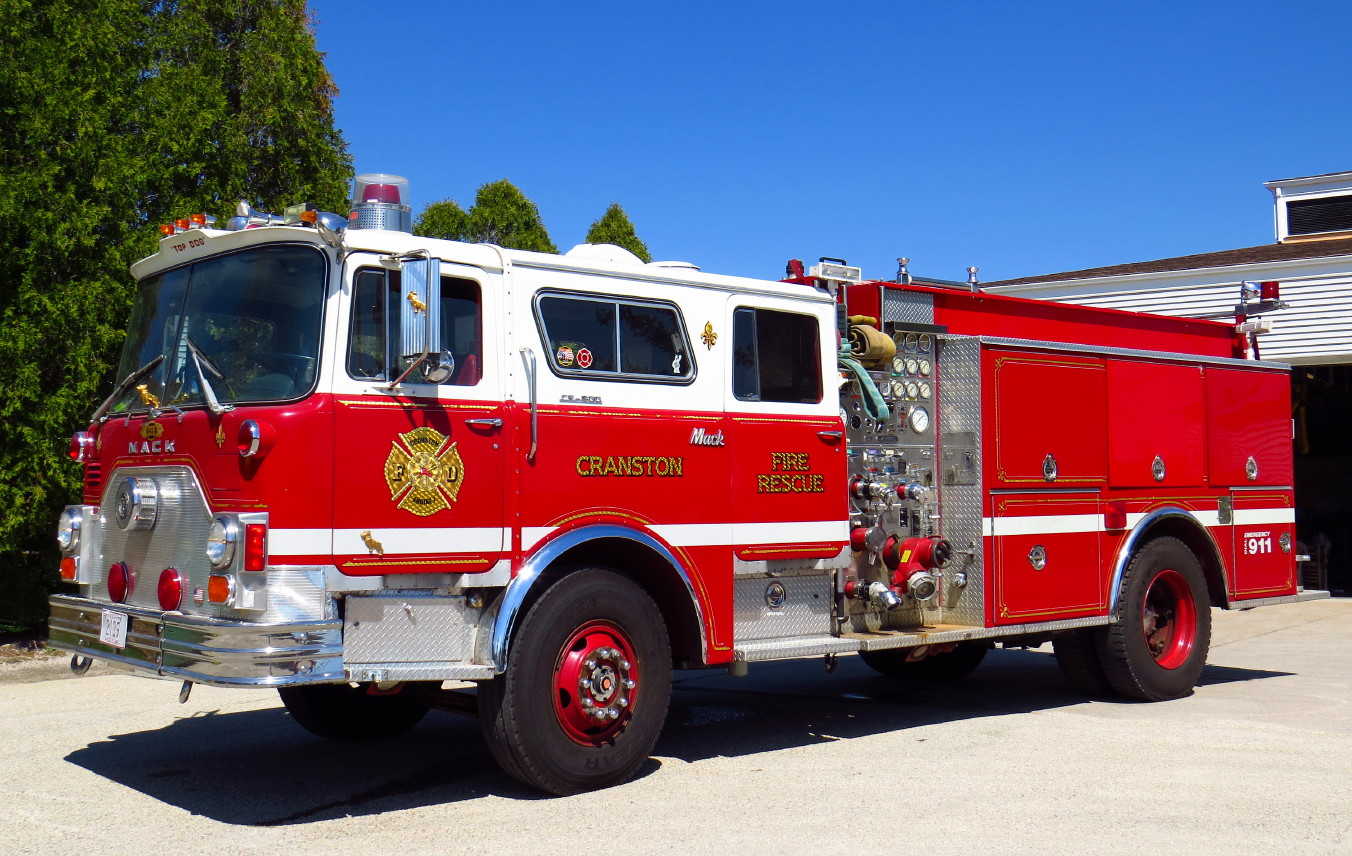 1980 Mack CF/Pierce 1500/750
EAST GREENWICH, RI ENGINE 5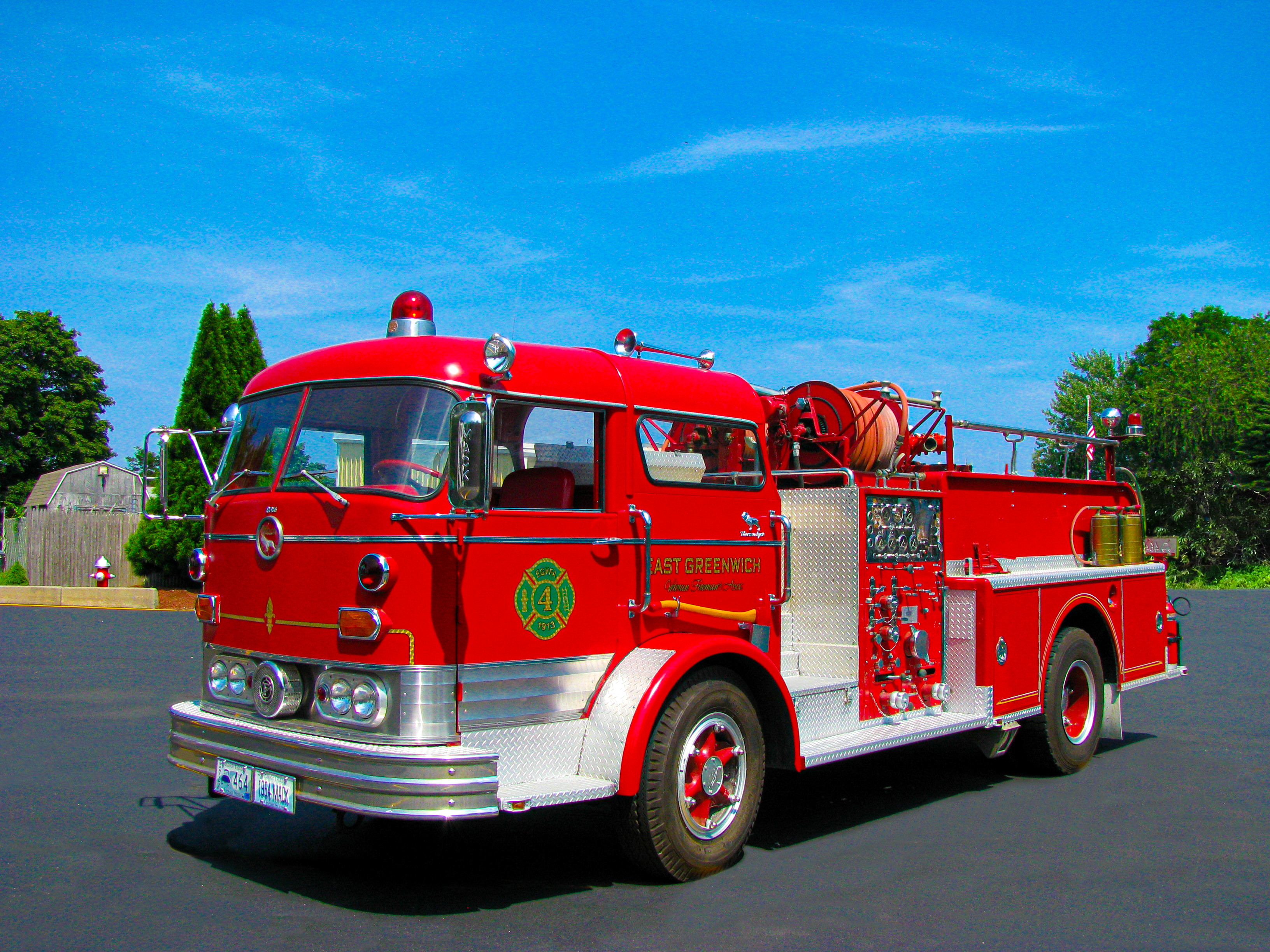 1964 Mack C-95 1000/500
HYANNIS, MA ENGINE 5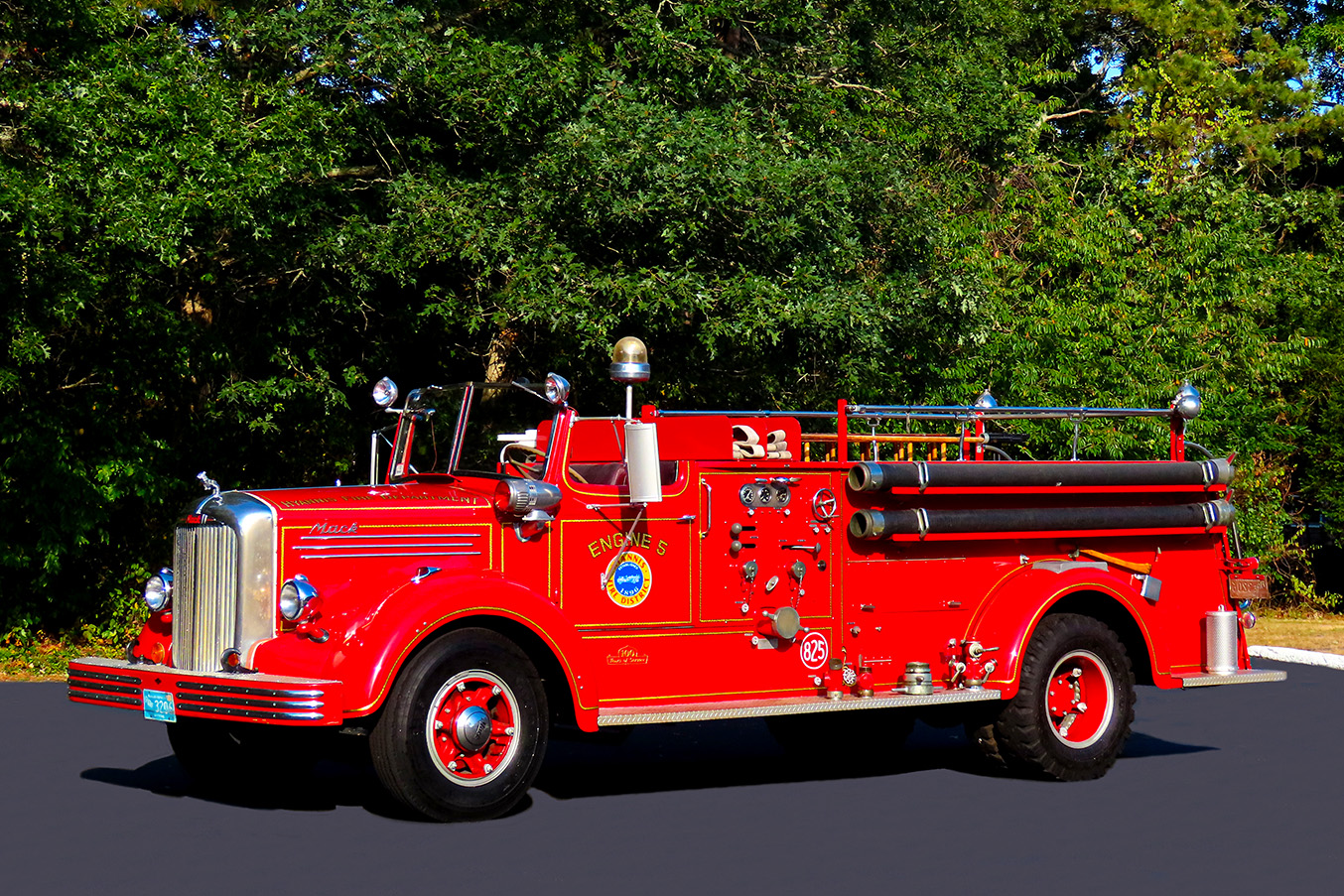 1949 Mack L 750/265
BERLIN, MA TENDER 1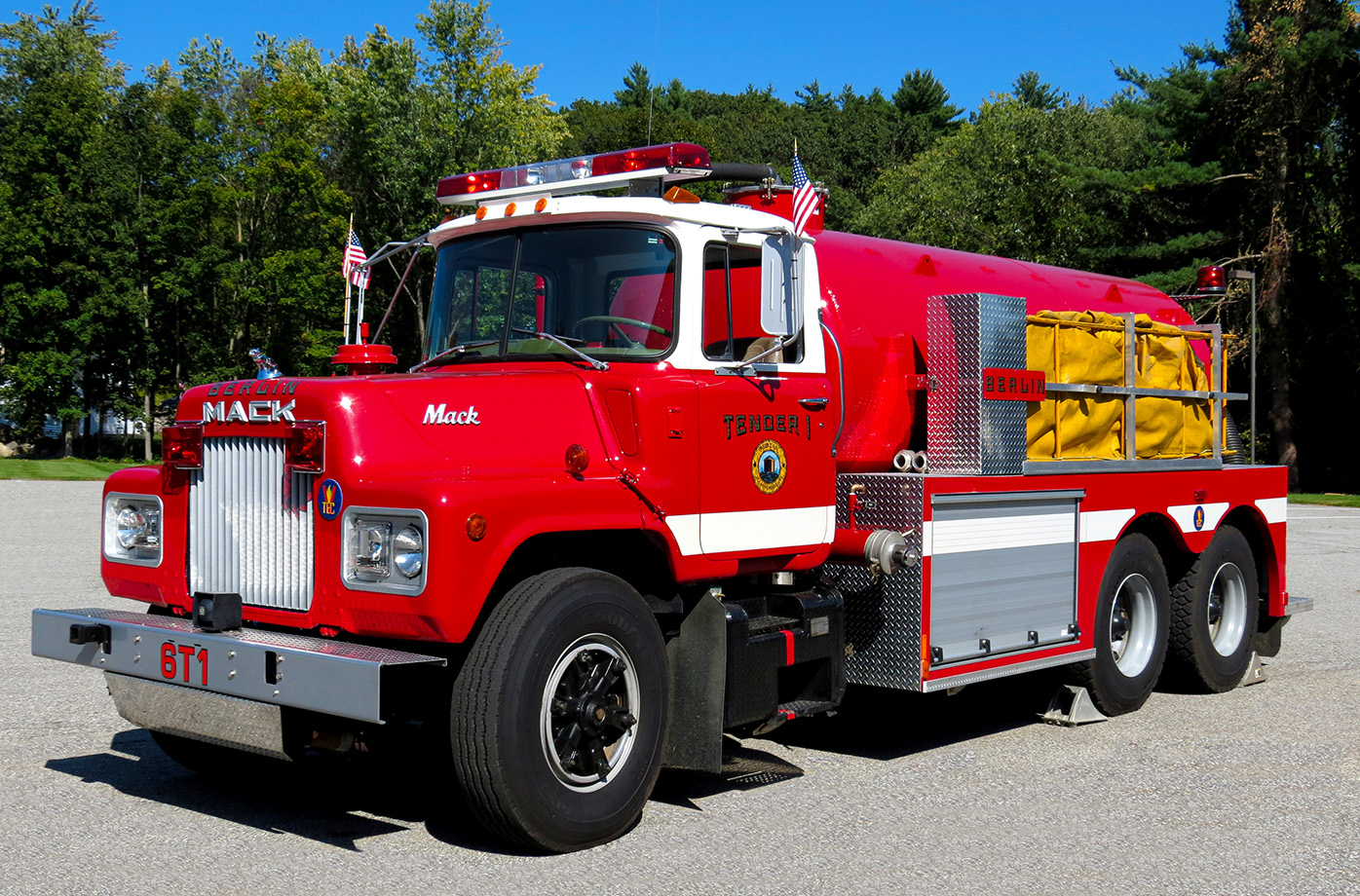 1982 Mack R/2005 V-Tech 2,600-Gallon Vacuum Tanker
BROCKTON, MA SPECIAL OPERATIONS UNIT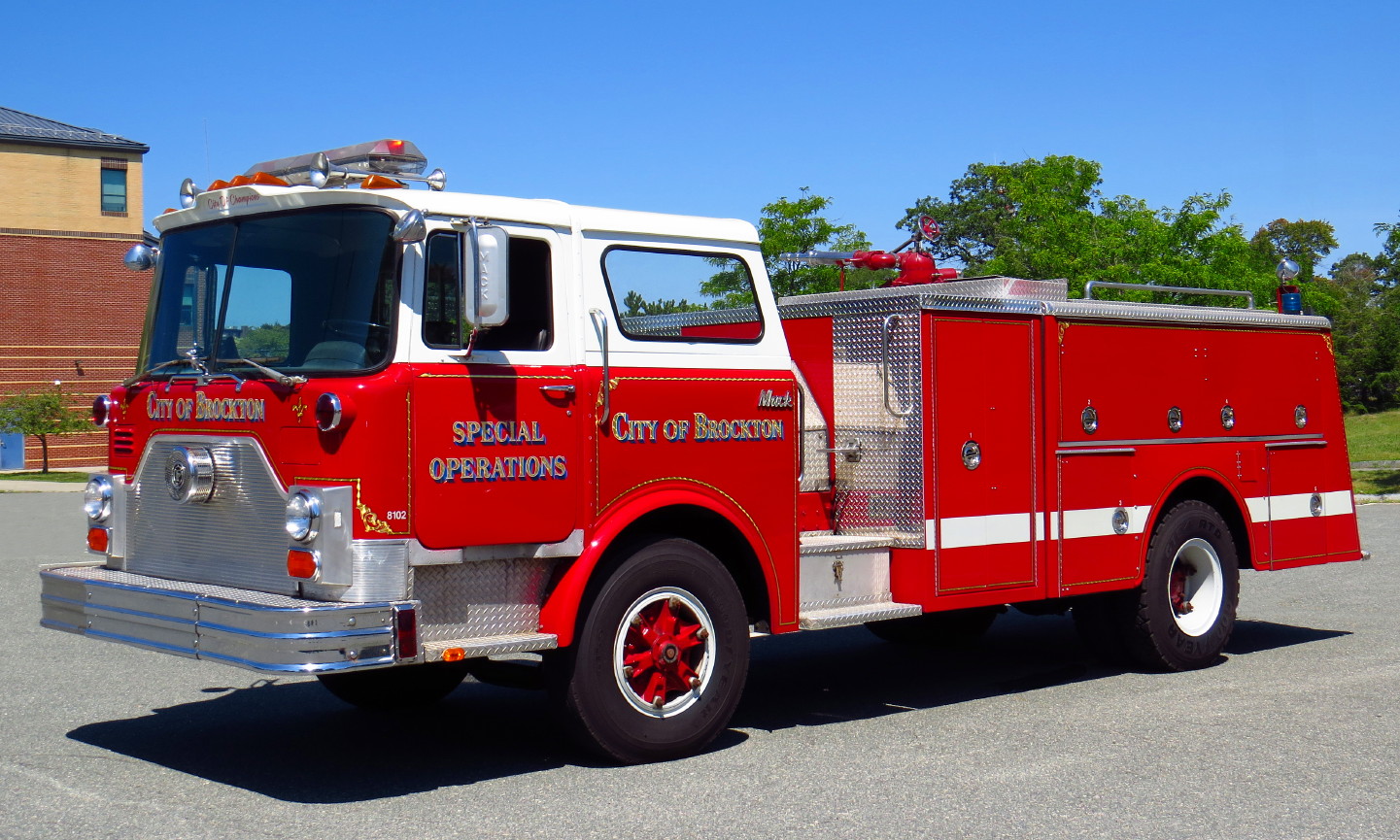 1981 Mack CF (Pump & Tank Removed 2007 - Former E-9)
CHELMSFORD, MA ENGINE 7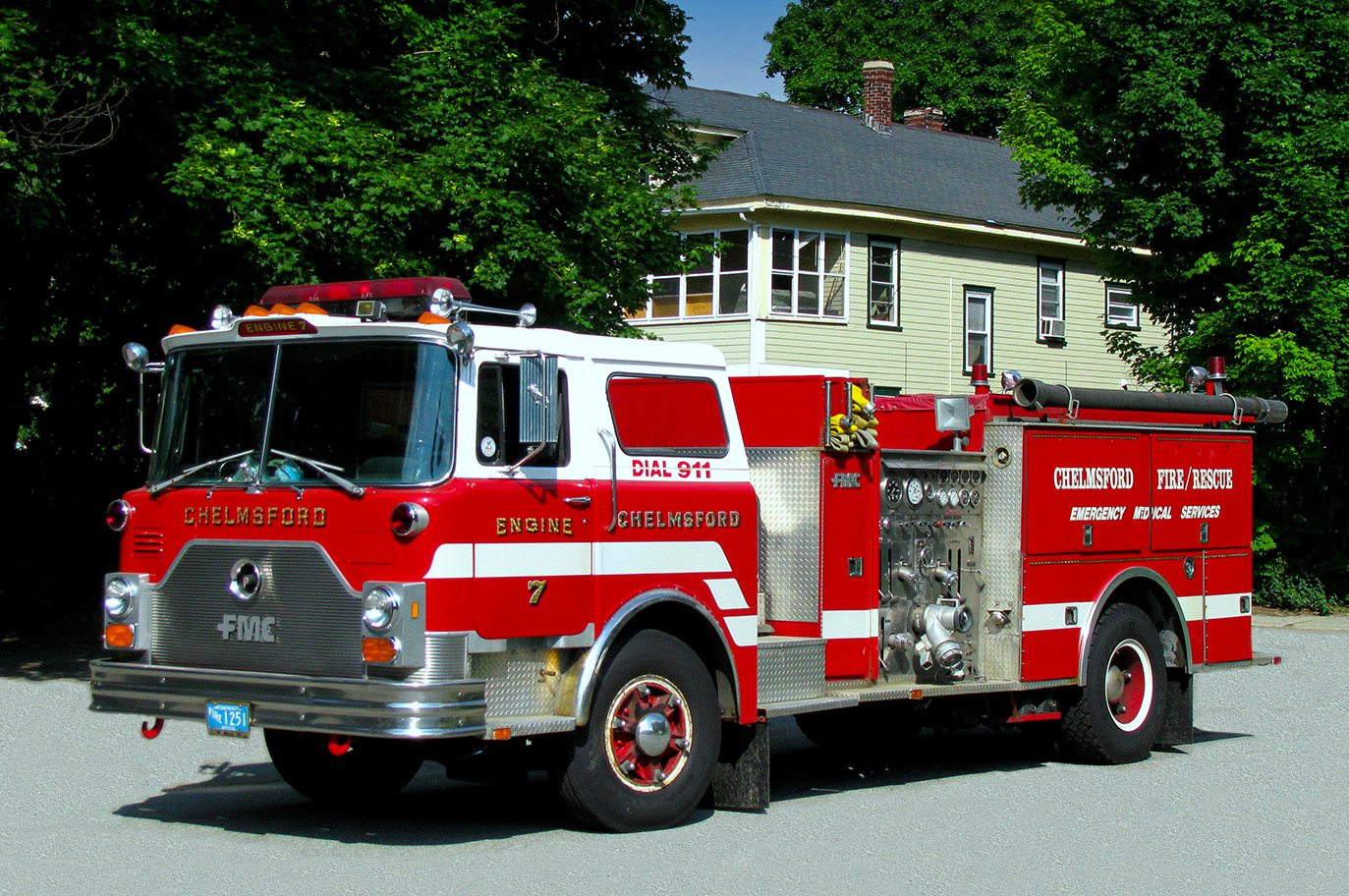 1985 Mack CF/FMC 1000/500
MASS. FOREST FIRE CONTROL TANKER 1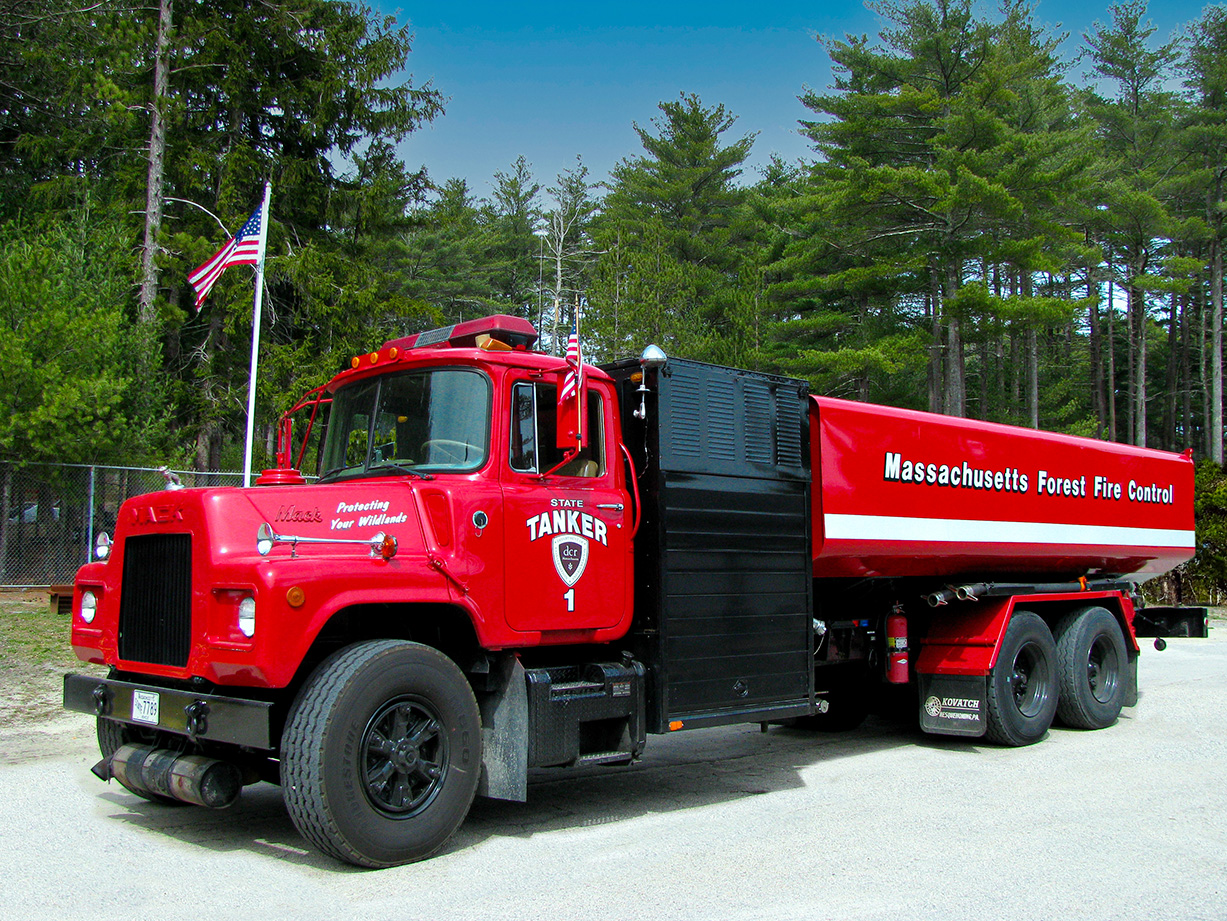 1982 Mack R/2002 KME 5,000-Gallon
WESTERN COVENTRY, RI TANKER 8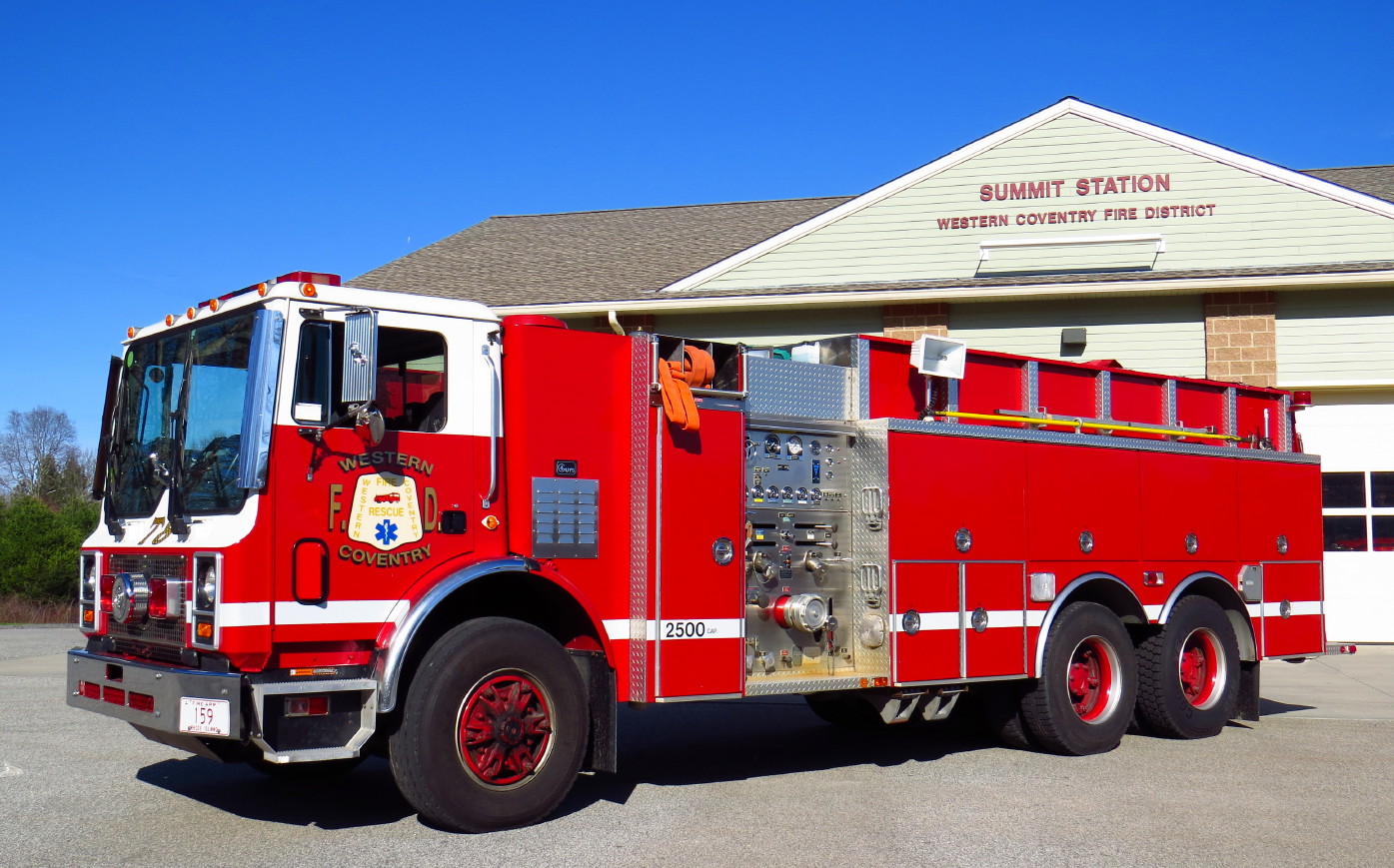 1996 Mack MR/4-Guys 1250/2500

All Photos Are Copyrighted 2020